So, you're finally going to Paris. The City of Light and flagrant public displays of affection! How exciting. Where will you stay? What will you do? What will you eat? Are you going to be mocked for wearing New Balances?? Maybe.
Well, look no further, our intrepid puddle-jumper -- everything you need to know before you touch down in CDG is all outlined in this here guide. And although wandering around the city aimlessly eating baguettes is just as acceptable as hustling to check everything off your bucket list, if you do insist on seeing, doing, and eating everything the tourist books say you must, make sure you're smart about it.
Recommended Video
This Arizona Oasis Comes With Its Very Own Grotto
The best time to visit Paris? Not August
The myth that everything shuts down in August is not a myth at all and totally happens. Everyone leaves for the vacation month, and things close for weeks at a time. But if you do find yourself there during the dead season, here's what to do.
 
Stay close to the river for optimum city access
If you want to be closest to the traditional tourist stuff, find a hotel or an Airbnb in the 1st, 4th, 6th, or 5th arrondissements (neighborhoods), which spiral clockwise from the inside out like a snail shell.
 
... but if you want something a little more upbeat, try the neighborhoods in the northeast
The areas around Metros Republique, Oberkampf, and St. Maur have hip, affordable bars and are only a 15-minute Metro ride from the touristy center. Conversely, southwest Paris is seriously swanky, and not always in a good way.
Your phone map is fine but this thing is indispensable.
 
Take the Metro
The Metro is ridiculously easy to navigate and is obviously marked by Hector Guimard's Art Nouveau designs. Just be sure to lift the lever on the door if you want to enter or exit -- they don't open automatically.
 
... and never throw out your ticket
You'll likely buy a carnet of 10 really-easy-to-lose tickets. Controllers do periodic checks for these little suckers, and if you're caught without, you'll have to deal with their stone-cold fury, and a big fine. Seriously, these guys are terrifying. Don't mess this up.
 
RER is bigger, faster, and accesses the suburbs (and the airports). They are identified by letters A, B, AND C. SNCF Transilien is the giant train line for the suburbs and beyond. Stick with the Metro and you should be fine. Click here for more in-depth intel on this.
 
Be aware that the Metro closes at night
This might not be as relevant with so many rideshare systems these days, but it can be pretty tricky to find a cab after a night out, and when you do, it'll be super expensive.
 
This is a cheap ploy to get you to click this super-handy Metro bar map.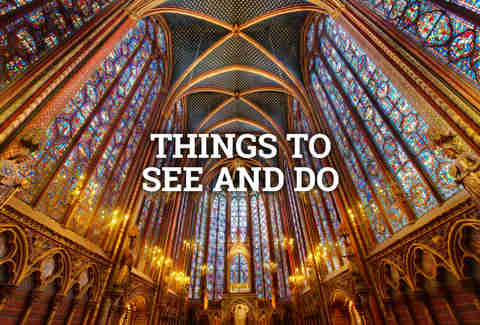 Do the touristy things, but prioritize
Like history? Les Invalides will teach you about the French military, the Pantheon mausoleum holds Voltaire, Rousseau, Victor Hugo, Émile Zola, and Marie Curie, while Jim Morrison and Oscar Wilde's graves are in Père Lachaise Cemetery. Prefer art? Skip everything we just said and head to impressionist Musee d'Orsay or the contemporary Centre Pompidou instead. Don't try to do everything.
 
Don't go to the top of the Eiffel Tower
Similar to the Empire State Building in NYC, going to the top of the tower is overpriced and not as worth it as you think it will be. See the city from up high from the top of the Tour Montparnasse and actually have the Eiffel Tower in your view, or head to Montmartre for a sweeping, totally-free skyline.
 
Visit Versailles... if you have time
If you're a history buff knock yourself out, but it's expensive and the line to get into the palace is absurdly long. The better option is to wander the grounds for free on a sunny day.
 
Budget a whole day to get lost in the Louvre
See Venus and Mona, of course, but do not leave without walking through the lavish Napoleon III Apartments. The place is enormous -- wear comfortable shoes.
 
See Monet's Water Lilies, then picnic in the Tuileries Garden
The tiny Musée de l'Orangerie in the southwest corner of the park is the permanent home for a handful of works by Picasso, Chaim Soutine, Modigliani, Matisse, and, the pièce de résistance, eight giant panels of Monet's Water Lilies. It won't take you more than an hour or two to see everything so pair the visit with lunch in the garden.  
 
Get spiritual
Notre Dame is obviously impressive and worth seeing (from the outside at minimum), as is Sacré-Coeur in Montmartre. But the real sleeper hit is Sainte-Chapelle on Île de la Cité. The Gothic architecture and stained-glass windows of its interior are stunning, particularly if the sun's out. Which is only from May-September, basically. 
 
The city's practicing artists aren't limited to portrait-painting con men in Montmartre.
 
Bateaux-Mouches is cliche, but undoubtedly a great way to see the city.
 
Get off the beaten path
You will not be disappointed by the rolling hills of Parc des Buttes-Chaumont in the northeast.
 
Shop in le Marais in the 3rd and 4th arrondissements
It's kind of the SoHo of Paris with hip, artsy fashion types and the boutiques to match. Definitely take a coffee break and people-watch at an outdoor cafe.
Buy bread, cheese, and produce at an open-air market
And then go hang out in a park with your loot. Markets are everywhere, you just have to know which day.
 
Have an authentic breakfast on a terrace
You could brunch but really, a cafe (one shot of espresso -- make it a "double" for, um, a double) and a pain au chocolat or a croissant is all that's necessary. If you want milk in your coffee order "un creme" -- it's basically a latte. Don't be a jackass and order "un cafe au lait." No one does this.
 
You're here, you might as well act like it. 
 
Steak frites, fromage, foie gras, crepes, croissants -- all the foundation of the French food canon. You'd be silly to not try 'em in their origin country, at the Paris place that does them best. And don't waste your money or calories on cheap crepes in front of the Eiffel Tower -- they're targeted towards tourists and often don't use quality ingredients (you'll see off-brand Nutella in the back, and a stack of pre-made pancakes). Instead, a ham and cheese crepe from a takeaway stand attached to a restaurant is the move. 
 
Get your steak frites fix at one of Paris' 10 best steakhouses.
 
Socca, bánh mì, fried chicken -- Paris' culinary scene is hardly limited to the contents of Mastering the Art of French Cooking.
 
Or the coffee tart. There are multiple locations around Paris, but none have made it to the US yet. Ladurée's macarons are good, but Pierre's pastries are downright divine.
 
Savor your meal
Be prepared to wait a bit between courses because leisure is a national pastime. And always ask for "une carafe d'eau" (a carafe of water) if you don't feel like constantly asking for refills. It won't have ice in it -- suck it up.
 
Tip if you feel like it
Your meal could be "service compris" (tip included) or "service non-compris" (tip not included), but either way, if your server was nice, leave a few euros on the table when you leave.
 
Eat Lenny Kravitz's favorite falafel
This wouldn't be a Paris guide without L'As Du Fallafel!!
Head to a cafe
Loud, divey bars with dance floors are a rarity, so do as the locals do and head to any one of the hundreds of cafes or wine bars to drink, smoke, and talk in circles about the three topics forbidden in America, but beloved in France: sex, religion, and politics.
 
Dance at a club
Grand Boulevard and Pigalle (though the latter is considerably sketchier) are great destinations for the big nightclub scenes. Rex Club will have everything you're looking for, including a hefty cover charge. Just don't call it a "discotheque" or "une boum" like your junior high French teacher told you or you'll sound like a dad -- they're dated terms from the '80s.
 
Hang out by the Canal Saint-Martin
While fancier people and tourists picnic on the banks of the Seine, the place to be during the warmer months for the young and hip is along the locks and bridges of the canal. Public drinking is totally legal so buy an inexpensive twist-off top bottle of wine from any Franprix (they sell wine in grocery stores) and post up with nothing more than a baguette, charcuterie, radishes, a chocolate bar, and some cheap as fuq cheese. Secure a spot early as it can be pretty crowded.
 
The central river is inarguably stunning (and horribly, horribly dirty) and each of its 37 bridges totally walkable... particularly if a bar is your destination. See the city right!
 
Paris never actually had a Prohibition, but that doesn't mean it lacks hidden cocktail spots.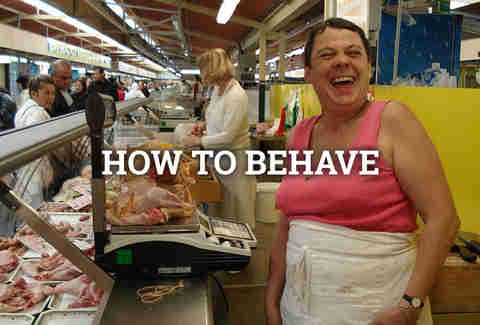 Learn at least a little of the language
These four basic words will suffice: "bonjour" (hello), "au revoir" (goodbye), "s'il vous plait" (please), and "merci" (thank you). Immediately speak English with a French person and they will pretend to not speak English. Speak French with a French person, they will switch into English. It's just how it works.
 
Pleasantries are mandatory
Say "bonjour" and "au revoir" to every shop owner, salesman, and server every time you enter and exit a store or restaurant.
 
Step up your clothing, but don't worry too much
Popular opinion will have you believe that all Parisians are beautiful, svelte snobs who only wear designer clothes. Which is mostly true, but France has loosened up dress codes considerably in the last 30 years. Plenty of people wear sweatshirts, shorts, and tank tops. You can too!
 
Try not to be... so American
Keep your voice down if you want to blend in. The French tend to mumble inaudibly.
 
Bread goes on the table, not on your plate, and you better not butter it
Unless it's breakfast, butter likely won't even be an option. But buttered bread with shellfish is totally okay, for some nonsensical reason.
 
Don't hug
"Faire la bise" instead! An air kiss on each cheek is a standard greeting for both men and women. And eschew the handshake if you're introduced to someone -- state your name while you faire la bise and you're all set. It's actually an excellent system because there's never any confusion about if you should shake hands, pound, hug, kiss, or high five.
 
Don't do it!
Beware of scams
Hecklers can be particularly intense in this city. People trying to sell you sunglasses, umbrellas, Eiffel Tower key chains, and water bottles are concentrated around the big tourist spots like Eiffel Tower, Montmartre, and the Louvre and are mostly harmless, if not mad annoying. But if you do decide you want 15 key chains for one euro, don't be distracted during the transaction as that's when accomplices pickpocket.
More nefarious are the women angling for your sympathy by pretending to be deaf, and the "finger scam," in which men target non-French speakers and tie a friendship bracelet around your wrist, and then aggressively follow you around demanding payment. They hang out on the steps up to Sacré-Coeur.
 
Eye contact
People will make it with you. A lot. And hold it an uncomfortably long time. Do it right back.
 
Avoid the tourist traps
Never, ever eat anywhere on the Champs-Élysées unless you have plenty of money to blow on a $16 cafe. Same goes for restaurants near Place St-Michel, though the views around there are, admittedly, quite nice.
 
Watch where you step
For a city this beautiful, it's baffling that locals don't feel the need to curb their many, many dogs.
 
And speaking of dogs...
There's no such thing as a doggie bag. Most restaurants serve appropriately proportioned dishes that you're expected to finish. You'll seem rude otherwise.
 
Avoid unnecessary bank charges
Bank of America has a deal with Banque Nationale de Paris (BNP Paribas), which enables you to make the cash withdrawals at BNP ATMs sans fees.
 
Paris doesn't shut down on Sundays
Particularly in touristy places, you'll always be able to find a restaurant or a food store or a tabac for cigarettes.
Carrie Dennis is an Associate Editor for Thrillist and used to live in Paris before becoming an Associate Editor for Thrillist. Follow her tweets en rose @CarrrieDennnis.