Paris's best digs for your work, play, and pleasure
Because Paris is the most visited city in the world, believe it or not, there are just a few hotels, and choosing the right one used to be kind of a challenge -- until we came up with this list of the six greatest...
If you're in town for some no-expense-spared romance:

Le Pavillon de la Reine
Staying at the ivy-swathed Le Pavillon de la Reine, this romance-aiding spot feels like it's been suspended in time -- that's actually not too far off, as the hotel dates back to 1612 and lines Place des Vosges, the oldest town square in Paris. Located in the heart of the Marais district, you'll walk through stone archways and columns, and into lux suites complete with canopy beds & intricate tiling.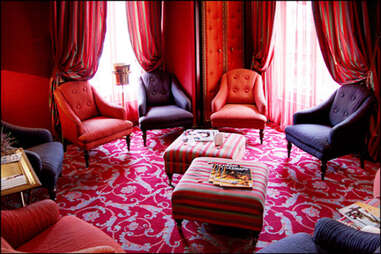 For pleasing both your lady and your wallet:

Villa Royale
Only a metro stop away from the Moulin Rouge, the decor of Royal's old-school rooms caters to the romantic La Belle Époque period, w/ plush furniture that comes in various shades of blush, lengthy drapes, and the red & gold flourishes around each room... and it won't cost a gold flourish either.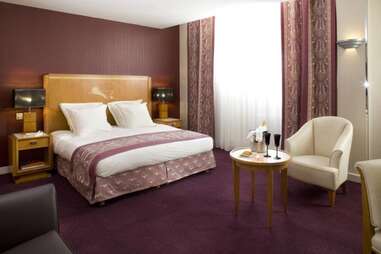 The business for business:

Les Jardins du Marais
The suites at Les Jardins du Marais will give you space to spread out, work and unwind, and include a lounge area in the Junior Executive Suites, plus comped high-speed internet in all of them. Elsewhere in the hotel are conference and reception areas available to rent, capable of catering to a small gathering or a group as large as 450 people.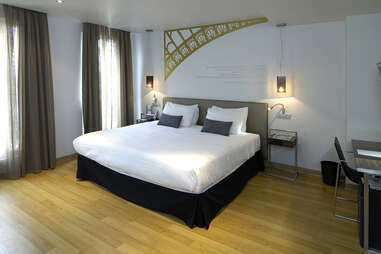 For a slightly more modest investment:

Eurostars Panorama
Taking its name in tribute to the sub-water travel route connecting Paris & London, each of the simple-but-slightly-stylish rooms has a touch of Paris in the decor, desks to work at, free WiFi, express check-in and check-outs, and -- get this -- 50 percent off the minibar for business travelers. If your room isn't enough, there's a business center built within the hotel and there's A/C, (which is a total rarity within the city).
For having a baller time:

Le Citizen
In Paris, it's generally agreed that the best place to share a drink or meal with buddies is on the cement banks of the St. Martin Canal (Paris's other waterway!), and Le Citizen Hotel is built right alongside it. In addition to the primo real-estate, the highly-rated boutique hotel offers spacious and bright rooms, each with an iPad, WiFi, and free minibar!
For having a baller time, at a non-baller price:

Hôtel Amour
Sure, it may be named for love (ew!), but don't let the name fool you -- each room is tricked out by a different artist, and the results are everywhere from classy to completely nuts, and they're always colorful. It's also located in up-and-coming district Pigalle (once defined solely by the sex shops lining its streets), with the ongoing gentrification meaning that awesome new bars & clubs crop up with the frequency of a heartbeat.