Paid Content For

5 Easy Road Trips from San Francisco To Please Even the Pickiest of Travelers
The PCH is calling.
Paid Content For

Garrick Ramirez
Garrick Ramirez
If you're itching to hit the Pacific Coast Highway and set out on an unforgettable journey from San Francisco, we've got just the destinations for you. All are three hours or less away from SF and make for everything from a fun day trip to week-long adventures. Read on for our five top road trip routes along Highway 1 for the ocean breeze blowing in your face and epic itineraries awaiting when you put your car in park.
Santa Cruz, CA
About two hours South of San Francisco, the PCH takes you to Santa Cruz. A surfer's paradise, Santa Cruz is the birthplace of mainland surfing in the United States with folks hitting the waves since 1885. It's also where you'll see the largest contiguous stand of coastal redwood trees on the Central Coast. Stretch your legs at The Santa Cruz Beach Boardwalk, a so-called "Coney Island of the West Coast" that has two national historic landmarks: 1) the Giant Dipper Roller Coaster (which turns 100-years-old in 2024) and 2) the Looff Carousel. Dine at Copal Restaurant for delectably flavored Mexican cuisine and make it a priority to visit Abbott Square Market, which has a slew of tasty food vendors and frequently hosts live music. After walking or biking with your clique along West Cliff Drive, a path providing stunning panoramas of the Monterey Bay, take over all or part of the West Cliff Inn. Other great digs? Hotel Paradox, a downtown hotel from Marriott that's walking distance from the Santa Cruz Beach Boardwalk, the Santa Cruz Wharf, and the Santa Cruz Museum of Art and History.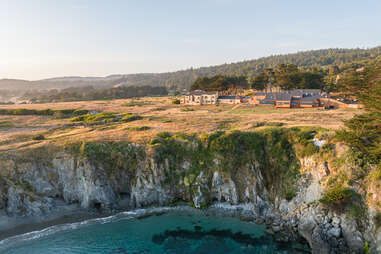 The Sea Ranch, CA
Clocking in at just shy of three hours if you take US-101 and Pacific Coast Highway (the ride will take longer if you drive solely on Highway 1, but wow, those views), this Sonoma County jewel has highlights like Gualala Point Regional Park, Gualala Arts Center, and Sea Ranch Chapel, a fanciful architectural marvel evoking the graceful form of a flying bird or the ocean's wave at its crest. You'll want to book the group a reservation at newly renovated The Sea Ranch Lodge, with postcard-worthy oceanfront vistas. For golfing guys and gals, pilgrimage to the property's Sea Ranch Golf Links, and while there are plenty of good restaurants in nearby Gualala (The Sea Ranch is an unincorporated community on a 10-mile stretch of Highway 1) like Gualala Seafood Shack and Upper Crust Pizzeria, The Dining Room at the hotel is superb. Petaluma chicken, local Petrale sole, or roasted eggplant. . . one of each, please. Run by executive chef Eric Piacentine (who previously tossed dough at the renowned Big Sur Bakery), order a bunch of their tasty appetizers and mains and divvy up any reimbursement necessary with your friends for the final tab easily on Zelle®.
Forestville, CA
Expect to drive for about two-and-a-half hours north of San Francisco if you take Highway 1 for the majority of your route (navigating more directly, you can get to Forestville in about two hours). Upon arrival, check into the Farmhouse Inn, perched on a ten-acre wooded property in the famed Russian River Valley region. It's a luxurious, family-owned boutique hotel you'll barely want to leave thanks to the tantalizing chef's tasting menu at its hyper-local restaurant and its farm-to-table spa, née "wellness barn." When you do pry yourself off these surreal grounds, find the trailhead behind the parking lot on the right side of the property for an enchanting quarter-mile hike or venture to nearby Riverfront Regional Park in neighboring Healdsburg for hiking, biking, swimming, boating, stand-up paddle boarding, or horseback riding. Steak aficionado? For some of the most primo cuts in the Bay Area, drive about 10 minutes to Goodnight's Steak + Spirits and prepare to be wowed.
Bodega Bay, CA
Sure you could get there faster via Highway 101, but the roughly two-hour drive on the treasured Highway 1 will reward you with unbelievable vistas. Upon arrival marvel at the majestic cliffs and pristine beaches before hitting any number of hiking trails (we recommend Kortum Trail for is-this-real?!-scenery) or hitting the water for a kayak adventure with Bodega Bay Kayak. You could also horseback ride with Chanslor Stables or Horse N Around Trail Rides or work on your swing at Bodega Harbour, a beautiful golf course. Or, just plop down at the tranquil and elegantly appointed Inn at the Tides right on the PCH and delight in delectable catch like Dungeness crab cocktail, filet of Petrale sole, and Pacific Red snapper at its Tides Wharf Restaurant and Bar.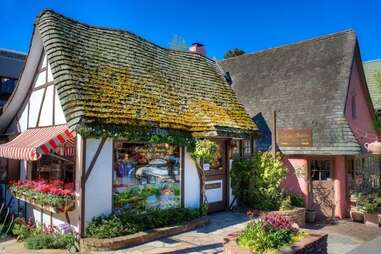 Carmel-by-the-Sea, CA
Saving the best for last. Welcome to Carmel-by-the-Sea, just over two hours away from San Francisco and packing a whole lot of fanciful charm into a one-square-mile seafront hamlet. The European-esque burgh in Monterey County is brimming with art galleries, upscale boutiques, and enchanting alleys where you never know what string lights or florals you'll discover (or delicious eats). If getting in the H2O is your alley of choice, surf at Carmel Beach, which you can do year-round thanks to the pleasant conditions here. Come grub time, there are no chains to be found in this idyllic town (ditto for national coffee shops) so you really can't go wrong, but we strongly advise you make a reservation at highbrow Aubergine, for a seasonal tasting menu followed by down-home drinks at Barmel. Pick up the tab for the crew for a celebratory round or make reimbursement a breeze with fast and easy payment through Zelle®. Catch ZZZs at the Carmel Wayfarer Inn or more upscale options like L'Auberge Carmel, where Aubergine is located.
With
Zelle®
, money goes directly into your bank account. It's taken care of, so you can feel, enjoy, and savor every moment. It's delightfully seamless.