Gorgeous Orchards for Apple Picking Outside of Philadelphia
No matter where you are in Philly, perfect apples are in reach.
Can you feel the crisp air rolling in, Philly? As the sun sets on summer, you may feel the urge to throw on your favorite sweater and indulge in all your cottagecore fantasies. Luckily, fall in the Philadelphia area means orchards brimming with seasonal harvests begging to be hand-picked. These nearby farms and orchards offer pick-your-own apple adventures—perfect for those apple pies and strudels you're definitely going to make.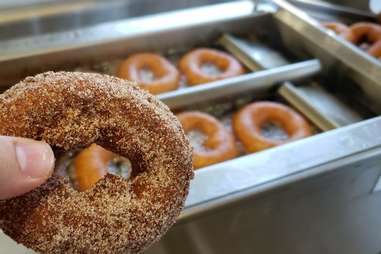 Mohnton, Pennsylvania
Distance from Philly: 1 hour, 15 minutes
On the longer end of a day trip drive, this farm just south of Reading has 35 varieties of apples available until November. Open every day but Sunday, you'll have access to wagons, complete with a free bottle of water, to haul your haul. For a more in-depth PYO experience, take a tractor-drawn tour through the farm and learn how apples are grown. Don't climb on trees or eat fruit out in the orchard. And be sure not to miss the famous apple cider donuts.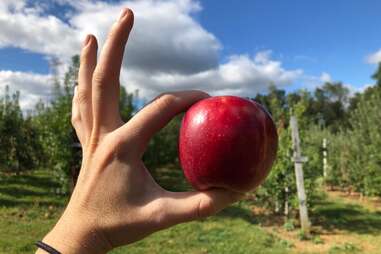 West Chester, Pennsylvania
Distance from Philly: 1 hour
Perfect for a weekend road trip, apples are available to pick every day but Monday through October. No reservations are necessary; upon arrival, check in at the red shed and staff will give you directions on how to drive into the field and pick up bags for your apples. On weekdays during the fall, hop on a guided tour of the farm to pick apples and pumpkins while learning harvesting tips from the pros.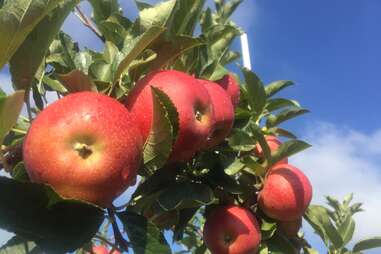 Mullica Hill, New Jersey
Distance from Philly: 30 minutes
This South Jersey farm is open to pick-your-own apples Fridays through Sundays during the fall. If you're making the half-hour trek on the weekend, you'll need to reserve a time to arrive. Pay the $5 per person entrance fee (Fridays are free) and head out to the huge apple fields to harvest your own goodies. Bring your own picnic gear—or pick up some goodies in the farmers market—and have a snack in the orchard. Don't forget to take copious amounts of photos.
Media, Pennsylvania
Distance from Philly: 40 minutes
This century-old farm uses organic and sustainable methods to grow their produce, which includes many varieties of apples in the fall. Pay $2.50 a person and pick-your-own apples through November. The farm is open daily and you'll have to pay for what you pick.
Princeton, New Jersey
Distance from Philly: 1 hour
More than a dozen varieties of apples are available through October at this farm in stately Princeton. The fields are open daily, and the trees are kept short enough so picking is easy for harvesters of all heights. Weekends in the fall will feature hay bale mazes, wine tasting, and live music, too, so make a day out of it. Apples are sold by weight—and remember, if you pick it, you buy it.
Media, Pennsylvania
Distance from Philly: 30 minutes
Daily apple picking at Linvilla Orchards runs until mid-November with more than 25 varieties to choose from—and it's just half an hour away. You'll need to purchase a $7 picking ticket online ahead of time (the cost of which will be credited toward your final apple haul). The farm will be limiting the number of pickers, so try to get there early to ensure you can get in without a wait. Before heading out, visit the orchard's beer garden to try the Ship Bottom Brewery Linvilla Hard Cider.
Medford, New Jersey
Distance from Philly: 30 minutes
Over the bridge in New Jersey is a cutesy farm offering daily pick-your-own apple adventures through mid-October. Take a hayride out to the orchard (book your ticket online ahead of time or at the farm) and pick from the 10 varieties of apples the farm grows. Reward yourself with some soft serve at the farmhouse after an afternoon in the orchard.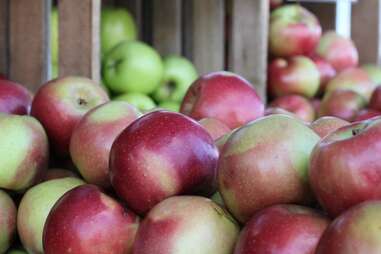 Yardley, Pennsylvania
Distance from Philly: 1 hour
You can pick your own apples Wednesdays through Sundays until October and get an old-fashioned wagon ride out to the fields at Shady Brook Farm. Either reserve your spot online ahead of time or pay for admission when you arrive. Other fall activities include corn mazes, live music, s'mores roasting over an open fire, and more.
Langhorne, Pennsylvania
Distance from Philly: 40 minutes
Through early November, apples are ripe for picking every day but Monday at this orchard. Pick only what you're going to purchase and don't climb the trees or eat any fruit while in the fields. Plus: free hayrides and free orchard admission.
New Hope, Pennsylvania
Distance from Philly: 1 hour
In quaint New Hope, you can pick apples through early November on Thursdays through Sundays. Throughout the season, the farm yields more than 20 different varieties of apples, from Sun Crisp (available early-to-mid October) to Crimson Crisp (available mid-to-late September). Check in at the market to grab a bag, walk or take a wagon ride out to the orchard, and be sure to pick only what's in-season (there'll be signs letting you know). Heads up: Reservations are required for weekend pickin' and remember to only pick what you're willing to pay for.
Morgantown, Pennsylvania
Distance from Philly: 1 hour
Out in Morganstown you can pick from more than 30 varieties of apples—like Red Delicious and Pink Lady—every day but Sunday through early November. Upon check-in, you'll have to purchase one of the farm's picking containers (remember to only pick what you'll buy) and then walk a short distance to the orchard to get picking. Oh yeah, and there's fresh pressed apple cider and homemade apple cider donuts, too.