Cool Airbnbs Near Philly To Book This Spring
One of them is a legit castle.
As far as quick getaways go, Philly is in a prime location for any type of trip you want to take. You can find a secluded getaway in the mountains, soak up the sun on the beach, escape to the suburbs, or check out a nearby city, all after just a short drive.
So as ski season transitions to beach season, you may be in the mood for a waterfront jaunt—or perhaps want to idle away in newly thawed-out nature. Whatever your plans, there are plenty of idyllic lodging options on Airbnb for you to rest your head after a day of adventures this spring.
Wilmington, Delaware
15 guests, $247 per night
Distance from Philly: 40 minutes
Want to feel like you're sleeping in a museum? Built circa 1745 by a Quaker from West Chester, this home is on the National Register of Historic Places and features original paneling, moldings, and fireplaces. For your outdoor lounging needs, there's a brick patio and a garden on the premises.
Lancaster, Pennsylvania
10 guests, $219 per night
Distance from Philly: One hour, 30 minutes
With exposed brick , wooden beams, and rustic hardwood floors plus new appliances and olive green accents, this downtown Lancaster home pairs old school with new. Close to restaurants, cafes, and shops, this Airbnb is perfect for downtown explorers who want a tasteful and spacious place to crash.
Lake Ariel, Pennsylvania
4 guests, $211 per night
Distance from Philly: Two hours, 30 minutes
Giving the A-frame a run for its money, this lakefront octagonal cabin boasts midcentury details like a fondue maker and geometric patterned rugs, and more eclectic ones like rainbow spiral stairs. The floor-to-ceiling windows fill the ground floor with plenty of light plus there's a wraparound porch with lots of outdoor seating. You'll also have access to the beach, gym, pool, and other community amenities.
Williamsport, Pennsylvania
8 guests, $329 per night
Distance from Philly: Three hours
The epitome of cottagecore, there are few places where you can wake up to the garbling of a creek and then warm up around an indoor wood stove. Reclaimed church doors and the exposed beams give the cabin an authentically rustic feel. Nearby are plenty of trails for hiking and in the summer, there's a private beach on the shore of the creek for some sunbathing, swimming, fishing, tubing and kayaking.
Ocean Grove, New Jersey
4 guests, $179 per night
Distance from Philly: 90 minutes
Not far from the bars and restaurants of Asbury Park, this bright and modern beach apartment is perfect for a couples getaway. Between the two-and-a-half block location from the beach and two-block walk to Ocean Grove's shopping and dining corridor, you get the best of both daytime and nighttime activities. Plus, the place comes with beach towels, chairs, and beach badges all for your use.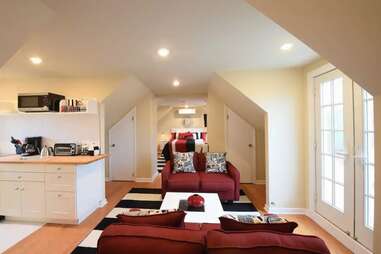 West Cape May, New Jersey
2 guests, $271 per night
Distance from Philly: 90 minutes
Stay in the middle of a winery and wake up to views of the vineyard. This cottage, located at Willow Creek Vineyard, is perfect for travelers who want to taste wine one day and take a short ride to the beaches, restaurants, and shopping in Cape May the next. A cozy space for two, the balcony overlooking the vines offers plenty of romance after your day of sightseeing at the Cape May Lighthouse, the Emlen Physick Estate, and Sunset Beach.
Barnegat Light, New Jersey
5 guests, $180 per night
Distance from Philly: One hour, 40 minutes
Only a block-and-a-half away from the beach, this quaint two bedroom features retro wood paneling, a wrap around deck, and your own grill. The hosts live below this upper-level condo so they won't be far if you need suggestions for what to do in the area—though with the Barnegat Lighthouse, marina, and golf course nearby, we doubt you'll need it.
Manheim, Pennsylvania
14 guests, $443 per night
Distance from Philly: 1 hour, 45 minutes
Go full farm chic at this spacious farmhouse, built in the 1800s. With exposed brick, tons of rustic wood detailing, and a private bathroom for each of the four bedrooms, this place is old school-meets-new. And let's not forget the outdoor charm, shall we? This property boasts a lpacas, chickens, a fire pit, and a giant windmill.
Myerstown, Pennsylvania
21 guests, $540 per night
Distance from Philly: Two hours
Live like royalty for the weekend in an actual castle built in 1860. With a whopping eight bedrooms, this castle has enough space to sleep 21 people—and enough silverware and dishes to feed all those mouths. You'll have access to the 2.4 acre grounds (including a huge yard with a volleyball net), plus the giant house, which features two porches, balconies, a formal dining room, and more. Downtown Myerstown is just a few minute drive away if you're looking for restaurants, a flea market, and a small town vibe.