The Coolest New Exhibits to Check out in Philly Before They Disappear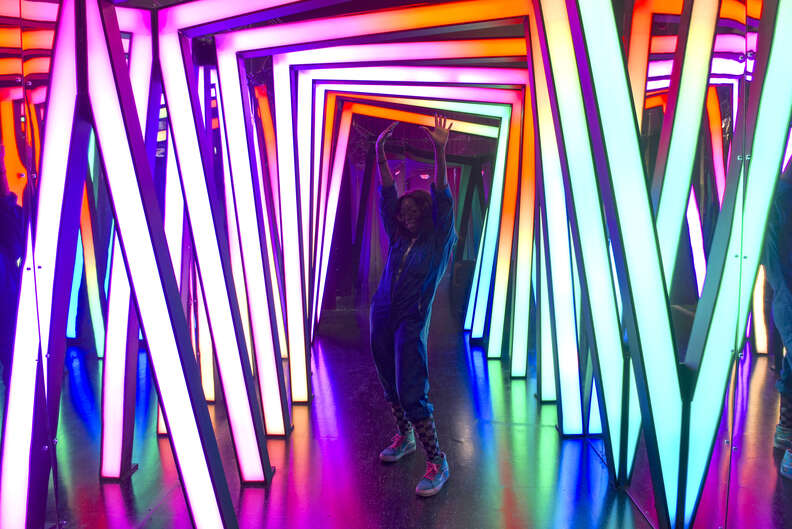 Candytopia

| Lisa Lake/Getty Images for Candytopia
Candytopia

| Lisa Lake/Getty Images for Candytopia
Sure, Philly may not have the bucket list exhibits of Paris and Rome, but our city is home to some legendary pieces from Renoir and Van Gogh at our world-class museums. Plus, our town's hardworking artists add color to the fabric of our local culture every single day. While it's easy to get distracted by our killer food and music scenes, Philly's galleries and public art deserve as much passion as we give our sports teams. Feast your eyes on the newest -- like an Insta-friendly experience -- and most notable -- hello, giant T.Rex -- exhibits in Philly.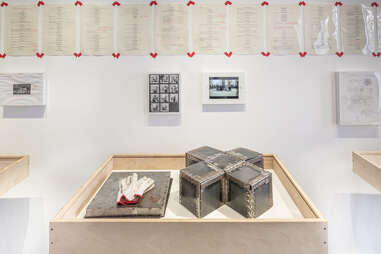 On view through November 16 at The Print Center
Rittenhouse Square
Operating under the notion that words can not only convey messages, but also biases, artists Bethany Collins, Sharon Hayes, Sarah McEneaney, Keris Salmon, María Verónica San Martín, and Didier William used personal and public archives to create works in print, photography, painting, video, and performance art -- spotlighting the ways words can be gendered, racist and classist.
Price: Free
On view through December 2019 at the Philadelphia Museum of Art
Museum District
Presents are great, right? The Philadelphia Museum of Art was gifted with such a vibrant collection of contemporary art over the last decade that they're putting it on display for the rest of the year, with works examining various representations of the body, digital pieces, and abstract art.
Price: General admission is $20
On view through December 7 at The Galleries At Moore
Museum District
A two-part exhibition, "Or Both" features a multimedia experimental collection of drawing, enamel on steel, collage, monotype, and woven wool rugs from Ulrike Müller and a group show inspired by Müller's wide-ranging practices, featuring work by Martin Beck, Barbara Chase-Riboud, Jennie C. Jones, Eric N. Mack, Medrie MacPhee, Dona Nelson, and Deborah Remington.
Price: Free
On view through January 5, 2020 at Fashion District Philadelphia
Market East
Philly just got into the experiential art scene last summer with Photo Pop Philly, a summer engagement, which returned again this summer. Following in its wake is Candytopia, an interactive art installation, following runs in New York, Houston, and Atlanta. Similar to other Instagram-friendly experiences, Candytopia boasts over a dozen rooms filled with marshmallow pits, an underwater decor with candy-coated sea creatures, and a rainbow room decked out with flying unicorn pigs and confetti explosions.
Price: General admission is $28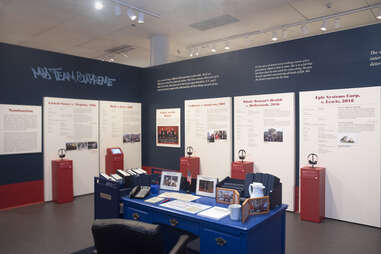 On view through January 12, 2020 at the National Museum of American Jewish History
Old City
The Supreme Court Justice is having a major moment. Inspired by the book of the same name, this traveling exhibition makes its east coast debut in Philly with images, objects from her life and her work as a lawyer, and her Supreme Court robe, among other artifacts.
Price: $9
On view through January 12, 2020 at The Barnes Foundation
Museum District
In late 2008, work by 30 contemporary African-American artists -- including Jean-Michel Basquiat, Carrie Mae Weems, and Rashid Johnson -- was displayed in the Miami-based private museum, Rubell Family Collection. For the last decade-plus, the exhibit 30 Americans has traveled to museums nationwide. Now making a stop in Philadelphia, the showcase features political paintings, sculpture, and photography at the Barnes.
Price: General admission is $25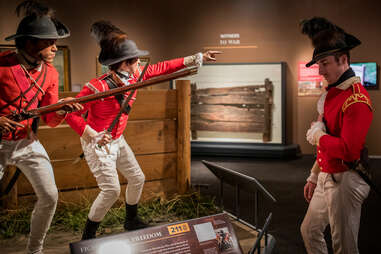 On view through March 17, 2020 at the Museum of the American Revolution
Old City
See the toll of both the American Revolution and the Irish Revolution of 1798 through the eyes of Irish soldier and artist Richard St. George and his cartoons, portraits, paintings, and artifacts from his life and death.
Price: General admission is $25
On view through May 10, 2020 at ICA Philadelphia
University City
With a constant lineup of stellar contemporary exhibitions, the University of Pennsylvania's Institute for Contemporary Art rolls out another compelling collection of sculptural work from local artist Michelle Lopez, featuring a "monumental, site-specific installation that creates a suspended cityscape reduced to rubble."
Price: Free
Permanent installation at the Penn Museum
University City
History buffs can revel in ancient Egyptian artifacts -- including coffins, mummies, and jewelry -- in this new exhibit. Don't worry about missing any of the goodies: Each of these 200 objects will eventually make their way to the revamped Ancient Egypt and Nubia Galleries.
Price: General admission is $10
Permanent installation at the Academy of Natural Sciences
Museum District
Arguably the most eye-catching display in the Academy of Natural Sciences is the 42-foot long Tyrannosaurus Rex skeleton. Over two dozen other prehistoric species are on display, perfect for little ones and grownups alike.
Price: General admission is $22
Permanent exhibition at the Percy Street Project
Passyunk Square
In 2016, mural artist David Guinn and lighting designer Drew Billiau illuminated a nook of South Philly, a stone's throw from Pat's and Geno's, with neon lights and paint. Dubbed The Electric Street, the permanent installation is a major Instagram hotspot and an overall dreamy place to hide away for a moment.
Price: Free
Sign up here for our daily Philly email and be the first to get all the food/drink/fun in town.
Allie Volpe is a Philadelphia-based contributor for Thrillist. Follow her on Twitter.