Where to Eat at Philadelphia International Airport
Airport food doesn't have to be boring.
Just because you're stuck in the airport doesn't mean there isn't delicious food at your disposal. Philadelphia is a foodie town, whether we're talking James Beard Award-winning restaurants or historically beloved cheesesteaks, and you'll find pieces of the city represented in each of Philadelphia International Airport's terminals. From the best coffee in town to menus crafted by star chefs, here's our guide for eating your way around PHL.
Closest Gate: A3
Also open in B/C Connector and Terminal E
The Philly-based coffee roaster is a no-brainer for any caffeine-fueled trip to or from Philly, and you can rest assured the PHL locations are open most mornings and evenings. If you're in a hurry, get a frothy draft latte on tap with a fresh, fluffy pastry.
Closest Gate: A9
Get fire-baked pizza on the go with Piattino, which has an 800-degree, stone-fired oven to easily elevate your fast-casual airport food. In addition to pizza, you can get pasta, paninis, and breakfast items. Consider especially the wild mushroom pizza made with truffle oil.
Closest Gate: A14
If you're bougie enough to be an American Express Platinum Card or Centurion member, enjoy one of the nicest corners of the airport at Centurion Lounge. You'll find a food menu designed by chef Michael Solomonov of Philly favorite Zahav, plus beer, wine, cocktails.
Also available in C/D Link
For something easy you can carry on your flight, Farmer's Fridge is the best choice to stay healthy even as you travel. At these vending machines, you'll find fresh fruit, salads, and bowls that are made from scratch and delivered nightly to assure freshness and deliciousness.
Also in D/E Connector
Chances are that anywhere you eat or drink in the airport will be overpriced compared to alternatives out in the real world, but if you want a legit wine list and don't mind spending the extra bucks, Vino Volo is your spot. In addition to by-the-glass pours and tasting flights, you can also snag all the foods best enjoyed with wine: artisanal cheese, crostini, charcuterie, and more.
One of Philadelphia's most famous cheesesteak spots has an airport edition to give passengers the chance to have a Philly cheesesteak even during the shortest of layovers. Besides the legendary cheesesteak (which has been served from the 9th Street and Passyunk Avenue location since 1966), pork sandwiches, cheese fries, and breakfast items are all on the menu.
Also available in Terminal E near gate E3
Sometimes sushi at the airport is actually a great idea. Traditional and chef selection sushi rolls, poke, rice bowls, bento boxes, and warm noodles are at your disposal and can rival what you might find out dining beyond the airport confines.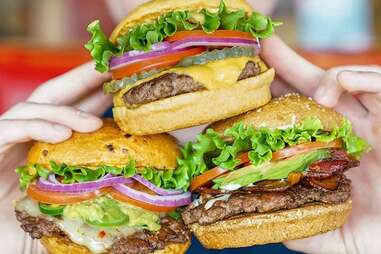 Also in Terminal F near Gate F10/Hub
Smashburger is your best bet for a short-on-time burger that still hits the spot. The fast-casual spot serves classic burgers (including veggie options) and fries, and also has order-ahead options which come quite handy.
Closest Gate: B11
Baba Bar features a menu created by one of Philly's favorite chefs, Top Chef favorite and the owner of Laurel, Nicholas Elmi, featuring small plates, wraps, and other light bites with a coastal Mediterranean inspo. Expect kebabs, skewers, hummus, tabbouleh, babaganoush, and more.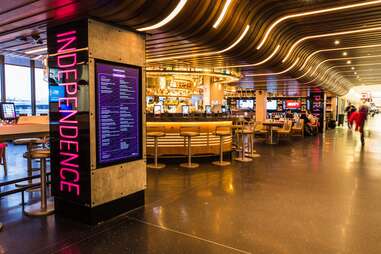 Closest Gate: B8
Kevin Sbraga's tavern steakhouse hybrid should be your go-to for a filling meal with a big wine and beer selection to boot (plus a kids' menu and vegan options). The place is open from 5:30 am to 8:30 pm daily, so it's a good stop if you need an early morning breakfast to charge you up for the day. Speaking of charging, you'll find plenty of spots to juice up your devices throughout.
Closest Gate: B11
Design your own individually sized, Neapolitan-style pizza and round out your airport feast with antipasti, truffle fries, arancini, or a cheese plate at Mezzogiorno, where you can choose from a Southern Italy wine list and locally curated beer menu. It's a fairly casual setting but with many elevated things to taste.
Closest Gate: B6
Noobar offers grab-and-go gourmet market options, a breakfast and egg bar, and plenty of dumplings, rice, ramen, and maki roll options to craft your ideal layover. Like many Terminal B restaurants, iPad ordering streamlines the process and gives you a chance to pause and charge your devices.
Closest Gate: B2
Enjoy pizza by the slice, square or round, or up your morning food game by opting for a breakfast stromboli—but bagels are available here too, in case you're not quite ready for a breakfast of champions.
Near security
One of Center City's very best restaurants has an airport outpost to get a taste of the Philly dining scene from the confines of your terminal. Don't skip the cheddar cheese curds or Nashville hot chicken for a quick little something to hit the spot.
Closest Gate: C24
The owners of Old City's Positano Coast and Caffe Aldo Lamberti in Cherry Hill, New Jersey are behind this Italian eatery, which offers by-the-slice pizza, pasta, sandwiches, salads, and a breakfast menu, all of which are best enjoyed when you're on the go. It's a pleasant surprise in the world of airport food.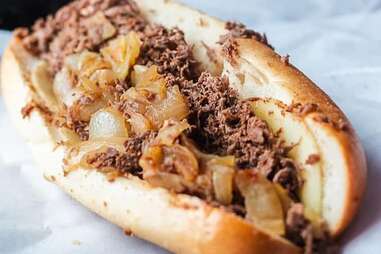 Closest Gate: C24
From South Street to south of your gate, Jim's Steaks is a cheesesteak must for anyone in Philly, tourist or otherwise. This is your chance to try it yourself between flights, so get ready to pack a couple hundred years of cheesesteak-making history into your layover.
Closest Gate: D9
This is your go-to for staying full enough to forgo whatever questionable flight meal is being served. Lola fries (which come in rosemary, Parmesan, poutine, and pulled pork varieties) might be satisfying enough, but you could always expand your stomach further with one of the bar's burgers, like the Thanksgiving-themed Gobbler or the pastrami-filled Fat Doug.
Closest Gate: E5
Also in Terminal C and D/E Connector
Crab fries are the quintessential item at this Philly-area classic, but the spot is also key for the classic sports-and-beer combo while you wait for your connecting flight. There's also a pretty kick-packing Bloody Mary worth your attention.
Closest Gate: F10/Hub
This is the airport go-to for the best beer and wine selection in the vicinity, which you can pair with higher quality pub fare including mussels, fried calamari, and fancy sandwiches. The bar is an elegant spot to waste some time or watch the game, and tables are each outfitted with iPads where you can order and pay.
Closest Gate: Gate F10/Hub
Self-styled as "Philadelphia's hometown bakery," LeBus is already well-known and well-loved in the city for fresh, daily bread that varies from pastry to baguette to bagel to, well, everything else. Choose from the sandwich menu or simply grab a danish and giant cookie with your coffee to go.