The Best Ways to Enjoy The Simple Joys of Philly
Rudy Balasko/Shutterstock
Philly's known for being a little rough around the edges. Sure, we party our faces off at the Mummers parade, we save parking spots with rickety lawn chairs, and get a bit over-enthusiastic when we cheer on the Eagles, but we have a softer side too. Sipping a cup of La Colombe coffee in Rittenhouse Square, holding hands in Love Park, strolling along the Schuylkill River Trail -- there are countless ways to relax and appreciate the pleasant parts of living in Philly. Whether you're looking to explore the unique attractions in our diverse neighborhoods, or prefer trekking along the beautiful parks and trails, here are some of our favorite ways to unwind and recharge in the City of Brotherly Love.
Lounging in a hammock at Spruce Street Harbor Park
C'mon. You know the hammocks had to be on the list. There's a reason the park is one of the
most Instagrammable places in town
. Not only is it a dirt cheap (yet super romantic) date idea, but it's a wonderful spot to wind down and enjoy some "you" time. The colorful hammocks are always in high demand, but patience is a virtue, so hang in there and you'll be hanging in no time. But if patience isn't your jam, then try swinging by during off hours (weekdays from 11-5, since nights and weekends are when the park is most popular).
Find your zen...
...at the Art Museum's
Japanese ceremonial tea room
. It doesn't get more peaceful than wandering around in these early 20th century tea houses. Designed to be a complete retreat from the grittiness of city life, the tea house's use of natural materials -- cypress roof shingles, red pine pillars, bamboo rain spouts, and the earth-colored plaster walls -- will delight and please your senses, no mantra required.
Laurel Burmeister
Savor a frozen treat
Indulge in a glorious hot fudge sundae at
Franklin Fountain
, nibble on a small cup of Stracciatella gelato from
Capogiro
, or if you prefer, dig into a scoop of Sriracha Earl Grey from
Little Baby's Ice Cream
. If you're the kind of person who finds their bliss at the bottom of a cup or cone, Philly is the place for you.
People-watching in Rittenhouse Square Park
Whatever you're in the mood to do -- stretch out on the grass with a great book, chill out on a bench sipping green lemonade from
Hip City Veg
, or hell, just swinging your legs sitting on a low wall -- this is the place to be. On a warm, sunny day, watching the crowds filter in and out of the park is supremely serene.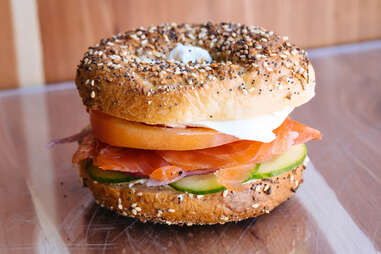 Courtesy of Caviar
Fishtown's impressive food and drink scene
Aside from
Midtown Village's renaissance
, Fishtown is one of the most interesting culinary destinations in America right now.
Pizzeria Beddia's
pies,
Philly Style Bagels's
lox sandwich, and
Martha's
superb cocktails are nationally renowned. Walk along Frankford Avenue, pop in for a leisurely bite or sip, and see what the hype is all about.
Courtesy of PHS
Cheers to socializing for a cause
The seasonal outdoor
beer gardens
from the Philadelphia Horticultural Society are not just a fantastic way to sample dozens of the best local beers on tap, but it's a low-key way to meet your neighbors. All the pop up beer gardens are made using sustainably sourced methods, and proceeds support PHS programs like City Harvest, a network of community farmers that feeds over 1,200 families. Between helping worthy causes and enjoying the incredibly chill vibes, these beer gardens will make your happy hour feel even happier.
Chomp into a piping hot soft pretzel
On Washington Avenue. At midnight. There's no other way to do it, fam. This is a carb lover's heaven right here. Once you've experienced a fresh soft pretzel from
Center City Pretzel Company
, no other soft pretzel on the planet can compare. You're ruined for life.
Advertisement
Courtesy of Nestea
The New NESTEA
NESTEA has its own spin on Simple Joys, offering a new recipe including less ingredients and delicious tea leaves from Nilgiri, India. Because less is more.
Sam Oberter
Feel like you're on top of the world
Take in some of the best views of the city at any one of our
rooftop bars
. Some, like
Standard Tap's
rooftop deck, are perfect for catching some sun while grabbing juicy burgers and local beers with friends. Others, like Center City's
SkyGarten
or the seasonal
Bok Bar
in South Philly, are better suited for a summer date, because, bonus: you can amuse yourselves trying to locate your respective homes from the super high vantage point.
Between artisanal roasters like Reanimator, La Colombe, and Rival Bros., there's no shortage of fantastic java to soothe your soul. Each neighborhood has their fave spot, so you'll never need to pop into the Seattle-based behemoth whose name we won't mention.
Two words: Water Ice
Sliding a spoon into a plastic cup of water ice (Italian Ice to outsiders) on a hot day is truly one of Philly's greatest pleasures. Some people are loyal to
Rita's
day-glo candy aisle flavors, but people in the know adore the old-school custom scoops you'll find at a mom and pop operation like
John's Water Ice
in South Philly.