Square 1682
Square 1682
Philadelphia has yet another bragging point (we already know about Chip Kelly's high-speed offense): the city is home to what's been dubbed by USA Today as the country's top hotel bar. So let's look around Square 1682, the laudable boozery adjacent to Rittenhouse Square's Hotel Palomar, shall we?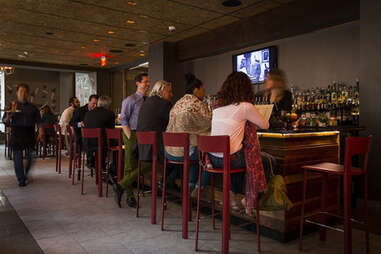 ... her. The bartender you'll be checking out before you ever check in's a tall, tattooed blondeFranklin Mortgage vet turned award-winning mixologist.
If you're looking for a metaphorical icebreaker, order a bowl of bar snacks such as this truffle-buttered popcorn; it's rumored to be the way the hotel got judges' hands dirty during the voting process.
The popcorn's not the only consumable on the menu that's house-infused; the bar stocks an arsenal of original syrups like ginger, cucumber-melon, and pomegranate molasses. Plus, they spice their sweet nectar with savories like this tequila-and-mezcal Once Around The Block with Jamaican jerk bitters.
Like your drinks brown and your memories as spotty as that leopard robe in the upstairs bathroom? Put your lips on Mama's Squeeze Box, a gin-curacao-and-vermouth concoction that's dropped with Moroccan bitters (but hopefully not on the floor).
Still waiting for the maid to finish restocking your minibar/ that guy in the Vick jersey who looks exactly like Michael Vick to stop taunting you? Before you tuck into bed, tuck into the bar's three-course cocktail pairings menu. It includes dishes like lingonberry mustard duck toast, Skuna Bay salmon, and this cornmeal cake-smothering pork tenderloin, along with a trio of 'tails such as vodka punch and the bourbon-and-soda Red Neck Friend (making friends is probably the secret to this joint's success).