9 Perfect Weekend Getaways for When You Need to Escape Philly
From foliage-filled drives and stargazing meccas to sleepy off-season beach towns.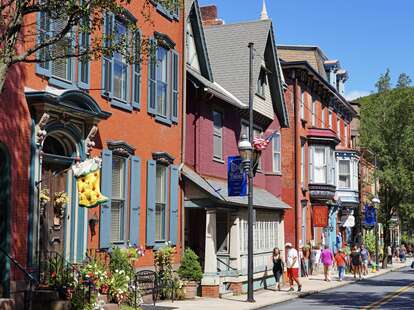 It's time to get out of hibernation mode and make the most of Philly's proximity to so many wonderful getaways. Whether you're craving foliage, natural wonders, wineries, urban marvels, or anything else, chances are you can find it after hopping in the car for even just an hour. From nearby botanical wonderlands and small town charm to starry landscapes and off-season seaside dining, you deserve a little time away. Explore, reset, and recharge with some of our picks for the best weekend getaways near Philly to take this fall.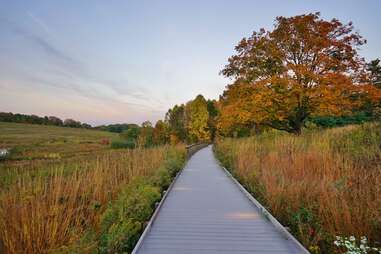 Distance from Philly: 55 minutes
The beautiful and never-ending Longwood Gardens is open with new displays and more to discover than ever. Make it the perfect day outside the city and marvel at the colors of autumn while you take in the Chrysanthemum Festival and other fall attractions, including a kid-friendly Pumpkin Playground. By the end of November, the destination's holiday attractions will be in full swing. In the Kennett Square area, you can also check out Brandywine Valley's tributary and historic downtown district, or take a 10-minute drive to Chaddsford Winery, where wine trick-or-treating and seasonal drinks bring extra festivity.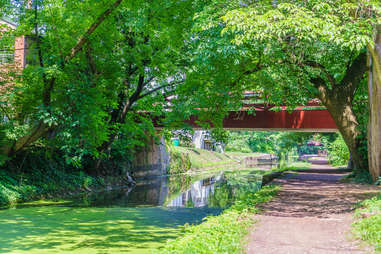 Distance from Philly: 1 hour
New Hope and neighboring Lambertville are two riverside towns straddling the line of New Jersey and Pennsylvania, positioned as a quaint artist's hideaway of quirky shops and outdoor riverside dining framed by a biking trail that takes you on a tour of the town. There is always so much to explore here, from samples at the New Hope Winery and Pour House to all the olive oil you can fathom from Olive n Grape. The stunning new River House at Odette's is a hyper luxe daycation getaway, whether you stop in for dinner on the riverview deck or stay for a night and get cozy by a rooftop fireplace. Don't forget to check out the Ferry Market, wander through the Bowman's Hill Wildflower Preserve, or check out the fall and winter festivities at Peddler's Village.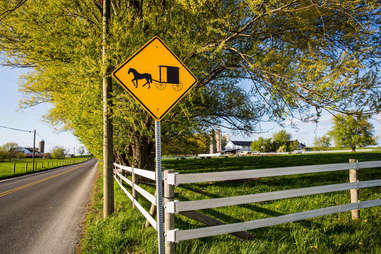 Distance from Philly: 1 hour, 25 minutes
The shore during off-season is a peaceful escape for Philadelphians, so why not head north and explore Asbury Park, the eclectic seaside town known for quirky shops, eye-popping murals, and live music—with a special fondness for Bruce Springsteen. The Stone Pony and other venues are open for live shows, and don't miss a chance for burrata and egg-drizzled pizza at Porta, though the fried lobster tacos at Iron Whale should also not be skipped. If you're staying over, the new Asbury Ocean Club has super luxe accommodations, while the nearby Asbury Hotel has a rooftop bar, Salvation, to enjoy.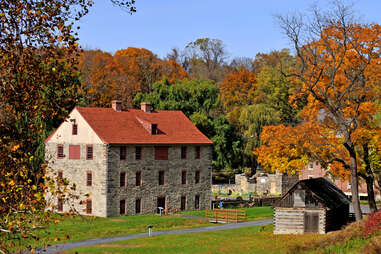 Distance from Philly: 90 minutes
Head to the Lehigh Valley for a taste of small town charm not unlike an episode of Gilmore Girls. The area is ideal for foliage peeping, plus some great culinary adventures. Easton comes alive with weekend food festivals, like the massive PA Bacon Fest, which hosts more than 150 vendors to show off their bacon best. Neighboring Bethlehem offers ArtsQuest at the repurposed historic SteelStacks, also offering wonderfully curated new and classic films for indoor and outdoor viewing. Round out your trip by giving glassblowing a shot at the Banana Factory and snag brunch at the Flying Egg.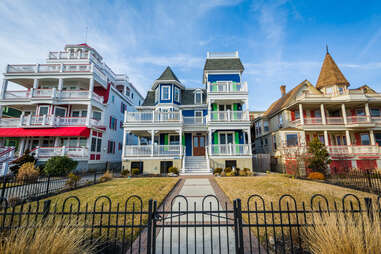 Distance from Philly: 1 hour, 35 minutes
Cape May, the shore's southernmost beach town, feels even more idyllic and peaceful in the off season. You can still take in the ocean, colorful Victorian houses, and everything else the town has to offer, from a table at The Ebbitt Room to a lazy vineyard day 10 minutes away at Willow Creek Winery. The Cape May Brewing Co. has lots of new features to explore too, including the pet-friendly Brewtanical Garden and Brewtique.
Distance from Philly: 2 hours
Yes, we love our city here in Philly, but that's no reason not to love New York, too—there's room for both in your heart! Head up for a day and treat yourself to everything good at the city's best restaurants or make a weekend of it to catch a show, take a creepy trip on Madame Morbid's Trolley Tours, and, if you're really feeling adventurous, take a sweeping look at Manhattan from 1,000 feet up at Summit One Vanderbilt, opening in October.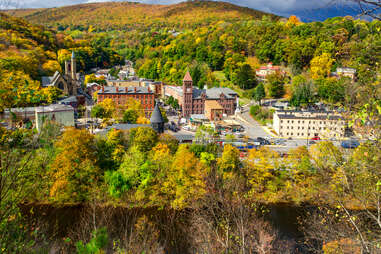 Distance from Philly: 2 hours
It's the perfect time of year to visit the Poconos. It's a gorgeous region to take in the changing of the seasons, and there are so many ways to see it, too—whether you opt for taking it in by foot or even via air tour. There's always plenty to do, whether you're searching for small town charm in the teeny tiny (and controversially named) Jim Thorpe, or finding ziplining and other adventures at Camelback Mountain.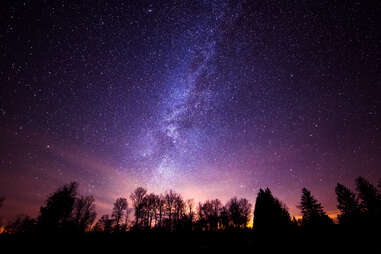 Distance from Philly: 4 hours, 25 minutes
Something about being cooped up in the city definitely makes us eager to take in the stars. Cherry Springs is known for precisely that, offering a dazzling panorama of the night sky. A one-time Galaxy Pass gets you access to the Overnight Astronomy Observation Field, or you can stick to the normal campgrounds. You also aren't far from the so-called "Grand Canyon of Pennsylvania," Pine Creek Gorge, so make a pit stop to check out this 47-mile gorge in the Allegheny Plateau.