Photo courtesy of Philadelphia's Magic Gardens
Photo courtesy of Philadelphia's Magic Gardens
Explore the Magical World of Mosaic Art in Philadelphia
What exactly is mosaic art?
Mosaic is a style of visual art that involves affixing many individual pieces of material called tesserae, typically glass or tile, to a surface to create an image. "What mosaic really is about is capturing, absorbing, and reflecting light," says Carol Stirton-Broad, artist and co-founder of the Mosaic Society of Philadelphia. "It's using both traditional and new materials in an artistic way."
Unlike mosaics behind velvet ropes in museums, the scale and setting of these large-scale public works mean you can often get nose-to-nose with the art. "When a mosaic is on a building, [the artist] is expecting you to stand back and see it as a whole, but you get a great reward when you come closer," says Stirton-Broad. Try viewing some of these works from a distance, then zoom in as close as you can get—and see how those different vantage points change your perception of the piece.
You can credit Italian immigrants for bringing mosaic art to Philly
You'll mostly see two styles of mosaics here: ornate, Italian-inspired work using small squares of colored glass called smalti, and the colorful works of Isaiah Zagar, the artist behind hundreds of Philly mosaic murals and Philadelphia's Magic Gardens.
With waves of Italian immigration throughout the 19th century, artisans trained in the age-old glassmaking tradition brought their expertise with them, often adding intricate designs in smalti or tile to the homes and buildings they worked on around the city. One, Nicola D'Ascenzo, created stained glass windows, murals, and mosaics for landmarks that still stand in the city today. The Wanamaker building in the heart of Center City once housed the nation's first department store. It's now a Macy's, but some of the vestibules still feature D'Ascenzo's intricate terrazzo tile and marble work. D'Ascenzo Studios also created the vibrant mosaicked exterior at the historic Rodeph Shalom synagogue on North Broad Street.
"What mosaic really is about is capturing, absorbing, and reflecting light."
Beautiful mosaics also welcome visitors into some of Philly's historic buildings: The Dream Garden, a vivid landscape constructed of tiny bits of Tiffany glass, graces the eastern lobby of the Curtis Center at 6th and Walnut Streets. At One Penn Center in the city's business district, you can view two contemporary mosaics: Galla Placidia in Philadelphia is a tribute to the oldest preserved mosaic in the world, while its counterpart, Topkapi Pullman, is a tribute to the railroads rendered in Art Deco design.
While most of the city's murals are in the city's central neighborhoods, it's worth the hour-long trip to the suburbs to see Glencairn, a castle-turned-museum that features extensive interior mosaicking inspired by the renowned mosaic work of Ravenna, Italy.
Step inside Philadelphia's Magic Gardens
For years, the properties adjacent to 1020 South Street were trash-strewn, overgrown vacant lots. Today, they're like no other place on earth: Every available surface, from walls to floor to the tops of partially crumbled brick walls are inlaid or embedded with tiny, shimmering glass, ceramic, or mirrors. The space descends below street level with winding stairs (mosaicked too, of course) snaking down into an open, cavern-like basement. It's a bit like being inside a living ruin, or an underground cave filled with glittering gems.
No visual artist made such an impression on the city in the 20th century as Isaiah Zagar, whose playful, profound mosaic murals have changed the look and history of South Street and the surrounding areas. For the past 50 years, Zagar has covered exterior walls throughout Bella Vista, East Passyunk, and Queen Village with his signature mosaics, made with glittering shards of mirror intermixed with upcycled kitchen tiles, glass bottles, bicycle wheels, bowls and plates, and even pieces of art collected on his travels through Latin America. Impacting the neighborhood in more ways than one, Zagar and his wife Julia were also instrumental in shutting down a 1960s initiative that would have demolished South Street and neighboring Lombard Street to build a crosstown expressway.
In 1991, after he had mosaicked two buildings he owned, Zagar sought permission from the absentee owners of two adjacent vacant lots to beautify the spaces—creating what is now known as Philadelphia's Magic Gardens, an immersive, otherworldly public art space in the middle of the city.
While Zagar creates with a trust in the random—whatever piece he picks up is the right piece, wherever he puts it is the right place—his mosaics often feature realistic depictions of human bodies, faces, animals, or other figures that are shaped in tesserae and outlined in colorful paint. They depict neighbors, the artist and his wife, even a building owner's poodle—the latter was a promise he made in exchange for permission to use the wall.
It's a bit like being inside a living ruin, or an underground cave filled with glittering gems.
While exploring the gardens, look out for what Zagar calls "blobs," or masses of colorful plaster with different objects pressed into them that he would then mount on a surface like one big tessera. "He also made his own tiles using molds or lace doilies to create patterns in the clay," said Allison Boyle, events and marketing manager at the PMG, which opened officially to the public in 2008. "These doily tiles are a great way to distinguish his murals from other mosaic artists' work."
You can spend an entire day taking in every hidden message, painted tile, found object, and reflection in the gardens, but there's more to see: the interior gallery features works from contemporary and Latin American artists, all the other neighborhood installations, and the thousands of other mosaics scattered and sparkling throughout the city.
Go on the hunt for these must-see mosaics in Philadelphia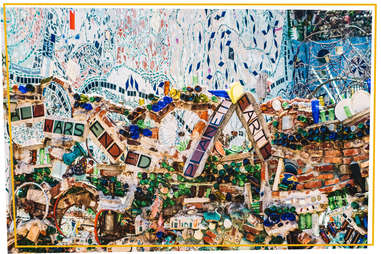 Bella Vista
The Magic Gardens should be the first stop for anyone hunting for mosaics in Philadelphia. While it's possible to see much of Zagar's public work by following the online map of his mosaics on your own, it's worth the $15 admission to spend time in the endlessly fascinating garden. In the warmer months, you can go on a 75-minute walking tour, which includes admission to the gardens as well as exclusive access to the building's fully mosaicked basement, for $20. Daytime, of course, is best to catch the mirrored reflections of the mosaics, and late afternoon light really shows off the bottles and bike wheels at the top of the garden walls. (Keep in mind that this effect can amplify the heat of high summer.) The guided tour gives you a much deeper look into the artist's process, biography, and significance in the neighborhood.
Old City
Philly's most famous non-Zagar mosaic is made with materials from one of the world's biggest names in glass. Louis Comfort Tiffany fabricated hundreds of thousands of smalti in more than 260 different hues to suit a design by artist Maxfield Parrish. Though it's more than a century old—the 50-foot-long mosaic was installed in 1916—a recent restoration has left this wonder more luminous than ever. People come and go from the offices and businesses in the building throughout the day, but for uninterrupted viewing, midmorning or mid-afternoon (between rush hours and lunchtime) are best.
Market East
Mosaics can be found below ground in Philadelphia, too. The Clothespin, one of Center City's four massive Claes Oldenburg sculptures, towers above the bustling sidewalk at 1500 Market Street. Descend into the Centre Square SEPTA concourse and you'll see Under the Clothespin to your left. The playful cityscape was made in 2012 from more than 10,000 pieces of glass by artists Miriam Singer and Emilie Ledieu through the City of Philadelphia Mural Arts Program.
Center City
In the lobby of One Penn Center, see two ornate murals finished in 1985 by artist Joyce Kozloff. Galla Placidia in Philadelphia, depicting William Penn, is done in the style of the world's oldest, best-preserved mosaic in the fifth-century mausoleum of Byzantine empress Galla Placidia in Ravenna, Italy. Across the lobby, Topkapi Pullman features an Art Deco-style rendering of a train surrounded with designs inspired by the 15th-century floral figures found in Istanbul's Topkapi Palace.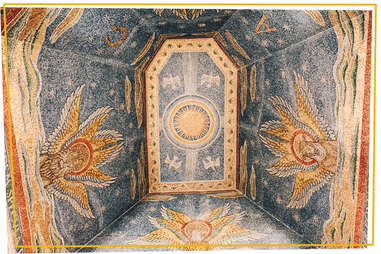 Bryn Athyn
To experience classic Italian-style mosaic, head just northeast of Philadelphia to this mansion turned art museum, which is reopening November 24 after an 18-month break. In addition to around 8,000 pieces of primarily religious art from ancient Rome, ancient Egypt, the Americas, and Asia, the building is itself the most stunning attraction, with expansively mosaicked rooms on the first and fifth floors, including the building's Great Hall. A five dollar donation is recommended for each person. The most direct route from Philadelphia proper is by car, but it's easily accessible via SEPTA, Philly's public transit system: Hop on the Market-Frankford El or the West Trenton line, then connect to the 24 bus, which stops right across from the museum. The museum hosts a variety of events throughout the year, including glass-blowing demonstrations, Christmas concerts, and even a Medieval festival.
Alexandra Jones is a writer based in Philadelphia, where she prowls the alleys of South Philly on the hunt for hidden mosaics. Follow her on Instagram at @arockjonestown.