Philly Nightlife: What to Do in Philadelphia After Dark
While we would never speak against delving into a brunch-fueled bender or catching some sun at a rooftop bar, you're missing out if you go home by 8pm. Whether you're in the mood for a chill night cozied at a dive bar, a distinctly weird and wonderful performance, or just want to try all the amazing food you have the money for, night time in Philly means all that stuff is waiting for you -- along with virtual reality bars, sorta secret speakeasies, adult-only ball pits, and more. Check out our favorite things to do on a Philly night.
Gayborhood
Do you think all the world is your stage? Well, it's not, but it can be for a few minutes by the piano at Tavern on Camac. The gayborhood staple comes to life weekend nights as novices and regulars alike sing to their favorite tunes, along with an accompanist and a rousing round of cheers. Once you've mastered the harmonies of "I'll Cover You" -- or just cheered for those who have -- you can head upstairs for Camac's dance club floor (and continue singing along). Have a little stage fright? You can always get your own karaoke room with your friends at Yakitori Boy in Chinatown.
Rittenhouse
Some of the best cocktails in Philadelphia are crafted in intimate bars throughout the city's fanciest hotels. Grab your friends and get dressed up to check out the Rittenhouse Hotel's Library Bar, tucked in the downstairs of the park-adjacent hotel, for strong drinks made by some of the best cocktail masters in the city. Want to make some other spots? Check out the brand new Notary Hotel by City Hall for ultra art-deco vibes and get drinks at Sabroso + Sorbo.
Penn's Landing
La Peg is the waterfront's key destination for a myriad of things -- there's the upscale restaurant inside, serving elevated comfort food with a European influence, the massive front yard loaded with seasonal cart offerings and games, and then there's the ongoing calendar of drag shows, musicians, theater, and other avant garde performances that befit the FringeArts epicenter. It's a winning destination no matter your mood.
Art Museum
Every Friday at the Philadelphia Art Museum is cause for celebration. Throughout the year, the legendary institution keeps its doors open late to accommodate visitors who want to catch a performance in the Great Hall, grab a drink and some bites, and take a wander through the collections when everything is way less crowded. Your late-night admission is also good for all day Saturday, so you can always head back for free if you missed something.
Kensington, Old City
Philly is the latest to jump on the burgeoning axe-throwing trend, first with the opening of Kensington's Urban Axes a few years ago. Since then, more than a half-dozen others have sprouted across town, including Old City's hyper-trendy Kick Axe, where the millennial-cabin-buffalo-plaid aesthetic is prime Instagram real estate.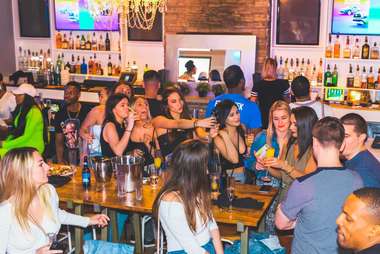 Various locations
Being single in Philly can be kind of amazing -- if you know where to go to have fun. Enjoy your unabashed freedom, join the other city's singles, and explore some of the best places to meet someone, whether you're partial to cozy cocktail bars, hip dance halls, or bars that double as local institutions.
Queen Village
For a boundless array of food and an extremely close-up look at the art of belly dance, head to Queen Village's Marrakesh for amazing food in dimly lit spaces. The tasting menu gives you a sampling of some of the city's very best Moroccan fare, while dancers boost the ambiance -- and encourage you to get up along with them to show what you've got.
Various locations
Staple Philly bars including Milkboy, Johnny Brenda's, Bourbon & Branch, Boot & Saddle, and Kung Fu Necktie all have something awesome in common -- one or two stages to catch live music. Door admissions means you don't have to order tickets way ahead of time (though you almost always can anyway), and it's the perfect solution for when you're a few craft beers in and want to up the ante for the night with something less expected. Plus, tickets are rarely more than $10-20 a pop.
Center City
Philly is home to an ever-enchanting ball pit at Concourse Dance Bar, where you can dive with gusto into a glowing white ball pit, just like you did when you and all your friends turned 7. This pit is just for adults, though, and if the idea of jumping to a germ-laden pit freaks you out, take comfort in the fact that the balls are, according to Concourse, cleaned after every weekend. If you're more in the mood to dance not in a ball pit, there are dance parties Thursday through Saturday -- including Saturday throwbacks to '80s, '90s, and '00s tunes.
Various locations
Since the heat (and humidity) in Philly never seems to dissipate swiftly enough, the city keeps those outdoor movie screenings going into the fall. Screenings at Mt Airy's Pleasant Playground, the Movie Night Series from Philly Parks & Rec, and film showings at the Betsy Ross House all linger through to October, giving you plenty of time to catch that blockbuster or cult classic under the stars. Tip: Save yourself and bring bug spray.
Penn's Landing
The newest addition to the waterfront is Cherry Street Pier, the renovated warehouse that's now home to artist studios, installations, and an alternating line-up of food, drinks, and all around merriment. Programming changes seasonally, with free movies, workshops, and performances that make a trip down to Penn's Landing well worth it.
Old City
This Old City pub is not only home to some killer British-style fare, but is also the destination for endless audience-participation performances from drag troupes and other performers, all embracing something of the cult-follower-inducing genre, whether that's Harry Potter, Parks & Rec, Beetlejuice, or whatever else they're in the mood for. Definitely try the themed cocktail of the night and bring a pack of single bills.
Citywide
While the speakeasy bubble has officially burst, the allure of a dimly lit cocktail lounge still remains. Check out some of the city's not-really-secret bars, from Chinatown's Hop Sing Laundromat, which has a solid no-photo policy, or the Ranstead Room, accessible through the kitchen at taco haven El Rey.
Citywide
Take a break from run-of-the-mill nights out and lose yourself at a jazz bar instead. SOUTH, ironically on North Broad, has a rich lineup of artists to check out every week -- and the good drinks and southern inspired fare don't hurt, either. Chris' Jazz Cafe is a great option in Center City as well, plus an equally solid menu that often features daily specials.
Citywide
Game-themed bars like Keystone Mini-Golf & Arcade and Barcade are like a playground for grownups. Keystone features a surprisingly difficult indoor mini-golf course that's also BYO, plus you can try some old school arcade games afterward. Barcade is all in on the vintage games, plus a pretty decent beer list. The activity seeking bars are ever expanding, though, including NoLibs' Mad Rex, with an entire VR element, and UCity's the Post, complete with board games and actual games.
Fairmount and Roxborough
Is Philly delving fully into nerd culture, or what? Along with the renaissance of arcade bars is the growth of board game bars, starting with Fairmount's Thirsty Dice last year, which has a bar and food menu. Extremely informed board game masters will guide you and your friends in whatever hyper niche game is perfect for you … so don't waste the $7 cover free on a game of Monopoly, ok? Out in Roxborough you can also check out the Basement Board Game Cafe, with more than 500 games and BYOB option.
Citywide
Tap Mac for a little cash and hole up in one of the city's most characteristically Philly bars. South Street's Bob & Barbara's is drenched in PBR decor, so you'd be remiss not to get a can and a shot for $3 while you're there -- plus they have awesome live music during the weekends. You can also head over to Dirty Frank's (try not to become a cockroach carrier, though) and people-watch at the lively corner bar.
Citywide
Sweaty dance parties have become a staple of some Philly bars, and you don't have to order bottle service or get hyper dressed up to get passed the door. The Dolphin, in the former South Philly strip club, is now a club with irresistible DJ theme nights, while Kung Fu Necktie, Time, and Frankey Bradley's offer equally rowdy playgrounds to show off your moves -- and other bar areas for when you want to take a break and just chill.
Logan Square
The Franklin Institute, Philly's interactive science museum that for some reason is targeted toward school kids, stays open late for 21+ parties about once a month, introducing a new theme for every event (which means costumes and custom cocktails galore). Harry Potter, Clue, and "Science-Chella" are just a few upcoming themes.
Citywide
For Philly, beer snobs there are endless ways to spend a Friday night. The opening of a second Dock Street Brewery location, this time in Point Breeze, echoes the 30-plus year history of craft beer in Philly. Check out the creative brews (and names) at Evil Genius, the microbrews of Crime & Punishment, and the bougie decor in Brewerytown's new spot, Hops.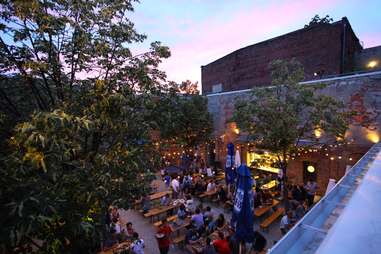 Fishtown, University City
Cooler temps do not mean you have to stop wining and dining outside. Head to the expansive back patio at Fishtown's Frankford Hall for massive beer jugs and so many heat lamps you'll forget what season it is. Plus, there are prime opportunities to make some smores. You can find similar ambiance at City Tap House in University City, where the all-seasons roof deck comes equipped with fire pit tables for anyone who snuggle up around them.
Old City, Northern Liberties
Embrace the buzz of First Friday every month throughout Old City, Northern Liberties, and other neighborhoods. Rub elbows in packed galleries to mingle, drink wine, and check out the latest collections and openings.
Old City
Since Philly is hella old, it's only natural that it's riddled with ghosts and one-time revolutionaries. Get to know them with Ghost Tours of Philadelphia, where you can learn all about Old City's ghosts with candle in hand. Other options for getting a look at Old City at night (and losing sleep for the next week, at least) is Grim Philly Historical Tours, where you can opt for a bar crawl version of the tour, along with other seasonal themes.
Sign up here for our daily Philly email and be the first to get all the food/drink/fun in town.
Marielle is a writer from Philadelphia. Follow her on Twitter and Instagram @MarielleMondon.