9 Philly Things We Can't Wait to Do When Quarantine is Over
Can't wait to stuff our face at Reading Terminal Market and play on the Schuylkill.
In March, at the onset of the coronavirus pandemic, as businesses began closing their doors and leaders called for stay-at-home orders, the public took the charge and hunkered down for the good of our fellow Philadelphians. We'd order curbside pickup from our favorite restaurants, purchase books from indie bookstores, virtually peruse the galleries at our world-class museums, eagerly awaiting a day we'd get to experience local businesses in the flesh while supporting them from afar.
Now, two months into a city in lockdown, the once-bustling streets of Center City are eerily silent. The lively corridors of Fishtown have gone dark. East Passyunk, with all its flavors and personalities, is dormant. Our favorite cocktails, desserts, and beauty services have become a pipe dream -- a light at the end of this long tunnel. Collectively, we're mapping out the destinations we're eager to frequent once we can responsibly enjoy the city we all call home. Our hair's gotten a bit shaggy and our desire to sit in a dark bar with our neighbors has grown. So we're preparing for what comes next.
Some of the city's most notable residents and personalities -- from restaurateur Jose Garces to Ben Franklin impersonator Brian Patrick Mulligan -- have shared the eats, events, and entertainment they'll enjoy as soon as the city re-opens: The banana pudding at The Sweet Life Bakeshop, a haircut at Richard Nicholas Hair Studio, a massage from Rescue Spa. Consider it a bucket list of uniquely Philly things to do your first day back in the real world. Get ready.
Bottoms up to your favorite beverages
"First and foremost I'm looking forward to getting back to work at the NovaCare facility in South Philly and seeing and interacting with all the coaches and players again. After that, as my mother told me years ago, whenever you buy a house, make sure you are close to a good coffee shop and a good bar. With that being said, I can't wait to enjoy a good coffee and chocolate chip muffin with my son on an early Saturday morning at La Colombe on Frankford Avenue before it gets too busy. And very much looking forward to being able to grab a beer and a good dinner with my wife any night of the week at The International Bar on Front Street."
—Connor Barwin, founder and president, Make The World Better Foundation and special assistant to Eagles GM Howie Roseman
Treat yourself with baked goods and Italian food
"I keep thinking about going to my favorite bakery, The Sweet Life on South Street, where I can get the best banana pudding and sweet potato pie and connect with the owners Megan and Tone. I miss the family of small businesses. I am also looking forward to eating fresh Italian cooking in the back of Murph's Irish Bar in Fishtown. I go there when I take breaks from the bookshop. It's so ironic that the best Italian in the city is served at an Irish pub."
—Jeannine A. Cook, owner of Harriet's Bookshop
Find your zen and enjoy the great outdoors
"I cannot wait to go to the Rescue Spa to get pampered. Then I'm going straight over to Naturale Salon on 16th and Locust to get a manicure and pedicure. They always remember me, and I love that they use cruelty-free nail products. I desperately need a workout at Philly Power Yoga -- I can sweat this all out in my favorite yoga class with Troy, to pulsing yoga music. I'm so excited about being able to take my two-year-old son Lukas back to the park. We love to go to the Schuylkill River Park on 26th and Spruce. I'll take him on the swings and the slide and we can be out in the fresh air and sunshine."
—Nicole Marquis, CEO and founder, HipCityVeg, Bar Bombón, and Charlie was a sinner
Get pampered and dance the blues away
"The first places I will be hitting up once this is all over are Danger Salon and The Barbary. My eyebrows need to get waxed immediately and I am going stir crazy not DJing every weekend, so I would love to get back to working ASAP."
—Wassup Gina, DJ
Smell the roses and sample every Reading Terminal Market vendor.
"I'm going to do an open-to-close solo hang out at Longwood Gardens and ogle every single square foot of their glass gardens and grounds. The only thing billionaires are good for are erecting impossible, fantastical structures for their own amusement that eventually the public gets access to, given a long-enough curve of history. And then Reading Terminal Market [for] face-stuffing. Like many people, I have never cooked so many consecutive meals in my life and am firmly over it. But what awaits life after quarantine! Valley Shepherd philly mozzarella! Hope's Heath Bar crunch cookies by the pound at the PA General Store! Mueller's chocolate-covered pretzels, directly across from Termini Bros ricotta cannoli, amaretti, pignoli, and lemon taralli cookies! I am going to eat you all."
—Felicia D'Ambrosio, Federal Donuts partner and communications and events at Monk's Café
Hit the trails
"Hiking the trails through Wissahickon Valley Park with my family and our dogs. It's great to be in nature and get fresh air. I'm really looking forward to getting back in the kitchen, working on new dishes and menus with my culinary team for our guests to try in the restaurants."
—Jose Garces, chef and founder of Amada, Distrito, Village Whiskey, and more
Catch an outdoor concert with drinks afterward
"I'm really looking forward to going out and having some fun with my wife and friends (without the kids!). A few of my favorite activities in the city for a good time includes watching a concert at the Mann, it's a great outdoor venue for music -- and grabbing drinks and bites outside at Frankford Hall or another al fresco beer garden. Enjoying good company with good beer and some laughs."
—Mark Twersky, STARR Restaurants corporate chef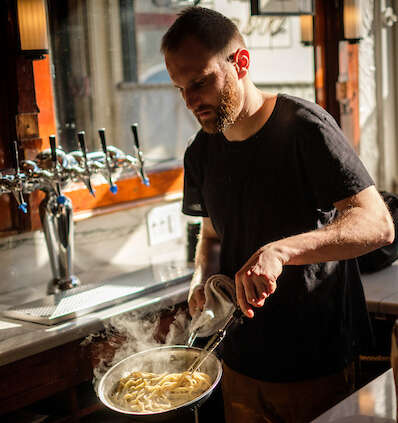 Eat your way through the city
"From the atmosphere to its impeccable consistency and everything in between, I love everything about Royal Izakaya. Their sake list is great, but I'm more of a whiskey sour guy and they nail it every time. I plan on bringing a whole paycheck to exchange for their maki rolls, octopus balls, gyoza, and all the chicken liver skewers they have in house. A close friend of mine brought me to Cafe Lutecia for the first time about 10 years ago and it's been in my top three ever since. A croque madame, tomato bisque, and espresso: one of the best meals in the city hands down. Friday Saturday Sunday has another great whiskey sour. Also, I dream of their eggs and caviar, their sweetbread katsu, and their octopus and beans. Middle Child's turkey reuben is a crusher. They simply make sandwiches the way sandwiches should be made. Sadly, they do not sell whiskey sours."
—Matt Rodrigue, chef, Fiorella Pasta Bar
Sign up here for our daily Philly email and be the first to get all the food/drink/fun in town.