8 Reasons to Drive to Cape May This Summer
Go down the shore.
New Jersey boasts more than 140 miles of shoreline with 44 beach towns populating that oceanfront land. During the summer, these sandy destinations spring to life with day trippers and vacationers alike for a seasonal pilgrimage we in the Philly area like to call "going down the shore."
The southernmost beach town in Jersey, Cape May, is about an hour-and-a-half car ride from Philly and offers two-and-a-half miles of beaches, picturesque Victorian homes, and an open air commercial district, making it a quaint yet lively excursion. Cape May is lovely any time of year, but it's extra special in the summer, so make it a point to check out this season's offerings.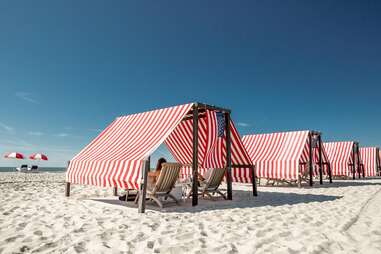 What would a trip down the shore be without soaking up some sun and salt on the beach? Cape May's beaches run parallel to Beach Avenue for more than two miles and are within walking distance from bathrooms and restaurants. During peak summer season—Memorial Day through Labor Day—visitors ages 12 and up will need a beach tag. (They're $8 a day or $30 for the whole summer.) You can get them ahead of time at the City Hall Tax Office and any beach entrance during the summer if you're just hanging for a day or two. A paved promenade runs along the beach if you want to take a stroll, and it has bathrooms every half mile, as well as the good stuff: candy stores, arcades, and ice cream.
There are so many historical delights
Speaking of Victorian homes, one you can explore the inside of is the Emlen Physick Estate, an 18-room mansion, built in 1879 built by Frank Furness. Visitors can tour the first two floors of the house on any number of themed nights, like murder mystery nights and holiday tours. Other historical sites include the new Harriet Tubman Museum, which tells the revolutionary Underground Railroad conductor's story as well as the history of the Black community in Cape May. You'd be remiss if you didn't climb the 199 steps of the Cape May Lighthouse (built in 1859) or the Historic Cold Spring Village, which spotlights the way of life of Cape May residents between 1789 and 1840. Or cast a wide net and hop on a trolley tour where a guide will take you past historic homes and fill you in on the backstories.
While New Jersey doesn't necessarily scream wine capital, Cape May is home to some half dozen vineyards. Sip your vino in the Alice in Wonderland garden at Willow Creek Farm and Winery, where they also offer vineyard tours and private tastings. Cape May Winery offers wine flights, tapas, live music, and plenty of photo ops amid the vines. On weekends at Hawk Haven Vineyard and Winery, sign up for a guided tasting of six wines under a tent with views of the vineyard. Turdo Vineyards' patio is the perfect spot for some cheese, charcuterie, and wine. A combination of an inn, art gallery, and a winery, Jessie Creek Winery provides plenty to do and see, including enjoying a few bottles on the porch.
The town has all the seashore eats
What would a visit to the shore be without some seafood? Dine overlooking Cape May Harbor at The Lobster House where you can get (what else?) lobster, flounder, scallop, and more; The Ebbitt Room at the Virginia Hotel puts an upscale spin on their fish dishes with tuna, halibut, and scallops; tiny Louisa's offers locally caught flounder and scallops, among other seafood dishes. This town covers other beachside eats as well, so try breakfast at the Mad Batter or rooftop beachfront tacos for lunch at Harry's Ocean Bar & Grill. Housed in a former gas station, Exit Zero Filling Station serves up Indian and Thai curries, plus burgers and cocktails. Enjoy upscale Greek diner fare at George's Place for any meal. Ice cream is also a must: Peace Pie ice cream sandwiches and Fine Fellows Creamery are just two of the many spots around town for a sweet treat.
It has a stellar shopping district
Pedestrian friendly shopping thoroughfare, the Washington Street Mall, stretches over three blocks of Washington Street and is closed to vehicular traffic. The dozens of shops and restaurants along the street include clothing, art, and accessories boutique Givens; house-roasted coffee and kitchen supply store Love The Cook; vintage jewelry at Queen May; humorously-named handmade soaps at A Place on Earth; and gift shops galore. Plus, spots for sweets like the original Fudge Kitchen and Uncle Charley's Ice Cream.
You can drink local beer for days
After a long day at the beach, you'll want to cool off with some brews. Cape May Brewing Co.'s tasting room and beer garden serves up its flagship IPA, witbier, honey porter, and more, as well as seasonal IPAs in grapefruit, orange, and blueberry lemon flavors. Gusto Brewing Company has a number of IPAs, pilsners, and a kolsch on tap. The Historic Cold Spring Village has its own brewery housed in an 1804 barn serving lagers, hefeweizen, and kolsch. Just slightly outside of the bounds of Cape May is Rio Grande's 7 Mile Brewery, featuring easy drinking pale ale, blonde ale, pilsner, and a sour.
You can also get a taste of wild life
Home not only to seagulls, Cape May boasts a couple of locations to see wildlife. The Cape May County Park and Zoo is home to African lions, giraffes, red foxes, and lemurs and is totally free to enter. To peep bird migrations in real-time and attend bird walks where you'll get to see birds in their natural habitat, check out the Cape May Bird Observatory.