Maybe you just moved here. Maybe you're a longtime resident. Maybe you're an adventurous out-of-towner. Regardless, you've got excellent taste and have found yourself in Philadelphia, a large yet compact city covering 135 square miles densely packed with culture, history, and dozens of neighborhoods. 
 
Conveniently located a short train ride, bus trek, or drive away from New York, Baltimore, and Washington DC, Philly is the perfect destination for a quick getaway, regardless of your interests. Whether it's breweries of Manayunk, the fine art of Fairmount, the history of Old City, or the fire food scene, Philly's local communities are chock full of personality and grit -- just the way we like it -- and are perfect for a weekend trip. Here are the best Philly neighborhoods to stay in while you're here.
Recommended Video
Please Don't Hang Up: The Best BBQ & Barcade in Dog-Friendly Kansas City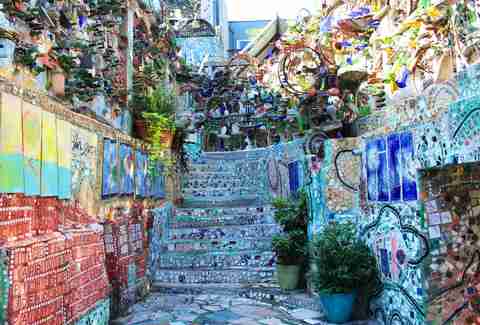 Bella Vista/Queen Village
These two South Philly 'hoods may look residential at first glance (but seriously, the quaint rowhomes in this area are worth more than just a look), but are full of destinations even locals can't pass up. If a one-of-a-kind art installation, a historic food market, and a quirky stretch of bars and boutiques tickle your fancy, make your way to South Philly.
 
Where to stay: One of the few hotels in this area, the quirky Philadelphia Hotel Bella Vista offers private suites with Victorian details and its rooms feature roof deck and balcony access. And because of all the homes in this area, Airbnb is rife with chic listings, like this house with a roofdeck and exposed brick details, an apartment in the thick of the Italian Market, or a huge home with four bedrooms. 
 
Things to do: The historic Italian Market has been around for more than 100 years and its merchants include quality butchers, cheesemongers, family-run grocers, and independent eateries (more on those later). Check out a show at the TLA (past performers have included Jay-Z, Dashboard Confessional, and Hanson). While you're at it, wander along the famed South Street for some oddities like vape shops, adult store Condom Kingdom, Philadelphia's Magic Gardens -- a huge outdoor garden decorated with mosaic -- and Retrospect Vintage.
 
Best restaurants: You burned a lot of calories on South Street, so fill up on the area's best grub. Since cheesesteaks are a must here, grab one (or many) from Jim's Steaks, or enjoy a sit-down meal of new American at Hungry Pigeon, sushi at Royal Izakaya, ramen at Neighborhood Ramen, or traditional Italian at Villa di Roma. Wake up early and try to snag a table at Sabrina's Cafe for brunch.
 
Bars and nightlife: No trip to South Street would be complete without a beer at Tattooed Mom's, a longtime staple on the nightlife scene. Divey and grimy, its walls are covered in neon green paint, graffiti, and stickers and the beer selection is unpretentious. For another bar with a laid back vibe, For Pete's Sake is welcoming and unfussy, as is Milkboy South Street. If you're looking for something a little sexier, French wine bar Le Caveau is dark and romantic. 
East Passyunk
Another South Philadelphia neighborhood, this area covers the stretch of East Passyunk Avenue most heavily populated with world-class restaurants. However, don't be afraid to wander off the avenue and into neighborhood holes-in-the-wall. Here is where you'll meet some of the city's most vibrant and longtime residents -- and where you'll really feel like a local.
 
Where to stay: Airbnb will be your friend here. Live like a local and stay in a cutesy studio with original barbershop doors, a three-bedroom modern house with enough room to sleep 14, or the dreamiest row home with all the amenities.
 
Things to do: In between all the stellar restaurants are unbeatable boutiques on East Passyunk. Pick up cutesy souvenirs like candles, home goods, and bar cart items at Occasionette or sort through the best vintage and antique furniture and wares the city has to offer at Jinxed and Mesh Vintage. Support indie bookstore A Novel Idea or pick up a little greenery at the unique garden center Urban Jungle. Also, make it a point to check out Bok, the school-turned-makerspace -- and take a tour of the building every Wednesday at 5 p.m. 
 
Best restaurants: We hope you came hungry. This is where you'll find the most touristy intersection of cheesesteak joints: Pat's and Geno's. We won't make you pick a favorite, but someone will. Try the award-winning goat burrito and a speciality margarita (like passion fruit or pineapple) at the always-solid Mexican joint Cantina Los Caballitos. Get your Malasyan skewers at Sate Kampar, your dim sum with a twist at Bing Bing Dim Sum and your Spanish tapas and wine at Barcelona Wine Bar. Still hungry? Grab dessert at Termini Brothers Bakery for old-school vibes and killer cannoli. 
 
Bars and nightlife: The closest you'll get to a "traditional" club around here is the Dolphin Tavern, a stellar spot for monthly hip-hop throwback parties, plenty of house and techno, and frequent DJ sets from famed local tastemaker Dave P. For a bar you can still smoke in, hit up Ray's Happy Birthday Bar (show your ID on your birthday and get a free shot).  If you want to get your Skee-Ball on over a few beers, hit up Garage, a BYO food spot with a huge selection of canned beers. For a panoramic view of the city in warmer months, head back to Bok and drink at its rooftop bar Irwin's or the more casual Bok Bar. Looking for just a bar bar? The Pub On Passyunk East -- better known as The Pope -- Fountain Porter, Triangle Tavern, and Watkins Drinkery offer pub grub and cheap drinks.
Fairmount/Logan Square
Get the best of both worlds here. Spend time within walking distance of the city's best museums and cultural institutions while just a few blocks away, and enjoy the relative silence of a cozy neighborhood. Fairmount and Logan Square are ideal for moments both grandiose and intimate.
 
Where to stay: A popular hotel hotspot, there are plenty of options to live large in luxury high-rises like the Four Seasons -- complete with restaurants from Michelin-starred chef Jean-Georges Vongerichten and James Beard Award-winner Greg Vernick -- and The Logan Hotel with its spa and rooftop bar. For more down-to-earth digs, there's the Embassy Suites and Philadelphia 201 Hotel chain hotels with all the usual amenities. 
 
Things to do: Put your sightseeing shoes on. Artistic types can revel in the expansive collection at the Philadelphia Museum of Art -- containing works by Henri Mattise, Andy Warhol, Cy Twombly, and many more -- the impressionist works at The Barnes Foundation, and one of the largest collections of sculptor Auguste Rodin's works at the Rodin Museum. Kids will lose their minds at the 42-foot tall T. Rex skeletal mount at the Academy Of Natural Sciences and the giant heart brain at The Franklin Institute. Absolutely do not skip out on Eastern State Penitentiary, the world's first of its kind, which was operational until 1971. (Steve Buscemi narrates the audio tour.) For scenic views of the Schuylkill River, rent a bike or walk along Boathouse Row.
 
Best restaurants: After all that sight-seeing, you've probably worked up an appetite. Enjoy Italian made with seasonal ingredients at A Mano or high-end brick oven pizza at Pizzeria Vetri. A little walk away is Southern, jazz restaurant South and the nearby classic Italian eatery Osteria. Like the South Philly location, the Art Museum-adjacent Sabrina's Cafe draws a crowd for brunch, so get there early.  
 
Bars and nightlife: Before the cozy Danish lifestyle referred to as the hygge movement really took off, Philly embraced it with Bar Hygge, a comfy pub serving house-brewed beers. What was formerly known as Belgian Cafe has now reopened as The Fairview, a wallet-friendly bar with 10 taps. A stone's throw from Eastern State is Urban Saloon, whose 12 drafts and 60 cans and bottles are constantly rotating. For more neighborhood vibes, stop by Bishop's Collar for an awesome happy hour or Cosmic Cafe for a pop-up beer and cider garden on Thursday nights and live music on weekends.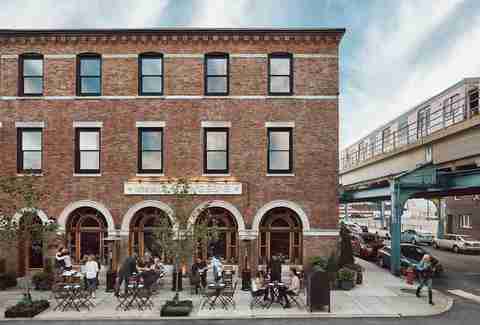 Fishtown/Northern Liberties
While the two neighborhoods have varying personalities, these two sister sections of the city share an abundance of things to do in terms of art, food, and nightlife. From the vibrant corridors of North 2nd Street and Frankford Avenue, Fishtown and NoLibs give visitors an authentic Philly experience.
Where to stay: A few of the trendiest boutique hotels call Fishtown home. Choose from one of six expertly designed apartments at Lokal Fishtown, complete with in-room entertainment systems and kitchens. Just a few blocks away are the boutique hotel rooms above the restaurant at Wm. Mulherin's Sons, four mid-century-modern rooms conveniently above the trendy wood-fired fare restaurant. As for NoLibs, this three-bedroom Airbnb has a jacuzzi, sauna, and a garage -- ideal for those driving into town. 
Things to do: North 2nd Street is packed with entertainment, from the massive bowling alley North Bowl, photography gallery Gravy Studio, and shops like Once Worn Consignment, Art Star (handmade and artisan goods), and Freedom Apothecary. Venture onto Spring Garden to sip beers and take a tour at the massive new Yards Brewing facility. Over in Fishtown, grab a coffee and take in the views at the gorgeous La Colombe flagship and then hit up Vestige and Circle Thrift for some unique shopping. Vinyl collectors should definitely make a pit stop at the Philadelphia Record Exchange, one of the city's top music meccas for over three decades. If time allows, see a show at our local outpost of The Fillmore. (Hall & Oates christened the joint.)
Best restaurants: Fishtown's food scene has kept pace with the rest of its booming development, bringing a slew of top-tier restaurants to the neighborhood including the much-beloved Pizzeria Beddia, the flavorful Lebanese cafe Suraya, the premiere street taco spot Loco Pez, the aforementioned wood-fired pizza and Italian restaurant Wm. Mulherin's Sons (don't miss the cocktails), and mouth-watering barbecue at Fette Sau. Over in NoLibs, you'll want to endure the wait at Honey's Sit 'N Eat and Cafe La Maude for brunch, Blackbird Pizza for vegan slices, and casual bar fare at North Third.
Bars and nightlife: Don't let anyone tell you you can't go dancing in Fishtown and Northern Liberties. Parties are held almost every night of the week at clubs Kung Fu Necktie, The Barbary, and Ruba Club. Neighborhood watering holes Johnny Brenda's -- a famed music venue in its own right -- Ortlieb's, and Les and Doreen's attract their distinct crowds -- all of them primo for people watching.
Manayunk
Slightly off the beaten path, Manayunk offers main street vibes without suburban staleness, thanks to the textile mills turned loft and retail spaces. With shops, restaurants, breweries, and bars, you get all the trappings of a downtown area without the hustle and bustle. 
Where to stay: Without any major hotels in the area, look to Airbnb for lodging. Rent an extremely charming three-story row house right off of Main Street or a loft in a former textile mill. If you've got a larger party, this spacious house fits 10 guests and is equipped with a washer and dryer. 
Things to do: Take a walk and cross the Schuylkill River via the Manayunk Bridge, which reopened to pedestrians in 2015 and offers prime views of the city skyline. Hands-on visitors should sign up for a one-day class at Philadelphia Woodworks to learn how to make a plant holder or a hardwood cheese board. If your crew is gutsy, sign up for a pole dancing class at Awakenings Pole Fitness. Or if you'd rather spend some green, wander down Main Street for prime shopping at Vamp Boutique, Nicole Miller, and The Spiral Bookcase.  
Best restaurants: If you like meals made with local ingredients, stop by The Goat's Beard for new American and whiskey. For more new American in industrial digs, head over to SOMO Manayunk. If award-winning burgers is what you're after, Lucky's Last Chance is home to a couple of Burger Brawl winners. (They've also got a location in Queen Village, too.) For a casual bowl of ramen, @Ramen (pronounced "at ramen") offers varieties like truffle mushroom and spicy katsu. 
Bars and nightlife: Get your craft beer fix at Manayunk's various breweries. Bring your large group to the super spacious Manayunk Brewing, taste unique beers from relative newbies Bald Birds Brewing, make an afternoon of it with activities and food trucks at the pet-friendly Wissahickon Brewing, and scope out the latest to enter the local beer scene at New Ridge Brewing. If beer isn't your thing, grab some vino at Jake's and Cooper's Wine Bar or a cocktail at Craft Manayunk. Head to The Grape Room pretty much any night of the week for a live performance, whether it's acoustic on Mondays, an open jam, or live comedy.
Old City
Old City is where the Founding Fathers did all their founding and fathering. Naturally, this neighborhood is where you're going to run into the more historical elements of our city, from Independence Hall to cobblestone streets. But there's more to Old City than sight-seeing: world-class boutiques, art galleries, and restaurants are all integral parts of its makeup.
Where to stay: For a lodging experience beyond the usual chains, spend the night at Penn's View, a charming boutique hotel with historic details like exposed brick, balconies, and gas fireplaces. Similarly, the Thomas Bond House is a 12-room bed and breakfast with 18th-century decor and period furniture. Upscale travelers should look into Kimpton Hotel Monaco for rooms with personality plus an in-room spas. If you're looking to show off on Instagram, don't miss the OG Lokal Hotel with stylish rooms overlooking an idyllic 3rd Street. 
Things to do: History buffs can see where our democracy was formed at Independence Hall and then make the short walk over to see the Liberty Bell. Other world-class museums in the area include the fairly new Museum of the American Revolution, African American Museum in Philadelphia, Constitution Center, National Museum of American Jewish History, Independence Seaport Museum, and Betsy Ross House. If you'd rather skip the history and want to get active, lace up your shoes or rent an Indego bike and traverse the Ben Franklin Bridge via the pedestrian path at 5th and Race Streets. Coming to town on the first Friday of the month? Stop into any of the neighborhood's many art galleries and check out new exhibitions and installations. Oh, and then there's shopping. Boutiques like Vagabond, United By Blue, Art In The Age, Philadelphia Independents, and Lost and Found offer only-in-Philly wares and knick knacks. 
Best restaurants: Some of the city's longest-standing and most-lauded eateries are located in Old City. One of the country's top restaurants -- and one of the most difficult to get a reservation -- Zahav serves up Israeli dishes bound to take your breath away. Stephen Starr's first restaurant Continental Martini Bar offers upscale diner vibes just a stone's throw away from the local establishment Khyber Pass Pub, which serves unpretentious Southern food. For upscale eating, get yourself a reservation at Fork (new American), Amada (Spanish tapas), or Buddakan (Asian fusion). Some of the best sushi in town can be found at Kisso. Or if you're with a group that can't come to an agreement, eat your way through The Bourse, a food hall with vendors selling everything from pizza to poke bowls. 
Bars and nightlife: Sure, Old City might have a reputation for sloppy weekend nights, but they sure are fun. Cut a rug at Cuba Libre, where DJs play Latin music on weekends, or walk just one block away for top 40 tunes and dancing at National Mechanics. In warmer months, get into the rooftop party scene at Stratus. Asian fusion martini bar Bleu Martini is an epicenter for nightlife, as is underground party spot Recess Lounge. 
Rittenhouse Square
The neighborhood surrounding Rittenhouse Square Park boasts some of the highest rents in the city, which means you're in for somewhat of a lavish time. With a ceaseless stream of crowds and things to do, Rittenhouse is a neighborhood you can never get away with calling boring.
Where to stay: As one of the most popular tourist destinations, Rittenhouse gives you the pick of the litter when it comes to hotels. For ritzy, book at the spacious Rittenhouse Hotel, the sleek and modern AKA Rittenhouse Square, or the carriage-house-turned-boutique-hotel 1715 Rittenhouse. For a hip and modern vibe, feel at home at the Warwick Hotel.
Things to do: Rittenhouse is one of the best shopping destinations in the city. Walnut and Chestnut streets are loaded with nationally known shops and local boutiques like Anthropologie, Rag & Bone, and Shop Sixty Five. Feast your eyes on medical marvels of yore (including sections of Albert Einstein's brain) at the Mütter Museum. The city's popular theatrical venues -- Academy of Music, Merriam Theater, Perelman Theater, and SEI Innovation Studio -- frequently welcome world-class touring productions of popular theater and experimental music. If you're interested in home-grown talent, Philly Improv Theater hosts multiple shows per night most evenings. On a warm day, Rittenhouse Square Park will be a madhouse of picnics and bench-readers, but it's well worth it to join in on the fun. 
Best restaurants: You'll be eating good in Rittenhouse. Anyone who's anyone enjoys the high class French fare at Parc, the small Jewish-inspired plates at Abe Fisher, the contemporary American at a.kitchen and Vernick, and the plant-based street food at V Street. Newer establishments like all-day Israeli cafe K'Far; Alimentari, the pizza, charcuterie, and wine market above Di Bruno Brothers; the old-school Italian-American Guiseppi & Sons; and the upscale taco joint Condensa have all been wowing crowds. Oh, and we'd be remiss if we didn't recommend fried chicken and donuts from Federal Donuts, aka the shop gone viral.
Bars and nightlife: While the neighborhood has great cocktail bars -- 1 Tippling Place, Franklin Mortgage & Investment Company, Library Bar -- it's the less upscale watering holes that attract the best crowds. Oscar's Tavern is dark and fun and the beer is cheap. Irish Pub has enough room to bring larger groups. Monk's beer list is extensive and includes plenty of Belgian beers (plus, don't miss the mussels). Plus, there are plenty of venues for dancing the night away: Raven Lounge, Coda, Pulse, and Concourse.  
University City
Named for the nearby higher education facilities -- including Drexel, the University of Pennsylvania, and University of the Sciences -- this West Philly neighborhood definitely caters to college students but has an appeal far beyond undergrad. The first community you'll hit as soon as you cross west of the Schuylkill River, University City isn't your cookie-cutter college town. 
Where to stay: For rooms with a view, stay at AKA University City, whose modern suites feature kitchens (the hotel itself has a pool and outdoor lounge area that sits 400 feet above street level). One of the first things you notice upon stepping foot in West Philly are the Victorian homes -- and you can stay in one at the charming The Gables Bed & Breakfast. And since we are in University City, might as well stay at a hotel dubbed The Study, with welcoming common areas and views of the nearby campuses. 
Things to do: On the museum front, the Penn Museum houses artifacts from ancient Egypt, Greece, Italy, Mesopotamia, Asia, Africa, and the Americas while the Institute of Contemporary Art is the spot for creations more of the moment. Catch a college basketball game at the Palestra on Penn's campus or check out a show at World Cafe Live, the venue named after the radio program, where noncom station WXPN hosts free concerts on Fridays. Bookworms can sort through the selection at independent bookstore Penn Book Center. There's nothing better than laying out a blanket and lounging in Clark Park (bonus points if it's during a farmers' market and you can get fresh goodies).  
Best restaurants: You can get brunch with a Middle Eastern twist all day at Renata's Kitchen or a fancy cafe experience with pastries at Walnut Street Cafe. Try The Post for bar food with games and cornhole tournaments. If you're in the mood for seasonable and sustainable fare with dog-inspired decor, don't miss White Dog Cafe. No longer one of West Philly's best kept secrets, Abyssinia serves up authentic Ethiopian platters to share. While there, head upstairs and grab a whiskey beverage from the speakeasy/dive bar Fiume. As for Mexican favorites, Distrito has been holding down the neighborhood for awhile now, while taqueria Loco Pez recently opened its West Philly outpost. 
Bars and nightlife: Seriously, go to Fiume (mentioned above). For sports bar vibes with burgers and brunch, beer and wine, hit up the Tipsy Bistro. City Tap House University City has got plenty of space and tons of beer on draft. For a traditional Irish pub feel, grab a European brew from New Deck Tavern. And just beyond the reaches of University City is Dock Street Brewery, a local microbrewery with tours and wood-fired pizza. A wild party can always be found at underground club West & Down with multiple bars and dance floors and $3 White Claws on Wednesdays. 
Sign up here for our daily Philly email and be the first to get all the food/drink/fun in town.