Tucson may have gourmet restaurants and upscale shopping districts nestled into its sprawling mountain ranges, but Arizona's oldest city is still pretty (and positively) weird. That bohemian spirit is what gives this metro area of 1 million people a small-town vibe, even as it's becoming a nationally recognized tourist destination. Whether you're heading down for a day trip or ditching Phoenix for an entire weekend, there are plenty of new things here to keep you busy.
Recommended Video
Timothy DeLaGhetto and David So Devour all the Bacon at the Blue Ribbon Bacon Festival
Take a mural walk Downtown
Tucson's divey downtown area of yesteryear has recently been transformed into a bustling strip of restaurants and cocktail bars. This new public art project is just icing on the cake. This summer, the city along with the nonprofit Tucson Arts Brigade unveiled a series of eight colorful murals painted by different local artists. A clear favorite is Rock Martinez's giant "Goddess of Agave" portrait at the Benjamin Supply building at 440 N. Seventh Ave. It features a woman with a crown of agave, surrounded by bouncing agave hearts and orange saguaro cacti. You can walk to all the  murals in under an hour --  pull up this map and get started.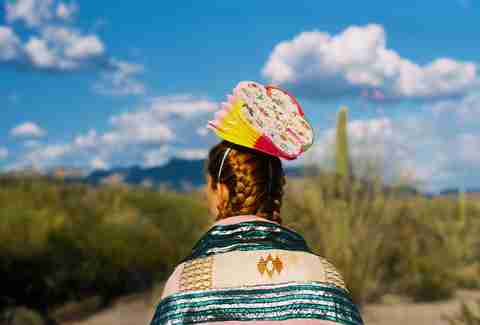 Shop for chic desert decor at Bon
Head just south of downtown to the red-bricked Five Points neighborhood and step into this airy little shop (next to the Ethiopian restaurant). Bon is a well-curated boutique featuring vintage treasures sourced by mother and daughter team Bonnie and Crystal Flynt. The two have a keen eye for whimsy, which you can see in their clay votive holders shaped like cows and pigs, imported from Guatemala. Just west of downtown is the Mercado San Agustin market, where you can find Southwestern chic jewelry and handmade leather purses at MAST.
Go on a taco tour of the south side
Phoenix has its fair share of great Mexican restaurants, but it can't rival the excitement and walkability of Tucson's street food scene. One major thoroughfare is South Twelfth Avenue, which features more than a dozen taquerias and trucks including the famous Sonoran hot dog rivals BK Tacos and El Guero Canelo. A lesser-known shop with a fierce mesquite grill is Tacos Apson, which has everything from ribs to calf testicles on the menu. We can't not mention the Hermosillo-style Percheron tacos at the What A Burro truck, parked on the northwest corner of Irvington and South Twelfth. A Percheron is a type of horse, similar to a clydesdale, but this carne asada taco is almost as big ...  
Visit Mission San Xavier del Bac
A trip to the Old Pueblo would not be complete without seeing the White Dove of the Desert, an 18th century Catholic mission founded by Jesuit missionary Father Eusebio Kino. The stately building just south of town is one of the finest examples of baroque architecture in the country. It's also still a working church which services the surrounding Tohono O'odham community. After you roam the grounds and visit the history museum, grab a hot bubbly fry bread from one of the stalls in the parking lot. Just next door you'll find a little farm store, San Xavier Co-op, that sells bags of native staples like tepary beans and dried cholla buds. (They taste like asparagus.)  
Go thrifting on Speedway Boulevard
Goodwill is the name of the game up in Phoenix, but Tucson has a startling selection of mom-and pop thrift stores. Many of them are down the main drag Speedway Boulevard, particularly in between Swan and Wilmot roads. If you're looking for unique trinkets and plates, check out 1st Rate 2nd Hand, but the clothing is better at Speedway Outlet. Yay Western shirts!
Hike up a historic hill
Much can be said about the desert vistas at Saguaro National Park, but on any weekday you'll find the locals hiking up a 700-foot hill on the west side of town. Tumamoc is a popular exercise spot after 5:30 pm, when the University of Arizona Desert Laboratory at the top closes and the hill is opened to the public. (It's also available before 7:30 am if you're a morning person.) Unbeknownst to most, Tumamoc is a Hohokam-era archaeological site that has inspired research on ancient agave species. The sidewalk path gets steeper and steeper toward the top, but the sunset view of the city is worth it.
Eat dinner in a submarine
El Berraco is the newest concept from BK Tacos owner Benny Galaz, who's taking Mexican food into uncharted kitschy realms. He recently converted a traditional Mexican seafood spot into a giant silver submarine, complete with porthole windows and a whole wall of projected fish tank videos. The theme here is based on a submarine route that heads down the Pacific Coast, with dishes that bridge the gap between Mexico and South America. (El Berraco means "badass" down in Colombia.) Bring some friends and share the sea aguachile, a giant platter of raw scallops and shrimp bathed in soy sauce and dotted with red onions and jalapenos. The micheladas will also blow your lid off.
Catch a show at Club Congress
While The Rialto Theatre across the street brings in larger touring acts, the historic Hotel Congress is the place to go for local bands and DJs, which spin everything from top 40 hits to psychedelic cumbia on Friday nights. Stay the night in one of the 40 vintage rooms upstairs, which take a page out of the John Dillinger handbook. In the morning, you can get brunch at The Cup. Be sure to order the baked eggs to cure what ails ya.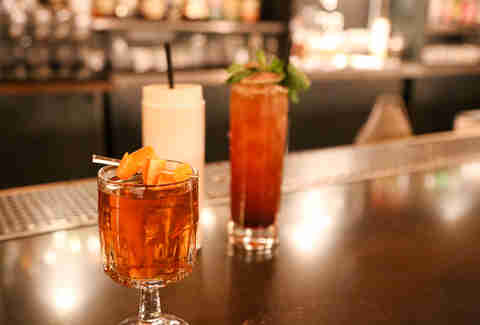 Drink cocktails in a former funeral home
Head through the beer garden down into the basement of downtown's Reilly pizzeria, and you'll find what may be Arizona's craziest cocktail bar. Tough Luck Club was recently written up by Playboy Magazine as a "Bar We Love," because the weird factor of drinking in a former mortuary only kicks up the party vibe. On any given night you'll find a packed house of hipsters and college kids drinking everything from cheap cans of Coors to $14 White Trash Negronis with gin, MIller High Life, and an herbal gentian root aperitif. The menu changes every three months, so get to it before it's too late!   
Sign up here for our daily Phoenix email and be the first to get all the food/drink/fun in town.