From Phoenix to the Grand Canyon: Where to Stop on the Way to America's Greatest National Park
The ultimate Arizona road trip awaits.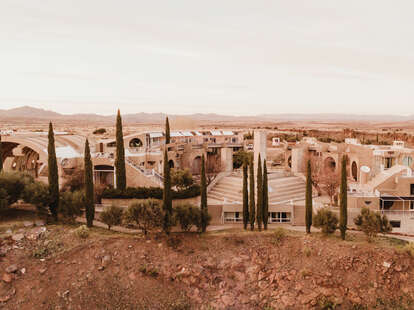 Courtesy of Arcosanti
Courtesy of Arcosanti
Adventure is a lot closer than you might think. How close? Try 229-miles close. That's the distance between Phoenix and America's greatest, and undeniably most grand, national park: the Grand Canyon. One of the World's Natural Wonders, this magnificent marvel is bigger than the entire state of Rhode Island. Everyone should see it at least once in their lifetime. And getting there should be equally as fun and memorable, too. So, roadtrippers, adventure-seekers, and wanderlust chasers—pack some snacks for the drive and buckle up for the ultimate Arizona road trip. These are the best stops along the way to Grand Canyon National Park.
Famous for their pies, Rock Springs Cafe has been slinging slices and whole pies for, well, a very, very long time. The Rock, as it was formerly called, was once a watering hole for miners, cattle drivers, and sheepherders way back in 1860. Over the years the highway adjacent outpost transitioned into a general store and hotel. And today you can find cases and rows of pies, from pecan to banana cream, at this Black Canyon City staple. Go ahead, indulge your sweet tooth. And check out the natural spring out back before you hit the open road.
Situated in Arizona's high-desert, Arcosanti serves as a 24/7 urban lab. Dreamed up by Italian architect Palo Soleroi in the 1970s, Arcosanti was designed as an experimental project, a model of sorts for utopian sustainable living with a mission to live in harmony with the natural world. Cool, huh? Today, Arcosanti hosts festivals, concerts, tours, and workshops. And visitors can even stay overnight in a guest room, suite, or campsite.
Positioned within Sedona's picturesque Oak Creek Canyon, this Arizona State Park draws in visitors from all over for its iconic red rocks, historic homestead, apple orchards, and of course, the swimming hole and 80-foot natural sandstone water slide adrenaline junkies are known to body surf across, despite the sometimes near freezing temps. May we suggest a towel?
Flagstaff is known for a lot of things. Great beer, great hiking, and great skiing, to name a few. It's also known for its dark skies. In fact, Flagstaff was awarded with the world's first International Dark Sky City designation in 2001. And not for nothing, this Northern Arizona city has been working to preserve our natural night sky for decades. Naturally, this makes Flagstaff a primo spot to stargaze and ponder, who else is out there? And there's no better place to do just that than Lowell Observatory. Guided tours, both daytime and nighttime, are available and advanced reservations are required.
Yes, Phoenix loves its pizza. Luckily there's Pizzicletta. You know, for when you're on the open road and those pizza cravings hit. At the heart of this modest corner spot is a wood-oven where each pie is fired to perfection. The menu consists of a shortlist of Neapolitan-style pies that run the gamut from the parmesan-reggiano topped Rucola to the Carne Dolce, a spicy sausage heavy-hitter kissed with local honey and sprinkled with sage. Hungry for more than just pizza? Give the smoked burrata a try. You won't regret it. Start your carry-out order right here.
Regarded as the gateway to the Grand Canyon and positioned along historic Route 66, Williams is an ever-popular stop for visitors traveling to America's greatest National Park. Between the souvenir shops and all that Americana is Historic Barrel + Bottle House, a hip hangout for fans of locally brewed craft beer, Arizona wine, and exceedingly boozy cocktails. In addition to the spirits, Historic offers up more for hungry travelers, including noshes like fried pickles and piled-high burgers that can all be enjoyed on their expansive, shaded outdoor patio.
Lauren Topor Reichert is a Phoenix-based multimedia storyteller, photographer, and content creator. Her work has been featured in travel guides, national publications, and the social feeds of some stellar local restaurants. Follow her around Arizona, and beyond, on Instagram @hungryinphoenix.