From Las Cruces to Santa Fe, Take This Dreamy New Mexico Road Trip
Kayaking, art museums, and chile peppers.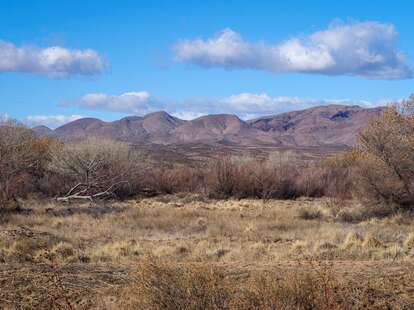 Bosque del Apache National Wildlife Refuge

| Photo by T. Jay Caskie
Bosque del Apache National Wildlife Refuge

| Photo by T. Jay Caskie
New Mexico, aka the Land of Enchantment, offers its visitors a unique experience that melds nature, art, and Southwest culture for a vibrant and unforgettable trip. The state boasts nationally recognized, immersive art experiences, scenic wonders, and what some call the world's best chile peppers, so there's a whole lot to see and do when trekking across the state. To help you make the most of your next road trip, we've rounded up the top must-see spots from the Southern city of Las Cruces to the central hotspot of Albuquerque, all the way to the state's capital of Santa Fe.
Chiles are a big deal in New Mexico—and locals will tell you there's no better place for chile farming in the world (which doesn't hurt the state's killer selection of Mexican food hotspots!), which is why the Hatch Chile Express, a chile pepper farm, is a must-visit when cruising through this Southwestern state. These chiles, which come in a variety of flavors and colors, have an entire festival dedicated to their spicy, sweet taste, but you can experience the magic of the Hatch chile any time by visiting the Hatch Chile Express—especially during the traditional growing season from August to September. Stop in and try the four chile peppers—each at a different level of heat—as well as shop decorative chile ristras, frozen chiles, chile powders, salsas, and of course—commemorative T-shirts and magnets.
When you think of New Mexico, you probably don't think of large expanses of glittering blue water, but you'll find just that at Elephant Butte Reservoir—the largest lake in the state surrounding the distinctive rock formation. The reservoir also serves as New Mexico's largest state park offering fishing, kayaking, jet skiing, pontoon boating, sailing—even houseboats for those wanting an extended stay. For those who aren't committed to sleeping on the water, the park is also a favorite destination among locals for camping. Truth or Consequences, where the reservoir is located, is also known for its natural hot springs which can be accessed through a variety of hotels and spas around town.
While this San Antonio might not have a riverwalk like its Eastern neighbor in Texas, these fragile wetlands do offer stunning, large expanses of water to marvel at, breathtaking mountain views, and enough birds to turn even the most uninterested wildlife spectator into a full-blown bird watcher—we're talking eagles, blackbirds, cranes, and geese, to name a few. Plus, you might get lucky and see a mule deer or elk during your trip.
Even if you don't consider yourself a geology buff—this museum rocks. From one-of-a-kind crystals to rare minerals, we can guarantee you'll be blown away by at least one piece of the dazzling gem collection housed within this must-see museum. While New Mexico doesn't have the same mining background as many of its neighboring Southwest states, it is known for its large variety of gemstones and crystals, and this free museum is one of the best ways to experience them. Plus, there's a great gift shop filled with geological treasures if you'd like to take a piece of the museum (and New Mexico!) home with you.
If you're looking for an awe-inspiring way to view the mountains surrounding New Mexico's most populated city, there's no better option than cruising along the Sandia Peak Tramway. The nearly three-mile-long ride is the largest aerial tramway in North America overlooking the scenic Sandia Mountains and Rio Grande Valley from more than 10,000 feet up. For the full experience, check out one of the more than 100 hiking trails accessible to you once you reach the top of Sandia Peak. If hiking isn't your thing, fine dining at Ten 3 might be the experience for you—we recommend the balsamic glazed lamb rack.
Upon arriving at the New Mexico Museum of Natural History, you'll be greeted by a giant metal dinosaur—which, if you ask us, is reason enough to stop at this iconic museum. Through the museum you will experience the history of New Mexico, from the beginnings of life on Earth, to dinosaurs, to today, as well as the award-winning Hall of Stars which was built largely by volunteers to recreate and explain the science of the night sky to eager museumgoers. The museum is also host to a variety of events and temporary exhibits, all of which are currently virtual, showcasing everything from volcanos to animal forms made from upcycled items.
New Mexico's capital city is known for its forward-thinking arts scene—with the city being home to more than 250 galleries and several art museums—including the legendary Georgia O'Keeffe Museum. However, one experience that's sure to leave an impression was imagined by the fast-growing Meow Wolf art collective. The Santa Fe-based creative group opened its interactive and immersive permanent exhibit, House of Eternal Return in 2016, and has been a destination for art enthusiasts ever since thanks to its 70 rooms of what it calls 'mind-bending' art. For an added experience, viewers can now track down 'anomalies' within the exhibit, helping to unravel a mystery within the space.
Jamie Killin is a Phoenix native and Arizona State graduate who specializes in lifestyle and features writing. You can usually find her at the spin studio, a concert, or trying new restaurants across the Valley. Follow her at @jamiefayekillin.