Perfect Fall Road Trips for When You Need to Escape Phoenix
From mining towns to stunning vistas, there are plenty of good reasons to take a quick break from Phoenix.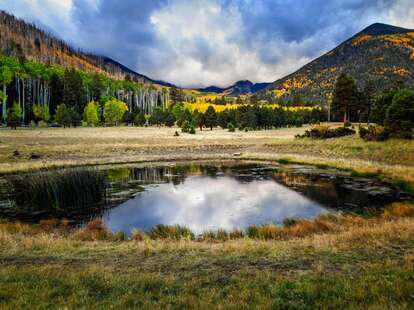 It's officially tourist season in Phoenix, and while the highly anticipated 70-degree weather is appealing, locals know the best way to avoid the crowded restaurants and high-traffic highways is to take a road trip to one of the many impressive (and often underrated) destinations outside of the Valley. Whether you plan to head up north to see fall foliage, want to admire Sedona's red rock mountains, or experience Arizona history in a charming mining town, there's no shortage of must-see destinations just hours away from Phoenix.
Page
Drive time from downtown Phoenix: 4 hours and 15 minutes
While it's a bit of a trek to get to Page on the Utah border, the city offers some of the most beautiful scenery in Arizona, and between the stunning red rocks of Antelope Canyon and the awe-inspiring view of the Colorado River from Horseshoe Bend, it's a can't-miss Arizona city for nature lovers—with minimal hiking required. Visitors can also enjoy boat tours and camping at Lake Powell for the full experience.
Tombstone
Drive time from downtown Phoenix: 3 hours
For an authentic taste of Arizona's Wild West history, there's nowhere more captivating than Tombstone—aptly dubbed "the town too tough to die." The town, which was founded in 1877, has seen legendary gun fights, fires, mining booms and the filming of several hit movies, but continues to have residents today—though it's best-known as a tourist hotspot for history tours, stagecoach rides and bull riding.
Bisbee
Drive time from downtown Phoenix: 3 hours and 15 minutes
Bisbee is an often-overlooked Arizona destination, but the historic mining town offers a look back in time at Southern Arizona through its various museums alongside art galleries and colorful, quirky buildings. The best part? You might not think to go south for sweater weather, but due to Bisbee's high elevation, it averages 10 to 20 degrees cooler than Phoenix.
Sedona
Drive time from downtown Phoenix: 2 hours
Sedona has been having a moment, and for good reason. This quaint mountain town is the go-to spot for red rock views, a great psychic reading or a hike to a vortex. Plus, it's increasingly becoming an epicenter for acclaimed restaurants like Lisa Dahl's Mariposa Latin Inspired Grill or L'Auberge de Sedona's Cress. The town also has a surprising number of boutiques to shop, especially at the beloved Tlaquepaque Arts and Crafts Village.
Jerome
Drive time from downtown Phoenix: 2 hours
Arizona has many mining towns at various stages of abandonment, but none are quite as thrilling as Jerome—the state's best-known ghost town. It's even called the "wickedest town in the west." Since the mines were abandoned, the city's been revitalized with ghost tours, wine tasting rooms, and museums to keep you busy all weekend long.
Flagstaff
Drive time from downtown Phoenix: 1 hour and 20 minutes
Flagstaff is a must-see Arizona destination. Not only does Northern Arizona University give the city a vibrant, college town vibe, it's one of the best places in the state to see changing leaves. Take a scenic gondola ride at Snowbowl, walk through the arboretum, or hike the San Francisco Peaks for some of the most beautiful fall views.
Grand Canyon
Drive time from downtown Phoenix: 3 hours and 30 minutes
No list of Arizona day trips is complete without a trip to the state's best-known attraction, the Grand Canyon. Fall is one of the best times to visit, with mild temperatures that make hiking and camping or even kayaking through the scenic canyon especially enjoyable. However, the temperatures do vary—and can get very cold—depending on what part of the canyon you're visiting, so be sure to check the weather.
Tucson
Drive time from downtown Phoenix: 1 hour and 45 minutes
As Arizona's second biggest city, this metropolis of Southern Arizona is a hub for arts, culture and great food. In fact, it's got the highest concentration of local restaurants in the country. It also boasts Phoenix's same autumn winter weather so it won't be too cold to hike favorites like Mount Lemmon, which boasts impressive fall leaves.
Prescott
Drive time from downtown Phoenix: 1 hour and 45 minutes
Arizona's original capitol is a must-visit for history buffs. You can even explore the historical exhibits on the first floor of the city's impressive courthouse. While you're there, we'd recommend stopping in for a drink at the famed Whiskey Row or checking out the wildlife at Watson Lake Park. If you visit in October, you might even see the falling leaves.
Jamie Killin is a Phoenix native and Arizona State graduate who specializes in lifestyle and features writing. You can usually find her at the spin studio, a concert, or trying new restaurants across the Valley. Follow her at @jamiefayekillin.