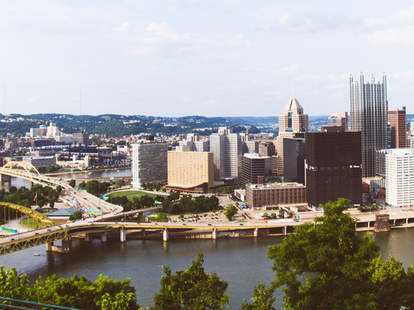 Shadyside is one of the few places in Pittsburgh where you can enjoy a reasonably priced bento box while doing a load of laundry, then browse through meticulously curated vintage across the street. Many of these small businesses are run by individuals who are deeply passionate about their products, trade, and mission. Above all, they are mainstays in Shadyside and continue to serve the neighborhood through admirable entrepreneurism. Beautiful architecture, hip restaurants, a growing shopping district that carefully integrates local shops with nationally-known retailers -- here are the neighborhood mainstays that make Shadyside a shining beacon.
komokvm | Shutterstock
Tokyo Japanese Food Store
One of the few places you can buy sashimi-quality fish (and natto!) in Pittsburgh, this tiny shop sits alongside a laundromat in a strip mall. But behind the deceptively anonymous location awaits a friendly and talkative staff ready to show off their variety of hard-to-find Japanese ingredients. Whether you're an experienced chef or looking to broaden your horizons beyond the wonders of microwavable ramen, the employees will happily assist you in finding the best and freshest ingredients for your needs.
Tokyo Japanese Food Store focuses specifically on (surprise!) Japanese food, but also attracts chefs looking for rarer supplies to cook a variety of other Asian cuisines. Its perishables, shipped fresh from Nagatoshi Farm in California, furnish the neighborhood with a lot of very hard-to-find brands, greens, and cuts of meat that you can't find in more generic supermarkets. At any given time, the market has 2,000 different import products available, including a large variety of fresh and dried mushrooms, Japanese snack foods like Pocky, and seasonal produce shipped from Japan.
Owner Mitsuo Tsuda opened the store in 1990 and says most of the patrons are made up of Pittsburgh's small Japanese population. At the beginning of every day, Tsuda prepares fresh bento boxes that include steamed rice, some type of protein, and a side dish that can vary from a seasonal vegetable to miso soup depending on the time of the year. The pre-packed meals are always different and Tsuda makes every element of them from scratch.
Beside being the city's best resource for specifically Japanese products that are hard to find elsewhere, this small Shadyside shop has become a place for a small demographic to come together, converse in Japanese, and have a familiar shopping experience.
Just across the street you'll find one of Pittsburgh's favorite destinations for high quality vintage clothing, Eon's Fashion Antique; a small shop that carries vintage pieces made between the 1880's and 1980's. Take a few steps further down Ellsworth Avenue and you'll find Hey Betty!, another shop full of vintage finds. For those looking more more culinary inspiration, you can make your way to Umi and Soba, two restaurants that offer their own takes on Japanese cuisine incorporating many of the ingredients you can buy at this store. Stop in for a meal, then get inspired to shop the fixings to make it yourself.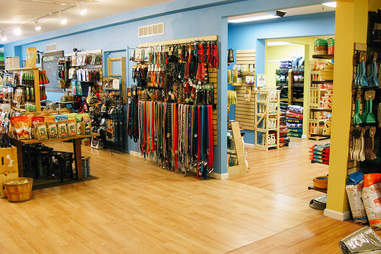 Courtesy of Petagogy
Petagogy
Named Best Local Pet Store in 2016 by Pittsburgh Magazine 's Best of PGH Reader's Poll, Petagogy is focused on selling eco-friendly products that are made responsibly in the US. The shop's name is based on the word "pedagogy," meaning the art or profession of teaching, because the owners of Petagogy understand the importance of passing along their knowledge of great products and practices to their customers. It's independently owned and committed to only offering "the best products out there," many of which are "not offered anywhere else in the Pittsburgh area."
Two of the five co-owners live right in Shadyside. You can't get much more locally owned than seeing the dogs in your pet shop's logo (aka Deeka, Jack, and Bumblebee) strolling around town. Heather Blum and her husband Cole Wolfson (we can't believe how perfect that last name is either) have been working since 2011 to bring natural products to the dog lovers of Pittsburgh. Blum says that Petagogy's success can largely be credited to the fact that it's a "neighborhood store where customer service is first and foremost. Unlike [big] box stores and chains, Petagogy carries specialty products and tries to be knowledgeable about them."
Allison Stetz, another co-owner of Petagogy, is also the founder and president of Biggie's Bullies. This non-profit, foster based program works towards giving bully breeds a second chance and changing the negative stigma associated with this dog breed. Blum, as well as the other owners of Petagogy, strive to continue helping pet owners make healthy choices for their pets and promoting Shadyside as a dog friendly community.
Courtesy of Petagogy
This part of Shadyside is primo for dog lovers. Down the block you'll find the East End Veterinary Medical Center so you can take Rover in for his annual checkup beforehand, then reward his bravery with a treat from Petagogy. Then treat yourself with nearby Millie's Homemade Ice Cream, which has outdoor seating to enjoy its fresh, local product using just a few simple ingredients. (Get a scoop of Vietnamese coffee if you know what's good for you.) They even have a water bowl for your pup! But if you want ice cream approved for dogs, buy a frozen goat milk treat for pooch at Petagogy.
Throughout the year, Petagogy hosts recurring events for pets and pet lovers, including a quarterly "Yappy Hour." The nighttime event hosted at their Shadyside shop provides patrons with canine-themed alcoholic beverages and Barley Bones for the pups (alcohol free, we promise). Afterwards, you and your dog can walk around the block for some upscale Portuguese cuisine at Cafe Zinho's outdoor patio.
And come spring, you two can finally don your matching hoodies for the Bark Shadyside Pup Walk. Since 2013, this 1.5-mile jaunt has been partnered with the Shadyside Chamber of Commerce to feature local pet vendors and activities for Pittsburgh residents.
Courtesy of Shadyside Nursery
Shadyside Worms/Shadyside Nursery
Shadyside Nursery, home to quality plants and gardening supplies, is a multi-use green space that is utilized for workshops and community events like Weather Permitting, a Sunday evening concert and party series that highlights acoustic music and local food trucks, and offers activities for all age groups. It is also a hub for small businesses with similar values. One of those businesses is Shadyside Worms. This subscription-based composting company offers services to the Pittsburgh community and strives to educate folks on how to eliminate food waste.
CEO Travis Leivo loves dirt and knows how to turn garbage into rich soil. From a young age he would work alongside his grandfather -- a man who taught him the importance of a reliable pocket knife, a like-minded community, and to not be afraid to get your hands into the dirt. After years of living in small urban environments and apartments without the luxury of green space, Leivo found himself living in a house in 2012, where he was able to dig into the dirt and build a compost pit "set back under a mulberry tree canopy." By the spring of 2013, Leivo was getting Shadyside Worms off the ground.
The company's flagship is the Curbside Compost Exchange Program, which enables Pittsburgh residents to easily dispose of food scraps and compostable waste on a weekly basis in buckets provided by Shadyside Worms. In exchange, customers receive fresh worm castings made through vermiculture that can be used to improve the health of their gardens or donated to nonprofit gardening programs in and around the city.
Courtesy of Shadyside Nursery
"Many of our residential customers have been with us since the beginning," Leivo says. "This business has always been customer-driven, with little to no capital investment, and what keeps it going are the devoted and passionate customers all over the Pittsburgh area. We might not pick up a lot of customers all at once, but the people that get involved with the compost exchange program, or ask for consulting work, are incredibly loyal and supportive."
The team at Shadyside Worms also offers personal consultations for those looking to cultivate the best compost for their space and needs. In the past, Shadyside Worms has partnered with East End Food Co-Op and the Carnegie Library to offer workshops on composting and sustainability. They also conduct an ongoing series of workshops at Shadyside Nursery that teach the public about vermiculture, seed-starting, garden maintenance, and other composting practices. Since you're feeling green, just down the street from the nursery, you'll find a Healthy Ride Bike Sharing Station so you can leave the car at home and explore the rest of Shadyside via bike. If all those worms put you in a mood for linguine, stroll over to Noodlehead, for the city's most beloved Thai food at preposterously low prices -- but know before you go, Noodlehead is cash only, BYOB, and doesn't take reservations, so you may have to wait a few minutes to get the coveted outdoor seating.
Shadyside Action Coalition
Dedicated to enriching Shadyside and improving its quality of life, Shadyside Action Coalition connects the community with all of the charitable opportunities the neighborhood has to offer: Historic house tours, farmer's markets, soup kitchens, bike light giveaways, and other coalition-led fundraisers.
"Our partnership makes sure that all of Shadyside is represented," says Membership & Marketing Group Leader Susan MacGinty. "When neighbors have issues with a proposed project that they feel will impact them, we often act as a liaison between two parties to come to a resolution that both parties can live with. We want to maintain the integrity of this incredible neighborhood that we are fortunate enough to live in."
A true gathering of the community, the organization's only requirements for membership are a "civic mind and a sense of humor." Rather than sternly enforcing a coda, the Coalition has a rare joie de vivre you want from a group committed to improving and preserving the neighborhood.
What started as a small group of like-minded individuals looking to improve their neighborhood officially became the Shadyside Action Coalition in 1973. The group works diligently to make sure the community's best interests are being met by preserving historic landmarks and locally owned businesses while integrating diverse cultures and the rapidly growing East End into their own landscape. This non-profit organization is kept afloat by its volunteer members that are comprised of families, students, renters, homeowners, retirees, and newcomers alike. Because of Shadyside's many historical buildings and homes, the coalition focuses on preservation and responsible development while continuing to address the concerns of community members on a daily basis.
MacGinty has seen the Coalition's efficacy firsthand, when she and her sister took issue with a project being developed. "Because we didn't know what to do, we reached out to the Shadyside Action Coalition for advice," she says. "It was their advice and direction that helped us to stop the project from happening. We joined the organization, became dues-paying members and became much more involved, because we thought there were probably a lot of people in the neighborhood that didn't know where to turn in similar situations."
The coalition also allows members to conduct fundraising activities for a variety of causes including the "Giving Back to Our Community" initiative. Funds raised through this initiative have helped children attend summer camp at the Pittsburgh Center for the Arts (which is just a few blocks from the Coalition itself), supported the installation of neighborhood bike racks, and contributed to the local Winchester Thurston School's scholarship aid program.
One of the most popular fundraisers is The Shadyside House Tour, which takes place annually. Each year, a handful of homes are selected to be showcased in this self-guided tour. The ticket sales for this event go back into the Shadyside community and can be purchased at MacGinty's locally owned shop Eureka! Chocolates and Gifts on Copeland Avenue, which speaks to the group's stance at the crossroads of the neighborhood's best interests.
"I wear both hats, that of a resident and of a business owner, so I understand our issues very well," says MacGinty.
Once you've swung by to see what the SAC is all about, explore the area for other small businesses. While the section surrounding the coalition is mostly residential, it also houses small businesses like Eureka! and Alex's East End Floral Shoppe which has been serving the community since 1983. But be careful – today you're touring the houses with chocolate and flowers in hand, yet this time next year you're a resident board member of the Action Coalition. Shadyside has that effect on people.