Courtesy of Tender Loving Empire

| Faire
Courtesy of Tender Loving Empire

| Faire
Portland's shopping and maker scene is unparalleled, especially during the holiday shopping season. The city's seemingly limitless amount of stores and boutiques guarantees you'll find exactly what you're looking for, while likely supporting a local artist at the same time. Whether it's vintage furniture, handmade ceramics, boutique salt, or beautiful servingware and candle sticks for your next party, you can find it all here (if you know where to look). Here are 13 shops across the city that represent a selection of local brands, retailers, and eclectic stores that you could only find in Portland.
Embrace the sound of music
Tender Loving Empire
Started as a way to bring artists together IRL, Tender Loving Empire has grown to an impressive five shops across the Portland area, with locations on Hawthorne Boulevard, in the West End, along Northwest 23rd Avenue, at the airport, and in Bridgeport Village. Each store contains a curated collection of local artists' wares, from jewelry and beauty items to housewares and prints. But maybe most unique about Tender Loving Empire is that alongside creating a rich artist community, they've also started a successful record label that has released more than 70 records and has paid $2.5 million to artists. Records and cassette tapes are available at all the stores and visitors can listen to samples from dozens of artists to help decide what to purchase.
Shop like you know how to cook
Providore Fine Foods
In the new dawn of decluttering, the best gifts are the ones that eventually disappear. Whether you're a fancy foodie or just a curious eater, Sandy Boulevard's specialty market Providore is a destination worth exploring. Home to high-end chocolate bars from around the world; an expansive wine, beer, and cocktail accoutrement selection; a drool-worthy cheese and cured meats case; and housemade pasta sold by the pound; the gifting possibilities are endless (not to mention the items you might pick up for yourself along the way). Around the holidays, the selections expand even further as shelves hold stacks of specialty Italian panettone (aka Christmas bread) and locally-made gift sets. Don't miss the curated, year-round cookbook section either, home to local authors and printed zines.
Read between the lines
Powell's Books
The largest independent used and new bookstore in the world, Powell's is sure to make any bibliophile, or frankly just anyone, swoon in wonder. With more than 1 million titles, the flagship location in Portland's Pearl District takes up several floors of an entire square block. If there's a book in the world that you want to read, you're nearly guaranteed to find it here. The massive collection is broken down by subject, with more than 3,500 sections organized into nine color-coded rooms (for example, find new arrivals & cooking in the orange room and literature & poetry in the blue room). Scattered throughout the store, you'll also find a wide selection of Portland/Oregon-themed products to help fill out your cart. When you inevitably get lost between the stacks, just look for a helpful staff member to point you in the right direction.
Outfit your dream home
Lounge Lizard
A funky, vintage furniture emporium with a heavy mid-century influence, Hawthorne Boulevard's Lounge Lizard is a must-visit for any home (re)decorator. Inside both expansive shops -- a second location a block east houses an even larger selection of bigger pieces, like sectionals and dining room tables -- shoppers will find a constantly rotating collection of vintage & used furniture and custom lights & lampshades, as well as a growing line of new furniture built in-house. Tenacity is key with this store, as finding that just-right piece might take a couple of visits and walk-throughs, but there's always something beautiful to be inspired by.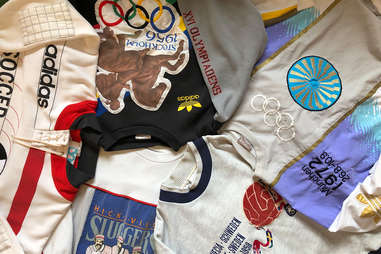 For oldies but goodies
Laundry
Head to Old Town/Chinatown's Laundry if you're hoping to sport a little bit of the good ol' days. Specializing in vintage jerseys, sportswear, and streetwear from the '80s and '90s, Laundry boasts one of the city's best selection of vintage Trail Blazers gear and a curated selection from name brands including Nike, Adidas, and Tommy Hilfiger. Like all vintage stores, the selection changes frequently, so visit often if you're looking for something specific.
Find upcycled fashions
Artifact
A curated vintage clothing, housewares, and accessories boutique, Artifact Creative Recycle on Division Avenue is the shop to help you realize your best fashion self. Find everything from hand-tooled leather bags, Pendleton blankets (!!), furniture, platform heels, and '70s dresses within the surprisingly cavernous space. If you're already embodying your fashion icon, share the love by bringing your old clothes to the store to sell a few pieces.
Pick up local, handmade treasures
Crafty Wonderland
Support the work of more than 200 local artists at Crafty Wonderland's two locations (one downtown and one on Northeast Alberta Street). A cute, mostly Portland-themed shop, Crafty Wonderland stocks everything from cards and prints to pins and funky socks, all designed by hometown artists. Many items have Portland or Oregon in mind, like a Mount Hood embroidery kit, a postcard set of the city's 10 bridges, and totes & pint glasses emblazoned with the outline of the state -- making them perfect souvenirs or gifts for out-of-town visitors. Biannually, you can also meet the makers themselves at Crafty Wonderland's Art + Craft Markets hosted at the Oregon Convention Center. (Any 2019 visitors will be able to catch the holiday market December 14-15.)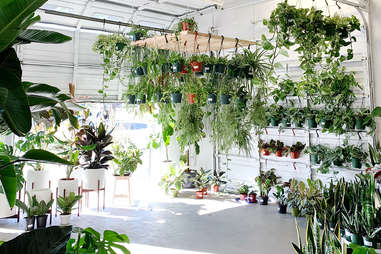 Help friends & family with their green thumb
Arium Botanicals
A new, brightly-lit plant store along Northeast Martin Luther King Jr. Boulevard, Arium Botanicals is the shop to help you build your urban indoor jungle. Home to a broad selection of plants, from tiny succulents to giant palm trees, Arium's moderate pricing and helpful staff can help you find the best plants to fit your life and skill level. Their collection of handmade, ceramic planters also make no-brainer gifts. And should your carry-on not exactly be plant-friendly, you can order select greenery online so it can be shipped back to wherever you are visiting from.
For your salt bae
Jacobsen Salt Co.
There's only one reason to be salty this holiday season. Head to the shop at inner Southeast Portland's Jacobsen Salt Co., whose famed line of hand-harvested sea salt has grown to include flavored finishing salts, salt-flecked candies, rubs & seasonings, and more. A box of salty caramels or a selection of infused salts make great stocking stuffers while the tiny, sea salt slide tins (literally, pocket-sized containers of fancy salt) are a travel-friendly way to bring a taste of Oregon anywhere in the world.
Add some sparkle to your look
Betsy & Iya
This long-standing Northwest Portland boutique has been a must-visit for handcrafted jewelry and clothing since 2008. Nearly everything in the store is designed and manufactured in Portland, and much of the jewelry is made within the Betsy & Iya studio itself. Find delicate bangles; playful, modular earrings; gemstone inlaid rings; stunning necklaces; and more on display. If you're not a jewelry-wearer, pore over the other beautiful wares from local artists, including bags, clothing, and hand-thrown stoneware from ceramicist Sarah Wolf of Wolf Ceramics.
Gift the joy of comfort
Pendleton
No (Oregon) home feels quite complete without a Pendleton blanket. A 150-year-old, family-owned business started three hours east of Portland in Pendleton, Oregon, Pendleton Woolen Mills has been producing some of the most beautiful and luxurious blankets, flannels, and other wool products for more than a century. Available in a wide selection, from intricately woven patterns to simple, monochrome designs, these blankets are a kingly gift. Often, Pendleton blankets are treated like heirlooms, and are kept and collected over generations. Browse the selection at their two Portland locations in Old Town or Downtown, or buy a last-minute gift at their airport shop before catching your flight home. Visitors taking longer trips can also stop by the mill itself in Pendleton and hunt through the outlet store for the best deals.
For the fashionista in your life
North of West
An airy, design-focused women's shop in Downtown Portland, North of West is the store for those hoping to embody a minimalist, clean-lines aesthetic and of course, support local makers. From clothes made under their house label and a wide range of apothecary goods -- like soaps, candles, and makeup -- to sleek ceramics and special occasion cards, there's something beautiful for everyone. The house brand also makes children's clothing in matching prints to ensure any kiddos in your life are well-dressed, too.
Support Portland artisans
MadeHere
This one-stop gift shop, with two locations conveniently located in the Pearl District across from Powell's Books and in the Boise neighborhood, is home to wares from a wide selection of Portland makers, making your holiday shopping almost too easy. Inside, find specialty bar equipment and ingredients, clothing, foodstuffs, and beautiful jewelry all made locally. A few gift ideas: Treat someone to leather goods from the family-owned Orox Leather Company, whose four generations of makers have roots in Oaxaca, Mexico. Home chefs will love Finex's unusually octagonal cast iron pans, whose edges and quick-cooling handle make pouring and cooking even easier. Or take an image of Oregon home in a whole new way: as a set of hand-blown tumblers imprinted with a scale replica of Mount Hood. It's true: Only in Portland can you shop quite like this.