Go north to Alaska and ride a pack of dogs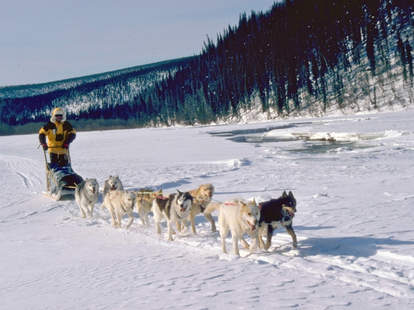 Because Alaska is just normally kind of ho-hum, forcing Jack London to make up a bunch of crap, adventure travel outfit Black Tomato has decided to oomph it up a bit with a four-day excursion built around the 1000-mile Iditarod dog-sled race, which'll see you not only being a part of the action, but also have you flying, snowmobiling, and mushing across the Alaskan backcountry's vast unpeopled expanses, where you can basically stop anywhere to answer the Call of the Wild. Your Iditarod-tinerary:
Day 1: Start at the start of the race itself, watching it close-up as you essentially join a dog-sled pit crew and assist in mushers getting off the line. Afterwards, a scenic glacier-hopping ski-plane'll shuttle you to your lodge in Wasilla, hometown of famed Playgirl model Levi Johnston.
Day 2: Get up and at 'em as you head off to man a trail road crossing, keeping the dog teams safe as they pass right in front of you. Then, chow on a specially prepared trailside lunch before hopping on a snowmobile and chasing the pack over the frozen expanse to catch them at next checkpoint, where racers will be awarded 30 more seconds to drive their Corvette dog sleds that do awesome wheelies when you double-pump the gas.
Day 3: Take to the skies again as you fly over Denali State Preserve and the 20320ft Mt McKinley in a ski-plane, while following the dog teams into the Finger Lakes checkpoint, where you'll join them for a hearty lunch and keep asking over and over again how Cuba Gooding Jr. is doing so good in the race despite being a prominent dentist from Miami with little to no dog-sledding background. And also, how he was a prominent dentist.
Day 4: Since you're starting to believe by now that anyone can do this stuff, prove yourself wrong by getting hooked up with a pro kennel, where you'll learn all about huskies and how to drive them before mushing yourself to rendezvous with a campfire lunch, a chance to exercise your own white fangs.