Before we wax poetic about the 363 miles of coastline that separates the state of Oregon from the Pacific Ocean, it's important to understand that a day at the beach here is probably not what you're used to. Unless, of course, you grew up freezing your ass off while 54 degree water surges over your bare feet and eagles circle above the craggy, tree-lined cove they call home. In that case, your Subaru is probably already loaded up with a wetsuit, a Pendleton blanket, and a sixer of hazies, ready to decamp to the nearest sandy inlet at the base of a cliff at a moments notice. 
Whether you're a seasoned Pacific Northwesterner or an itinerant tourist in search of respite from that epic jaunt up the 101 every American dreams of, the Oregon Coast invariably has a beach for you. We'll note that only a masochist or a child who's too young to understand pain would dive into that water without a layer of neoprene to keep them from freezing to death, but there's certainly no shortage of lovely places to chill out for a few hours before enjoying a roadside attraction or two on the way back to town. And because our former governor Tom McCall had the foresight to make sure it all remained public and out of the grasp of bloodthirsty developers, not an inch of it bears any resemblance to gauche party playas like Myrtle Beach or Panama City. Trust us, this is a good thing.
Recommended Video
Debatable: It's Fine To Recline Your Seat On a Plane
Fort Stevens State Park
Home to the iconic Wreck of the Peter Iredale, this north coast beach is where you can unleash your inner Goonie
The epic final scene of the classic 1985 film The Goonies was actually filmed about 20 miles south of here in Cannon Beach, but you won't find a better place to satisfy your adventurous gawk at a spooky old shipwreck while brackish ocean breeze pummels any exposed skin. The area near the mouth of the Columbia River -- which divides Oregon and Washington and drains into the Pacific in nearby Astoria -- has for centuries earned a reputation as a widow-making death trap for ships of all sizes, and the Peter Iredale met its end on this very beach in October of 1906. You can walk right up to it at low tide, and the surrounding state park offers a variety of hikeable trails as well as bike rentals, campsites, and a 9-hole disc golf course to putz around on when the edibles finally kick in and the Iredale's vibes become a bit too menacing.
Know before you go: The area around the wreck is likely going to be jam-packed with Instagrammers and young families, and the practice of playing disc golf next to frigid ocean is as windy and unpredictable as you'd expect.
Where to eat/drink:
Just a few miles inland is Astoria, a slowly ascending hotbed for big city expats who've migrated to the coast in search of cheaper rents, greyer skies and even heavier bouts of seasonal depression. The beer game here is strong, and no trip to Astoria is complete without a stop at local mainstay Fort George Brewing, and the relatively new but equally awesome taproom at Buoy Beer Company. Both have fantastic pub grub, and Buoy offers unparalleled proximity to the klatch of sea lions that laze about on the wooden pier that houses their operation. You'd be foolish to leave without loading up on seafood, and a stop Bowpicker for fish 'n chips served out of the window of an old boat is a fine place to start. For something a tad more luxe, hit up sushi spot Busu. For something fishy that should be fancy but definitely isn't, visit Tom at Hawthorn Crab Company for fresh crab and oysters out on the pier.
Seaside
The closest thing the Oregon Coast has to a tourist trap, Seaside offers all the delights of a commercialized East Coast beach without all of the excess and sprawl
Of the many tell-tale signs that help Portlanders identify a gaggle of tourists in their midst, few are as easily recognizable as an immaculate neon-green sweatshirt with the words "Seaside, Oregon" stamped on the front. And who can blame them for falling for the charms of this bizarre, distinctly Oregonian enclave of boardwalk kitsch and #saltlife indoctrination? If you're all-in on taking your grandparents, your kids, or your girlfriend on an oceanside stroll with a big old bag of taffy in hand whilst doing your best to avoid young Bay Area tourists, this is where you want to be.
Know before you go: Seaside is home to a pair of legit surf spots -- the break near the terminus of Avenue U and an infamous locals-only spot known as The Cove -- but we're required by law to inform you that you'll get your ass kicked and/or your windows busted out for showing up without a local acting as your sherpa. If you're unsure about this arrangement, swing by Cleanline Surf to rent some gear and ask the dude or dudette behind the counter about the protocol. If you look or act like a dingus they'll probably tell you to go pound sand, which they're well within their right to do. 
Where to eat/drink: Bell Buoy is a popular stop for no-frills seafood in both prepared and packaged form. Sea Breeze Restaurant is the kind of all-American diner where you'd find Lucille Bluth after she blew the family fortune on video lottery and Virginia Slims, and Seaside Brewery is a fine place to wash down some fish tacos with a pint of fresh IPA in what used to be the Seaside City Jail.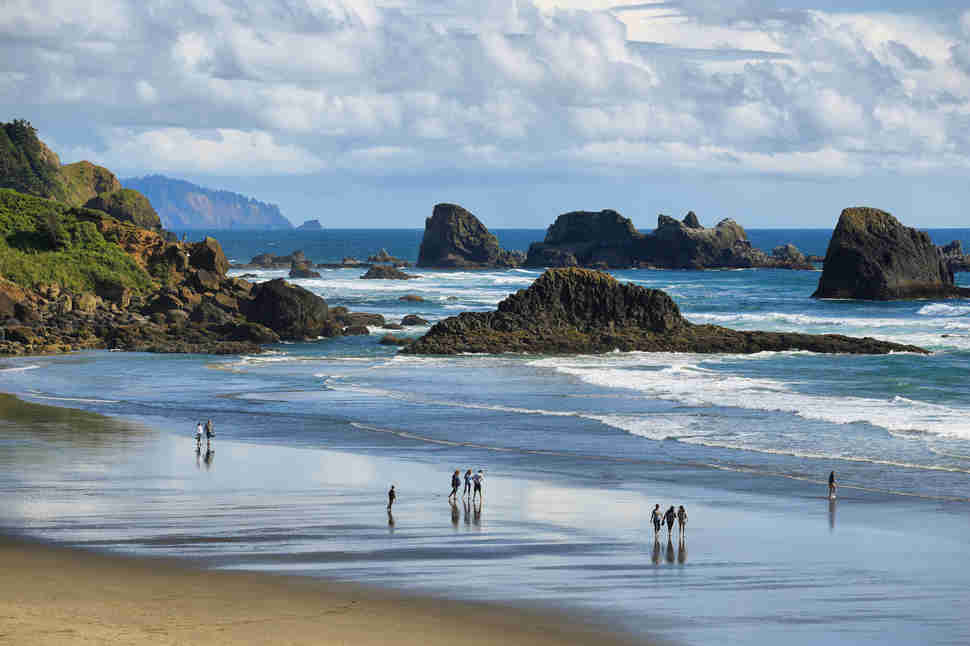 Indian Beach
A rugged surf spot that's known for soaring eagles, stunning views, and Bodhi's once-in-a-lifetime wave
Whether you're a nomadic surfer, a Keanu Reeves fanboy, or a wandering tourist in search of a tasty Instagram, Indian Beach is a fantastic first place to get a handle on the Oregon Coast for folks coming from Portland. Transplants quickly learn it's the locale for the iconic Point Break scene in which Reeves says "Vaya con dios" at Patrick Swayze before he's enveloped by the "50-yeat storm", and that right there should be reason enough to pay it a visit. There's also a handful of picnic tables near the parking lot up top and a few patches of smooth, relatively rock-free sand available for chilling at low tide, but everyone knows the main reason to come here is to channel your inner Johnny Utah and shred the gnar.
What to know: Like every other attractive outdoor feature within a two-hour drive of Portland, the line getting into the park can be a real drag. Get there before 10am and you should be fine, but then you'll need to keep an eye out for rip currents if you're packing your board. There's also some particularly gnarly rocks to the north, and they will mess you up something nasty if you're not mindful of which way the water is pulling you. 
Where to eat/drink: Seaside gets all the credit for classic oceanside attractions, but Cannon Beach has its number when it comes to breweries and restaurants. The north end of the town, which is immediately south of the entrance to Indian Beach, is a little less crowded than the Downtown area closest to Haystack Rock, and you'll find the superb upstart brewery Public Coast right where Fir Street rounds the bend and becomes 3rd. Across the street you'll find Castaways, which bills itself as a tiki bar of sorts but is really just an upgraded creole and Caribbean restaurant with awesome jambalaya and indulgent cocktails.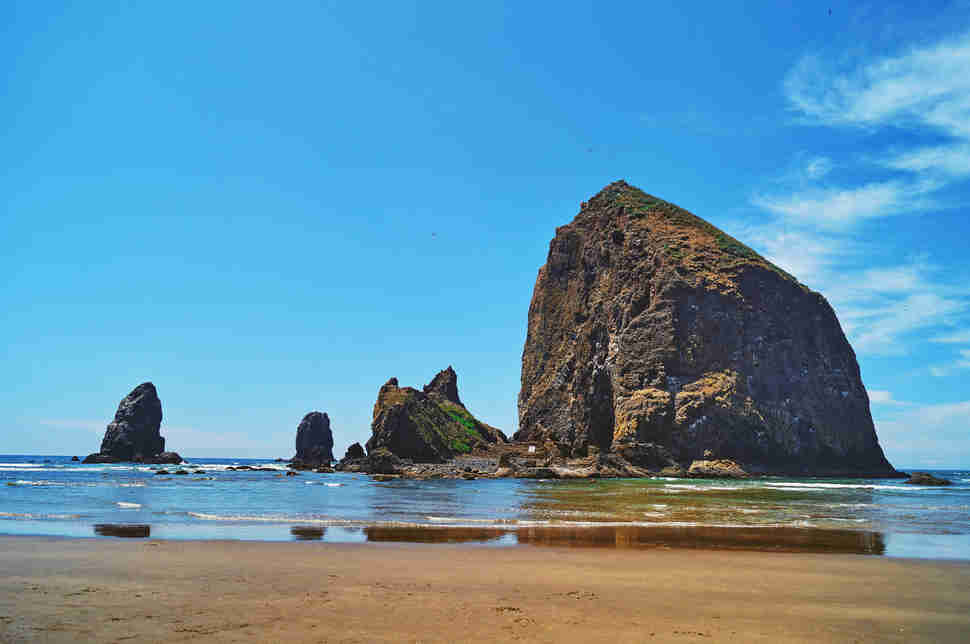 Cannon Beach
With vast, glistening beaches and the iconic tourist feature Haystack Rock looming in the distance, this popular tourist destination will make you feel like you're walking through the screen saver of your favorite streaming TV device
If Oregonians were given just one choice of a photo that best represented the coast, there's a good chance they'd pick one with the sun setting over Haystack Rock. The towering 235-foot column of basalt was formed by lava millions of years ago, and today it's likely one of the most visited attractions on the coast. The wide beaches in its midst are perfect for playing fetch with your dog or lighting up a fire and cracking a cold boy or two. Depending on your worldview, the scene will feel straight out of a Sigur Ros video or a Miller Chill commercial. Either way, it's pretty dang cool. 
What to know: Parking in Cannon Beach can be a nightmare on weekends and most summer evenings. Pack light or bring one of those hilariously cumbersome collapsible wagons, because you're in for a schlep. Luckily, Cannon Beach is one of two towns in Oregon with no open container laws (the other is Hood River), which means you're free to get the party started (responsibly!) while you haul your cornhole set and your massive stereo that runs on a spare car battery to the beach. Actually, leave that stuff in your trunk. This is Oregon, not Alabama. 
Where to eat/drink: The core of Cannon Beach is steadily being bogged down by nouveau riche bistros that cater to retirees who are just now getting into crystals, so your best bet is to stick to the older spots that are proudly lowbrow. Bill's Tavern and Brewhouse is the unrivaled champ of reliably decent craft beer and above average fish and chips, and their offshoot operation Cannon Beach Smokehouse is tops for smoky and sweet barbecue classics. Pelican Brewing has a fancy new brewpub that's so massive it may double as a biblical ark when the big one finally comes, and you can't go wrong tying one on at Brew and Screw, which may be the only place in Oregon where you can get loaded and buy some power tools on the same check.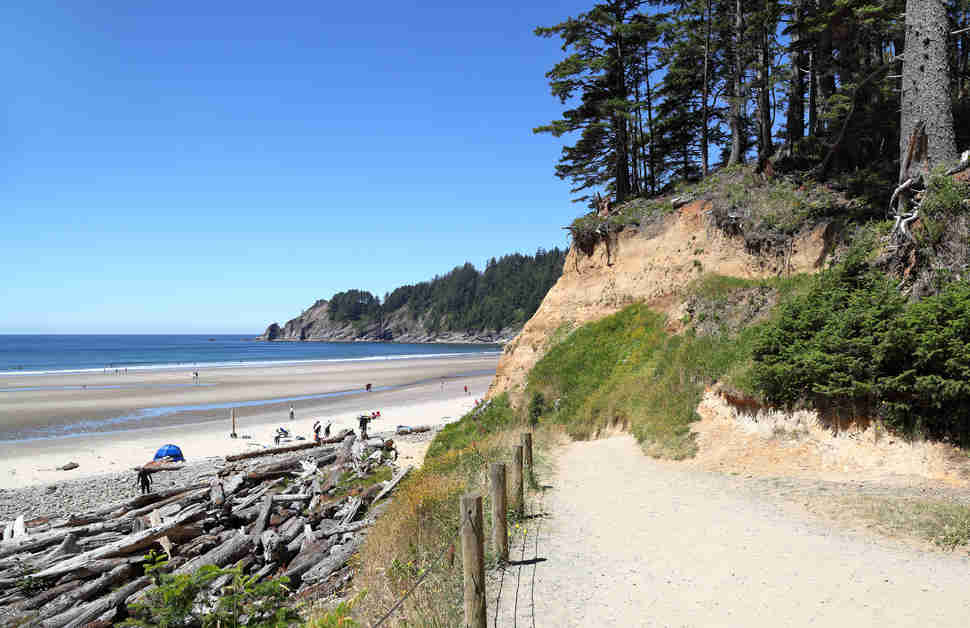 Oswald West State Park
A not-so-hidden cove filled with sandy beaches, towering old growth, and some of the cleanest breaks in the state.
Indian Beach may be the most iconic surf spot on Oregon's northern coast, but Oswald West is the most popular and user-friendly. At the end of a one-mile hike along the Short Sand Creek you'll find Short Sand Beach, or "Shorty's" as it's known to the throngs of entry-level surfers from Portland who show up every weekend with soft-top longboards strapped to their shiny new Tacomas. It's great for these types, as it's cove-like layout makes it nearly impossible to get carried away by riptide. It's one of the few beaches that's blown out with tourists and still incredibly chill. If a pristine shoreline that backs into mounds of rocks and driftwood at the base of rocky, redwood- and hemlock-lined cliffs is what your mind's eye conjures when you imagine a beach in Oregon, this is the spot.
What to know: The parking lot off the 101 comes up on you fast, and if you're not there early you may be SOL. There's a few different paths to hike in from, so a parking spot closer to the Cape Falcon trailhead will do. Either way, it's about a mile from the road to the beach, so pack accordingly and bring that collapsible wagon if you're not afraid of looking like a dad. Also, if you plan on entering that way, be sure to check the Oregon Health Authority Beach Water Quality site to make sure all the idiots who don't clean up after their dogs haven't ruined your day in the ocean by not taking advantage of the free poo bogs so kindly provided to the beach by the Oregon Surfrider Foundation. Note: Don't be one of those people. 
Where to eat/drink: You're halfway between Manzanita and Cannon Beach, so it depends on what direction you're headed for post-sesh edibles. Refer to the previous entry for the latter, and check out Big Wave Cafe for oysters, burgers and crab cakes, as well as McGregor's Whiskey Bar for steaks, mac and cheese, and hard, brown liquor in Manzanita.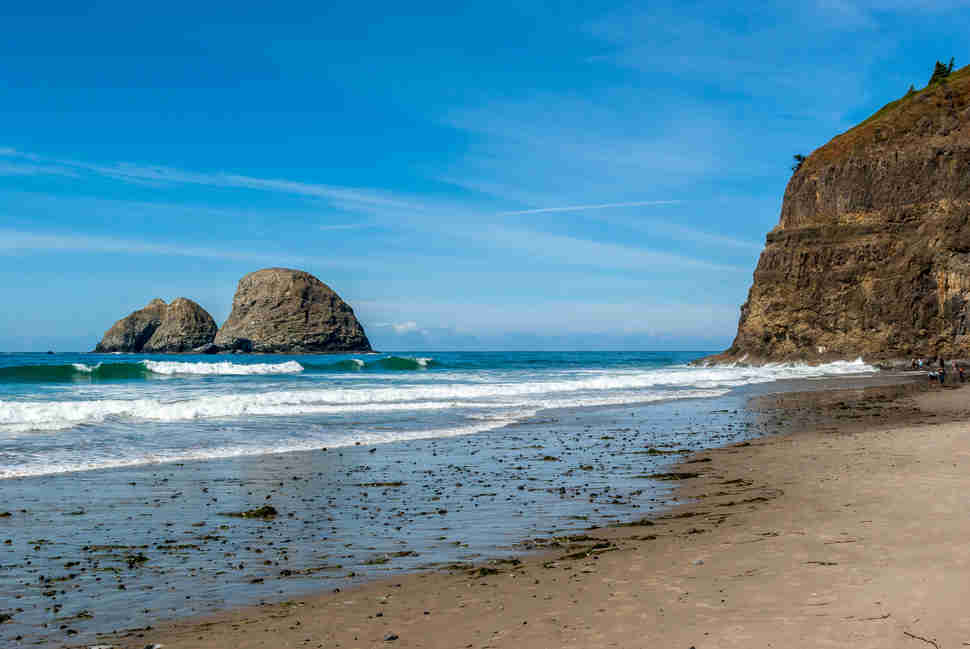 Rockaway Beach
A funky roadside/oceanside attraction town located halfway between Manzanita and Tillamook
Drive along the 101 long enough and a pattern begins to emerge: a coffee shop here, a scenic turnoff there, an oceanside retirement village filled with ocean-themed art galleries and wine bars about every 60 miles or so. Rockaway Beach refuses to conveniently fit any of those molds, and though it's not the most exciting place to be past 9pm, it still oozes the kind of ramshackle, retro charm that transplants who grew up going to dingy beach towns on the East Coast will adore. Simply park your car in front of whatever catches your fancy and spend an hour or two walking around and ogling the wares. There's a good chance that spot will be Flamingo Jim's, which specializes in the kind of touristy tchotchkes you'll only feel good about buying at a place that clearly has not been touched by the hand of time in decades. Diamond Beach is a fine place to stare at the waves while you wonder what your life would be like if you lived in a place like Rockaway Beach, which is probably as exciting as it sounds. If you're looking for surfable waves, venture another 15 minutes south to the Barview Jetty, which has nice breaks in the fall and proximity to a solid taco truck you can't miss when you turn off the 101.
What to know: Be very careful while trolling for a parking spot anywhere west of the 101. Lots of on-street parking spots over there are actually owned by the condo they're in front of, and the signs aren't always clear. This is not a place you want to be stuck with a towed vehicle at 10pm on a weekday.
Where to eat/drink: The owners of Pronto Pup claim they invented the corn dog when their buns got rained on in 1930, which is a story that's way too Oregon Coast to be disputable. Either way, it's an iconic, no-bullshit diversion that meshes perfectly with the local scenery. If corn dogs aren't your thing, try Old Oregon Smokehouse for no-frills seafood, Grumpy's Cafe for classic diner-style breakfast or the Sand Dollar Restaurant for a relatively "nice" seafood restaurant experience as close to the beach as you can get.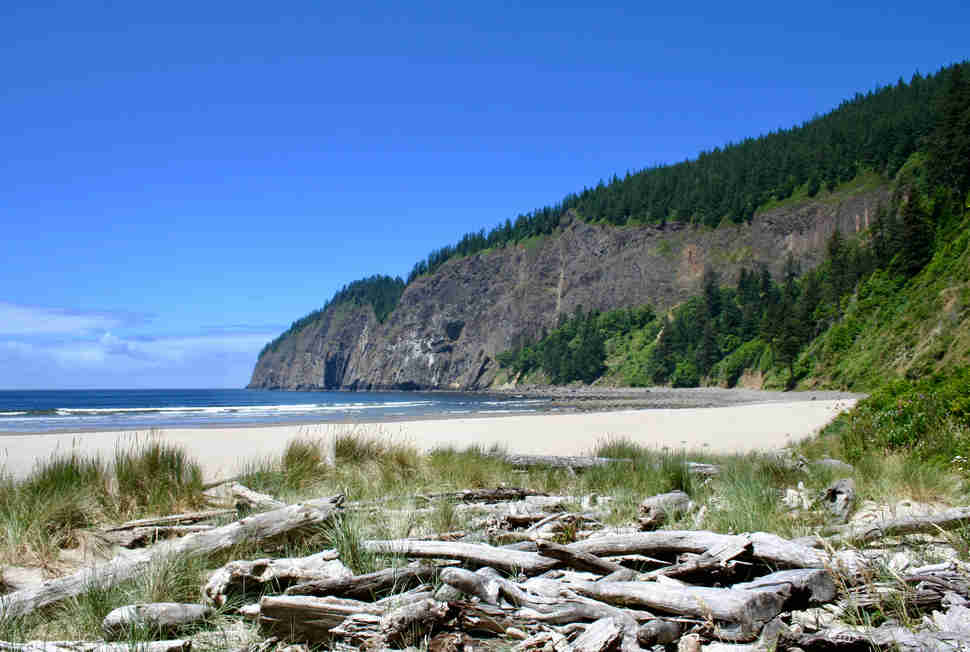 Cape Lookout
A mellow beach with excellent access to camping, hiking trails, and some of the best sunset views on the coast
The Oregon Coast has no shortage of oceanside resorts with easy beach access, but anyone with an interest in visiting the state in the first place is probably the camping type, and Cape Lookout is definitely one of the most accessible points of entry. You don't need to snag a campsite to enjoy the beach, however, and after a long trek along the Cape Lookout trail there's no better place to unwind than on a log of driftwood while the sun sets over the Pacific. 
What to know: The campsite is generally booked solid months in advance, but cancellations create openings pretty often, and your chance of booking a spot just a day or two in advance of a relatively last-minute trip is pretty good. 
Where to eat/drink: All roads to Cape Lookout lead through Tillamook, which is the home of two of the finest food and beverage destinations on the coast, respectively: Tillamook Cheese Factory and De Garde Brewing. The former specializes in one of the better commercial-grade cheese operations in the country, and their newly remodeled showroom is a wonderland of dairy delights that now includes a coffee bar, an ice cream stand and a cafe that serves one of the best grilled cheese sandwiches you'll ever eat. The latter is an award-winning brewery that specializes in barrel-aged wild fermentation beers, many of which are available for on-site consumption only. While it's a bummer their to-go offerings are somewhat limited, their list of bottles you can share in their stately new taproom is quite impressive, with beers like krieks, saisons, and stouts aged in barrels that used to house gin, bourbon, and red wine (most of which are from no more than 50 miles away). If that all sounds too fancy for you, the Rodeo Steakhouse and Grill is a perfectly fine place to wash down a ribeye with a frosty glass of Coors Light while peanut shells crackle underfoot.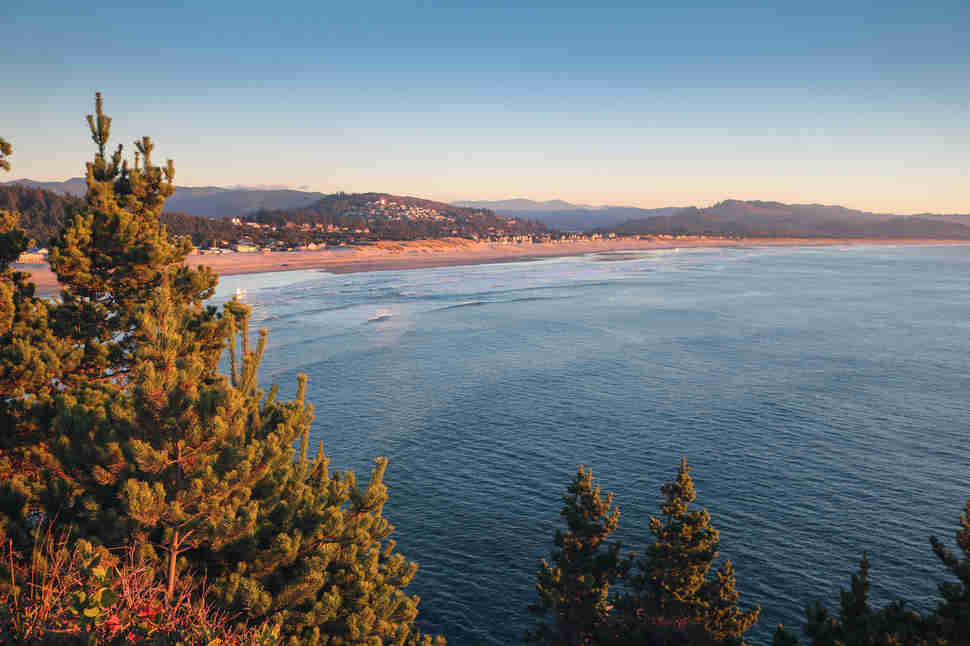 Pacific City
One of the few beaches in Oregon that allows automobiles, making it an accessible spot for suds, sun, and scenery on a hot summer day
On one hand of Oregon's populist beach spots is Short Sands, with its enclosed ambiance and almost hidden nature on account of the mile-long hike to get there. One the other hand is Pacific City, a beach that's so easy to get to you can literally drive your car right onto it. In the summer it often resembles a beer commercial with all the city slickers throwing down brewskis out of the tailgates of their SUVs while the ocean crashes just a few feet away, and this point is further bolstered by the presence of Pelican Brewing -- one of the coast's best and oldest breweries -- just a handful of yards in your rearview. A trip in the fall and early winter is when you can catch some tasty waves, and you really can't beat the fact that Pelican has a shower attached to its backside for washing off wetsuits when you're ready to call it a day. 
What to know: It's been said before, but it cannot be said enough: please do not climb the Cape Kiwanda dunes just north of the beach in search of the ultimate selfie and die in the process. This is ludicrous, and it needs to stop. Respect the space of the dory boats at the north end of the beach as well. They actually were here first. 
Where to eat/drink: Once you're maxed out on Cape Kiwanda Cream Ale and Tsunami Stout, head across the street to Stimulus Coffee + Bakery for a shot of espresso and a pulled pork sandwich to get you back in the game. The Meridian at Headlands Lodge is a nice place to enjoy a crab cake benedict or clam linguine, and Grateful Bread Bakery may be the Oregon Coast's only Grateful Dead-themed bakery.
South Beach (Newport)
A lush, expansive beach that features a paved biking trail, awesome views of the Yaquina Bay Bridge, and mellow surf breaks formed by a jetty
If Thomas Kinkade imagined a Pacific Coast beach where tall grass swayed in the ocean breeze and a massive bridge spanning a bay loomed atop the frame, South Beach State Park would be the lifesize version of this vantage. Peruse Instagram check-ins at the park and you'll find quite a few old VW Westfalias glistening in the sun with the Yaquina Bay Bridge in one part of the frame and Rogue Ales' iconic red silo poking into the edge of the other. The plethora of RV sites and campsites make it a hotspot for road-tripping families in the summer, but its generous beaches filled with stretches of warm, white sand offer plenty of room for all. If the cyclists ambling by on the bike trails give you FOMO, you can even rent a hybrid or fat-tire beach cruiser for the afternoon from Bike Newport. And don't forget the Oregon Coast Aquarium, which is one of the best on the Pacific Coast behind hitters like Monterrey Bay or the Aquarium of the Pacific in Long Beach. There's even a Ripley's Believe It or Not! museum, just in case you doubted the tourist trap cred of the town. 
What to know: The combination of easy access from the 101, the presence of the aquarium, and the location of the original Rogue Ales brewpub makes Newport one of the hottest tourist destinations on the Oregon Coast, so plan accordingly when it comes to time. You can buy tickets for the Aquarium in advance, and Rogue's Bayfront Public House on the other side of the bay will do just fine if the crowds at the original location prove unwieldy. 
Where to eat/drink: If you're "over" Rogue, there's plenty to be excited about with newcomer Newport Brewing Company, which has received righteous praise in the run up to its forthcoming opening date, including the gold medal that brewmaster Sam Zermeño nabbed in 2018 at GABF in the hazy IPA category. The Bayfront District is dotted with seafood spots of all stripes, like Clearwater for a more upscale option, Local Ocean for something a little more chill, and Asiatico Fusion for sushi rolls made with fresh caught ocean fare.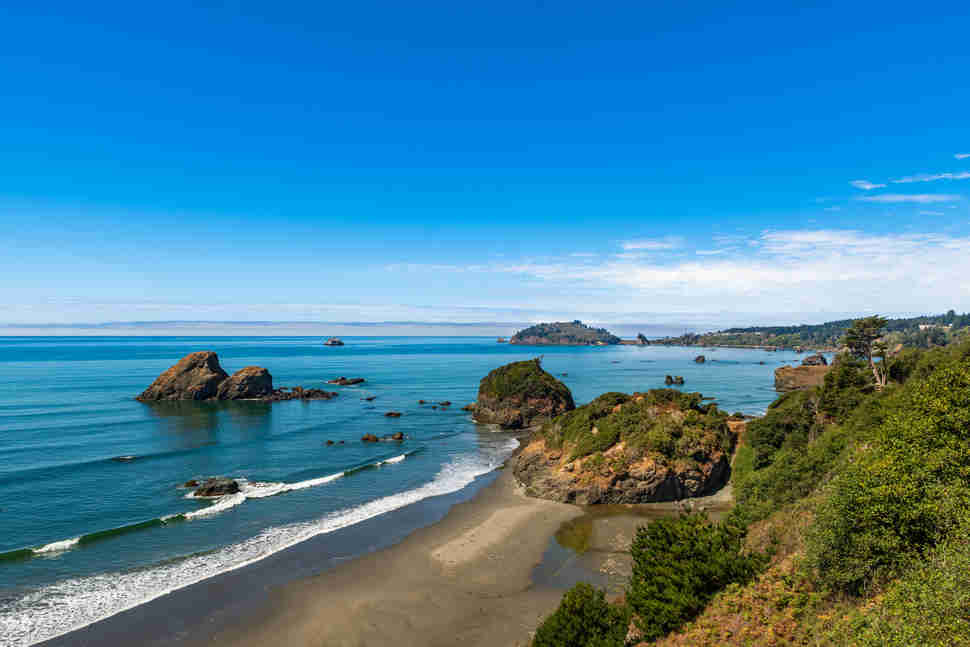 Gold Beach
A small-town feel where the Rogue River meets the Pacific
Going south, past Newport, the Oregon Coast really begins to take shape as the off-the-grid escape that it really is. Gold Beach is one of the last proper towns off the 101 before you enter the part of the state before civilization gives way to the wild and rugged terrain the eventually segues into Northern California. The winding, surging whitewater of the Rogue River is just as important an attraction as the ocean itself, with jet boat tours being a prime attraction if loafing around and staring at the ocean isn't your idea of a wild day on the coast. Otter Point Beach is a great place to hike and watch the ocean mist drift across the dunes and rocks, and Cape Sebastian is a nice diversion from the 101 that provides spectacular views of the coast from a distance. 
What to know: Considering just how far Gold Beach is from bigger cities, it's best to tread lightly and not act like a goon when you're out and about in the town. People live this far from Portland for a reason, after all. 
Where to eat/drink: A couple years ago, Arch Rock Brewing started sending kegs of their Helles and Gold Beach Lager to Portland, and nothing in the non-IPA game has been the same ever since. Both beers are damn near flawless in every sense of the word, and you need to do your best to time your visit around the bizarre bankers hours they keep so you can drink one in person. Across the street is Tortuga Mexican Grill, which offers totally serviceable Mexican food to fill up on before you embark on a journey to who knows where else in the deepest, wildest reaches of a part of Oregon that has more than just a few. 
Sign up here for our daily PDX email and be the first to get all the food/drink/fun Portland has to offer.