Cape Kiwanda, Oregon

| Thomas Shahan/Flickr
Cape Kiwanda, Oregon

| Thomas Shahan/Flickr
Maybe it's the fact that the waters don't get above 54 degrees, or that it takes driving through a lush and mountainous forest to reach it, but the Oregon coast remains shrouded in mystery. Even most Portlanders—who generally self-identify as river people—have a limited scope of what the Oregon coast has to offer.
They're missing out. Oregon's coast is a sprawling 363-mile stretch of rugged, lush, often otherworldly shoreline whose aesthetics shift around every bend. One minute, you're in a hyper-touristy small town packed with taffy shops; the next, you're surrounded by rustic crab shacks and longshoremen in a tiny fishing village. You'll find shores covered in golden sands and jasmine stones seemingly polished by Posideon himself, sprawling dunes to rival Michigan's, and trippy rock formations shrouded in fog as if air-dropped from the northern coast of Japan. From north to south, these are the best beaches in Oregon.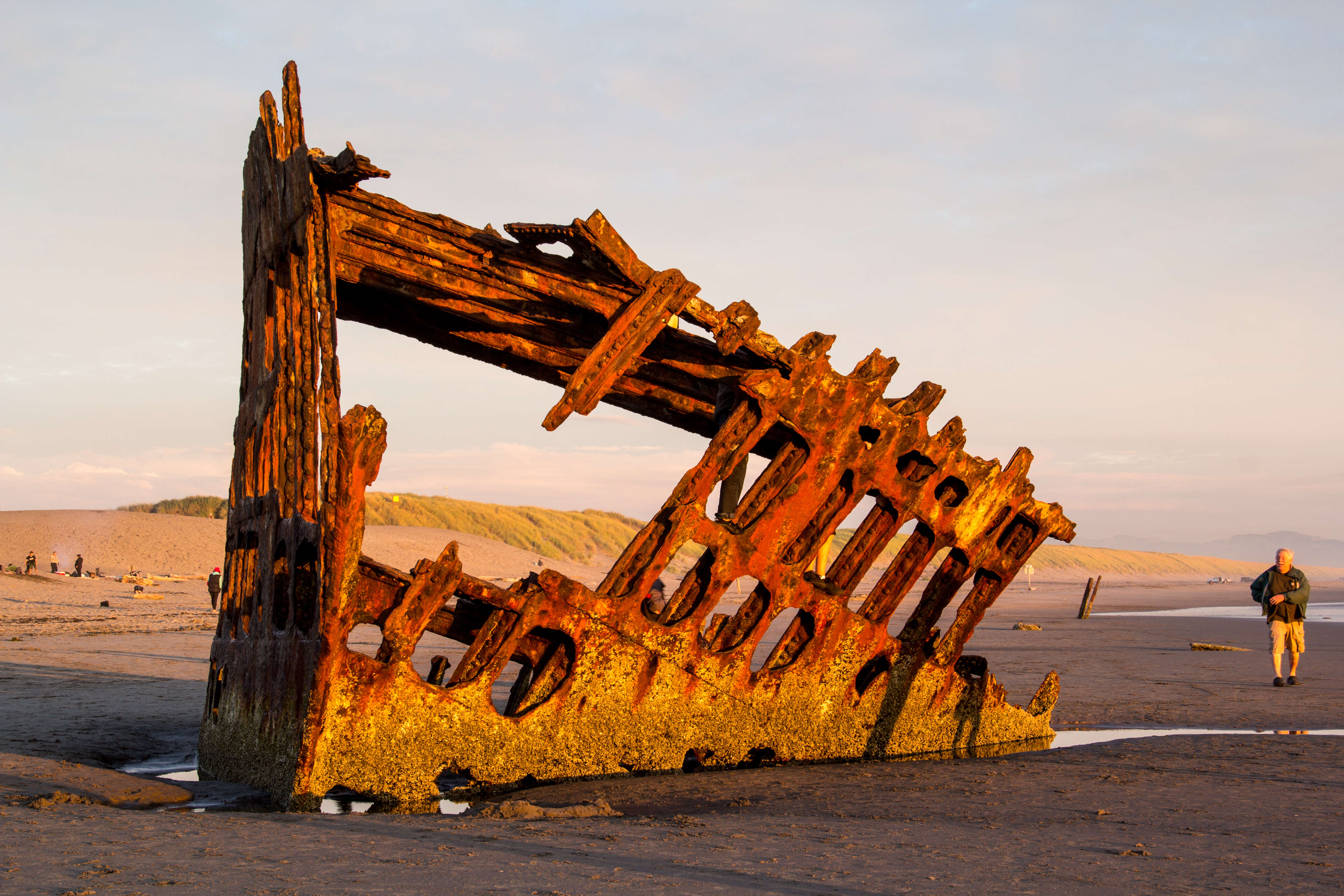 The iconic final scene of the 1985 film The Goonies was filmed about 20 miles south of here in Cannon Beach, but for those looking for adventure and eerie old shipwrecks without the crowds, Fort Stevens State Park is the place.
Located about 20 minutes north of the very-skippable, very-crowded boardwalk town of Seaside, this area near the mouth of the Columbia River has for centuries earned a reputation as a widowmaker for ships of all sizes. The Peter Iredale met its end on this very beach in October of 1906, and you can now walk right up to it at low tide. Plus, the surrounding state park offers a variety of hikeable trails as well as bike rentals, campsites, and a nine-hole disc golf course to putz around on when the (legal) edibles finally kick in and the Iredale's vibes become a bit too menacing.
Cannon Beach/Ecola State Park
Haystack Rock is essentially the Oregon Coast's mascot. (Yes, it's the Goonies rock.) The towering 235-foot column of basalt was formed by lava millions of years ago, and today it's one of the most visited attractions on the coast (and establishes this as one of the world's best beaches, period). The wide beaches in its shadow are perfect for playing fetch with your dog or lighting up a fire and cracking open a cold boy or two. Depending on your worldview, the scene will feel straight out of a Sigur Rós video or a Miller Chill commercial. Either way, it's pretty great.
Speaking of cold beer: Cannon Beach is one of two towns in Oregon where it's legal to wander around with an open container (Hood River is the other). Hit up the palatial new(ish) Pelican Brewing location and Public Coast Brewing for to-go beers, grab a Dungeness crab cocktail from the Ecola Seafood shack, then head down to the beach for some playful ambling under that big-ass rock.
Just north of downtown, you'll also find Ecola State Park, which encompasses a vista-intensive nine miles of coastline packed with alcoves, lush forest, and the golden sands of Indian Beach. Movie nerds can get a glimpse of two icons: Haystack Rock is visible from the same vista where you can also gaze upon the beach where Point Break's final scene went down.
Fifteen miles south of Cannon at the end of a one-mile hike along the Short Sand Creek, you'll find Short Sand Beach, or "Shorty's" as it's known to the throngs of entry-level surfers from Portland who show up here every weekend. It's one of the few beaches that have blown out with tourists and managed to stay chill. If a pristine shoreline that backs into mounds of rocks and driftwood at the base of rocky, redwood- and hemlock-lined cliffs is what your mind's eye conjures when you imagine a beach in Oregon, this is the spot.
Drive along the 101 long enough and a pattern begins to emerge: a coffee shop here, a scenic turnoff or oceanside retirement village with galleries and wine bars there. Rockaway Beach refuses to conveniently fit any of those molds, and though it's not the most exciting place to be past 9 pm, it still oozes the kind of ramshackle, retro charm that transplants who grew up going to dingy beach towns on the East Coast will adore. Plus, it's home to Pronto Pup, a delightful little corn dog hut that alleges they invented the junk food classic when their buns got rained on in 1930.
Diamond Beach is a fine place to stare at the waves while you wonder what your life would be like if you lived in a place like Rockaway Beach. If you're looking for surfable waves, venture another 15 minutes south to the Barview Jetty, which has nice breaks in the fall and a solid taco truck you can't miss when you turn off the 101.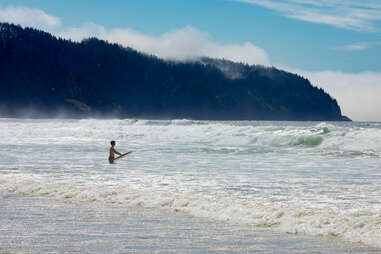 It's a bummer the oceanfront campsites at Cape Lookout State Park get booked out so far in advance; the joy of getting lucky and snagging one of its walk-up sites is a beloved past-time for many who ate too much cheese at the nearby Tillamook Cheese Factory to safely drive home. Camping aside, the Cape Lookout Trail is one of the most balanced coastal hikes when it comes to effort and epic views, and it's worth the trip even if you have to drive home afterward. Sour beer stans are required by law to swing by de Garde Brewing in downtown Tillamook for a bottle of their wild ale, which is regarded as some of the best in the world despite the out-there location and open-air fermentation that takes place just miles from an active dairy farm.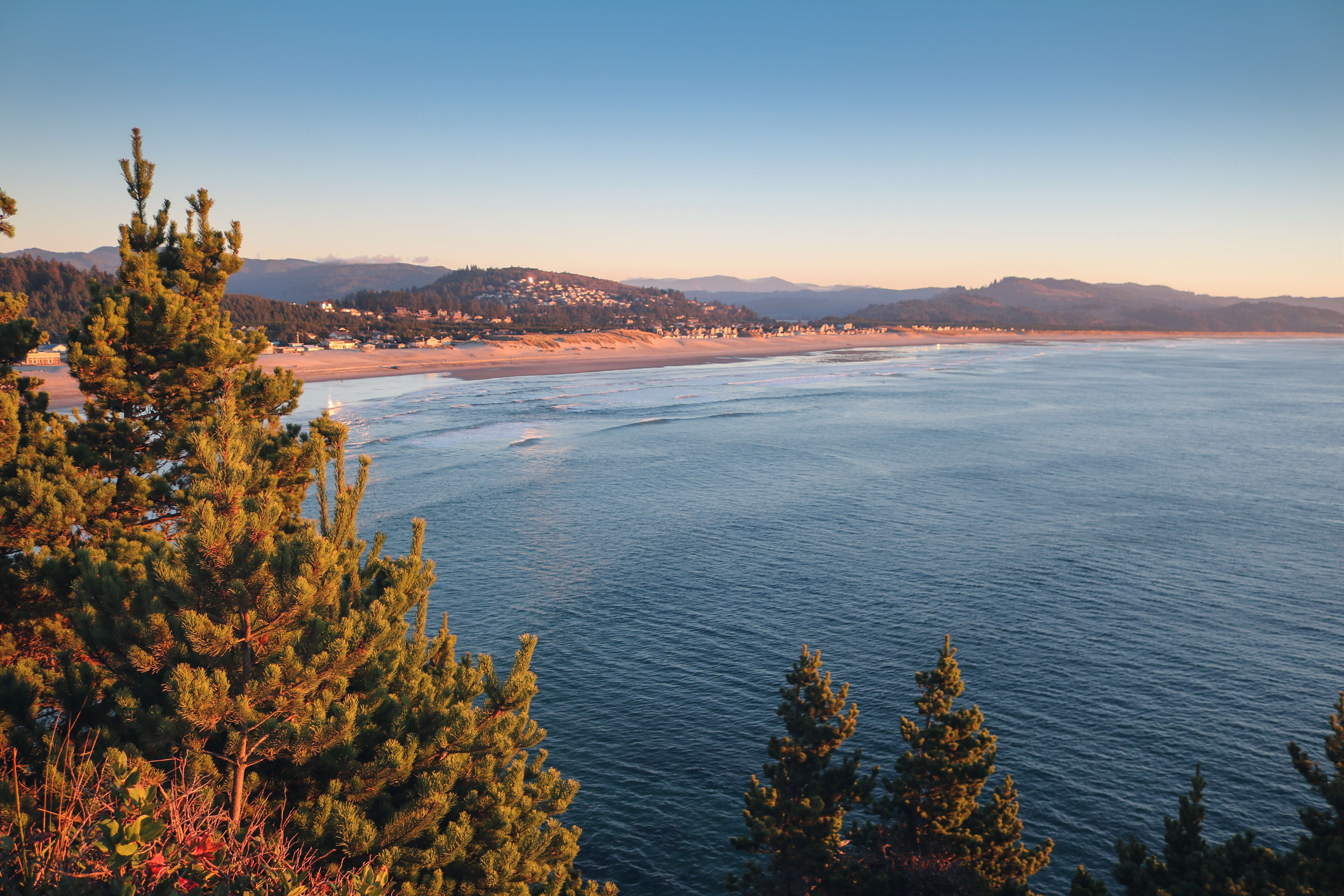 Pacific City/Cape Kiwanda
On one hand is Short Sands, with its enclosed ambiance and almost hidden nature. On the other hand is Pacific City, a beach that's so easy to get to you can literally drive your car right onto it. In the summer it often resembles a beer commercial with all the city slickers throwing down brewskis out of the tailgates of their SUVs while the ocean crashes just a few feet away. This point is further bolstered by the presence of Pelican Brewing—one of the coast's best and oldest breweries—just a few yards in your rearview. You can catch some tasty waves in the fall and early winter, and you really can't beat the fact that Pelican has a shower attached to its backside for washing off wetsuits—or your body, should you fail at running down the 240-foot sand dune at the adjacent Cape Kiwanda.
Located about halfway between casino-filled Lincoln City and fishing town Newport, Otter Rock is just right for all sorts of day-use adventures that don't require quick access to the amenities of a larger coastal town. Above the beach, you'll find a restroom with a shoer station, a surf shop, a small coffee shop, a Mo's seafood and chowder stand, and that's pretty much it. Down below, you'll find a scene comparable to Short Sands, with young families trying their hands at various board sports while older tourists hang back and watch the wind pulverize the shoreline and down the kites of their grandkids.
Oregon Dunes National Recreation Area/John Dellenback Trails Beach
The long stretch of central coast highway between Newport and Coos Bay is packed with lighthouses (hello, Walport) and tons of sand dunes with easy access. But Oregon Dunes feels like you've been air-dropped onto a different continent thanks to its 32,000 acres of downright Saharan vibes. Getting to the water from the day-use parking lot/oasis can be a taxing, sweaty endurance test, but the feeling of plunging into the icy waters of the Pacific at Dellenback after schlepping for 2.5 miles up and down the sand is transcendent, with the dunes and the Umpqua jetty providing a stunning backdrop few take the opportunity to see. Of course, you'll then have to schlep back to the parking lot, so there's that.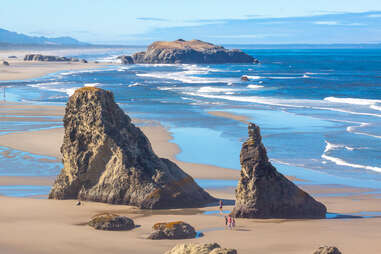 Bullards Beach/Bandon Beach
Unlike the northern coast, where the marquee beaches are seemingly stacked on top of one another, things get fewer and farther between as you travel south. Except near the tiny town of Bandon, where you'll find two of the best beaches in the region.
Windswept Bullards Beach plays the hits: Here you'll find a nearly four-mile stretch of sand that spiderwebs off into a network of hiking and mountain biking trails (and campsites), plus the requisite lighthouse on the Coquille River. The size of the area makes it easy to find complete isolation.
Bandon Beach, meanwhile, has a more dreamlike quality despite butting up against a semi-lively (at least in Oregon coast terms) beach town. The crescent-shaped alcove—whose sands are made to look extra golden by the surrounding deep green hills—is teeming with huge sea stacks, some of which resemble marine cousins to the trippy hoodoos of the southwest. At low tide, you can walk right up to them and poke at the colorful anemones. The place is downright ethereal, doubly so if you had the foresight to visit the Herbal Choices dispensary in town.
The eye-popping Floras Lake Beach near Denmark is something of a twofer. It seems almost counterintuitive to hook inland on the highway and head toward a lake, but do so and you'll find yourself overlooking a wind-battered body of water that's a magnet for windsurfers. Walk west across a dune and you'll also quickly transition from freshwater to salt as the Pacific emerges. The Floras Lake State Natural Area is gasp-inducing thanks to the 100-foot sheer sandstone cliffs that tower above the choppy water, which are packed with tiny agates and other shimmering pebbles. The shoreline spans about six miles to the stunning Blacklock Point on the south, and you're unlikely to see many other people along the way. Hit it at low tide, lest you find yourself hugging those cliff faces, battered with seaspray.
With craggy monoliths that poke out of crystal waters and soft sands, Harris Beach in Brookings tends to evoke Northern California more than the classic Oregon coast. That's because it's only six miles from the border. You made it! This is a beach of intimate, quiet chill, one that gets a bonus soundtrack courtesy of Bird Island, which sits just offshore and serves as a 20+ acre aviary sanctuary. This is the end of the line for Oregon's beaches, but it's a stunner, particularly if you get frisky and start making your way back north along the Samuel H. Boardman State Scenic Corridor, where more mythical sights like Arch Rock and Natural Bridges hide among less-sandy shores and hidden alcoves waiting to be discovered.
Pete Cottell is a writer and barista who's been making fun of Portland since he emigrated here from Ohio in 2013. Follow his escapades at @VanifestDestiny.
Andy Kryza
is a former Thrillist editor who spent 15 years exploring the Oregon coast. He refused to disclose his favorite secret beach for this article.