Gone are the days of Maine's only claim-to-fame being extensive forests and fresh lobster. In recent years, downtown Portland, the waterfront neighborhood of the state's largest city, has become a de-facto gathering place for artists, foodies, and people looking to change the world -- or at least this little part of it. Here, being a Mainer means that you aren't afraid to make things, are good to your neighbors, and you embrace local agriculture. In short, it offers the fantasy of a slower way of life with all the comforts of city living.
Unlike that west-coast Portland, this downtown neighborhood counts just 66,000 full-time residents -- but that swells to 2 million with seasonal visitors, who come for the James Beard award-winning chefs, unique boutiques, and laid-back charm of this still-working New England port. Read on to discover some notable businesses and residents that truly highlight the growing entrepreneurial spirit of this little seaside paradise.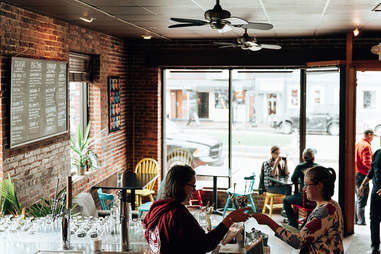 Andy J. Scott
Mami
Mami co-owners Austin Miller and Hana Tamaki have a tale as old as time: Boy meets girl while working at a restaurant. Girl cooks boy Japanese food. Boy becomes obsessed with Japanese food (and the girl). OK, maybe not a tale as old as time, but it is how one of the most popular and creative food trucks in Portland got its start.
Just two years after meeting, Miller (who had worked in kitchens since high school, most recently as East Ender's executive chef) and Tamaki (who, as the daughter of Portland's first sushi chef, started learning to cook traditional Japanese dishes at age 5) decided to buy a food truck. They drove it from Alabama to Maine, wrapped it in a black-and-white design, and hit the streets in 2015.
Their goal was to introduce Izakaya-style Japanese street food to Portland's seafood-loving masses. They made the food approachable -- pork belly okonomiyaki, steamed buns, Japanese-style hot dogs -- and sourced ingredients from local farmers, foragers, and fishermen.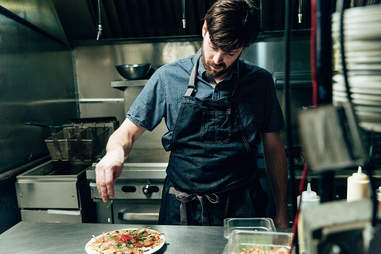 Andy J. Scott
Though Miller and Tamaki were veterans of the city's restaurant scene (he as a chef, she as a server); neither had owned a business before (they were 27 and 23, respectively, at the time). The couple started a food truck because of the lower risk and overhead, but they were self-financing the business, and getting it on stable financial ground proved challenging. ("We ran very low in cash. Very low. It was terrifying," Miller says). Perhaps the biggest hurdle was balancing their hectic work schedules with caring for their young daughter, now almost four (they also have a nine-month-old son).
In those early years, they relied on the community to help them along, such as husband-and-wife owners of the middle eastern food truck CN Shwarma, Clayton Norris and Jenna Friedman (who opened their own restaurant, Baharat, in the Mideast Bayside neighborhood in March). "They had a truck already opened for a year," Miller says. "We made lifelong friends; they were so helpful and friendly and never thought of us as competition."
After proving a huge success at the food truck game, Mami opened its own brick and mortar restaurant in April, on Fore Street downtown. Situated next to Vena's Fizz House, a soda bar known for nostalgic mocktails and cocktails, and across the street from Craft Beer Cellar and the tasting room of Sweetgrass Winery & Distillery, this section of Fore Street is fast becoming a destination for foodies who not only subscribe to the farm to table movement, but also farm to glass. (Mami likewise stocks a selection of local craft beers.)
It's all part of bringing a younger, hipper, "we make our own rules" attitude to Portland's restaurant scene. In fact, Mami's owners are living life on their own terms so much so that Tamaki recently proposed to Miller (via a cake) -- and of course, he accepted.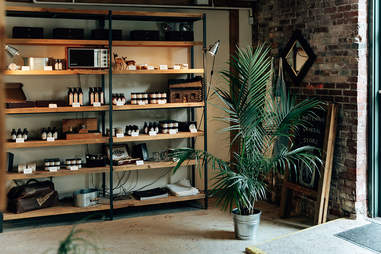 Andy J. Scott
Portland General Store
Downtown Portland doesn't lack for boutique shops. To name but a few, on Commercial Street, there's Portland Dry Goods, a men's and women's clothing and accessories shop. One of its former employees, Nigerian-born Kazeem Lawal, went on to open his own shop, Portland Trading Co., in 2012, which carries highly-curated fashions, home goods, and apothecary products. Since 2007, Portland General Store, meanwhile, has found its niche in handmade grooming essentials for men.
Back in 2006, the heritage and DIY movements were just getting started in New York and Los Angeles, and the slow food movement was taking off in Portland, Oregon. At the time, PGS co-founder Lisa Brodar and her partner Troy Tyler were living in New York, but decided to move to Portland, Maine, to be in a more livable, walkable city and embrace a more sustainable lifestyle.
Andy J. Scott
Though Brodar worked in web development, publishing, and advertising in New York, once in Portland she started spending 10-20 hours per week making potions such as shampoos, fragrances, and shaving soap out of their townhouse's tiny kitchen and selling them on Etsy. Self-taught, Brodar, who holds a BFA, says, "I like to think of perfumery/formulary as creating art with my nose."
"Originally, I... noticed that there were no men's shops for luxury, all-natural skincare products," she says. "I wanted to give men what women had -- all-natural, organic products in beautiful packaging that smelled amazing, as well as products that worked better than the drug store brands. I also found that I had a knack for creating more masculine scents."
The business grew, and in 2010, the couple moved Portland General Store to an old fruit warehouse on York Street, which gave them their own manufacturing and retail space. Tyler, who has a background in economics and startups, runs their design, sales, and business strategy. While most of PGS' products are now made in larger quantities at a lab, Brodar still mixes the colognes, beard oils, and candles herself, and "whenever we develop a new product, I make the first batches in-house," she says.
Like their humble townhouse beginnings, Portland General Store is positioning itself to be the go-to place for locals and tourists alike who are seeking products that reflect the "simplified life that Maine has to offer," as Brodar explains it -- and not worrying about comparing themselves to other shops.
"What I do is like art," she says. "And like a chef or an artist, everyone has their own unique style. People come to us and feel like they're getting something special, something created by hand, that reminds them of a time past, and they get to purchase a product that has an heirloom quality to it."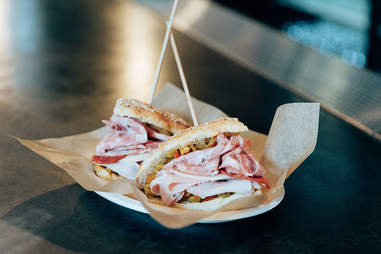 Andy J. Scott
Nosh Kitchen Bar, Slab & Rhum  
There's certainly no shortage of restaurants in the food mecca of Portland, but in 2009, Jason Loring noticed something missing. While he saw a lot of high-end eateries and plentiful quick-service spots downtown, no one seemed to be just having fun with their menu. So he opened Nosh Kitchen Bar, whose Apocalypse Now burger (patty topped with American cheese, crispy pork belly, smoked bacon, foie gras pate & mayo cherry jam on a grilled brioche bun) quickly caught the attention of Food Network's Man vs. Food.
"I was not a [head] chef before my own place, so there was a strong learning curve," Loring says of his path to success. "You don't realize the responsibility you have with 20-25 employees, it's like being a parent. There's so much more, when you own it, that you're responsible for. You're saving money, making it so you can pay payroll. There's many things you give up so you can survive, which is what we did."
Loring grew up north of Portland and started working in kitchens as a high school freshman, first at a local bagel shop before a work-study connected him with the owners of Portland's prestigious Back Bay Grill. He went on to study at the Culinary Institute of America in Poughkeepsie, New York, and spent the next decade or so moving around to various restaurants working in different roles, including sous chef.
After a stint working 15 different jobs in two years, Loring decided something had to give. He quit the restaurant biz and sold insurance for half a year, a soul-searching that made him realize he needed to be his own boss. Helping a school friend, Eric Michaud, get the small kitchen up and running at his Belgian-style beer bar, Novare Res, inspired him to create a place of his own.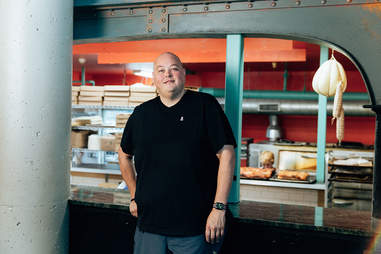 Andy J. Scott
Following Nosh's success, Loring expanded his downtown restaurant portfolio, opening Slab Sicilian Street Food on Preble Street, down the block from Monument Square, in 2014 with chef Stephen Lanzalotta, who had already built a fanatic following for the namesake pizza by selling it out of Micucci Grocery for several years. "He made them famous because of his slabs," Loring says. "There's tons of pizza up here… but none of it is this thicker-style, what I call New Jersey pizza. [With Stephen], I had someone who was uber-talented."
In 2016, he and partners Mike Fraser and Nat Towl set up shop on Cross Street with Rhum Food + Grog, a tiki bar with Polynesian-themed dishes, which was inspired by Lost Lake and Three Dots and a Dash in Chicago. Outside the neighborhood, Loring also owns Big J's Chicken Shack (specializing in fried chicken), and he's in the midst of opening two more spots at Sugarloaf Mountain Resort. The common goal of each of his restaurants is to add something unique to the local dining scene.
"Definitely the causal aspect is something I always go for. You can most see evidence that it belongs to me because of that food style," he says. "I'm not an amazing chef; I consider myself a good cook. I like to have fun; I don't take it too seriously anymore. I used to, and that's when I felt like I wasn't enjoying it."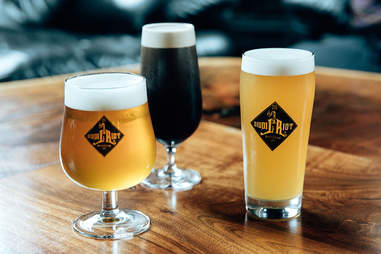 Andy J. Scott
Novare Res Bier Cafe & Liquid Riot Bottling Co.
Owned by husband-and-wife team Eric and Julie Michaud, Novare Res and Liquid Riot are something of a family affair. Novare Res, an internationally-inspired beer bar, was born from the couple's shared study abroad experience in Japan, where Eric interned at a sake brewery and the pair traveled through the UK, Spain, Italy, Belgium, and Germany, tasting beers and visiting breweries. Back in Maine, they discovered there was no place to go to enjoy the types of beers they had grown to love in Europe, so in 2008, they decided to open their own.
Today, Novare Res is beloved by locals, but it took a lot of hard work to teach customers -- and staff -- about the bar's eclectic selection. There are 33 total beers on draft, and about 400 bottles, ranging from British cask ale to German biers -- not to mention the extensive glassware necessary for each style. To aid in Mainers' beer education, Novare started the Uprising, a program that challenges patrons to work their way through 230 different beers (those who do earn a custom-engraved chalice, good for larger pours). Eric, who had previously worked at Massachusetts brewpubs Moan & Dove in Amherst and The Dirty Truth in Northampton, saw it as a way to "force customers to taste their way through the menu and around the world."
Andy J. Scott
Soon, Eric, whose love of beer started with home brewing as a college student, found himself wanting to make his own product, and in 2013 opened Liquid Riot, a brewery, distillery, and resto-bar. "Novare was great; I love the culture behind it and I have access to the world's greatest beers. But I wasn't creating anything, I was buying and selling other people's creations," he says. "Liquid Riot was the next step for me, it's what I always wanted to do. It's modeled after what I'd seen in Germany, where brewpubs often had a small distillery attached. If you can ferment it and brew it, then you can further distill it."
Located on the waterfront (its name comes from the nearby site of the 1855 Portland Rum Riots), the brewery boasts 16 beers on tap -- though they've written and brewed 100 different recipes since opening. With Julie busy raising the couple's two daughters, ages 7 and 10, Eric runs the day-to-day business along with head brewer (and fellow Yarmouth native) Greg Abbott and his older brother, Ian Michaud, who is their head distiller. In addition to crafting 13 spirits including whiskeys, rums, and an award-winning Fernet Michaud, Ian (a former Broadway stage technician) and the brothers' father also made all the furniture at Liquid Riot.
Despite all the involvement of family and friends, and the previous success of Novare, launching Liquid Riot proved a formidable challenge. "A bar/restaurant has its own list of headaches," Eric says. "The brewery and distillery and restaurant are three separate licenses. So it was three times as hard because I'm running three different businesses."
Which is perhaps why four years later, the concept still stands out. "It didn't exist -- and still doesn't exist -- in New England. We are one of very few in the nation with a brewery and distillery under one roof," he says. "A lot of the food is cooked with the beer and spirits. It's a really unique experience."
Additional reporting by Andrea Morabito.