Adrian | Unsplash
Adrian | Unsplash
Everyone in Oregon will tell you the must-see of the state isn't Portland, but Bend. A mid-sized burg nestled among the pines in the middle of the state, Bend is a sunny high-desert city in the shadow of snow-capped Mount Bachelor. Like Portland, it's big on craft everything and bikes -- but Bend has a big orange ball in the sky, which you'll so rarely spot through the thick clouds of Stumptown. This short road trip takes you from the mists of Portland to the star-filled skies of central Oregon along a route that traces parts of the Oregon Trail, which you may remember traversing in grade school computer class. Bring your swim trunks and sunscreen -- you're going to the desert, but this is a drive that crosses a bevy of crystal-clear lakes and rivers.
RAMONA FALLS
One of the most beautiful waterfalls in the entire Northwest is just a quick 3-mile hike off your route. For most of the year, you're going to need to wade across a glacier-fed stream to start the hike, but it's totally worth it when you get to the virgin water of Ramona Falls, which flows down 120 feet of sheer basalt rock. Ramona Falls is unique for the region in that it only has a tiny pool at the bottom, which means you can't take a dip, but you can crawl up close and get soaked by mist.
"GOVEY"
The town of Government Camp got its very literal name because a caravan of soldiers carrying munitions to remote territorial forts had to hole up here for a few months when they got bogged down on the absurdly rugged Barlow Road, which took settlers from their gentle float along the Columbia River to the lush fields of the Willamette Valley. Today, the town of 200 is a homebase for people exploring the national forest that surrounds it or shredding Mount Hood, the snow-capped peak looming above. "Govey," as the locals call it, is a ski town from the golden age of ski bumming, and is still home to divey little taverns populated by sunburnt ski bums fresh off the hills.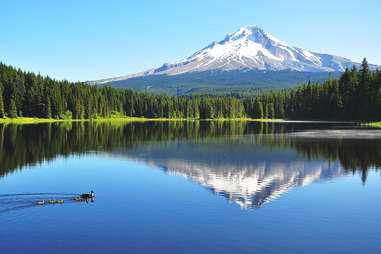 TRILLIUM LAKE
If you were building a mountain from scratch, you'd probably want a shimmery lake in its shadow. And when you designed that idyllic lake, it'd pretty much end up looking like this. Trillium Lake, which is just a few miles east of Government Camp, is a perfect spot to snap a photo of the snow-capped peak and to take a dip in the chilly mountain water that melted off Hood's glaciers. Best part: You won't hear the whirr of motorboats, which makes it all the better for paddling or fishing.
SMITH ROCK
Central Oregon was shaped by the lava which flowed from Mount Bachelor. The most striking relic of that prehistoric flows is this hulking castle-shaped rock, which stands a half-mile high below the zig-zagging river below. Smith Rock's sheer face and pocked volcanic rock faces make it perfect for rock climbing -- so perfect, in fact, that this is where someone was first inspired to pull themselves up a cliff for fun, birthing the modern sport of rock climbing. There's a big web of hiking trails in the canyons, some of which involve a little light rock-scrambling.
BEND
This high desert town is home to one of the largest ski resorts in America, scores of brewpubs, and the Deschutes River. That river provides the flow for a whitewater park smack-dab in the center of town where you can dip your oars or just your feet. There's a lot to explore here, but for shopping and dining, start in the Old Mill District.
OREGON OBSERVATORY
Bend's clear skies and high elevation make it a major spot for night sky gazing. The Oregon Observatory just south of town is well worth a visit -- this is a serious observatory where astronomers are discovering new stars, but also fully committed to greeting the public on summer weekends.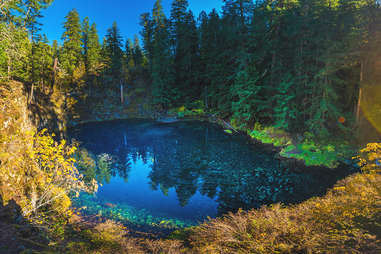 TAMOLITCH POOL
The eyeball-popping topaz waters of this pool below a waterfall just west of Bend could be the inspiration for a crayon. It's a two-mile hike to the pool, which was the base of a waterfall before the stream shifted, and makes for an amazing place to take a cool dip after a summer day in the high desert. Be warned that the water is icy cold -- don't cannonball in unless you know what you're getting yourself into.
BAGBY HOT SPRINGS
After soaking up the sun in central Oregon, you'll cross the mountain pass back to damp Western Oregon. There, you'll find the state's most famous hot spring. Bagby spits mineral-rich water at a steady 138 degrees Fahrenheit up from the forest floor and into a series of wooden pipes that feed tubs of various sizes in a little moss-covered shanty village surrounded by massive cedars. Bagby is populated by hippies and hipsters alike, and sometimes gets a little rowdy in the evening. For whatever reason, the group tub tends to be more popular than the private rooms with two-person tubs carved from pine logs. Either is a great way to let the warm waters soothe your skin and help you wind down from the drive.