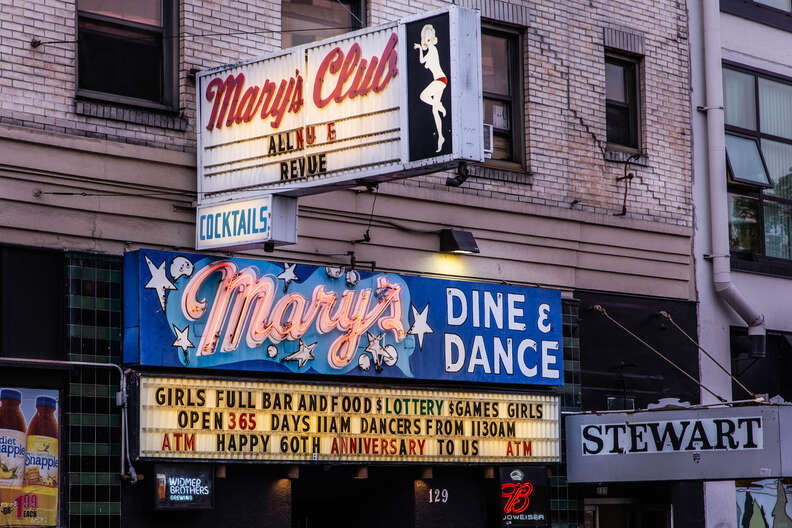 Mary's Club

| Cole Saladino/Thrillist
Mary's Club

| Cole Saladino/Thrillist
If you're even thinking of being in Portland, check out the rest of our DestiNATION Portland travel guide. It's stacked with expert advice from locals on what to eat, where to drink, and what to do in the City of Roses.
The next time you visit Portland, here's a fun little game: Go to any spot in any trendy neighborhood and see how long it takes to meet someone who was actually born here. Mathematically there's a slightly less than 2-in-5 chance that a person you meet in Portland was even born in the state of Oregon, much less the City of Roses. As one of the increasingly rare lifelong Portlanders, I promise we're still out here -- just probably not in a lot of the same places you'll find on a "10 Best" list.
By all means, when you get into town, drink our fair-trade coffee until you start smelling colors. Join a pub crawl and sample as many of the 1,298,254 craft beers as you can slug down your gullet. Spend the evening making it rain at the local vegan strip club, or, if you prefer being the naked one, sign up for the annual Naked Bike Ride. Go eat a dozen Captain Crunch donuts, and pet all the goats, or chug a cider with a new feline friend at the cat cafe.
If you do manage to catch a native Portlander along the way, we'll piss and moan about what the damn hipsters have done to our town. But secretly, we kind of dig it. Because before Portlandia became the city young people flocked to to retire, Portland was a town where young people couldn't wait to leave. And if I'm being 100% honest, watching Portland become a full-fledged city with its own unique identity has been a thrill.
Portland was a town where young people couldn't wait to leave.
I sincerely want you to get into all this new wacky, wonderful shit Portlandia has to offer. But while you're here, also make it a point to enjoy the remnants of a Portland that has been slowly disappearing. A Portland where you could get the best burger in America at a wood-paneled, sports-pennant festooned dive bar on Fremont. A Portland where aside from the Trail Blazers and the Portland Beavers, the hottest tickets in town were ringside at Portland Wrestling at Sandy Barr's flea market every Saturday night. A Portland where the city's most famous son was a pachyderm named Packy.
A lot of those Old Portland spaces and faces are gone now, but there is a part of that old town, the town that raised me, that remains. If you want to really get to know my city, it's worth getting to know some of the people and places that made Portland a pretty cool place to be, long before Fred and Carrie got here and started putting birds on everything.
Portland has always been kinda weird…
Before the hipsters, Portland was a haven for hippies. In the 1960's, radical communes like Ken Kesey's Pleasant Hill farm started dotting the Willamette Valley. The University of Oregon in Eugene quickly became another version of the Haight-Ashbury. Then, as the generation who famously tuned in and dropped out began to realize they needed to drop back in and find jobs, Portland became a natural landing spot.
As a result the Rose City evolved into a confluence of traditional blue-collar ethos and young artists, musicians, environmental activists, beatniks, feminists, and not-so-undercover stoners decades before the first legal joint was lit. There are still a few old-timers around who will gleefully spin a yarn or two about Portland's first wave of weird, from a particularly infamous Grateful Dead concert at Beaver Hall to a certain giant, red-headed Portland Trail Blazer with a fondness for blazin' up a joint or 12 while whizzing around town on his 10-speed like a pothead Johnny Appleseed.
While the stretch of head shops, dive bars, and artist collectives of Hawthorne's hippie heyday have largely been replaced by boutique shops, gourmet eateries, and luxury condos, the legacy of that generation can still be felt in both culture and policy. For example, one of the city's favorite summer attractions, Portland's Saturday Market, was founded in 1973 by artists Sheri Teasdale and Andrea Scharf, who wanted to replicate the community artisan feel of the original Eugene Saturday Market. And reclaimed nature reserves like the Smith and Bybee Wetlands, tucked in between the warehouses and factories of North Portland's industrial area, are a breathtaking example of what can happen when generations of environmental activists turned local politicians committed to keeping Portland as green as it is weird.
I see many more Black Lives Matter signs than fellow Black people.
Of course, no story of the Portland-to-Portlandia metamorphosis is complete without mentioning an eccentric, mustachioed tavern owner turned populist Portland mayor named Bud Clark. He gained national fame in the late 1970s by encouraging his future constituents to quite literally expose themselves to art, and served as mayor from 1985-1992.
The Portland you visit today is the singular vision of Vera Katz, who succeeded Clark and served as mayor from 1993-2005. She transformed Portland into a hotspot destination for transplants and tourists. However, from an identity standpoint, Bud Clark knew that if Portland was ever going to have an identity that didn't involve being the Edith Crawley to Seattle's Lady Mary, it would have to harness its weirdness like its greatest natural resource.
If you find yourself on the west side, you can still have the World's Greatest Reuben at Bud's bar, The Goose Hollow Inn. The beer selection has expanded greatly since the joint opened in 1967, but it still reflects Bud's desire for a place where people of all stripes can sit down, enjoy a meal and a beverage, and revel in the spirit of community.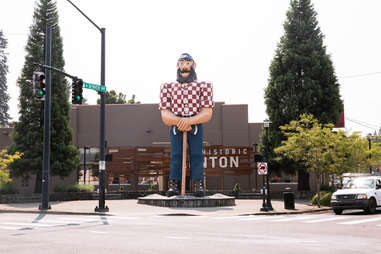 …but Portland hasn't always been… ahem… roses.
If you pay attention, it won't take long to realize Portland is a very white city. It is the whitest big city in the nation, and that did not happen by accident. Portland is the biggest city in a state that was literally founded as a whites-only sanctuary. Today, Oregon has a black population of about 2.2% -- fewer by percentage than the National Hockey League.
If you could fit "Portlandia" (read: the trendy parts of the city) into a geographic area, it would roughly live between Downtown and S.E. 82nd Avenue from east-to-west, and St. Johns in North Portland to the Sellwood district in the south. Over the past 20 years or so, this core chunk of the city has gotten significantly less diverse. A multi-stage gentrification process capped by the financial crash of 2008 pushed many lifelong Portlanders -- and, disproportionally, many of its already sparse minority residents -- out to "The Numbers" (the sections of Portland east of 82nd Avenue), or catapulted them to surrounding suburbs.
Today, when I stroll through my old stomping grounds in North and Northeast Portland, I see many more Black Lives Matter signs than fellow black people. This is especially stinging considering these "hip" areas like Mississippi, Vernon, Woodlawn, and Alberta are historically where black and Latino families were forced to live post-WWII, relegated there by racist zoning laws and landlords. Now, these communities are largely excluded from the benefits of the area's rapid economic and social boom.
Eat your way through Old Portland
There's a running joke here that while Portland's food scene is legitimately incredible, a good chunk of its foodie culture is based on well-heeled white chefs cooking "authentic" cuisine in spaces minority restaurateurs were priced out of a decade ago.
Gratefully, there are still some Old Portland holdovers that prove Portland's food scene is a bit more diverse than a lot of food guides might lead you to believe. In the words of one of our new favorite sons, we're trying, Jennifer.
Opened in 1959, Amalfi's on 47th & Fremont has been Portland's best Italian restaurant for more than half a century, and if third-generation owner Kiauna Floyd has anything to say about it, they'll be slanging meat-sauce slathered goodness for another 50 more. Feeling like authentic Mexican fare? Hop in an Uber and head out to Tortilleria Y Tienda De Leon on 162nd and Glisan. It'd be worth the drive just for a slice of tres leches, but the DeLeon family also makes the best sopes you're going to find in the city, and my friend, it ain't even close.
Cannon's BBQ in Northeast is a worthy inheritor to the Godfather of Portland BBQ Chuck Hinton's legacy. A modest space in a New Seasons parking lot, Cannon's is more aesthetically pleasing than Chuck's legendary brown shack, but on a summer day, a nice breeze still sends the same glorious smell of hickory smoke wafting through the neighborhood.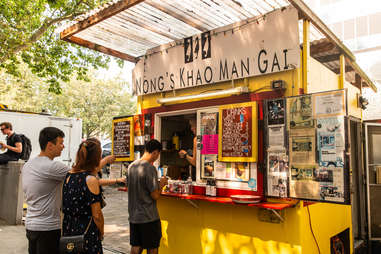 Throw a rock anywhere along Southeast 82nd Avenue and you're almost guaranteed it will land in a mouthwatering bowl of phở or any number of different Southeast Asian delicacies. Portland's Chinatown has seen better days, but if you head across the river and go a little further east, you'll find no shortage of amazing Chinese food. The Canton Grill on 82nd has been slinging quality Chinese-American fare since 1944, and has one of the best karaoke lounges in the city. For a truly authentic dim-sum experience, head up to Wong's King on 97th and Division. And just between us, Rip City's best kept culinary secret might well be Powell's Seafood Restaurant -- order the walnut prawns and thank me later.
Thai cuisine has been a staple of the food scene here long before the first seeds of the Pok Pok empire were planted. Check out Pad Thai Kitchen on S.E. Belmont, or Nong's Khao Man Gai, which now has locations on both the east and the west side of the river. Portland also has a thriving Russian community, and a food scene to match: Hit the Roman Russian Food Store on 109th and Division and sample a dozen different types of pierogis.
If you really want to get a feel for Old Portland, Sayler's Old Country Kitchen is the place to go. Open since 1946, Sayler's still does what Sayler's has always done best: copious amounts of red meat. Take the 72-ounce Steak Challenge, and see if you can stuff down half a cow and all the fixings in under an hour. To get there, head east on Stark Street and keep driving until you see the giant spinning steak sign (because of course they have a giant spinning steak sign).
Some other Old Portland landmarks to check out
The Kenton neighborhood is home to what was for a long time Portland's most recognizable landmark: a 37-foot-tall concrete statue of Paul Bunyan. Originally erected in 1959 to celebrate the centennial of Oregon's statehood, the giant logger was a nod to Portland's timber industry. I'm going to keep it real with you: That statue is ridiculous and tacky as hell. But it's the most perfectly Portland thing Portland has ever Portland-ed. Fifty years ago, it was a fitting, though kitschy, tribute to the town's logging past. Today, if you replace the axe with a fixie, Portlandia Paul is a near-perfect likeness of just about every dude you'll see riding around the Goat Blocks.
If you're looking for something a little spicier, Portland still boasts more strip clubs per capita than any other big city in the nation. Mary's Club is the grand dame of Portland's strip club industry and is no doubt an icon worth visiting. Yes, Courtney Love danced there once, but believe me, when Courtney Love danced there, Mary's Club was not on any "Best of Portland" list.
If you really want to get a feel for what Rip City's tail-shaking scene was like before anyone heard of a gluten-free lap dance, there's no better place than The Acropolis. Locals have debated for years whether the Acrop is a strip club with incredible steak or an affordable steakhouse with nude dancers, but if you're into either (or both), take the trip down 99E and treat yourself to the wonders the Acropolis has to offer.
On behalf of all the elusive native Portlanders, we're very happy to welcome you to our town. And we really want you to get to know our city, or I guess more appropriately, both of our cities. Enjoy all that Portlandia has to offer, but also, don't forget to give a little love to Old Portland while you're here too.
Sign up here for our daily PDX email and be the first to get all the food/drink/fun Portland has to offer.
Kashann Kilson is a Portland-based writer, semi-rehabilitated coder, and pie enthusiast (definitely not in that order). Follow him on Twitter @kashannkilson