Ski lifts at Timberline in Mt. Hood, Oregon

| mishaAshton/Shutterstock
Ski lifts at Timberline in Mt. Hood, Oregon

| mishaAshton/Shutterstock
The COVID-19 pandemic has been a cruel, unpredictable mistress, yet the alpine sports industry has done a commendable job of rolling with the punches. Portlanders' appetite for fresh powder and bluebird days on the mountain is as insatiable as ever, and the management at many resorts in the region have learned a lot about how to adapt to these strange times while still offering a most excellent time on the slopes. Weekend and holiday traffic remains a big problem, especially on the main roads that loop around Mount Hood, but enterprising mountaineers have created helpful–and hilarious!– Instagram accounts like @the_govy500 to help city folk keep track of the antics on US 26 and beyond. As always, be sure to plan carefully and check online for updated details on conditions, closure, and other ad hoc restrictions that are bound to pop up. Tips up!
Government Camp, OR
Distance from Portland: 59 miles; 1 hour 20 minutes
Located lower on Mt. Hood than its more upscale brethren, Ski Bowl is king of the mountain in terms of accessibility. Its eastern entrance is just a quick walk across the bridge over US-26 from Government Camp, which means you can leave the car at the Airbnb and hoof it in lieu of trolling endlessly for parking. The beloved night skiing option is available seven days a week, and it makes the idea of hitting the mountain after work in Portland a realistic goal (though the 40%-off Tuesday Ladies' Night tickets are still a thing of the past). Ski Bowl's highest peak hosts both green and double-black trails, which means even newbies can get a gander at the vast expanse below before. A snow-tube area is a bonus for parties with children (or terrified adults) in tow, making Ski Bowl the go-to for groups of all ages and experience levels.
Find Airbnb nearby: Search Government Camp, Welches, or Rhododendron
Government Camp, OR
Distance from Portland: 66 miles; 90 minutes
The iconic namesake lodge that sits high atop Mt. Hood is fully functional again, which means the throngs of under-dressed tourists popping in to see where the exterior shots of The Shining are back. Still, Timberline is a crowd-pleaser amongst skiers and boarders of all skill levels, making it a must-visit for locals and transients alike. Up top at around 8,000 feet is the Palmer Glacier, which transitions smoothly from a shimmering expanse of endless turns to one of the most popular terrain parks (and the only in North America that's open year-round!) in the Pacific Northwest. Below that is a wonderland of wooded trails, steep double-black drop-offs, and just about everything between. Timberline is known regionally as the slopes of the proletariat, and the afternoon lot scene is often a reflection of the relatively socioeconomically diverse fanbase the resort has accrued over the years. From Rainier-swilling dirtbags with ratty conversion vans to Rad Dads with kitted-out Sprinters, Timberline truly offers something for everyone.
Find Airbnb nearby: Search Government Camp, Welches, or Rhododendron
Mt. Hood, OR
Distance from Portland: 71 miles; 95 minutes
If the scene at Timberline is a Phish show, then Mt. Hood Meadows is more akin to a Steely Dan gig in a stately theater: heady and freewheeling, yet refined and a tad more old money. In more practical terms, this is where your neighbor with the "Stop Demolishing Portland!" lawn placard earns their turns. The crown jewels of Meadows are the series of hellishly steep double black diamond trails accessed by the Cascade Express, as well the jaunty, woodsy blue runs fed by the Stadium Express lift on the lower boundaries. Sophisticated snowshoe and cross-country options abound as well. Assuming they re-open in some capacity, Meadows offers the tastiest food options on the mountain, with the new-ish Sahale Lodge slinging a variety of cuisines inspired by all corners of the world and a tap takeover from Hood River's legendary pFriem Family Brewers.
Find and Airbnb nearby: Search Parkdale, Odell or Hood River
Mt. Hood, OR
Distance from Portland: 91.3 miles; 1 hour 40 minutes
Skiers and snowboards with a soft spot for the small guy will love the quaint and compact Cooper Spur Ski Resort. With a handful of smooth and straight blue hills, along with a small but mighty black hill in Accelerator, this weekends-only resort is a fine place to hit the slopes with the family (or a crew of hungover novices who partied too hard in Hood River.)
Find and Airbnb nearby: Search Parkdale, Odell or Hood River
Mt. Hood, OR
Distance from Portland: 70.4 miles; 1.5 hours
Teacup Lake is like the neighborhood co-op of ski resorts. The 20km+ of nordic cross-country trails are managed by the US Forestry service and groomed by a crew of volunteers, which is sure to warm the heart and stoke the excitement of even the most hardened anti-capitalist outdoor enthusiast. Passes are a paltry $10 at the trailhead, though you'll also need an Oregon Sno-Park Permit to park at the lot near the entrance. If you're burnt out on the Goretex-clad leisure class that packs out Meadows and Timberline on a regular basis, then this breezy jaunt through the woods may be just what the doctor ordered. Be sure to follow their Instagram page for updates on their grooming schedule, which makes it easy to time a nice and smooth run around the lake.
Find and Airbnb nearby: Search Parkdale, Odell or Hood River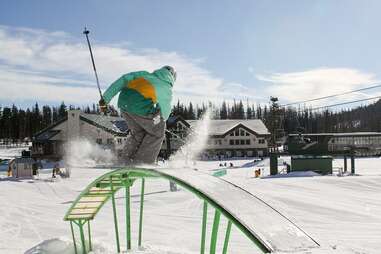 Sisters, OR
Distance from Portland: 134 miles; 2.5 hours
An extra hour of driving is well worth it to escape the hustle and bustle of Hood with a trip to Hoohoo instead. Situated atop the Santiam Pass just east of Salem, Hoodoo is great for intermediate skiers and boarders who want to up their game on a generous selection of brisk blue hills. Advanced shredders will love the panoramic view of Mt. Jefferson poking out of the Willamette National Forest before they bomb Grandstand, arguably the most iconic and daunting run on the mountain. Due to staffing issues the resort is closed Mondays and Tuesdays, and the tubing park is fully closed until further notice, but the weekend traffic that plagues Mt. Hood is generally much less of an issue around Hoodoo, which is great news for you weekend warriors.
Find an Airbnb nearby: Search Sisters
Crescent, OR
Distance from Portland: 175 miles; 3 hours
Situated just over an hour southeast of Eugene, Willamette Pass is the go-to for scrappy U of O students and denizens of the Bend area who need an escape from the nouveau riche transplants that have flocked to central Oregon over the past decade. Undergrads may find themselves elsewhere this season, which means there should be a bit more room on the slopes for intermediate skiers and snowboarders who revel in the views of Odell Lake as they careen down the many blue runs that grace the resort. A sophisticated network of cross-country trails wind around the western face of the mountain as well.
Find an AirBnB nearby: Search Crescent and La Pine
Bend, OR
Distance from Portland: 198 miles; 3 hours and 40 minutes
The staggering beauty of Bend is one of the worst kept secrets on the West Coast at this point, but it's easy to see why everyone loves this funky little Central Oregon high desert town to death. The debate over whether the seat of Deschutes County shines brighter in the summer or winter is far from settled, and it likely never will be. Regardless, thrill-seekers from up and down the 5 have been making the pilgrimage to Mount Bachelor for generations, and you really can't say you're an Oregonian until you've taken a tumble down one of its many icy slopes. It's the highest and largest resort in Oregon, with a 2,763m peak and over 100km in slopes that range from craggy, crystalline faces to gentle declines that are suitable for first-timers of any age. Bachelor is, and likely always will be, the crown jewel of the central cascades. New for the 2021-2022 season is a highly divisive Fast Tracks pass, which allows attendees to add $49 to their lift ticket for the ability to cut the line at 9 of Bachelor's most popular lifts.
Find and Airbnb nearby: Search Bend, Redmond, Sisters or Sunriver
Enumclaw, Washington
Distance from Portland: 204 miles; 3 hours and 30 minutes
Anyone who's spent the day wandering around The Couve in a boozy stupor will agree that it's fun to do Oregon things in Washington just to feel like you're on vacation. Lucky for us there's plenty of gnar to shred on Mt. Rainier, which is about the same distance from Portland as every ex-Californians surrogate for Tahoe-in-the-desert (see above). At Crystal Lake you'll find a plethora of blistering black diamond runs that take up almost half of the resorts map, along with jaunty blues that dart and dash through one thicket of evergreens after another. It's a vast and challenging escape for Oregonians who've grown tired of the same old up on Hood, and it's well worth a visit on a long weekend or a day of playing hooky from your million Zoom meetings.
Find an AirBnB nearby: Search Enumclaw or Greenwater
Pete Cottell was roped into the snowboarding world in 2013 when a kind stranger on the internet told him Mt. Hood is a great place to live in a van. These days he's one of those Jerrys whose mid-sized SUV is usually stuck in a snowdrift just outside Govy. Follow his misadventures on the mountain at @Vanifestdestiny.