Everything you've heard about Portland is true. Mountains loom in the distance. Everything is green. Strip clubs outnumber McDonald's. The smell of malt hangs in the air from the endless breweries dotting the hilly, forest-like landscape. The east and west sides of the Willamette River -- which cuts through the center of town -- are alive with bikers, musicians, and weirdos. Cranes dot the skyline as Old Portland is confronted with new, mural-covered buildings. Skateboards, bikes, scooters, and rollerblades share the road with cars. Dogs are everywhere. So are hipsters… but don't call them that. The word's outdated.
As Portland hits puberty as one of America's "cool cities," its residents -- particularly the transplants who arrived in the '90s and aughts as the city transitioned -- have become, well, moody teenagers. "It's not as weird as it used to be," some will say, earnestly, while sitting in the window of a craft cocktail bar at noon, as a man in a kilt and Darth Vader mask rolls by on a unicycle playing a flame-shooting bagpipe.
Normal for locals here is not normal to anyone else. Great bands flood venues like the small Mississippi Studios and the big-ass Crystal Ballroom nightly. Tourist attractions range from the Columbia River Gorge and the iconic Saturday Market to a city block-sized book store and a world-famous drag revue. Untattooed skin is a rarity. Goats and chickens roam residential yards. Tiny houses pop up like weeds. Ice cream comes sweet and savory. It rains donuts.
Everything you've heard about Portland is true, including the fact that it's a bizarro city in flux that's extremely easy to fall in love with. To help you with that love affair, we've assembled a team of yet-to-be-embittered Portlanders for this all-encompassing DestiNATION Guide (Thrillist's lucky seventh, after NOLA, San Diego, Miami, Austin, Vegas, and NYC, with more on the way). Visiting Portland for the first time? Where should you stay, what should you eat, and why the hell is everyone at the bar standing in line like that? Stick with us, kids, all will be revealed.

SKIP AHEAD: WHAT TO DO | KNOW BEFORE YOU GO | WHERE TO STAY
Portland earned its reputation as a food town in the mid aughts thanks to an influx of creative chefs looking to do their thing on the cheap. As a result, classically trained chefs opened sandwich joints and lowbrow-minded artisans got fancy. The city's finest bites can be found as readily on fine china as a paper plate. Food carts continue to serve as incubators for fledgling chefs to hone their skills, and even the diviest of dive bars might just serve you the best fried chicken you've ever had. Thanks to an old law that dictates any establishment serving booze must have a full kitchen, you'll find the lines between bars and restaurants blurred to a great degree.
More than any other city except maaaaybe Seattle, Portland takes its coffee very, very seriously. Stumptown coffee was born here, and it's everywhere -- including wherever you came from, probably, so skip it in favor of something you can't get back home. Heart, Coava, and Nossa Familia are among the nation's best roasters, period. For coffee shops, consider the motorcycle-themed See See, the oh-so-shiny (and wireless-free) Barista, or a place like Either/Or, which doubles as a cocktail bar.
Oh, and you probably heard about the beer. There are more than 80 breweries operating in this mid-sized metropolis. IPAs, sours, hazys, stouts -- they've all come to roost in the City of Roses. But you don't have to hit a brewery to get the good stuff: In Beervana, even the worst bars have at least a couple good taps, and strip clubs here could go toe-to-toe with the best beer bars in most major cities.
Cocktails, too, get their due. Portland's mixology scene might still stand in the shadows of places like NYC and NOLA, but Portlanders relish in their perpetual underdog status. This is the home of the barrel-aged Negroni (thanks, Clyde Common) and the Negroni slushy. It's a place where you can score a taste of the rarest whiskeys at the Multnomah Whiskey Library and then settle in to an on-tap Vieux Carré for $5 at Imperial. Like beer, great cocktails are everywhere, ready to be paired with a solid bar bite thanks to that old kitchen law.
Unlike New York, Portland sleeps. And it goes to bed relatively early. Last call, at the latest, is at 2:30. After that, the late-night options are limited to a handful of 24-hour diners (go for the Roxy downtown or Original Hotcake House on the east side), downtown's late-night pho oasis Luc Lac, and late-night pizza delivery from Hammy's and Sizzle Pie. Just go to bed and get some rest. You have a long morning of waiting in line for brunch ahead of you.
By Alex Frane
A word of advice: arrive hungry. Portland has a well-earned rep as one of the greatest food cities in America. Care to challenge it? Click here for the full story...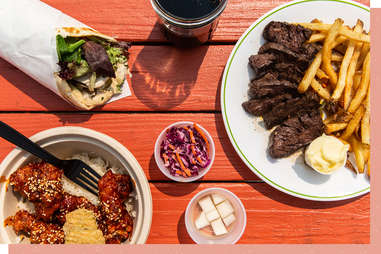 By Pete Cottell
Portland's food trucks are actually "carts" which live in food courts that are actually "pods" -- look, just find one they're incredible. Click here for the full story...
You've eaten everything, waited in every brunch line, and polished off enough beer samples to fill a keg. Now what? Explore. Start by picking a neighborhood. Portland's 'hoods are basically a bunch of unique small towns stapled together, from the Rockwellian small streets of Sellwood to the legendary hippie shopping district of Hawthorne, the scrappy Alberta Arts District, the bougie Pearl, the Simpsons-inspiring Alphabet District (creator Matt Groening hails from Portland, and you'll find streets here called Flanders, Lovejoy, Quimby, etc.), and the streets of Beaumont, the inspiration for Beverly Cleary's Ramona series (no strip clubs there… yet. Thank god). Shop. Visit museums like OMSI and the Portland Art Museum. Then maybe eat and drink more.
Then get outside, rain or shine. Take a hike in the sprawling Forest Park, whose miles of old growth trails represent some of the richest parklands and connects to Washington Park, home of the iconic Rose Garden, Japanese Garden, and Oregon Zoo. Or head across the river to Mt. Tabor, which is like Washington Park in miniature and ground zero for the city's most breathtaking sunset views.
Finally, get the hell out of dodge. Rent a car and pick a direction. Within an hour or two, you'll be greeted with staggering Pacific Northwest landscapes: coastal rainforests and Goonies-style beaches, the waterfalls of the Columbia River Gorge (including the world-famous Multnomah Falls… check ahead for access, though, because the area is recovering from a fire), the snowy peak of Mt. Hood and its surrounding forests, the high desert outside of Bend, the foothills of Mt. Saint Helens, the Willamette Valley Wine Region, and more. It's like the nexus of the universe, and everything is green.
By Pete Cottell
Don't leave this city without, well, leaving the city. Hike to a waterfall, view some views, and breathe in that piney Pacific Northwest air. Click here for the full story...
Let's jump right to it: Portland is changing. Housing prices are rising. New buildings are transforming the skyline. The city's inherent whiteness is becoming more and more apparent. Gentrification is a constant topic of conversation, often ironically taking place at the tables of an artisanal coffee roaster whose address once belonged to a jazz club. This city has an extremely complicated and ugly history of discrimination which residents seem only now to be coming to terms with.
Point is, it's not all roses in the City of Roses. As many residents bemoan the disappearance of "Old Portland," these topics are likely to come up. Listen, but unless you're well versed, maybe don't weigh in, lest you get a strongly worded note hand-delivered to your hotel room.
Honestly, Portlanders are more prone to write passive aggressive notes when they're miffed than to punch anyone (except maybe Nazis). That said, don't ride your bike or scooter on a busy sidewalk. Avoid saying "put a bird on it" or some dumb Portlandia shit. Don't litter. Tip strippers $1 per song and bartenders at least $1 per drink. When in doubt, follow the immortal words of Abraham Lincoln: Be excellent to each other. (And party on, dudes.)
The best time to visit Portland
The myth that it rains for nine months out of the year is total bullshit. It's only seven. But that relative slog of gray skies and damp clothes makes May-October absolutely stunning. Late spring/early summer is when Portland turns into an earthly utopia of deep greens, temperate and sunny days, and clear skies, transforming the city and its surrounding areas into one sprawling playground.
Fall's no slouch, either, with the cooler climate giving way to beautiful colors and mandatory trips to nearby Sauvie Island for pumpkin patches and hayrides (it's a rite of passage). Winter has its charms, too: There are breaks in the rain, things are generally less crowded, and nearby Mt. Hood becomes a destination for skiers and fans of The Shining, which shot its exteriors at the historic Timberline Lodge. But if you happen to be in Portland proper when a rare bit of snow falls, be ready for the long haul: More than an inch generally shuts the entire city down.
How to get around
The spankin' new fleet of rentable e-scooters that hit the city earlier this year has replaced the bright-orange Nike Biketown rental bikes (think Citi Bikes, but uglier) as passive-aggressive Portlanders' favorite thing to get unreasonably angry about, but both are readily available for convenient rental. You can also rent a bike from a place like Cycle Portland or Everybody's Bike Rentals for the same results without the stink eye.
Beyond two wheels, the MAX lightrails jaunt to most of the major metro areas (and suburbs) and are easily navigable, and a fleet of buses can get you to your final destination if you're not in a big hurry. If you're tired of walking downtown or near the river on the east side, the Portland Street Car can get you close to where you're going, provided where you're going is in a very small radius. For maps and trip planning for all of these, download the app for Trimet.
Otherwise, most destinations are a short Lyft, Uber, or cab ride away. Just don't expect to easily flag a cab down if you're app averse: You'll want to call Radio Cab or Broadway Cab to schedule a pickup.
How to order food and booze
People have been ordering food and booze the same way for centuries, but of course Portland complicates things. Many restaurants -- even the nice ones -- go for the counter-service model, where you order your food, take a number, and sit down. You'll be asked to tip up front, usually with a pre-populated 20% on the tablet, which is weird since you're being asked to bus your own table. You don't have to go all-in there. But it's appreciated.
Also, at bars you'll notice a very weird Portland phenomenon: People line up to get their drinks like they're waiting to go on a Ferris wheel. It's odd. It's obnoxious. And bartenders seem to hate it, going so far as to put up signs that say "do not form a line" -- signs people form lines underneath. Make like a normal person and just go up to the bar. You'll get your drink quicker and your bartender will be relieved.
How to survive a strip club
It's really, really hard to explain Portland's bizarre strip club culture, but just know there's a strong chance you'll be in one at some point. Be cool. The vibe here is like chilling at a bar where there happens to be naked people. Some, like the vegan vampire-themed Casa Diablo and the steakhouse strip club Acropolis, have great food. Others, like Sassy's and Union Jack's, have multiple stages that seem more like Suicide Girls-themed Cirque du Soleil. Mary's has history (and often roller skates). On Sundays, punk rock club Devils Point has Stripparaoke (it's exactly what you think it is), while places like Silverado bring the Magic Mike thunder. Just go with it, remember to keep your hands to yourself, and throw those dollars (never, ever make it rain quarters).
How to do the reefers
Recreational dispensaries are so prevalent that there are often workers outside spinning signs for $5 grams as if they were shilling Hot N Readys. It's great. If you see a big green cross on a building and are 21, you can purchase buds, edibles, drinkables, and everything in between. You'll be carded, then likely directed to a waiting area before gaining access to the wonderland that is the dispensary.
Ask questions: Budtenders are there to help. Just don't touch anything: You can't actually handle the merchandise until you've paid (which you can usually do with cash or debit). After that, if you're smoking you can't do it in public or in hotels. Check the rules of your Airbnb before lighting up, and if you decide to forego the rules (which people do indeed do), know that you can still get pinched, same as you can anywhere else.
How to own the LBGTQ night life
Portland is one of the LGBTQ-friendliest cities in the US, to the degree that it's almost surprising "The Rainbow Connection" isn't the official anthem. Most every bar and restaurant is extremely welcoming, with many venues throwing down on regular queer nights. Even local movie houses are in on the action, with events like Hollywood Theatre's Queer Horror series and the longest running Rocky Horror night hitting the Clinton Street Theater every Saturday. The city's equivalent of Boys' Town is a triangle of SW Portland colloquially known as Vaseline Alley, home of iconic bars like Scandals, and though it's ground zero for Pride Week, it's a drop in the bucket for the city. Downtown's CC Slaughters is the de facto night club for sweaty dance parties, while drag revue Darcelle XV has become as much a Portland icon as anything else. On the east side, the atmospheric Crush offers craft cocktails to go with buzzy DJ-fueled nights, and things get decidedly more risqué with Silverado, the gay strip club, and at The Eagle, a divey bear bar in North Portland known for naked pool. Regardless of where you are, though, you'll very likely feel welcome.
All the Cheap, Easy, and Adventurous Ways to Get Around Portland
Headed to Portland for the first time with no idea how to get around? Fear not, Thrillist has your back.
By Kashann Kilson
Long before it became a Cool City, Portland was just as weird and just as wonderful but looked a little, uh, different. You can still visit and appreciate the remains of Old Portland, if you know where to look. Click here for the full story...
Portland's easy to navigate, but that doesn't mean picking the correct home base isn't important -- especially if you're exploring the city on foot or via public transportation. Most locals will caution against booking a hotel on 82nd, and they're not wrong. The street cuts a huge swath through the city, and while some of the areas are great -- the recently rebranded Jade District has some of the city's best East Asian fare, and Montavilla is one of the most charming little neighborhoods in the city -- others still cater to the specters of Portland's old drug and prostitution habits. If you're going to book, do some due diligence... or at least make sure they don't charge hourly rates.
Downtown
Much of Portland is a hotel desert. Not downtown, though. It's the best bet for people who want amenities while remaining close to pretty much everything, including the much-hipper east side just across the river. Walkability is unmatched, with dozens of acclaimed restaurants, the bro-y nightlife of Chinatown, the city's best food carts, and the iconic Saturday Market all within walking distance. You're also by the main hub of public transit; the Pioneer Courthouse Square -- aka Portland's Living Room -- serves as the city's super-chill version of Grand Central.
The hotels here run the gamut from the ultra-hip original Ace Hotel, which also houses legendary cocktail restaurant Clyde Common, to the old-school (we're talking Beefeaters as bagboys) Heathman, to the luxury digs at The Nines, which includes steakhouse Urban Farmer and the rooftop bar at Departure. Boutique hotels like the Hotel deLuxe and the newly renovated Sentinel abound. If an Airbnb is more your speed, you can check those out here.
Central Eastside
Right across the river from Downtown, Central Eastside is slowly transitioning from skid row to Portland's next big neighborhood, with restaurants like vodka-soaked Russian destination Kachka and world-famous Le Pigeon drawing crowds right along with a handful of great breweries (Burnside, Upright, Hair of the Dog) and bars ranging from swanky to skanky.
The converted Jupiter Hotel is ideal for folks who want their hotel package to include a party thanks to the neighboring Doug Fir Lounge, a legendary bar and music venue. Bougier digs are available down the road (a short street-car ride from the action) at Hotel Eastlund. It's the perfect antithesis to downtown, a still-slightly-rough under-the-bridge area that includes the best in food and drink, easy access to the (must visit, honestly) Oregon Museum of Science and Industry, and a taste of the hipper-than-thou Portland you're likely thinking of in the first place.
Alberta Arts District
With more than 30 bars and restaurants in a scant 15-block radius, Alberta Arts was an early adopter of Portland's burgeoning food scene (and many would argue the first victim of gentrification). You'll find a wealth of Portland's best and brightest crammed onto the street, from fusion star Aviary and Indian crossover Bollywood Theater to the long lines at ice cream mecca Salt & Straw, instantly iconic hazy IPAs at Great Notion Brewing, and the granddaddy of Portland's now-great BBQ scene over at Podnah's Pit.
Airbnbs are aplenty here, though the area's only hotel is a doozy: The Kennedy School is an old elementary school that's been converted into a sprawling campus that includes a brewery, several bars, a restaurant, a movie theater, and a hotel where the quarters are old classrooms.
Mississippi Avenue
The Mississippi/Williams corridors -- technically referred to as King -- are the next iteration of Alberta, but somehow more walkable and manageable. In a tiny radius, the area packs an unfathomable amount of Portlandness into a few square blocks, including must-try brunch destinations Tasty n Sons and Sweedeedee; breweries like Ecliptic and Stormbreaker; multiple cart pods, including one outside German beer hall Prost that includes the city's best BBQ in the form of Matt's; and more.
Still doubting the Portland cred? This is an area where a boutique taxidermy emporium exists a block from a place that only sells lightbulbs, which is right next to an indie music venue, a salt store, and a synthesizer shop. Do NOT be lured by the many hotels across the walking bridge from the neighborhood: They're generally fleabags. But the Airbnb options are strong here, and include tons of tiny houses.
The Pearl District/Alphabet District
Not all of Portland's hipness includes tallboys and the scent of American Spirits: The Downtown-adjacent Pearl District is Portland's answer to the bougie downtowns of most other cities, a maze of high-rise apartments, upscale restaurants, lauded Oregon breweries (Von Ebert, Deschutes, Rogue, Bridgeport), and very trendy bars. It butts right up against the Alphabet District, which is basically the fancier version of Alberta Arts, with the "Trendy Third" stretch of NW 23rd packing in an impossible number of boutiques and ultra-hip shops. You'll also find must-try restaurants like the superlative French fusion oasis St. Jack, the best Spanish fare in town at Ataula, and some of Beervana's best brews at Breakside. Hotels are, as in many areas, a little harder to come by, though there's a Holiday Inn for the budget conscious and the boutique Northrup Station for folks who don't want to just rent a condo from a traveling Nike employee on Airbnb (which is also an option).
SE Division
Division Street has climbed to the top of the heap of Portland's restaurant scene, with highbrow fare from Italian hotspot Ava Gene's and upscale Mexican joint Nuestra Cocina living comfortably with the city's best slice shop, Scottie's, plus a pair of dynamo fried chicken spots in the form of upscale Woodsman Tavern and Oregon's best dive bar, Reel 'm Inn.
But simply eating your way up and down Division (which you absolutely should do) isn't the only reason to actively seek an Airbnb in this hotel dead zone: It's also walking distance to Hawthorne Boulevard, the paragon of Portland's hippie-dippie past that represents one of the best shopping districts in town with its combination of earthy and hip boutiques. It's also extremely near Belmont -- a street that functions as a distillate of the best parts of Hawthorne and Division -- and stands at the foothills of Mt. Tabor, the east side's natural crown jewel, a volcanic cinder cone ripe for hiking and taking in the sunset. If you're staying in SE Portland, this is your home base.
EDITORIAL
Editors: Keller Powell, Alex Robinson
Writers: Andy Kryza, Pete Cottell, Alex Frane, Kashann Kilson
Production: Pete Dombrosky, Ruby Anderson, Eliza Dumais, Kyler Alvord
Video: Kat Li, Brendan Dean, Elan Alexenberg, William Witley, Chanel Baker, Lee Kalpakis, Sarah Barry, Emily Tufaro, Lauren Brenner, Daniel Byrne, Chris Murphy, Stasia Tomlinson, Justin Lundstrom
Special thanks: Bison Messink, Andy Kryza, Sam Eifling, Jonathan Melmoth, Alex Garofalo, Lauren Budinsky, Liz Childers
CREATIVE
Creative Director: Tom O'Quinn
Art Director: Ted McGrath
Photo Director: Drew Swantak
Photographer: Cole Saladino
Illustrator: Jason Hoffman
Motion Designer: Megan Chong