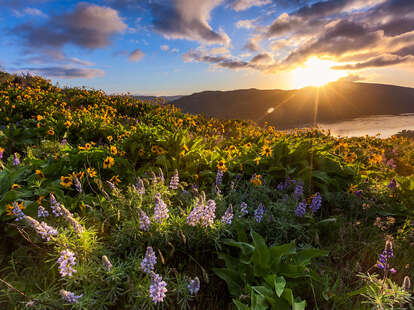 Sunrise at Rowena Crest Viewpoint

| kan_khampanya/Shutterstock
Sunrise at Rowena Crest Viewpoint

| kan_khampanya/Shutterstock
It's that time of year – after weeks of dreary winter, wildflowers are now popping up across the Pacific Northwest. And for PNW residents, there's no better place to spot the floral fantasia than the Columbia River Gorge. Just 30 miles east of Portland and three hours drive from Seattle, the Columbia River Gorge (or, as the locals call it, the Gorge), boasts hiking trails strewn with yellow balsamroot and purple lupine. Though wildflower season officially begins in March, peak bloom doesn't usually hit until the beginning of May. Be sure to hit up these hiking trails in Washington and Oregon for the ultimate floral peep show.
Dog Mountain
Cook, WA
Length: 6 miles
Difficulty: Hard
It's only right to start with the quintessential wildflower trail in the Columbia River Gorge. The Dog Mountain trek is pretty much a right of passage for wildflower enthusiasts, and for good reason. The ascent is strenuous (even for experienced hikers), but don't let that deter you. The climb to the summit, which rises almost 3,000 feet, meanders by steep switchbacks before emerging from a wooded section to panoramic views of the Columbia River. About a mile in, you'll come to a lower meadow, nicknamed Puppy Dog, that overlooks the river. This is a great spot for a break or can also be a turnaround point for a shorter hike. The rest of the way up is very open, and you'll find yourself surrounded by meadows of vibrant yellow balsamroot. At the summit, you'll be treated to a Wizard of Oz-esque meadow of flowers and a bird's-eye view of Mount Hood and the Columbia River Gorge. Be prepared to share the space with other hikers also celebrating after the difficult ascent — on weekends it can sometimes feel like one big party, where people play music from bluetooth speakers and chill with friends for a much-needed victory rest. From here, you can either retrace your steps back down or you can make it a loop hike by taking the Augspurger Mountain Trail, which adds an additional 0.9 miles to your hike. Pups are allowed on Dog Mountain but must be leashed.
Fee: A Northwest Forest Pass is required to park at the Dog Mountain Trailhead. Hikers are also required to carry a permit on Saturdays and Sundays from April 29 – June 19.
Coyote Wall
White Salmon, WA
Length: 7.7 miles
Difficulty: Moderate
Though not as heart-pounding as Dog Mountain, Coyote Wall still merits a post-hike beer or two. Known for the gigantic basalt cliff that towers more than 1,000 feet above the Columbia River, the recreation area is a prime spot for wildflower viewing. We recommend the Labyrinth Loop, an otherworldly trail dotted with gnarled white oak trees, a creek, waterfall, and epic views of the Columbia River Gorge. The hike up the grassy plateau, which has quite the dramatic drop into a rocky abyss, can be tricky since the trail is also open to mountain bikers. Once you reach the top you can bask in meadows of balsamroot, camas, and yellow bells. For a longer hike, connect to Catherine Creek via the Bitterroot Trail for an 11-mile trek, which includes a natural arch and even more wildflowers awaiting a photo op.
Fee: None
Mosier Plateau
Mosier, OR
Length: 3.5 miles
Difficulty: Moderate
About an hour's drive from Portland, visitors flock to Mosier —a tiny, picturesque town set along the Columbia River—to bike, drink wine, and explore the hiking trails. Named after Jonah Mosier, who in 1854 built a number of sawmills at what is now Mosier Creek, the town is also a destination for wildflower buffs. The out-and-back trek to Mosier Plateau begins at the bench marked Mosier Pioneer Cemetery and takes you past a gravesite where members of the Mosier family are buried. You'll continue along a pretty ravine looking down on Mosier Creek until you reach a viewpoint for the Instagram-worthy Mosier Creek Falls, a two-tiered waterfall with a swimming hole. Keep your camera handy because from here you'll switchback up hillsides blanketed with yellow balsamroot and purple lupine. Rising 600 feet, Mosier Plateau is home to over 30 species of wildflowers, including yellow bells, cluster lilies, and desert parsley. The panoramic view is worth the hike (notice Coyote Wall sits just across the Columbia River), but the colorful wildflower display is the icing on the cake. Take a breather and enjoy the scenery before heading back down.
Fee: None
Rowena Plateau
Mosier, OR
Length: 2 miles
Difficulty: Easy
Located off the Historic Columbia River Highway, the Rowena Plateau trailhead is just a few miles up the road from downtown Mosier. The loop trail is part of the 231-acre Tom McCall Preserve, named after Oregon's former governor, Thomas Lawson McCall, who was known for his role in environmental law making. The preserve has more than 300 plant species, including various wildflowers. Begin at Rowena Crest Overlook, where you can take photos of the surrounding hillsides and the hairpin curve in the road below. A kiosk details the fragile habitat of the area, and for this reason you'll unfortunately have to leave your furry friends.. With an elevation gain of just 240 feet, this is an easy stroll with expansive views all around and of course colorful blooms come spring. Though the always cheery balsamroot and lupine steal the show, you'll also spot wild onion, grass widows, and prairie stars, to name a few. You'll also pass Rowena Pond before summiting the plateau, where you get an eagle view of the Columbia River Gorge. If you come in later spring you can combine this hike with the trail to Tom McCall Point, where you'll find yet even more wildflowers and an epic view of the Gorge, Mount Hood, and Mount Adams once you reach the top. The Tom McCall Point trail is open from May 1 to October 31.
Fee: None
Dalles Mountain Ranch
Lyle, WA
Length: 6.9 miles
Difficulty: Moderate
Part of Columbia Hills State Park, the 3,200-acre Dalles Mountain Ranch is a historic homestead on the Washington side of the Columbia River Gorge. Beginning at Crawford Oaks Trailhead, you'll ascend some switchbacks and eventually the trail opens up with soaring views of Horsethief Butte and the Columbia River, with Mount Hood looming in the distance. For most of the hike, you'll wander along idyllic rolling hillsides that, come spring, burst with yellow balsamroot and purple lupine, though patches of Indian paintbrush sometimes make an appearance too. Along the way you'll pass a barn that dates back to 1878, a wooden wagon, several old ranch buildings, and the gravesites of the Crawford and Brune families who used to live on the homestead. The site also has an outdoor museum with rusted farm equipment from back in the day. Be prepared to share the trail with mountain bikers and horseback riders.
Fee: A Northwest Forest Pass is required to park at the Crawford Oaks Trailhead.
Michelle Harris is an Editorial Assistant at Thrillist. Over the years her writing has also appeared in
Atlas Obscura
,
Mental Floss
, and
Audubon Magazine
. When she's not busy typing, she enjoys hiking, road trips, and cooking vegan food.