Hit the Road to These LGBTQIA-Friendly Wine Destinations
From the Finger Lakes to Sonoma County, here are 5 queer-friendly wineries worth raising a glass to.
Paid Content For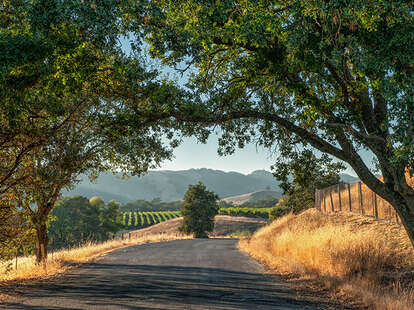 Shutterstock
Shutterstock
The United States produces a whopping 800 million gallons of wine every year, so it's easy to enjoy a bottle or two when you find a new favorite. But even better is going straight to the vineyards and having an unforgettable wine weekend (or longer) with your bae or besties. From coast to coast, here are some of our favorite LGBTQIA-welcoming wine spots where you can uncork the good times and take home lasting memories in a bottle.
Taste award-winning riesling in New York's Finger Lakes
With its award-winning wineries, breathtaking lakes, and super welcoming vibe, the Finger Lakes region is East Coast winemaking and tasting at its best. Start your weekend sipping world-famous riesling on America's first wine trail in Cayuga Lake at Button Grove Winery, Lucas Vineyards, and LGBTQIA-owned Americana Vineyards, where you can also enjoy live music and homemade fudge. After a day of wine tasting, catch a stunning sunset cruise through Cayuga Lake, get in on the dinner party atmosphere at FLX Table (an intimate, 14-seat restaurant where gourmet food is cooked before your eyes), or head straight for homemade ice cream at Cayuga Lake Creamery and try lavender, maple bacon, and other delicious flavors.
The next day, check out some of the area's gorges, waterfalls, and swimming holes with easy hikes in Watkins Glen State Park or Taughannock Falls State Park. Or go on a kayaking adventure or take an LGBTQIA+ history tour in nearby Ithaca, named by The Advocate as one of the "10 Best Cities for Gays and Lesbians to Live."
While you're there, visit equally great wineries on the Keuka Lake Wine Trail, including Ravines Wine Cellars for award-winning Blanc de Blanc and signature bittersweet chocolate truffles, and check out the historic Dr. Konstantin Frank Winery, New York's most award-winning winery since 1962. For sleeping, there are no shortage of LGBTQIA-owned and queer-friendly accommodations including the Inns of Aurora, The Chalet of Canandaigua Bed & Breakfast, Benn Conger Inn, and Juniper Hill Bed & Breakfast.
Dance in a vineyard in Sonoma County, California
With over 400 wineries, you'll need lots of weekends in Sonoma County to see and drink it all, but the summertime Gay Wine Weekend gives you a great first taste of the area's legendary chardonnay, pinot noir, sauvignon blanc, and more.
A great way to connect with fellow queer wine enthusiasts and also support a great cause, this event is organized by Out in the Vineyard and is all about enjoying great vino, food, and good times with fellow LGBTQIA+ wine lovers. On this weekend, Sonoma sparkles with tons to do. Visit queer-friendly wineries like Muscardini Cellars and Viansa, have small group dinners with winemakers to get the inside scoop on their inspiration and process, and get festive at drag brunches, pool parties, and a Twilight T-Dance in the gorgeous vineyards of Chateau St. Jean.
If you can't make it for Gay Wine Weekend, Out in the Vineyard sponsors several other events throughout the year like Pink Sonoma Saturday (held in late October for 2021), an all-day tasting of the area's best rosés. Over the past decade, the events have raised over $400,000 for Face to Face, Sonoma County's HIV/AIDS Network.
Prefer to DIY your wine weekend? Check out LGBTQIA-owned and queer-friendly spots like Equality Vines, Corner 103, La Crema, and Buena Vista Winery, or get whisked to four wineries (including the historic Benziger Family Winery) aboard the Sonoma Valley Wine Trolley. You'll need some food to go with all that wine, so support LGBTQIA-owned restaurants like Big Bottom Market, Brot, and boon eat + drink, plus queer-friendly spaces such as The Girl and the Fig and Glen Ellen Star.
Thankfully, there's no shortage of places to sleep, either. LGBTQIA+ guests are warmly welcomed at many accommodations including The Lodge at Sonoma Renaissance Resort & Spa (now The Lodge at Sonoma, Autograph Collection), El Dorado Sonoma, R3 Hotel, Highlands Resort, and the Olea Hotel.
For something totally different, go for Lazy Bear Week, a 25-year-old tradition known as "'The Biggest, Hairiest, Beefiest, Burliest, Craziest, Laziest FUNdraising event on the planet."
Drink Pride Vodka and sample wines in Bloomington, Indiana
Indiana's Wine Country may not be as well known as some of the others on this list, but with over 100 wineries and events like Vintage Indiana Wine Fest and the Indy International Wine Competition, there's plenty to see and do. Base yourself in LGBTQIA-welcoming Bloomington (which The Advocate called the fourth gayest city in America) and take your pick of opulent and historic accommodations like the Showers Inn, Wampler House Boutique Hotel, and Grant Street Inn; have bison burgers with garlic fries at FARMbloomington or creative vegetarian dishes like pesto portobello at The Owlery; and explore exhibits on sexuality, relationships, and well-being at the world-renowned Kinsey Institute. If you visit in the summer, don't miss Pridefest.
Once you've gotten your food and culture fix, head out to Oliver Winery, the oldest in the state and now one of the largest wineries in the country. Sip inventive wines like the award-winning Apple Pie and Cherry Moscato, and enjoy the hilltop. Then check out nearby Butler Winery and Country Heritage Winery to sample some great seyval blanc and rosé. For winery packages, including transportation, try DeTours Wine or Beyond the Vine.
Feeling spirited? Hit up OddBall Mead for a selection of locally-made mead infused with honey and apple cider, or head to Cardinal Spirits for Terra Botanical Gin and Pride Vodka, which is made from Indiana corn and supports local LGBTQIA+ organizations.
Explore miles of goodness in Oregon's Willamette Valley
With over 150 miles of wine fun, Oregon's Willamette Valley is a must-visit for pinot noir fans (some of the world's best is produced here), but its nearly 600 vineyards and surrounding cities offer something for everyone.
Start in McMinnville, about an hour from Portland, and visit LGBTQIA-owned and operated Remy Wines to taste homegrown pinot noir and Italian varietals like tempranillo and sangiovese. At nearby Roco Winery, sample fresh-fruited pinots and chardonnay crafted by Black, gay assistant winemaker Jarod Sleet. Then take your pick of several other great wineries in the area including the first LEED-certified winery, Sokol Blosser; Penner-Ash Wine Cellars, co-founded by Lynn Penner-Ash, one of Oregon's first female winemakers; and Quailhurst Vineyard Estate, which is also a world-class horse training center with a five-acre Japanese garden overlooking Mount Hood. If you prefer to let someone else do the driving, Insiders Wine Tours offers private, customizable trips.
For your stay, try the luxurious Allison Inn and Spa and pamper yourself with a massage, take a yoga class, chill in the indoor pool, or stare out into the sweeping countryside. You don't even need to leave to enjoy a good meal. The onsite restaurant, Jory, offers tasty farm-to-table dishes like stone fruit salad and seared Oregon albacore. If you feel like heading back out later, dinner at the Joel Palmer House Restaurant offers mushroom-inspired dishes like mushroom Wellington and wild mushroom risotto. The restaurant also has the most extensive wine list in Oregon, so go ahead and ask for another pour. Other great hotels in the area include the Atticus Hotel and Black Walnut Inn.
After a blissful night's sleep, head south to LGBTQIA-friendly Eugene and explore Whiteaker, one of Oregon's hippest gayborhoods. Sit or stroll by the river at Marie Jacob's Park and have a locally-brewed beer at Sam Bond's Garage and Hop Valley Brewing, which supports LGBTQIA+ causes. Then visit more great wineries like King Estate and Sarver Winery for some great pinot gris before heading back, or spend the night nearby at the Italy-inspired and LGBTQIA-welcoming Excelsior Inn.
Of course, there's more to the Willamette Valley than wine. Stretch your legs at Silver Falls State Park, home to 10 tall waterfalls that you can see up close and even walk behind, or pedal your way through the appropriately named Willamette Valley Scenic Bikeway.
Drink like a president on the Monticello Wine Trail in Virginia
Steeped in history, the Monticello Wine Trail is sometimes referred to as the "birthplace of American wine" (it's inspired by Thomas Jefferson's vision to make America as wine-friendly as Europe). Even so, the area's 33 wineries have definitely changed with the times. Here you can look at the pretty Blue Ridge Mountains and rolling hills while drinking wine as the area's granite/clay soil mashup makes for some especially good cabernet Franc.
Start your wine tour at King Family Vineyards and sample their unique pink crosé, take in a summertime polo match, and have a picnic. They even bring you wine refills via golf carts. Don't miss Glass House Winery, where you can have great wine and chocolate (the owner is a chocolatier) in a tropical conservatory; Blenheim Vineyards, which is owned by Dave Matthews (yes, that Dave Matthews); and Early Mountain Vineyards, named one of the best tasting rooms in the country by USA Today. If you want a designated driver or need help planning a curated itinerary, Monticello Wine Tour & Coach Co is happy to help.
When you're hungry, hit up Charlottesville for top-notch restaurants like The Local, serving lobster mac 'n cheese, River Oak Farms fried chicken, and other local dishes. Or try Orzo Kitchen & Wine Bar for delicious Mediterranean meals like red wine braised squid pasta and Lebanese muhammara. For sleeping, there are several LGBTQIA-friendly inns. Enjoy your wine on the inviting porch and take in the antiques, stained glass, and smell of pinewood at Afton Mountain Bed & Breakfast, which dates back to 1848; get some fresh mountain air and "you time" on the 14 wooded acres of Arcady Vineyard Bed and Breakfast; or stay at the Inn At The Crossroads and walk to your wine at the Pippin Hill Farm & Vineyard, where there's no designated driver needed.
Orbitz
believes everyone should be able to travel freely, no matter who you are, who you love, or where you're going. Discover LGBTQIA-welcoming hotels, plan queer-friendly trips, and get inspired to vacation. You'll feel welcomed whenever you book with Orbitz. Travel As You Are™.
Mark Jason Williams
writes essays and travel articles and is working on a travel guidebook for LGBTQ couples. He can be found at www.markjasonwilliams.com.