Showing you how to get anywhere, anyway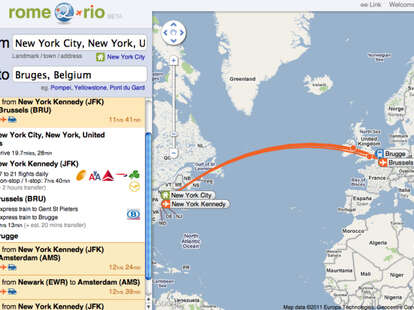 Deciding how to get where you're going can be a big pain, unless you happen to have a luckdragon, in which case, problem solved. Breaking down all of your less fantastical options, check Rome2Rio.
A slick new travel search engine making it crazy easy to figure out how to get from "anywhere to anywhere by any means", R2R's from two former Senior Engineers at Microsoft who hail from Australia, and is a vacation aid that proves the country's men do more than just work. Plug in the from/to deets and a Gmap'll plot the trip for each of your options (as based on airline/train schedules & driving directions), which get prioritized by total duration in a sidebar that also breaks each one down into legs, so you can be sure none of them require you to actually use yours. Hovering over a flight in the sidebar pops up a window with a schedule of daily departures from local airports (optionally pulling price/booking deets from Kayak), while a link to the railroad's reservation page is provided if you're looking to looking to travel by train, though it's kind of shocking that anyone else would also still want to Meet Virginia.
While at launch they've only incorporated rail for Europe, India, and China, they're planning to add Amtrak down the road, though there's nothing they can do to prevent your trips from turning into neverending stories.