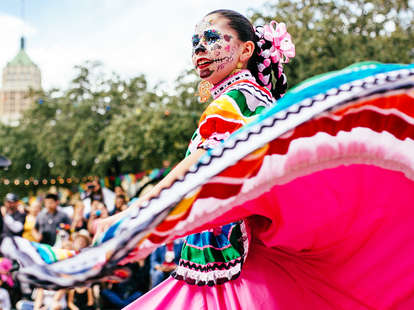 Paid Content For
How to Live it up During Day of the Dead in San Antonio
Paid Content For
To say that San Antonio is influenced by Hispanic culture is to grossly understate its dominance over so much of what makes this city unique, from our art and architecture to our food and festivals. So when the sugar skulls and marigolds start popping up around this time every year, it shouldn't come as much of a surprise. It would be much more shocking, in fact, if we didn't have one of the best Dia de los Muertos celebrations north of the border.
Whether you want to go all-out in facepaint and full Calavera Catrina regalia, or just lift a couple of tacos el pastor in remembrance of your own dearly departed, SA's got you covered.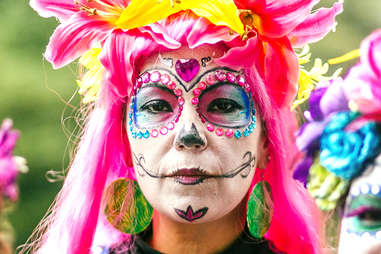 Not 100% clear on what this colorful, festive event is all about? Here's the rundown: Beginning about 3,000 years ago, the Aztecs and a few other indigenous tribes of what is now southern Mexico honored their belief that the afterlife was pretty awesome -- and should be celebrated, not mourned -- by welcoming back the spirits of the deceased for a couple of days each year around the time of the maize harvest.
When the Spanish Conquistadors came along around 500 years ago, they were none too pleased with all the pagan stuff going on. They couldn't eliminate the holiday entirely, so they moved it from early August to the first two days in November in order to coincide with All Saints' Day and All Souls' Day on the Catholic calendar.
Sidenote: It is probably safe to say that we wouldn't be quite as enthusiastic about all the outdoor processionals and whatnot if it were still held in early August.
Fast facts
That iconic skeleton with the fancy hat is La Calavera Catrina, and she was drawn around 1910 by a Mexican political cartoonist who was making a statement about Mexico's rich putting on airs and emulating European aristocracy.
Ofrendas, or altars, are used to decorate graves of loved ones in order to welcome them back. They feature the four elements of nature: water to quench the spirit's thirst after his or her journey; fire, in the form of candles to light the way; flowers -- specifically, marigolds -- to represent the earth; and papel picado to symbolize wind. They also usually include family photos, incense, and either toys or tequila.
Sugar skulls sometimes are decorated with the names of the deceased and eaten by friends or relatives commemorating the reunion. The other most prevalent food associated with Dia de los Muertos is pan de muerto, a sweet bread made with anise seeds and orange blossom water and formed with bone-shaped strips of dough around the top or in the shape of angels or animals.

Alright, now that you know why you're celebrating, let's talk about the best way to do so.
SA's official Dia de los Muertos event is Muertosfest at La Villita on Oct. 28-29. Admission is free, and includes getting to watch the procession, which is like a combination of a parade and a Catholic church processional, but with puppets, live poetry, and music. You'll also get to see all the fabulous altars created for Muertosfest's annual competition vye for $3,500 in prize money.
The cash in your pocket will go towards buying artwork and handmade goods from dozens of vendors, plus an impressive array of food.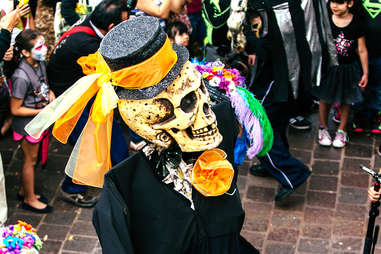 Similar to Muertosfest but held on the actual holiday rather than an adjacent weekend is Dia de los Muertos at Pearl Park. Perk up your family's weekday with a visit to the Pearl's grounds, where the trio Los Inocentes, Patricia Vonne, Conjunto Taller, and all-female mariachi band Las Coronelas perform. There are craft stations, a procession, stilt walkers, and an artist tour of altars. The Nov. 1 program is specifically geared toward families; Nov. 2 has a broader focus.
The Pearl is also home to Latin-inspired Nao, as well as Johnny Hernandez's Mexican street-food mecca La Gloria. Viva Tacoland is just across the street, just in case you want to wrap up your Dia de los Muertos festivities with a game of giant Jenga.
If you're still up for a bit more celebrating after Thursday's fun, head over to Woodlawn Lake Park -- just over four miles from the Pearl -- for the annual fireworks show.
You'll find some raucous, decidedly adult fun at the San Antonio Dia de los Muertos Masquerade Ball on Nov. 4. Now in its eighth year, the 21-and-up bash founded by local businessman Rene Roberts and held at the Guadalupe Theatre raises money for local church food pantries and a scholarship program. For your $35, you get an open bar and a show in the spirit of Fiesta's Cornyation. This year's theme: CLASH OF THE TITANS! But no half-steppers allowed. Organizers warn that if you don't come in costume, you might not be let in the door.
For something a little different, how do you feel about running a few miles and getting a t-shirt and really cool medal for your efforts? No, seriously -- the medals at the Huarache Turbo Night Run are extremely badass. Just think about it.
For the slower-paced, take a leisurely walk through one of SA's gorgeously decked-out Catholic cemeteries. Try Calvary San Jose or San Fernando Cemetery #2 on your own, or join the tours conducted by the Esperanza Peace & Justice Center.
Or, check out Dia De Los Perros, an annual fundraiser that helps get SA's furry friends spayed and neutered.
If you're coming from out of town, SA has hotels for every budget and itinerary. For a Dia de los Muertos trip, it would be best to stick to the middle of town. Here are some excellent choices:
With only 27 rooms, Hotel Havana is a stunning and historic property around the corner from the Tobin Center and a bit removed from the hustle and bustle of the primary River Walk loop.
Hotel Contessa offers travelers supreme luxury in the heart of the River Walk. To truly enjoy Dia de los Muertos, you should probably spring for the Contessa Suite.
The city's hottest property at the moment is Hotel Emma, located at the Pearl. With 146 rooms and seven top-floor suites, Emma is big -- but maybe not big enough to finagle a last-minute reservation. Book now for Dia de los Muertos 2018.
It's totally understandable if you want to save your money for sugar skulls, pan de muerto, and facepaint. TownePlace Suites San Antonio Downtown will give you a primo location at a fraction of the price of nearby boutique hotels.
Now that you've locked down what you're doing and where you'll be, you're going to want some fuel for those festivities. Fortunately, San Antonio is brimming with quality restaurants, particularly if you're hungry for traditional Mexican cuisines or some Tex-mex. Few cities in America can boast such a legitimate Mexican heritage, and the food around here is one of its most luminescent examples.
First off, no matter what else you do to observe the holiday, make sure to head over to west-side bakery Panifico for a big box of pan de muerto. You'll be full 'til Thanksgiving, but in a good way.
Dinner or drinks at iconic, always-open Mi Tierra is like a festival 24/7/365. Technically speaking, this is Tex-Mex, but what it eschews of strict Mexican-cuisine purity is more than made up for in solid dishes that have kept locals and tourists satisfied since 1941.
Celebrating 20 years of upscale Mexican cuisine, Paloma Blanca has a well-earned reputation for serving authentic Mexican cuisine and an impressive array of cocktails and specialty margaritas. Warm and welcoming, there is no better spot in SA for a celebration any time of year.
If you favor food trucks over frills, head over to the northwest side. Chela's Tacos calls The Block home, keeping UTSA students stuffed with cheap eats all day long. If the line is too long -- or the hour's too late -- the hungry hordes are practically walking distance from another stellar taco truck. Ricky's parks behind a convenience store on the southeast corner of Hausman and Babcock. Unassuming and addictive, it is (until now) one of the best-kept secrets in all of SA.
Finally, if, despite the reason for the season, you are not craving tacos al pastor, head over to the historic Esquire Tavern for some of the best bar food in the universe (try the deviled eggs and/or the grilled pimento cheese sandwich!) and an adult beverage or two at Downstairs at Esquire. Just be sure to raise your glass to toast the departed; you never know who you might be sharing the bar with.