San Diego can feel like the promised land: the weather is always perfect, the people are always happy, and there's a seemingly endless number of restaurants, breweries, and cultural events that pop up every other weekend. That said, variety is the spice of life, and it's always good to supplement all the natural beauty and sunshine that San Diego offers with trips to... well, other beautiful and sunny locales, especially now, since COVID-19 has made everyone think twice about how and where they travel. If you're looking to break up your routine in town, here are seven getaways for everything from wine tasting to remote hiking and camping. And if you're not looking to break up your routine in town, well, we've got you covered there too. As always, plan your weekend trips with safety in mind, pack enough masks, hand sanitizer, and sunscreen so you'll return home with nothing more severe than a hangover, and double check your destination—you don't want to arrive only to find it's been closed.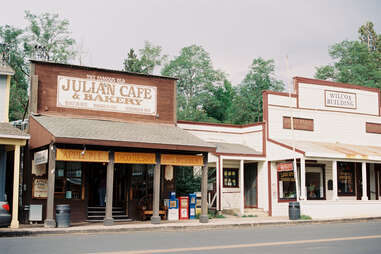 Best Family Getaway: Julian, California
Disneyland, Legoland, and the other money-sucking theme parks are still closed, which makes it the perfect time for a visit to Julian, a family-friendly getaway that doesn't involve endless standing in line or maxing out your credit card.
A small, historic gold mining town in the mountains of the far eastern reaches of the county, Julian is renowned for its fall harvest season—specifically, its apple harvesting season. The town hosted its Apple Days festival for over a century to celebrate its famed fruit export; Julian apples have notoriously won blue ribbons at World Fairs from Chicago to Saint Louis. Pre-COVID-19, the festival became so popular that Julian expanded the fun to two full months, with everything from pie eating contests, to the town's country fair, to the local apple scavenger hunt falling within the celebration window. This year, of course, things have been scaled way back and large celebrations aren't happening, but you can still indulge in all things apple-season related at the many locally owned and operated orchards and shops.

If you aren't so keen on autumnal activities, you can take your kids to the California Wolf Center for an awe-inspiring educational day or take a hike to the popular Three Sisters Falls within the Cleveland National Forest just south of town. And, no matter what, make sure you end your day at one of the numerous apple pie purveyors in town—it really will be the best apple pie you've ever had.
How to get there: Julian is a 75-minute drive east from downtown San Diego on CA-78 E.
Where to stay: Find an Airbnb near Julian.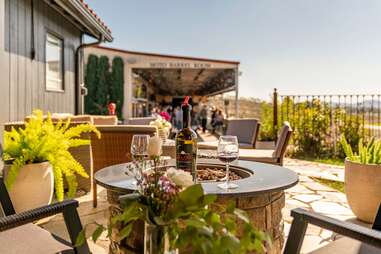 Best Wine-Lover's Getaway: Temecula, California
While some wine snobs may still scoff at the wines of Southern California in favor of the grapes of Napa or even Paso Robles, the vineyards of Temecula Valley have established a reputation over the last decade for producing fantastic syrahs and cabernets.
With more than 40 vineyards throughout the region, you can find something to satisfy any tasting desire, from lavish, over-the-top wine resorts like South Coast Winery to smaller, mom-and pop operations like Doffo Winery (which just so happens to feature a fascinating collection of vintage motorcycles). Any time of year is great for a visit, though it's particularly picturesque during the annual Balloon and Wine Festival at the end of May. For the easiest, most chill tour ever, hop aboard an authentic, fully-restored 1914 San Francisco cable car and enjoy gorgeous, open air views of wine country without the hassle of driving. Temecula Cable Car Wine Tours offers a five-hour adventure to three local wineries that includes lunch, as well as private and seasonal tours.
How to get there: Take I-15 North roughly 75 minutes north from downtown.
Where to stay:Find an Airbnb near Temecula.
Best Free Getaway: Slab City, California
If you want to spend absolutely no money while getting just a wee bit weird, roll on through Slab City, located just a few miles outside Niland on the southeastern rim of the Salton Sea.
Part anarchist collective, part hippie commune, Slab City is frequently referred to as the "Last Free Place in America," and if you're willing to trade and barter to get by during your time in this desert alternative camping community, you're sure to meet some colorful characters living lawless on the outskirts among the numerous art installations that populate the town. You might be familiar with Slab City from Into the Wild, which chronicled the time Chris McCandless spent living in The Slabs; it hasn't changed much in the years since McCandless visited.
How to get there: Take I-8 East two-and-a-half-hours out to the Salton Sea. Make sure you come packed with all the supplies you'll need; bartering is hard to do if you don't have anything to trade.
Where to stay:Find an Airbnb near Slab City.
Best Cultural Getaway: Solvang, California
"Solvang" means "sunny field" in Danish, and one stroll through the town will help you understand why it's rightfully referred to as the Danish Capital of America. The small town in the Santa Ynez Valley was intentionally constructed to replicate traditional Danish architecture styles (you bet your ass there's windmills), and has remained a tourist attraction for its fantastic bakeries, as well as its famed Danish Days folk celebration at the end of each September, which, in normal times, famously includes an aebleskiver eating contest.
If competitive apple pastry eating contests aren't quite your thing, make sure to stop by for the renowned Garagiste Wine Festival, which showcases up-and-coming wineries from across the state. Frequently cited as one of the best wine festivals in the country, Garagiste only allows wineries that produce less than 1,500 cases of wine each year into the festival, to ensure the festival stays true to its artisanal roots.
How to get there: Drive four hours north on I-5 North and US 101-North from downtown San Diego.
Where to stay:Find an Airbnb near Solvang.
Best Mountain Getaway: June Lake / Mammoth Lakes, California
Big Bear Lake is generally too packed and too much of a traffic nightmare to really feel like a mountain getaway, so instead, pack your bags and prepare for a longer haul on the drive up to June Lake and Mammoth Lake, two gems of the Eastern Sierra.
The drive up 395-North is replete with great stops along the way—Schat's Bakery and the Burger Barn in Bishop are always worth a visit—and each town offers a different version of the classic mountain town getaway. Mammoth, as more of a destination resort town, offers world-class mountain biking and skiing; while June, which has more of a small-town vibe, is home to some of the best fly-fishing in the state. Stop by the Ohana food truck at June Lake Brewing for some incredible Hawaiian food while you're there, or take in the happy hour at Roberto's for killer margaritas and duck burritos.
How to get there: Take 35-North six-and-a-half hours from San Diego.
Where to stay:Find an Airbnb near June Lake.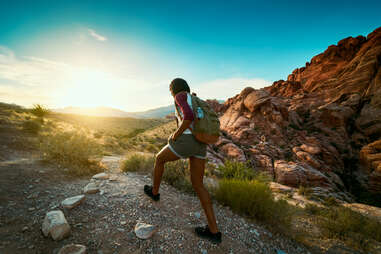 Best (Non-Casino) Vegas Getaway: Red Rock Canyon National Conservation Area, Nevada
Everyone in San Diego knows the traditional recipe of a Vegas getaway: Make an impromptu trip one weekend, spend way too much money on drinks at various clubs and pool parties, pretend to be invincible by drinking no water all weekend, and then limp home with a vicious hangover, lighter wallet, and killer sunburn. After a while, that kinda loses its appeal, but if you look just a few minutes outside of Sin City, you'll find the Red Rock Canyon National Conservation Area and its abundance of outdoor activities.
With thousands of climbing routes of all difficulties found throughout the Conservation Area's 198,000 acres and fantastic hiking and remote camping, it's a great getaway into nature found in an area where most wouldn't think to look. Even if you're not much into outdoor sports, the stargazing at Red Rock Canyon is second to none.
How to get there: Take I-15 North five hours from downtown San Diego.
Where to stay:Find an Airbnb near Red Rock Canyon.
Best Island Getaway: Channel Islands National Park, Santa Barbara County
Leaving San Diego to go to a beach getaway might seem a bit foolish, but if you're going to venture to shorelines outside the ones offered inside the city, you may as well go for the full monty at Channel Islands National Park.
With a topography and ecology that isn't really reminiscent of anywhere else in the mainland United States, the five Channel Islands you can access are home to excellent hiking, surfing, snorkeling, diving, kayaking, camping, and whale watching. The islands are teeming with wildlife, and a trip to any of them is not only a chance to see thousands of seals and sea lions, but to also take a trip back in time, and see what Pacific islands look like when not exposed to overdevelopment. If you really want to feel like you're at the end of the world, endure the stomach-churning three hour ferry ride out to San Miguel Island, the westernmost and most wind-battered of all the islands.
How to get there: Drive three hours on I-5 North and US-101 North to Ventura Harbor, then hop on a ferry to one of the five islands that range between one to three hours travel time on the water.
Where to stay:Find an Airbnb near Channel Islands.
Sign up here for our daily San Diego email and be the first to get all the food/drink/fun in town.
Rob Pursell is a writer focused on anything from culture to sport to dining and nightlife, whose reporting career has brought him everywhere from Virginian hippie communes to the dining tables of competitive hot dog eaters.
Mary Beth Abate is a San Diego-based freelance writer by way of Chicago and Los Angeles. Her hobbies include yoga, pickling and fermenting stuff, reading cookbooks and drinking fabulous gin. Keep up with her experiments @MaryBeth_Abate.