San Diego can feel like the promised land: the weather is always perfect, the people are always happy, and there's a seemingly endless number of restaurants, breweries, and cultural events that pop up every weekend. That said, variety is the spice of life, and especially during the fall and winter, we find ourselves pining for something different—like vibrant changing leaves, cozy fireside lodges, and hikes amid towering pine trees. Lucky for us in Southern California, we can experience all that and more with just a short drive out of town. And for those who want to swap San Diego sun for more sun, we've got options for you, too.
If you're looking to break up your routine in town, here are nine getaways for everything from wine tasting to desert hiking and snow skiing. And if you're not looking to break up your routine in town, well, we've got you covered there too.
Driving distance from San Diego: Two and a half hours
While daytime temps in Joshua Tree routinely cruise into triple digits between June and September, autumn brings them down to a balmy average of 70-80 degrees, and around 20 degrees cooler after sunset. If it's hiking you crave, a few of our favorites at Joshua Tree National Park include Skull Rock Trail, a 1.7-mile trail that features a skull-shaped rock formation; Lost Horse Mine, a moderate four-mile hike where you can learn about the area's Gold Rush history; and Ryan Mountain, a three-mile, moderate to strenuous climb with a 1,050 foot elevation gain. It's worth the burning quads once you get to the top—gorgeous 360-degree views give you endless vistas of the park from above.
Once you've worked up an appetite, you can satisfy almost any craving, from veggie-friendly spots like Natural Sisters Cafe and Sam's Indian Food & Pizza (try the curry pizza!) to classic diners like Crossroads Cafe and Country Kitchen. Spend the afternoon exploring Joshua Tree's thriving artist community, with one-of-a-kind attractions like the World Famous Crochet Museum, the Noah Purifoy Outdoor Desert Art Museum, and Integatron, a geometric dome that was designed to maximize the sonic experience of sound baths. Nighttime, though, is when Joshua Tree really shines, with absolutely spectacular stargazing that's equally thrilling on your own or with a group tour from Stargazing Joshua Tree, where you'll use cool, military-grade night vision goggles and learn constellation stories from cultures all over the world. Other must-dos include making a pit stop at Old West-inspired honky tonks like Pappy and Harriet's and Joshua Tree Saloon when you need to wet your whistle.
Where to stay: Find an Airbnb near Joshua Tree. You've also got options like Pioneertown Motel next to Pappy and Harriet's; Autocamp, with mid-century modern clubhouse, pool, firepit, and lounge; and Joshua Tree Country Club, if you want to eschew roughing it for a luxury experience.
Driving distance from San Diego: Five hours
Red Rocks Canyon National Conservation Area tends to be an afterthought when you're visiting Las Vegas, but you don't need to wait until you've emptied your wallet in the casinos to appreciate it. Just a few minutes outside of Sin City, you'll find its abundance of outdoor activities. With thousands of climbing routes of all difficulties found throughout the Conservation Area's 198,000 acres and fantastic hiking and remote camping, it's a great getaway into nature found in an area where most wouldn't think to look. There's guided hikes almost every Saturday and Sunday, and Tabletop Tuesday events where a staff member gives a lesson on area wildlife (no animals are present). Even if you're not much into outdoor sports, the stargazing at Red Rock Canyon is second to none.
Where to stay: Find an Airbnb near Red Rock Canyon or bring your tent and supplies for camping.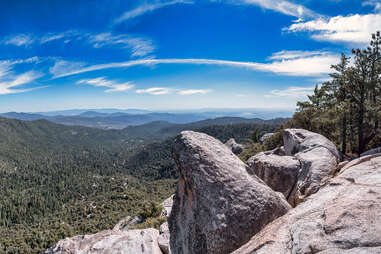 Driving distance from San Diego: Three hours
If you want to experience changing leaves and fall weather, consider a trip to the small, unincorporated town of Idyllwild, nestled in the San Jacinto Mountains. There are no ski resorts, which results in a calm winter season without the hordes of tourists you'll find at Big Bear or Mammoth Lakes. As the long-time home of an internationally acclaimed Idyllwild Arts Foundation, there is no shortage of locally-owned galleries, including Artspresso and Mountain Pottery. While we certainly wouldn't blame you for holing away in your cabin and enjoying all of your meals fireside, there are several worthwhile dining options in town, like Swiss breakfast spot Tommy's Kitchen and FERRO, an upscale Italian eatery with a cozy fireplace. Take advantage of hiking trails that are accessible year-round or try your hand at climbing with Vertical Adventures, which hosts rock climbing classes and guided climbs in the area.
Where to stay: Find an Airbnb near Idyllwild or get wacky with one of the unique themed suites available at Hicksville Pines Bud & Breakfast.
Driving distance from San Diego: 40 minutes.
Once just a blip on I-5 between San Diego and Los Angeles, Oceanside has quietly grown into a full-fledged getaway destination in the last few years, while somehow avoiding becoming another gentrified beach town. Surf culture is embedded in O'side's DNA, and while beginners prefer the summer months, more advanced surfers know that the best swells tend to hit Oceanside in the colder, winter months, with overhead swells being fairly common. Non-surfers head to Oceanside Harbor for other activities—you'll find deep sea fishing, whale watching, and sunset cocktail cruises here.
Thirsty travelers will want to check out O'Side Sips, a free, web-based passport program that currently features 33 locations serving up local beers, cocktails and spirits, wine, coffee and tea, and juices. The culinary scene is booming too, with dinner plate-sized pancakes at Beach Break Cafe, vegan fare at The Plot, the city's only zero-waste restaurant, Balinese-inspired fusion fare at Dija Mara, and comfort food made with regional products, twenty taps of local beer, and a killer cocktail menu at Local Tap House. On Thursday evenings, head downtown to the Oceanside Sunset Market, an epic weekly food festival with more than 200 vendors over a four-block expanse that includes an international food court, a world market, live music, and an entire block of dessert stands.
Where to stay: Find an Airbnb near Oceanside. There's also the Green Room, a stylish boutique hotel that opened in Oceanside in 2021 with grab 'n go foam surfboards and beach cruisers.
Driving distance from San Diego: 30 minutes
San Diego's culinary scene continues to delight us with exciting restaurant concepts, but sometimes you need to shake things up a little. If you've been craving something just a little extra, you're in luck, because with a passport, a 30-minute drive, and a border crossing, you'll find a culturally diverse, homegrown food destination that rivals any up-and-coming neighborhood. From hip new pop-ups to gourmet sit-downs and a thriving craft beer industry, you're in for an amazing experience in Tijuana.
A must-visit is Avenida Revolución in Zona Centro, where you'll find several craft breweries within walking distance, including Telefonica Gastro Park, a central craft brewery, and Cervecería Lírica, surrounded by a variety of food stalls in a welcoming open space. On the other end of the spectrum, Javier Placencia's Mision 19, gives you an upscale experience and offers both a regular menu that features everything from pressed suckling pig to risotto arborio, and an equally thoughtful four-course prix fixe vegan tasting menu.
Where to stay: Find an AirBnb near Tijuana.
Driving distance from San Diego: One hour
While some wine snobs may still scoff at the wines of Southern California in favor of the grapes of Napa or even Paso Robles, the vineyards of Temecula Valley have established a reputation over the last decade for producing fantastic syrahs and cabernets.
With more than 40 vineyards throughout the region, you can find something to satisfy any tasting desire, from lavish, over-the-top wine resorts like South Coast Winery to smaller, mom-and-pop operations like Doffo Winery (which just so happens to feature a fascinating collection of vintage motorcycles). For the easiest, most chill tour ever, hop aboard an authentic, fully-restored 1914 San Francisco cable car and enjoy gorgeous, open-air views of wine country without the hassle of driving. Temecula Cable Car Wine Tours offers a five-hour adventure to three local wineries that includes lunch, as well as private and seasonal tours.
Where to stay: Find an Airbnb near Temecula.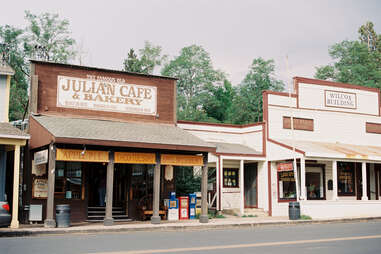 Driving distance from San Diego: 75 minutes
If spending the equivalent of your monthly rent (we're looking at you, Disneyland) isn't your idea of a good time, visit Julian, a family-friendly getaway that doesn't involve endless standing in line or maxing out your credit card. A small, historic gold mining town in the mountains of the far eastern reaches of the county, Julian is most renowned for its apple harvesting season, but there's plenty to do that's not apple-adjacent, although if you really crave it, you can buy a fresh apple pie from Julian Pie Company and Mom's Pie House or enjoy some cider at Calico Cidery and Julian Hard Cider. This is one of the best times of year to visit—Julian has a picturesque autumn season filled with brilliant blue skies, changing leaves, piles of pumpkins, and serene walks through the woods.
Julian is also popular with hikers, as a portion of the 2,650-mile Pacific Crest Trail cuts through the Cleveland National Forest just south of town. Three Sisters Falls is a highly trafficked trail that can be hiked year-round and features a waterfall among other natural sights. Visit the California Wolf Center for an awe-inspiring educational day among the wolves, or explore the night skies; Julian is a Dark Sky Community that takes active measures to avoid nighttime light pollution. Plan a visit around upcoming celestial events for an unparalleled look at the heavens.
Where to stay: Find an Airbnb near Julian.
Driving distance from San Diego: Four hours
"Solvang'' means "sunny field" in Danish, and one stroll through the town will help you understand why it's rightfully referred to as the Danish Capital of America. The small town in the Santa Ynez Valley was intentionally constructed to replicate traditional Danish architecture styles (you bet your butt there's windmills), and has remained a tourist attraction for its fantastic bakeries, as well as its famed Danish Days folk celebration at the end of each September, which, famously includes an aebleskiver eating contest, Scarecrow Fest in October and Jule Fest during the holiday season.
The quaint town is a great autumn destination, with fewer crowds and fairly mild weather. Splurge on a meal at renowned chef Lincoln Carlson's Coast Range Restaurant or at chef Michael Cherney's peasants FEAST (and grab some wine and picnic items to go from the adjacent peasants DELI & MARKET). Solvang is also home to more than a dozen tasting rooms, with Lucas & Lewellen (and its sister Toccata label), Crawford Family Wines, and Dana V. Wines representing popular options.
Where to stay: Find an Airbnb near Solvang.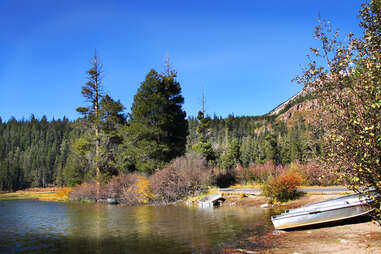 Driving distance from San Diego: Six-and-a-half hours
True outdoor adventure lovers know that Mammoth Lakes in the Eastern Sierras is a far better choice than fighting the crowds and traffic at, say, Big Bear Lake. Perched at 7,880-feet elevation, you can peep some of the best fall foliage right now and into early November, when the snowflakes start to fall. This charming mountain town's winter season usually lasts from November through the end of May, making it the ideal weekend getaway. From skiing and snowboarding to snowshoeing and snowmobiling, your options for outdoor activities are nearly endless.
If you prefer a more lowkey getaway, you can still take the scenic gondola ride to the top of the 11,053-foot peak. Once you reach the top, snap a selfie with the summit sign, learn more about the mountain at the interpretive center, and grab lunch before you make your way back down. There's also tubing at Woolly's Tubing Park for sledding and tubing fun, plus a snow play area for the littles that includes a tube merry-go-round, a snowman building area, and snow sled surfing.
The food scene on the mountain is nothing to scoff at, check out our dining guide for the best restaurants and bars in the area.
Where to stay: Find an Airbnb near Mammoth Lakes.
Rob Pursell is a writer focused on anything from culture to sport to dining and nightlife, whose reporting career has brought him everywhere from Virginian hippie communes to the dining tables of competitive hot dog eaters.
Mary Beth Abate is a San Diego-based freelance writer by way of Chicago and Los Angeles. Her hobbies include yoga, pickling and fermenting stuff, reading cookbooks and drinking fabulous gin. Keep up with her experiments @MaryBeth_Abate.