Torrey Pines State Natural Reserve

| Sandra Foyt/Shutterstock
Torrey Pines State Natural Reserve

| Sandra Foyt/Shutterstock
San Diego's known around the country as a beach haven, and for good reason: the county does, after all, have more than 70 miles of pristine, world-class coastline. However, those who actually live in the city know that its natural splendor extends far beyond its shores -- the county is also home to some spectacular hiking.
While San Diego's mountains might not attract the same level of fame as its beaches, they provide a world of opportunity for outdoor enthusiasts looking to hike, mountain bike, climb, or simply get away from the masses, so long as you know where to look. Lucky for you, we've compiled the best hikes in San Diego into one comprehensive guide. Strap on your boots and leave the sandals at home -- these are the hikes you need to try, ranked on a difficulty scale from 1-10, with one being a simple stroll and 10 being a mountaineering menace. Now go hit the trails.
Location: Roughly 5 miles east of Poway
Difficulty: 6
Best for: Breaking a quick sweat, midweek hikes, bouldering, getting well-acquainted with the UV Index
Just outside Poway, Iron Mountain can -- fittingly -- feel a lot like a hot iron skillet when you're on it due to the lack of shade on the peak. That said, the roughly 6-mile loop is a perfect hike for those looking to get in a good, quick workout that still packs some technical hiking.
As it's manageable for hikers of most any skill level (as long as you pack sunscreen and water), the dusty trail can get pretty busy on the weekends, so you should try to hit the hike midweek, early morning, or late afternoon if you can. With mostly stable, easy footing, the trail offers fantastic running opportunities, while the granite boulders that line it make up some of the better bouldering terrain in the county.
The trail itself starts off flat before gradually gaining pitch as it builds into the eastern mountains and finishes with a wonderful, 360-degree view of the surrounding hills and San Vicente Reservoir. It's a great way to sneak in an outdoor workout, while still feeling like you're truly out in nature.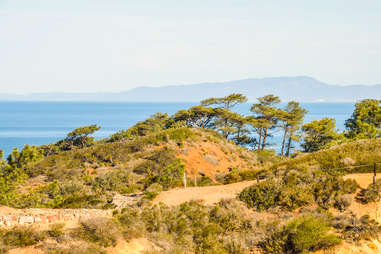 Location: Torrey Pines State Natural Reserve
Difficulty: 2
Best for: Ocean views, casual strolls, the occasional visit to the nude beach
Again, this one is far from a hidden gem, but Torrey Pines is iconic for a reason. Truly one of the most beautiful locations along the entire California coastline, the Natural Reserve has multiple miles of adjoining trails within it -- none of which rate higher than moderate difficulty -- that allow you make your day on the trails a lot longer than this 3-mile loop, if you feel so inclined.
As for the Beach Trail loop, it's a breeze of a hike, with a gradual trek up a well-maintained (and at times, paved) road that leads into crisscrossing dusty trails through the wildflower bushes atop the Reserve, before driving down the bluffs that the Reserve sits upon to the wide, beautiful beaches of Torrey (all of which can be hiked in reverse order). The views are jaw-dropping, even if you're sharing them with scores of others, and when you get to the beach, you can head over to Blacks Beach to enjoy some surfing and clothing-optional suntanning, steep ascents up trails like Ho Chi Minh, and vistas of hang-gliders launching off the Torrey Pines Gliderport.
Location: 20 miles north of Campo
Difficulty: 7
Best for: Hiking purists, backcountry enthusiasts, those looking for a real challenge
No other hike in San Diego county really offers the true "backcountry" feel that Corte Madera Mountain does. Located in the southernmost part of the Cleveland National Forest, it's a pain in the ass to get to -- it will take you an hour-and-a-half to drive there from downtown on a good day. That said, the mountain's secluded nature makes it great for those looking to get, well, into secluded nature.
The roughly 7-mile out-and-back trail gains in steepness and difficulty as you travel along it, and by the time you get halfway through it you'll likely find yourself needing to break occasionally to catch your breath and fill up on water. But with live oaks, manzanita, and granite slabs galore along the path, you'll truly feel like you're out in the wilderness for the entirety of the hike and get rewarded with an astonishing view of Corte Madera Mountain -- often called the Half Dome of San Diego -- for your efforts.
Location: Mount Woodson, 5 miles northeast of Poway
Difficulty: 7
Best for: Instagram junkies, bucket listers, anyone who loves steepness
Potato Chip Rock is probably the single most Instagrammed hike in the county and, as such, is hardly a secret. If you go, expect crowds -- particularly at the top, when you get to the titular potato chip granite diving board. Wait times of 15 minutes or more to actually step out onto the rock for a photo aren't unheard of.
Still, the hike to Potato Chip is a good one, particularly if you're into steep climbs. There are two routes to get to Potato Chip: an 8-mile out-and-back along Mount Woodson Trail that starts at Lake Poway, and a paved, straight-up, straight-down four-mile out-and-back hike from Highway 67. The former provides more of a traditional hiking experience, while the latter is steep from start to finish on paved roads. Regardless of which route you choose, you're going to feel the burn if you want to get that Instagram shot.
Location: El Cajon Mountain near Lakeside
Difficulty: 10
Best for: Hiking extremists, people looking to recreate a Yosemite feeling in San Diego
El Cajon Mountain -- also known as El Capitan, for its resemblance to the Yosemite peak of the same name -- is regarded by many as the toughest hike in San Diego, and is a great option for anyone really looking for a long, challenging hike.
An 11-mile out-and-back trail that covers almost 3,600 feet of elevation gain amidst the El Capitan County Preserve, it's an extremist's dream: wildly steep ascents, multiple up-and-down sections, and little to no shade throughout the hike. If you're going to give it a try, make sure to bring copious amounts of snacks and water to keep from feeling faint, and prepare to spend five hours or so on-trail. Once you get to the peak, though, all that suffering will be worth it -- the panoramic views from atop El Cajon mountain are sprawling, expansive, and second-to-none.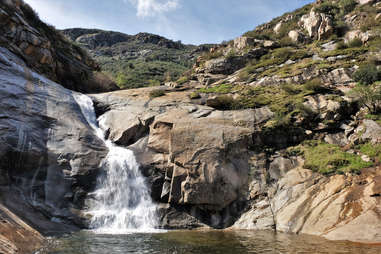 Location: 14 miles north of Descanso
Difficulty: 5
Best for: Waterslide enthusiasts, anyone who enjoys a good valley view, lovers of wildflowers
Three Sisters Falls is perhaps the most unique hiking experience in San Diego. A fairly simple 4-mile, out-and-back, the hike actually starts as a descent. After 2 miles of an easy downhill approach, you get to the waterfalls -- and, simply put, they're unlike anything else in the county.
With a naturally occurring waterslide that feeds off the main fall, Three Sisters is like nature's waterpark allowing you plenty of opportunities to beat the summer sun by getting wet. When you reach the falls from the initial descent, you'll be greeted by amazing valley vistas and copious opportunities to go scrambling on the rock faces and boulders strewn throughout the canyon. Make sure to stay dry while scrambling, as the rocks are very smooth (particularly on the east side of the falls) and slipping on them can mean sliding 10-20 feet.
When you're finished at the falls, the 2-mile climb back to your car will certainly be more difficult than the initial descent. Take your time and make sure of every step, and you'll be fine.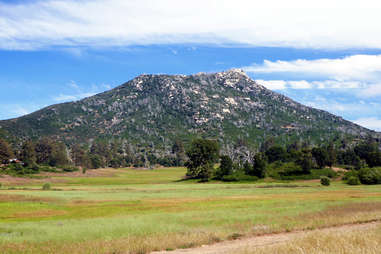 Location: 10 miles south of Julian's downtown
Difficulty: 3
Best for: Late night stargazing, via ferrata feels, short hikes followed by warm apple pie
If you want to feel like you're getting into the backcountry but don't have the time (or hiking abilities) to take on Corte Madera or El Cajon Mountain, give Stonewall Peak a go.
The out-and-back trail is under four miles roundtrip and just cracks 800 feet of vertical gain, meaning hikers of any skill level can take it on. Plus, with tons of shade granted by the lush vegetation around the trail in Cuyamaca Rancho State Park, you won't have to worry about overheating on it.
The hike summits via a fairly exposed stairway that is protected by a metal railing, giving hikers a chance to replicate the wonderful feeling of hanging off the side of a mountain on a via ferrata with no danger. Then, it finishes on a wide open granite plateau that gives tantalizing 360-degree views of Lake Cuyamaca and makes for an awesome stargazing locale. Follow up the easy hike with a slice of apple pie from one of the famous shops in Julian for a sweet, easy day on the trail.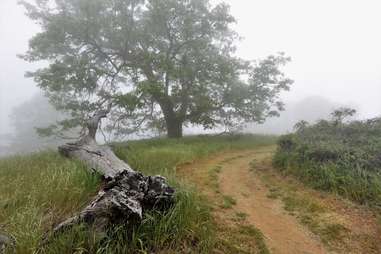 Location: 2.5 miles north of Julian's downtown
Difficulty: 4
Best for: Those who like gradual, sustained climbs, anyone keen on rolling hills, raptor views
Similarly located just outside Julian, Volcan Mountain has two trails which can be used for out-and-back excursions: the 5-mile Volcan Mountain Trail, and the 3-mile Five Oaks Trail. The former is more exposed and has better views, while the latter offers plenty of shade; if you're a fan of sustained, gradual climbs, these are the trails for you.
Both avoid the up-and-down nature of other popular hikes in the county, making them great for people looking to build their endurance on smooth, defined trails. Plus, with the wet winter season we had this year and the light amount of traffic on both trails, the rolling hills of Julian will be awash in green and give the trails a tranquil, heavenly feel. As a bonus, there are plenty of nesting hawks in the trees, so keep your eyes out for raptors as you hike.
Sign up here for our daily San Diego email and be the first to get all the food/drink/fun in town.
Robert Pursell is a journalist living in San Diego specializing in covering covering culture, food/drink and the outdoor sporting realm. He eats tacos at a rate that is, frankly, a little concerning, and likes petting strangers' dogs without asking. Follow him @robpursell on Instagram.