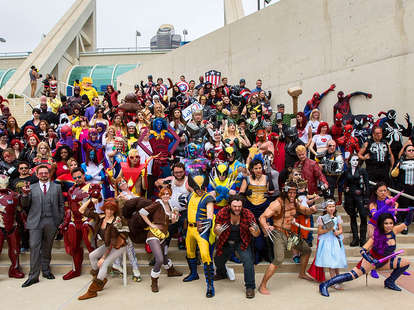 Daniel Knighton / Getty
Daniel Knighton / Getty
Paid Content For
Samsung Chromebook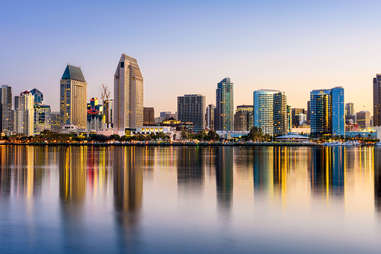 Hotels book up immediately upon opening for the weekend. A few pricey pads remain if you don't mind paying $400/night to be six miles from the action, so your sanest bet is Airbnb, where $200 in Balboa Park will still get you some nice digs half that distance from the convention center. Act fast and you can even score two beds and a private bathroom for $135/night. Alternatively, you can sneak into a hotel as the tail end of your friend's Jabba the Hutt costume.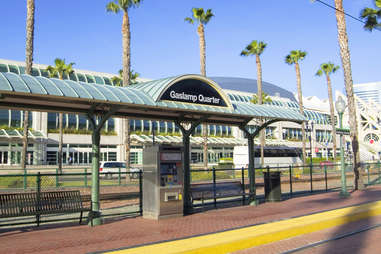 The charming Gaslamp Quarter surrounding the San Diego Convention Center accommodates pedestrians, but just because you can walk doesn't mean you should. Attendees who spend four days in the convention can walk as many as 20 miles over the course of the weekend. Wear comfortable shoes, and once you depart the Con each day, give your feet a break. Consider public transit, taxi, ridesharing, or one of the free shuttles to get around the city. Forego pedicabs, which are too costly for travel only slightly faster than your feet can carry you.
One thing's for sure, you're not short of options to get there:
Trolley
Metropolitan Transit System's got your transit needs hooked up. The San Diego Trolley's Green Line takes you to the two stops you need: Convention Center Station (Harbor Drive/First Avenue) is obvious, but Gaslamp Quarter Station (Harbor Drive/Fifth Avenue) is just as handy. Both stops are also served by the Silver Line downtown loop if you're local, and feeling vintage. Fares are $2.50, plus $2 for a new card (which lasts five years). Heads up – one-way trolley tickets are only good for two hours from time of purchase. Tip: Download the Compass Cloud mobile ticketing app, consider how much you'll be using the transit system, and buy the according pass.
Bus
On the off chance a mugger shot your parents in front of you on Crime Trolley, plenty of buses will get you there. Same MTS rules apply here. Consider not wearing a bulky costume on the bus out of respect for fellow commuters.
Car
If you know somebody with a car, you probably like them too much to subject them to the waterfront crawl of attendees and the good-looking Russian pedicab pilots clogging both street and sidewalk.
Expect surge pricing most hours and summon cabs instead of Lyft or Uber. Flywheel, Curb, and others will help you skirt the surcharge, but beware: Their fixed rate is more than rideshare per mile during normal price times. RideYellow will give you 33% off app-summoned rides for a happy medium.
Did someone say FREE shuttles?
Yep. The convention provides a free shuttle to 63 locations in greater San Diego, including door-to-door between the convention center and the official hotels. The shuttles run 24 hours, in intervals ranging from 15 to 30 minutes, depending on time of day.
If the nerdbus is jammed, don't fret; this is the first year that San Diego Comic Con has enjoyed FRED, the electric shuttle you can hop on via app or simply just wave down. Do this! It's cool and ecological and free and visitors won't know about it for the first couple days. Plus it has a "built-in car cam" for you to take weird selfies.
But I wish to arrive in style
Then you want a boat, homeslice. The Big Bay Shuttle makes nine stops along Harbor Drive so you can rock out with your dock out for just $3. This is the most San Diego transportation possible, other than a Tesla with a suspiciously clean rectangle where the Chargers bumper sticker used to be.
What if I need a badge?
If you've already purchased a badge for this year's event, it should have arrived in the mail by now. If you haven't already secured a badge for this year's convention, well, it's time to start planning for 2018. Badges for this year's show are completely sold out.
Really? Dang. What about third-party sellers?
Do what you need to do, but keep in mind the badges have an embedded RFID tag to deter counterfeiters. The name of the original purchaser is printed on the badge, and security reserves the right to check IDs.
Okay, so I'm in. Now what?
If this is your first time at the show, try not to let the sheer magnitude of SDCC overwhelm you. If this is your first time at any comics convention, then congratulations, SDCC has just ruined every other show for you. What happens next is up to you, but it's best to formulate a plan in advance, especially if your itinerary includes scheduled signings or panels.
Does my badge allow re-entry?
Yep! Come and go as you please. But don't get fancy about lending/selling your badge to other people. If you get caught, that's a banning.

Can I find snacks and water for purchase on-site?
Indeed. There are several concession areas throughout the exhibitor hall, and a Starbucks in the Convention Center lobby. Keep yourself energized and hydrated.
Can I bring a bag into the show?
You can absolutely bring a bag into the show to carry it all. Between the free swag and all the geek grails you're sure to buy, you'll collect quite a haul. The bag may be subject to search, but it won't be subject to size restrictions.
So what should I bring, if not my whole comic collection?
Bring deodorant. Bring water. Bring hand sanitizer. You might also consider packing an extra shirt and high-protein snack or two. Because the temperature drops when the sun sets, think about packing a light jacket you can take off and stow in your bag.
You mentioned swag?
Some stuff's free; you'll see lots of people suddenly sporting stickers or paper hats or patches. Ask them where they got it.
There are also convention-exclusive collectibles, but those are limited and cost money (they almost inevitably sell for much more online, though). Consult with the vendor to make sure you're familiar with the procedure for buying any given item. Many exclusives require a ticket or are sold in limited quantities each day. Again, be prepared to stand in line.
What exclusives should I get?
Some choice collectibles include a 4-figure Walking Dead action figure boxed set, featuring Rick, Michonne, Ezekiel and Shiva, packaged in the style of 3.75" GI Joe toys, as well as several waves of new Funko Pop! toys. If you're not familiar with Funko Pop!s, they're vinyl figurines with large, black eyes you can get lost in.
Among the exclusive comics is Valiant's Secret Weapons #1, featuring a unique Erica Henderson cover. Proceeds go to the Comic Book Legal Defense Fund (CBLDF), making this a perfect opportunity to score a collectible while also helping a worthy cause.
Woo! I'm gonna cosplay!
Cosplay is encouraged, but security will check your props to make sure no functioning weapons make it onto the floor. Leave your Batarangs and thirsty Lucilles at home.
I don't cosplay but I like people who do
Be respectful. Ask permission before taking a photograph, and move out of aisles to avoid creating a bottleneck. Keep your comments kind and your hands to yourself. The convention has a zero tolerance policy against harassment. Don't be a creeper -- even if you're cosplaying as The Creeper.

Give yourself plenty of extra time for events, as you zombie-crawl at the crowd's pace. The Convention Center has a TARDIS-like ability to seem bigger on the inside. Lines form early, sometimes hours ahead of an event or signing. Seeing your favorite celebrity or creator in the afternoon might mean spending your morning in queue.
How do I get my favorite issue signed?
Don't be the guy who rolls into the show expecting Stan Lee to sign every issue of Fantastic Four. It's good convention etiquette to limit autographs to a few books; pick a few issues that will either go up in value or are stories that matter to you personally. Be respectful of creators' time and considerate of other attendees in line.
How do I buy some art / meet my writing hero?
While creators sign at their publishers' tables, many also have tables in Artist's Alley. It's a great way for you to avoid lines and help justify their attendance. Talk to creators about their work, discover new books, and catch your breath. Original art -- either comics pages or commissions -- can be purchased from some creators at a surprising bargain.
Be sure to buy something; after all, you like their work, and they're giving you a little bit of their time. You don't want your favorite writer to hate you because you blocked out paying fans while you dissected their work on Micronauts.
How do I pitch my genius Spider-Man story to Marvel editor Nick Lowe?
Oh God, no, don't do this.
I hear Hall H is the place to be?
Ah, yes, Hall H, along with its little brother Ballroom 20, is where major television and film studios make their presentations. If you're hoping to glimpse a Jedi, an Avenger, or a Batfleck, Hall H is your best bet.
But.
Space is limited, so get in line early. Which is to say, consider getting in line the night before and camping out. Whenever you're reading this, there's probably someone already in line for Hall H already, if not for this year's presentations, then for the next.
The Hall H experience is not for everyone, as it can often eat into a sizable chunk of the weekend, but those who attend are often treated to surprise guests or events, such as when JJ Abrams and John Williams gave attendees of The Force Awakens panel a live orchestral performance at dusk.
Fox and the CW have already announced that spotlight panels in Ballroom 20 will include looks at the upcoming seasons of Lucifer, Gotham, Orville, Arrow, Supergirl, The Flash, iZombie, Riverdale, and Legends of Tomorrow.
As of this writing, the Hall H schedule has yet to be announced, but it will almost definitely include presentations by Disney to spotlight the upcoming Avengers sequels Thor: Ragnarok and BlackPanther. Expect it to feature some StarWarsEpisodeVIII news as well from the Disney/Marvel/Lucasfilm troika, while Warner Bros. will use it to spotlight Justice League and Aquaman.
Any recommendations for stuff that won't kill me by Day 2?
Absolutely. Comics-centric panels often have relatively light attendance due to the overwhelming focus at SDCC on film and television. Panels can be a good place to sit and catch your breath while also learning about the comics-making process or upcoming releases from your favorite creator or small press publisher.
Because of the huge media presence at SDCC, both Artist Alley and the Small Press Pavilion are underappreciated spots on the show floor, and in this case, underappreciated means relatively quiet and not too crowded.
Keep in mind commissions take time to draw. Pay for the piece and return later in the day or possibly later in the weekend to pick it up. Have no fear. This is standard practice, especially at a show of this magnitude. Write your name and contact info on your notebook's inner cover, and inscribe the page to draw with the artist's name and a description of the scene/character. Worst-case scenario, they'll mail your notebook back to you or give it to you at another show.

Be warned: During Con weekend, seats at these spots are hotter than a Blast Burn from a Charizard -- as is literally every restaurant in a one-mile radius -- so arrive early to avoid missing any of the Comic-Con action.
Veteran attendees know that the secret to enduring the unfettered insanity of Comic-Con is coffee, and a lot of it. Get your caffeine fix at Bean Bar, Coffee & Tea Collective, or Copa Vida, all within a few blocks of the Con.
Health advocates and hobbits agree -- breakfast is the most important meal of the day, so head to Breakfast Republic for killer benedicts, scrambles, or a custom pancake flight. Local favorite The Mission serves traditional as well as Mexican-inspired brunch options that come in gigantic portions to keep you fueled all day long. Don't skip their Vincent Vega -- a Pulp Fiction nod that's Coca-Cola infused with a shot of espresso and vanilla syrup over ice.
Feline fans should snag a ticket to one of San Diego's oddest -- and most kawaii -- venues: The Cat Cafe. Enjoy a java jolt while casually chilling with a bunch of cats for a half hour. Space is limited so as not to stress the kitties, though, so book a spot now.

Avoid depleted HP with restaurants and bars that are (mostly) within walking distance of the Convention Center. You'll be there faster than you can dash into a phone booth and change.
If you aren't waiting in line for Hall H, head to Half Door Brewing for a pub-style respite with plenty of pints to choose from. When in San Diego, IPAs are king, so opt for a hoppy brew to pair with your meal.
Meat lovers won't want to miss a trip to Carnitas Snack Shack at Waterfront Park -- their Triple Threat pork sandwich (schnitzel, pulled pork, bacon, pepperoncini… hey, that's four) would satisfy even the hungriest Sarlacc. Plus, get 15% off when you flash your Comic-Con badge.
Got a large group? Everyone can agree on pizza. Basic Pizza and Stella Public House are two of the best options in the area, both offering plenty of local beer and gourmet pizzas with toppings like shaved parmesan and farm-to-table produce.
Some beloved specials return: Tajima has re-introduced its popular "Naruto Ramen" for the entirety of Comic-Con, and Puesto in The Headquarters at Seaport is bringing back its popular secret (identity) tacos for those looking to embrace both the light and the dark within. "El Heroe" leads a surf-and-turf dual life of lobster and filet mignon, while "El Villain" is duck carnitas… which isn't particularly villainous -- *gasp* unless the duck was Darkwing.

You burned a lot of energy! Don't skimp on dinner. The city's famous Gaslamp Quarter is known for its bars and restaurants, many of which host special events for Comic-Con. It's not uncommon for the wait staff of five-star restaurants to trade in their starched shirts and black ties for cosplay.
Keep your evening open on Thursday, July 20 for the Modern Times beer dinner at BIGA. This ticketed three-course extravaganza includes the Inaugural Star Wars Spelling Bee and a special keg of Modern Times beer for the low price of $35 (or $45 at the door). Be sure to brush up on stumpers like "Mitth'raw'nuruodo" beforehand.
Ballast Point has multiple nearby outposts slinging out beer and food quicker than you can say "Snape killed Dumbledore." Hop on the Green Line Trolley towards Santee and disembark at either County Center/Little Italy Station or Morena/Linda Vista Station to nab a discount with your badge.
San Diego is burrito country, and you're not getting out without trying the California burrito. Nico's Mexican Food isn't close to the convention center but it's worth the haul at this cash-only clear winner of Thrillist's surfer poll.
Heck with it, you're on vacation; go get an expensive steak. We promise you the Black Angus at Cowboy Star & Butcher Shop is worth it. You can get deliciously weird with fried Wagyu beef tongue (don't expect much marbling on the ol' flavor flagellum, though) and nettle vegetable pasta or go once in a lifetime with Miyazaki filet chateaubriand.
If you seek a sit-down dining experience, Bankers Hill Bar & Restaurant will debut an homage to Conan O'Brien's Captain Kirk stand-up schtick with a #ComicKhan cocktail. A word of clothing caution: The vibe here is more Bruce Wayne than Batman, so swap your superhero cape for some slacks before catching an Uber.
If you've had enough geekery for the day, consider traveling to Little Italy. The largest Italian neighborhood in the United States lies just few blocks north of the Gaslamp Quarter and features cafes, bars, galleries, and shopping. And of course, that gourmet cuisine.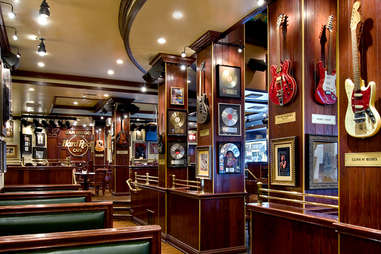 Arrive in town early? Beer nerds (and regular nerds) have their pick of several beer-related fests coinciding with Comic-Con (although sadly there's yet to be a butterbeer event). Hop-Con 5.0 -- aka the annual "w00tStout festival" -- runs at Stone Brewing Liberty Station on Wednesday the 19th from 7pm to 11pm. Expect plenty of rare beers and, of course, flights of the eponymous Drew Curtis/Wil Wheaton/Greg Koch Stone Farking Wheaton w00tstout from the past five years.
If that's not a savage enough way to get your wheat on, the following night sees W00tstock 9.0. The annual SDCC kick-off party hosted by Adam Savage from Mythbusters and comedic musical duo Paul and Storm is Thursday, July 20 at 7pm at the Balboa Theater in Gaslamp District. Kids are welcome. Dementors are not.
Hard Rock Cafe San Diego is running a weekend-long comic book drive for members of the United States Marine Corps serving abroad. The first 300 donors get a free "True Hero VIP" lanyard so you have a conversation piece to say, "Oh, this? No, I'm not a hero. But I'll tell you who the real heroes are…" Comic books first reached full popularity in World War II when they were sent to members of the armed forces overseas so it's nice to see someone carrying on the tradition for a good cause.
Sam J. Jones is an actor, Marine, CEO of his own security firm, and savior of the universe Flash Gordon. But on Friday night his latest role will be guest bartending for you at San Diego's oldest bar, The Waterfront. Tip: Don't sing Queen to get his attention, but do flash your "I sent comics to the Marines" lanyard, and everyone will have a good time. Once you've got your drank, dance all through the '80s, with DJ Raji Rabbit spinning and mixing all night. Stagger happily back to your hotel at close…
…then come right back to nearby Waterfront Park the following night. On Saturday, July 22, Heroes Brew Fest is an enticing offsite option for those in the mood for "beer, art, tech, music" and a special DJ set by Kristian Nairn (aka Hodor from Game of Thrones), who's as adept at getting this party started right as he is at holding the door. Tickets are available starting at $24 and doors open for general admission at 4pm no matter how much he holds them.
Taking the Pacific Highway is always a good call, especially when it leads you to Spin Nightclub. The Das Bunker Galactic Dance Party will let you burn off all that convention food Friday night from 9pm to 4am. Tip: Spring for the Galactic Explorer ticket. It's another $15, but totally worth it.
The third annual Chicano-Con at Border X Brewing promises to deliver beer and taco specials -- along with plenty of art to enjoy -- every night from July 21-23.
Finally, despite the TV and movie takeover of Comic-Con, there are plenty of art shows to satisfy even the most hardcore geeks. Sparks Gallery is hosting an art/toy/sculpture art show that runs the entire weekend, La Bodega Gallery will show a Comics vs. Anime group art show on July 22, and Iron Fist Brewing is joining the fun with a Women in Comics art show paying tribute to Carrie Fisher on July 22 as well.
How do I get into the cool parties?
Some, like Marvel, DC, and Entertainment Weekly are invitation-only, and you can't bluff your way in. Others, like the CBLDF Welcome Party, are ticketed and can be accessed for a small fee.
The festivities begin Thursday at 9pm with the annual BOOM! Studios Drink Up in the Hilton's Odysea Lounge, adjacent to the convention center. This year, BOOM! And Twentieth Century Fox are buying the first 1,000 drinks for party attendees. You can pick up a ticket at their respective booths (#2229 or #4229) on the convention show floor.
Some other small press publishers such as Dark Horse and IDW also host parties, or you can check out one of the many other comics-adjacent aftercon events, such as Saturday's Suicide Girls: Blackheart Burlesque show.
If all else fails, you can always grab a drink at the bar in one of the hotel lobbies surrounding the convention center.
In any case, keep in mind creators and celebrities are there to unwind after an exhausting convention, same as you. Do not corner Mark Hamill to explain your theory about Rey's parents. Getting to rub elbows with your film or comics heroes in an informal setting can be one of the best parts of any con, and it's okay to say "Hello," but respect their space. They put their pants on one leg at a time, too, after all.
Except Alan Tudyk. He uses a giant shoehorn and a running start.
So, when do I sleep?
Sleep?
You're young, yet. And did we mention there's a Starbucks in the Convention Center lobby?
Beth Demmon is a San Diego-based food + drink writer who loves craft beer and motorcycles (not necessarily enjoyed together). View her work at bethdemmon.comor follow her on Instagram at @thedelightedbite.
Eric Palicki lives and writes in Seattle, Washington. He mostly writes comics, most recently NO ANGEL for Black Mask Studios. He's also written for CBS Local, and Darby Pop Publishing, and Marvel Comics. You can find him on Twitter @epalicki or check out his website at ericpalicki.com.
Brendan McGinley writes comics when not editing Thrillist articles, which is all the time.