Photo courtesy of Margaritaville San Diego Gaslamp Quarter
Photo courtesy of Margaritaville San Diego Gaslamp Quarter
Jimmy Buffett may have cultivated his image as a good-natured beach bum slacker whose biggest problems are stepping on a pop-top and keeping his blender filled with booze, but in reality, he was one of the wealthiest musicians in the world, with a net worth of $1 billion. While most of his fortune came from recording, touring, and an extensive music catalog, Buffett also found a gold mine in the hospitality business with Margaritaville restaurants, hotels and resorts, cruises, timeshares, and RV campgrounds. Love it or hate it, it was a brilliant strategy—after all, who doesn't want to feel like you're on a permanent vacation at the beach, even for just the time it takes to eat a cheeseburger?
Margaritaville San Diego Gaslamp Quarter debuted this week, the brand's first foray to the West Coast, replacing the former Solamar boutique hotel on the corner of J Street and Sixth Avenue. Following a $30 million complete reimagination, the resort has successfully transitioned its usual Caribbean-inspired Margaritaville aesthetic to blend into Southern California surf culture seamlessly. There's still plenty of parrots and sharks, to be sure, but the partnership between award-winning firm Dawson Design Associates and San Diego-based Rossi Architecture has steeped the brand's usual visuals with a distinctly SoCal vibe.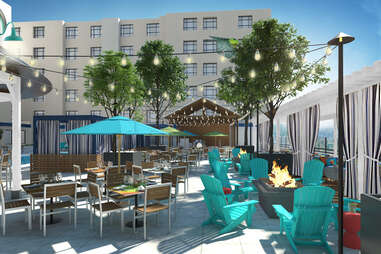 The Mission-style lobby sets the scene with the brand's signature margarita glass chandelier, in this case composed of colorful, eye-catching stemware that was hand-blown in Mexico. Common areas are bathed in shades of vibrant teal and cool robin's egg blue, warm reclaimed wood, stucco and polished concrete. The 235 guest rooms and suites feature white shiplap walls, rattan fixtures and cheerful touches that evoke playful images of beach bungalow living, with authentic surfboards hung on the walls. There's a wide range of sizes and styles for couples, groups or families, many boasting dazzling views of the Gaslamp Quarter. Two unique suites, the Jimmy Buffett Suite and Nothin' But Breeze Suite, open onto the hotel's lively pool deck and offer elevated amenities and expansive accommodations for a luxuriously curated Margaritaville experience.
Three new dining venues at Margaritaville Hotel San Diego are open to hotel guests and the public. The 5 O'Clock Somewhere Bar, perched on the largest rooftop pool deck in San Diego, is perfect for spending the day sipping poolside, grabbing a quick bite, or enjoying live entertainment. Take a dip in the pool, then kick back in a cabana while you enjoy stunning views of downtown and Petco Park.
LandShark Bar and Grill features all your favorite beachy libations, conveniently categorized into Fins to the Left—all things margarita-adjacent; Fins to the Right—Long Islands, mules, cosmos and the like; Booze in the Blender, which gets you a specialty drink or draft beer in a 22-ounce landshark souvenir blender cup, and Frozen Concoctions are just what they sound like—Lava Flows, Banana Breezes and daiquiris so chilly they'll give you brain freeze. The food menu offers cheeseburgers, of course, plus shareable appetizers, tacos, sandwiches and bowls.
The Margaritaville Coffee Shop is for customers who are looking to get their day started with a coffee and fresh bakery choices, a quick lunch with a grab-and–go meal, or a craft beer or wine selection in the evening.
Future plans for the expansion of the Margaritaville brand in San Diego have already begun. In 2019, the company purchased the Paradise Point Resort & Spa in Mission Beach, with the intention of creating Margaritaville Island Resort San Diego on the property. Currently, the project is on hold pending a Coastal Commission investigation.
Margaritaville Hotel San Diego Gaslamp Quarter is located at 435 Sixth Avenue. Reservations and more information can be found on their website or by calling 619-819-9500.
Mary Beth Abate is a San Diego based freelance writer.