The Right Way to Vacation in Arizona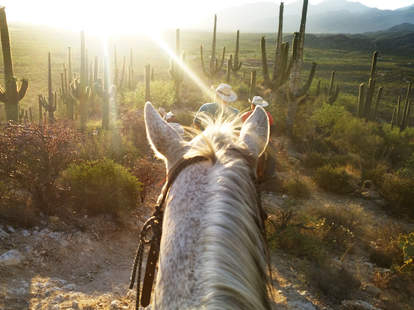 If you've been looking to book a flight to Arizona (and why wouldn't you? It's barely more than an hour, and affordable round-trip), forget partying in Scottsdale or Lake Havasu. There's another way to visit our neighboring state that's way more of a singular experience than a long weekend of binge drinking and hungover brunches.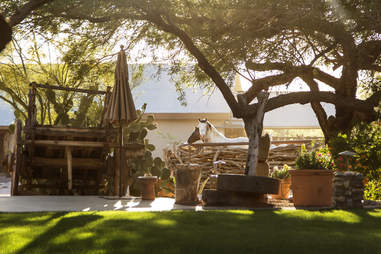 Sara Norris/Thrillist
If the closest you ever came to fulfilling your childhood dream of being a cowboy or -girl was sitting on a broken-down pony at the state fair, then you should visit Tanque Verde Ranch outside of Tucson. After you spend some time riding horses and wrangling calves on a dude ranch, there will be no doubt: this is the only way to vacation in Arizona.
Sara Norris/Thrillist
Someone call Robert Redford, because Tom Chambers is an actual horse whisperer. As head of the Harmony with Horses program, Chambers has an understanding of a horse's behavior, and an ability to communicate with them -- a human-animal connection that you might assume only exists in fiction. Using simple techniques, he teaches ranch guests, regardless of their experience, how to gain a horse's trust before they even get in the saddle. I had never ridden before in my life, but after one short session with Tom, I had a horse following me around like a kid chasing an ice cream truck.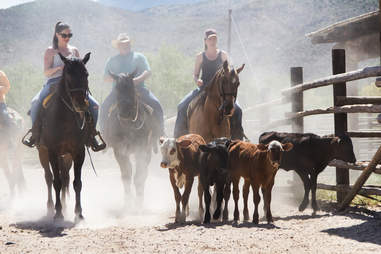 Sara Norris/Thrillist
The ranch holds riding lessons for the inexperienced, so that once you know the basics, you can try your hand at the real cowboy stuff like team penning. You and a few other riders will work together in a timed competition to try and convince a group of cows to let you push them around through obstacles and into one of the pens.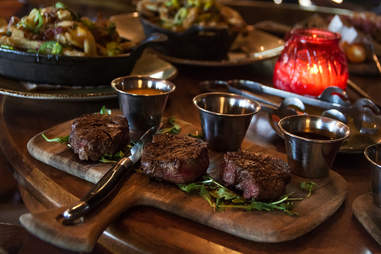 Sara Norris/Thrillist
Once you've worked up an appetite chasing cows, head to the dining room. Tanque Verde Ranch recently brought new talent into the kitchen with the addition of chef Justin Macy, bringing along a healthier approach to "cowboy food" from his hometown of Tucson. He and his team are cooking up an impressive spread for guests three meals a day.
Sara Norris/Thrillist
If you want to play pool or wet your whistle, the Doghouse Saloon opens at 4pm with a full bar and local craft beers. After 7pm, this becomes an adults-only spot where the 21-and-older crowd can sling back a few of the ranch's famous prickly pear margaritas.
Courtesy of Tanque Verde Ranch
The desert heat can be harsh, so take a break around one of the two pools, or book a hydrating floral facial in La Sonora Spa on-site. Even a real cowboy could use a Wrangler Deep Tissue Sports Massage after spending a few days riding a horse. This is a vacation, after all. No one says you have to deprive yourself.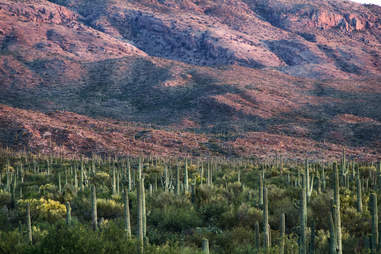 Sara Norris/Thrillist
The ranch sits on the edge of the Saguaro National Park in the Sonoran Desert, where there are plenty of hiking trails to explore. Guides are available to take you on adventures, or you can trek out into the wilderness on your own, where you'll discover everything from wildlife to hidden waterfalls in the Rincon Mountains. If you want to stick with the riding theme, Tanque Verde even has mountain bikes for guests, and single-track mountain biking trails through 600 acres of desert. And there's nothing quite like hopping on your horse to take in the magnificent desert views from the mountain trails at sunset.
Sara Norris/Thrillist
After the sunset trail ride, grab a drink from the bar and a seat around the fire -- twice a week, the ranch hosts a BBQ cookout under the stars in its cottonwood grove. They're serving up barbecued ribs, burgers, steaks, and more cowboy grub, along with all the fixin's and homemade cornbread.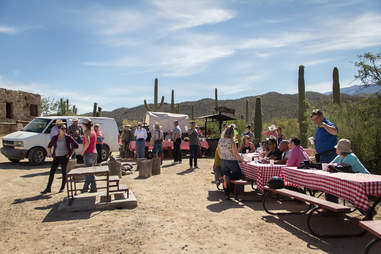 Sara Norris/Thrillist
Getting up at the crack of dawn is totally worth it on Thursday and Sunday mornings, because you get to saddle up for the breakfast ride. Hop on your horse to finish off your week with an early horseback ride up to the original homestead that's still on the property. By then, you'll handle your horse like a pro.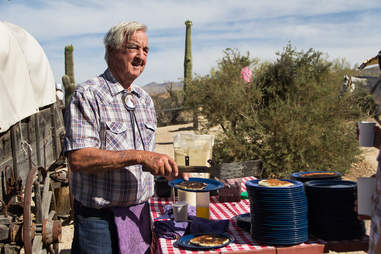 Sara Norris/Thrillist
Tie up your horse and enjoy a chuckwagon breakfast of eggs, bacon, sausage, and blueberry pancakes made fresh by the ranch's owner, Bob Cote, while overlooking the property. Don't worry: if riding a horse up a mountain didn't wake you up, there's always coffee.
Sign up here for our daily San Diego email and be the first to get all the food/drink/fun in town.