The Baja Culinary Festival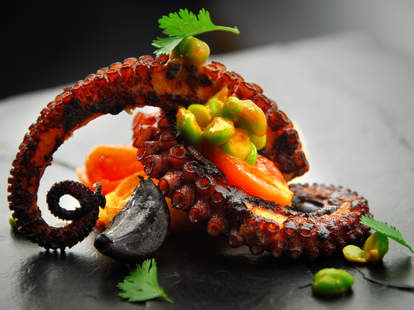 Back by a demand so popular, it actually beat out Kelly Kapowski for homecoming queen and it didn't even run, the Baja California Culinary Fest is the most badass, totally acceptable reason to travel down to newly-not-that-sketchy TJ and other Baja cities since, well, forever. Highlights from the orgy of foodie lust include:
October 11th, Night of the Stars (A Tribute to the Caesar Salad): Celebrating that weird but true fact that -- like donkey shows -- your grandparents go-to country club order was actually invented in Tijuana, each guest chef at this dinner in the "Gourmet Area" in Via Corporativo will offer a reinterpretation of the Caesar, paired with wines from Guadalupe Valley and craft suds from Baja.
October 13th, Shellfish On Board: If you love that song "I'm on a Boat", you're like three years behind the times (the new thing is showtunes!), but you'll likely still love this boating adventure from Ensenada, where you hang out on the seas while stuffing your face with fresh-to-a-very-recent-death oysters, clams & mussels, before heading onshore to eat at the super famous La Guerrerense food cart.
October 14th, TJ Gastro Tour: Since your normal TJ gastro tour involves stuffing yourself with shame and secrets, opt instead for this street food roundup hitting iconic resto Caesar's, cult-favorite Kentucky Fried Buches, and the Tijuana Brewery among others so cheap, you'll think you were Saved By The Bill.