Pick Apples and Run with the Wolves in This Rustic SoCal Town
Hit the trails, pan for gold, and howl with the wolves.
Even in idyllic Southern California, where the average temperature rarely dips below a "brisk" 65 degrees, it's nice to get a change of scenery every once in a while. Enter: Julian, a tiny town about an hour east of San Diego that, come autumn, will make you wonder if you've been accidentally transported to a fall foliage-ridden town in New England.
Nestled in the foothills of the Cuyamaca Mountains, much of Julian's rustic charm has to do with the fact that it's preserved its roots as a Western mining town gone boom. The town experienced a population spike in the 1870s following the discovery of gold in a nearby stream by formerly enslaved cattleman A.E. "Fred" Coleman; the find spurred San Diego's first and only gold rush, which lasted until about 1900. (A bronze plaque near Town Hall also commemorates the city's early Black history, as Julian once boasted the majority of San Diego's Black population: in the 1880 census, 33 of 55 Black residents living in San Diego County lived in the Julian area.)
Around that same time, another enterprising gentleman, James Madison (not the fourth president), brought a wagonload of young apple trees to the area. The trees flourished in the mountain environment and became one of the reasons people from all over SoCal continue to visit Julian today.
With a friendly, small-town feel, four distinct seasons, and enough fun to make for a stacked itinerary—including an incredible wolf conservatory, hundreds of miles of trails, charming cafes and cideries, and more—Julian is perfect for a weekend escape or a longer stay. Here's how to make the most of your visit.
Apple pie is king
Apple picking season in Julian arrives in early September and lasts until Mid-October. But even if your trip doesn't coincide with the harvest, you can still enjoy the spoils: there's no shortage of bakeries in town, and everyone you ask will have a personal favorite.
The biggest name in town (and possibly in the West) is Julian Pie Company. Along with the most widely distributed apple pie throughout Southern California, they carry more than 20 pie varieties, apple cider donuts, apple nut bread, and "apple memories," bits of extra pie crust cut out into hearts that are perfect to snack on during the ride home. At Mom's Pie House, you'll find a laundry list of pie options and other equally delightful confectionary goodness, but not to be missed are their apple dumplings loaded with brown sugar, cinnamon, and nutmeg and baked in cream cheese to absolute perfection.
An unassuming spot right off the main drag, Apple Alley Bakery turns out a spectacular apple pecan pie with a crunchy crumb topping, plus a killer lunch special that includes your choice of a half sandwich and a side of soup or salad (don't miss the chili) and a slice of pie for dessert. Also noteworthy, Julian Cafe and Bakery's boysenberry-apple is the perfect mix of sweet and tart, and Juliantla Chocolate Boutique covers cinnamon-scented caramelized apples in a flaky crust that's also completely vegan.
Have some old-timey fun
Julian is an official California Historical Landmark, meaning that any new development must adhere to certain guidelines that preserve the town's architectural integrity. Once you're settled in, get your bearings with a self-guided walking tour and explore Julian Town Hall, historical homes, and the Pioneer Cemetery, as well as the Julian Gold Rush Hotel, the oldest operating hotel in Southern California and one of the first businesses in San Diego County to be owned and operated by African Americans.
Crawling into the mines that dot Julian's back streets and hunting for gold is considered a rite of passage for kids who grew up in Southern California. One of the longest-running mining operations in town, The Eagle Mine is a popular spot to take a tour and try your hand at panning for gold like they did in the olden days. Julian Mining Company also has all your gold-panning needs covered, plus gem mining, tomahawk throwing, and train rides.
It's also worth checking out the outstanding collection of historical artifacts at the Julian Pioneer Museum, where you can learn about how local Indigenous groups and pioneer settlers lived and worked, as well as The Barn Vintage Marketplace just outside town in Wynola, a great spot to shop for vintage keepsakes, furniture, and souvenirs. Be sure to say hello to the sweet emus who call the latter home.
Become a bonafide soda jerk
You won't be leaving this little town hungry, and for a trip down memory lane, Miner's Diner is the spot for all your malted needs. Dating back to 1929, this charming vintage soda shop has classic diner fare on deck—stacks of pancakes, bacon and eggs, burgers, dogs, and melts included —plus a "Fun Stuff" menu where you'll find old-timey treats like phosphate soda, ice cream floats, thick shakes and malts, banana splits, and, yes, apple pie.
Julian Café is another popular spot for breakfast and lunch and serves up some crispy fried chicken and chili fries along with a decadent hot giant cinnamon roll and apple cider float for dessert. And over at Julian Grille, the lace curtains and antique furniture are all a part of the draw of a locally beloved steakhouse; bask in the quaint ambiance found inside the cottage, or post up outside on their patio to enjoy a Ruben sandwich and chicken Julian salad.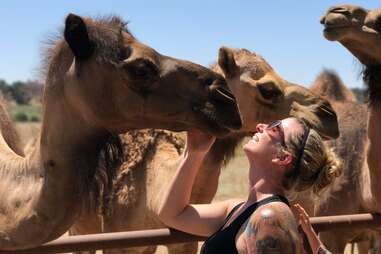 Howl with the wolves, hike sky-high, and commune with nature
There's no more magical way to start your adventure in Julian than getting a chance to support the wolves. Established in 1977, the California Wolf Center is home to several gray wolf packs, including one of the rarest and most endangered species, the Mexican gray wolf. Reservations are required to visit, so schedule one of three different tours to learn about wolf conservation and meet with the wolf packs.
For the meek, there's also the quirky and unexpected Oasis Camel Dairy farm, home to free-range camels and their calves. The camels are hand-milked, and the results are turned into luxurious camel milk soaps, bath bombs, and lotions as well as decadent chocolate bars made by chocolatier Al Nassma in Dubai. Private tours are available by appointment, and you can purchase their camel milk products in their gift shop.
As is often the case in California, hiking is an essential pastime in Julian. About 20 minutes outside of Julian, Cuyamaca Rancho State Park has hundreds of miles of trails to traverse. The Stonewall Peak Trail offers spectacular vistas (not to mention plenty of shade) along its 3.4-mile out-and-back course, which takes you to the summit for 360-degree views of Lake Cuyamaca and the park, while the Cuyamaca Peak Trail delivers views of the Anza-Borrego Desert and the lake below. On your way back down, don't miss a stop at Cuyamaca Lake Restaurant for some delicious homemade chicken pot pie and authentic Austrian-inspired fare like wiener schnitzel and, if you're there for breakfast, the Tyrolean skillet.
There's also the Volcan Mountain Wilderness Preserve—go for a gorgeous, yet moderately strenuous hike that will see you crisscross your way through a mix of scenic conifer forest and desert—and the challenging 4.1-mile Three Sisters Falls out-and-back trail in Cleveland National Forest, with a two-mile, 980-feet descent that includes some bouldering, climbing, and traversing before you reach the sparkling falls and the natural swimming pool beneath.
For something truly out of this world, Julian's night skies make for prime stargazing, giving visitors magnificent views of the Milky Way, planets, and constellations. Amateur astronomers will want to book a Sky Tour at Observer's Inn, where you'll use research-grade telescopes to view planets, open star clusters, nebulae, star systems, and the moon. Plan a visit around upcoming celestial events for an unparalleled look at the heavens.
Cideries and wineries abound
True to its southern California roots, beer, wine, and hard apple cider aren't hard to come by in Julian. A good place to start is Calico Cidery, a dog-friendly cider farm and super scenic spot to lounge under the shade of huge oak trees and sip handcrafted hard ciders made from apples and pears grown exclusively on their ranch. (Fun fact: It was on the property of Calico Ranch that Fred Coleman first discovered gold in 1870, sparking the Julian gold rush.)
Over at Nickel Beer Company, 16 taps and plenty of outdoor seating are always on the table—just don't miss the Apple Pie Ale or the Volcan IPA, and feel free to grab a growler for the road. And at Julian Hard Cider, you can pull up a chair outside of the cider bar and try a flight of ciders with adventurous names like Razzmatazz and Freaky Tiki (though of course, you can't go wrong with their traditional Harvest Apple).
Tucked into the base of Volcan Mountain at just above 4,000 ft elevation, there's also Menghini Winery, the oldest winery in Julian and the second oldest in San Diego County. Located just 2.5 miles outside of town, the winery is a small-batch operation that produces sauvignon blanc, chardonnay, riesling, rosé, cabernet sauvignon, merlot, and syrah. Their tasting room is open seven days a week and visitors are welcome to bring a picnic lunch to enjoy on their expansive grounds.
Where to stay in Julian
There's a handful of charming family-owned lodges and B&Bs scattered around town. For something really special, the Orchard Hill Country Inn is just a few blocks off the main drag but feels like it's a world away. With just 22 rooms—several with their own fireplace—plus complimentary breakfasts and daily happy hours, this quaint, craftsman-style inn is a real gem.
The aforementioned Julian Gold Rush Hotel, set in a landmark building right off Main Street, is equally charming. Dating back to the late 1800s, the lovely Victorian stay offers a mix of suites, cottages, and even a "honeymoon house" for those looking to dial up the romance.
Mary Beth Abate is a San Diego-based freelance writer by way of Chicago and Los Angeles. Her hobbies include yoga, pickling and fermenting stuff, reading cookbooks, and drinking fabulous gin. Keep up with her experiments @MaryBeth_Abate.
Michelle Gross is a travel, food, and culture reporter based in South Carolina. Her words and photographs have appeared in
Forbes Travel Guide
,
Travel + Leisure
,
The San Francisco Chronicle,
and
Playboy
. You can follow her travels on Instagram @pinktravelproject.