10 Surprising Things to Do on Treasure Island
There's quite a lot of fun to be had on this small island in the SF Bay.
Treasure Island (TI for short) has one hell of a history and an equally exciting future. The artificial, 400-acre island is almost halfway between San Francisco and Oakland and was constructed on a landfill for the 1939-1940 Golden Gate International Exposition, or World's Fair. Airplane hangars once existed on TI, from Pan Am's seaplane activity and since-dashed hopes for Treasure Island to become a central airport hub. The onset of World War II saw the Navy take over the island for military training, intake and send-off of 4.5 million sailors, submarine cleaning, and subsequent toxic waste storage. The SF Fire Department has also had its intense training facility on TI for the last 30 years, but it will relocate in 2024.
When the naval station closed in 1997, the city took over TI and turned it into a new neighborhood, much of which was for low-income, displaced, and formerly unhoused residents. Rent was cheap due to limited resources on the island and dirt polluted with arsenic and petroleum, which the Navy has since cleaned up. On the brighter side, the now-gone hangars were converted into sound stages for film and television, and the island also became known for its now-defunct annual music festival and monthly flea market. Treasure Island connects to the natural Yerba Buena Island, a bonus for cyclists and nature lovers who can overlook the bay from a couple of vistas on the island.
There's a gorgeous San Francisco skyline view from Treasure Island that developers have discovered in recent years, and a massive 20-year development plan is underway to bring hotels, more housing, retail spaces, and parks to the neighborhood. The development is also trying to keep its longtime residents in mind with affordable housing units. It is also still home to nonprofits like JobCorps, One Treasure Island, and the Life Learning Academy public charter school. The new ferry system is already in place and gets you from the Ferry Building to Treasure Island in just 10 minutes.
"We consider the island our museum. Every time I turn over a rock, I find something unbelievable," says the president of Treasure Island Museum, Michael Hennahane. While Hennahane has been involved with the museum for years, discoveries like how Treasure Island was the site of the first NCAA playoffs in 1939 are still surprising. With a dizzying amount of changes on TI, the museum is an excellent place to start learning the history and future of the island. According to museum staff, Building One (the Administration Building), the towering structure you see upon first entering the island, is on its way to becoming something akin to a mini Ferry Building, with the museum and Woods Island Club taproom already there, as well as plans for a bar by Gold Bar Whiskey, which partners with the 49ers, and a gourmet grocery store.
From the best view of the SF skyline to sailing to wine tasting, this little island packs a punch, and it's fascinating to think about how it will change with each visit over the next 15 years or so.
The ride from the SF Ferry Building on The Embarcadero to Treasure Island takes about 10 minutes at a $10 roundtrip, but it feels like going through a portal to a faraway land. Locals visiting TI for the first time wonder why they haven't been to this whole new world that's so close and full of quirky history, food, drink, and nature, y. Pre-ferry, only one MUNI bus ran between downtown and TI. If you didn't have a car, rideshares were hard to come by. Now, it's hard to imagine life before the ferry. Once alighting at the Treasure Island ferry terminal, you'll find that TI is flat and walkable, making it easy to explore the new and new to you facets of the island. You can also bring your bike and explore on two wheels instead of two feet.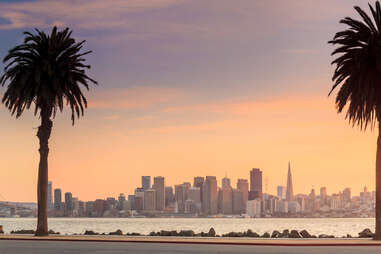 Strike a pose against the gorgeous SF skyline along Avenue of the Palms
Nearly the entire western side of Treasure Island is Avenue of the Palms, where the majestic skyline view spans from the Bay Bridge to downtown SF to Alcatraz if the weather is clear. The Avenue of the Palms is accurately named, as it's lined with palm trees and a short rock wall where people constantly pose for photos, from wedding parties to musicians making very windy DIY music videos. You can't leave the island without snapping at least a quick selfie against the skyline. For a longer photo opp, hang out on The Great Lawn, which runs along the southern part of the avenue and includes Mersea Restaurant.
Since opening in 2014, Aracely has often been the island's lone restaurant, staying the course while others came and went. Even though it now has a great neighbor in Mersea, the cute brunch spot with a garden patio and outdoor fireplace still stands out for its creative new California cuisine with international influences. Case in point: the luxurious Eggs Benedict with fried green tomato and the option to add lobster, all atop quinoa "buns."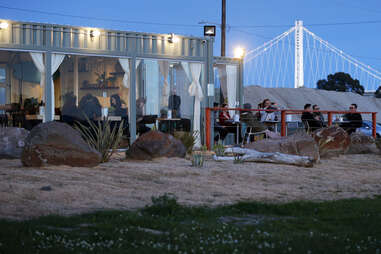 Speaking of Aracely's restaurant buddy, Mersea has been posting up on the island's The Great Lawn since 2018. Made out of multiple shipping containers, the restaurant has plenty of spacious outdoor seating and, of course, that bocce ball court, which makes Mersea a good leisurely hangout spot. The indoor dining room has glass walls so no one will miss out on that SF skyline view. Scoop up mahi mahi ceviche and avocado mousse with corn chips and wash it all down with an M3 cocktail made with coconut vodka, pineapple juice, and ginger beer. Owner MeeSun Boice was also part of the Treasure Island Museum's oral history project.
With such a dense and varied history of the island, it's a good idea to stop by the free Treasure Island Museum to look at artifacts from the World's Fair, gorgeous murals that illustrate chapters of the island's life, and modern multimedia exhibits like "Treasured Stories," an oral history project with Treasure Island residents and workers, some of whom are formerly unhoused or low-income. The museum sits in the striking Building One, the first major structure you see upon entering the island, and you might recognize it from Indiana Jones and the Last Crusade, The Parent Trap, or Netflix's The OA. Outside of the building, you can also scan QR codes on the surrounding World's Fair sculptures and informational panels by vistas on the neighboring Yerba Buena Island.
Booze hop around the island
While there's no alcohol to purchase at the one TI grocery store, plenty of places await to whet your whistle, whether you're a wine fan, beer buddy, or spirits seeker. Treasure Island Wines is a pioneering urban winery that offers tastings of luxury artisan wines where dogs are allowed. Woods Island Club, housed in the commanding Building One, offers its signature beers, natural wines, and filling empanadas. Treecraft Distillery conducts tastings of unusual spirits, such as chocolate bourbon, next to its giant 500-gallon copper distilling pot. The newest kid on the block is the outdoor Golden Hour Bar on The Great Lawn, a collaboration between the 49ers-endorsed bourbon distillery Gold Bar Whiskey, which operates on TI, and Mersea. Also, look out for Gold Bar Whiskey's gorgeous tasting room soon to open on the island.
The nonprofit Treasure Island Sailing Center provides sailing lessons and rentals, kayaking and stand-up paddleboarding for youth and adults, and scholarships for those in need. You'll use the calmer waters of Clipper Cove, which is a protected harbor tucked in between the south side of Treasure Island and the north side of Yerba Buena Island and is the biggest, protected open-water cove on the city shoreline. Founder Carisa Harris Adamson is also part of the island's oral history project.
It won't be the island's only grocery store for much longer, but it currently is and has been for years. If you'd rather just grab and go while exploring Treasure Island, the deli counter offers stacked sub sandwiches, burgers, shawarma wraps, and deep-fried goodness like fries and shrimp from super friendly staff. There's no booze there, though. So plan accordingly if you're looking for an all-day hangout with coolers and folding chairs along the Avenue of the Palms or on The Great Lawn. You can also hear owner Abdo Nasser's story in the Treasure Island Museum oral history project.
Clipper Cove deserves its own entry, thanks to its hidden gem status. Used initially as Pan Am's terminus for seaplanes, we recommend grabbing sandos at Island Cove Market, then trekking halfway up the hill to Yerba Buena Island before descending down the left-side stairs leading to the cove. You'll get a great view of Yerba Buena Island, Treasure Island, and the Bay Bridge. Because the cove is in a safe, protected harbor, the water is calm enough to enter.
Cyclists and pedestrians coming from the East Bay can use the 2.2-mile Bay Bridge East Span Path to get to Vista Point on Yerba Buena Island. On weekends, for now, cyclists can continue along Macalla Road to Treasure Island. The recommended East Bay access point is by the IKEA in Emeryville. Check online for bike path construction updates before going, though. Final construction of the path from the vista via Macalla Road and the pedestrian sidewalk are expected to be completed any day now. There isn't a bike path from SF to TI, but it is a future possibility.
Margot Seeto is a Bay Area freelance writer and a contributor for Thrillist.