The Swiss Family Robinson would be so jealous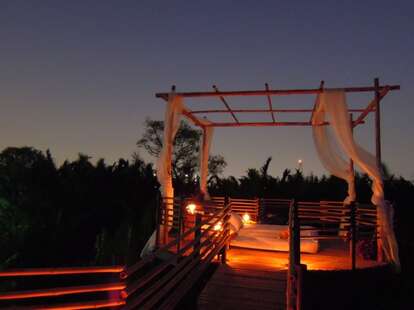 Located just a 30min drive from the direct-flight-from-SFO-able Suvarnabhumi Airport, Bangkok Tree House is a just-opened Thai resort entirely comprised of a matrix of giant tree houses (!) that're buried deep in a tropical jungle so remote the last leg of the trip has to be traveled by foot, ferry, bike, or Temple of Doom rail cart. Kidding!! They totally don't have bikes!
Once there, you'll choose between the completely wall-/ceiling-less "View With a Room" or a "Tree Top Nest", where your high-up accommodations will boast a downstairs living room, bathroom & outdoor shower, plus an upstairs bedroom with a computer station, and a third-floor green roof with views of the river, assuming ABC hasn't already cancelled it. Amenities in your Berenstain Bears-approved abode'll include a complimentary cell phone (complete with a local Thai number), free rental bikes, comped breakfast, and -- best of all... for 2010 Kirstie Alley -- 24/7 free ice cream. If all-day, every-day dessert's not your thing, you'll dive into legit international and Thai cuisine served riverside at their resto Reflect, or take advantage of BTH-packed gourmet picnic baskets, which you'll be able to bring to the nearby botanical park, the handcrafted swag-rich Bang Nam Peung floating market, or a bunch of legendary 200yr-old temples -- just watch out for the Temple Guard in The Cave of Sighs.
In the future, BTH plans on opening up a couple more suite options, including the Family Room and the Honeymoon Nest, which, oddly enough, sleeps three, so you'll probably want to bring an extra Shorty.