Cool Airbnbs Near San Francisco to Book This Spring
Road trip!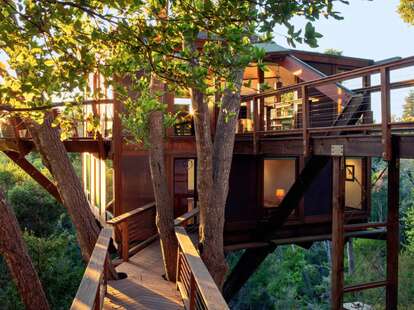 If, like most of us, you've been laying low for the past year, you're probably good and well ready to take a break from SF already. We get it. We love our parks and beaches and comforting fog, but—it's time to see other parks and beaches, and maybe not any fog at all. You can do that at all of these Airbnbs (well, we can't guarantee no fog for a few of them), which are anywhere from 20 minutes to three hours away and promise to give you rest and relaxation or days filled with adventure—whichever you want (or perhaps a combo of the two). From an actual caboose you can sleep in to a treehouse with ocean views, here are some of the coolest Airbnbs just a short road trip outside of SF: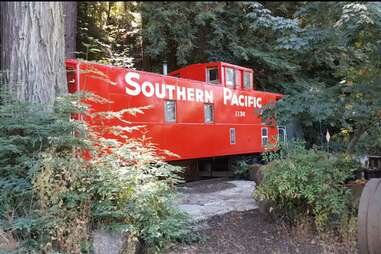 Cupertino, California
4 guests/$190 per night
Distance from SF: ~45 minutes
All aboard this rustic Southern Pacific caboose that is a must for train enthusiasts and anyone they can, ahem, railroad into joining them. The caboose sits under giant redwood trees and has a lofted bed, soaking tub, patio, and shared lawn area with a fire pit. Plus, there are lots of other train cars to explore on the property. Bonus: Friendly dogs, cats, and chickens roam freely. As they should.
Things to do nearby: The caboose is in the Cupertino hills and is also close to Saratoga, but this is probably more of a one-night stay, so you'll likely want to maximize your time spent enjoying the actual railroad car. Still, if you get stir crazy, there's tons of nearby hiking, wine tasting at Ridge Vineyards, and, if you go during the late spring or summer, head to Blackberry Farm, a huge park that's open to everyone and has swimming pools, horseshoe courts, bocce ball courts, trails, and more. The Winchester Mystery House is also close by and downtown Saratoga has lots of shops and restaurants.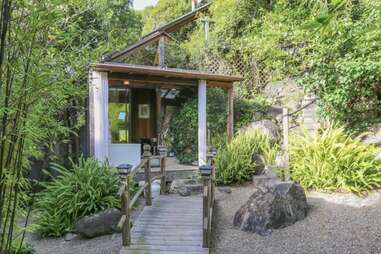 Stinson Beach, California
2 guests/$175 per night
Distance from SF: ~One hour
Find your zen inside this tranquil guest house tucked inside of a bamboo forest that's just above the ocean. The cozy space has doors that slide open to a balcony with ocean views and a bathhouse with an outdoor soaking tub. Want to escape your zen and head into town or the beach? A secret path gets you there in under five minutes.
Things to do nearby: Stinson Beach is gorgeous sun or fog, so a walk along white sand at the ocean's edge is a must. If you're looking for something more strenuous, the popular Dipsea Trail, which runs seven miles from Stinson to Mill Valley, is always an option. Not in the mood to break a sweat? Enjoy a seafood lunch or dinner at the Parkside Cafe (or a burger and soft-serve from its snack bar) or fish tacos at the nautical-themed Breakers Cafe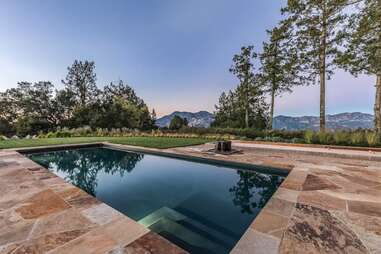 Calistoga, California
8 guests/$1,667 per night
Distance from SF: ~90 minutes
"Luxury home" doesn't do this estate justice. Not only is there a gourmet kitchen, indoor-outdoor dining rooms, a sparkling swimming pool, jacuzzi, bocce court, and firepit, it sits on more than 200 private acres overlooking vineyards and Mt. St. Helena.
Things to do nearby: Well, first of all, you're not going to want to leave, but in case you do, Calistoga is just five miles away. You can go wine tasting at the many surrounding vineyards or hop from tasting room to tasting room downtown. Looking for something to do other than drink wine? Visit the Petrified Forest, full of giant redwoods that were petrified over three million years ago after Mt. St. Helena erupted. You can also take a dip in the thermal mineral water pools at Indian Springs (and add on a massage at the spa), or eat a fancy farm-fresh meal at Solbar, the restaurant at Solage, an Auberge Resort.
Aptos, California
6 guests/$901 per night
Distance from SF: ~One hour and 15 minutes
Make all of your childhood (and adult) dreams come true with a stay at this treehouse sanctuary that's full of natural light via floor-to-ceiling windows that offer ocean views. The house has a full kitchen, two bedrooms, a winding staircase that leads to a study, and a patio with a hammock where you can gently swing while taking in the stunning scenery.
Things to do nearby: Aptos is less than 15 minutes from Santa Cruz. There, you can play games, eat carnival food, and go on the rides at the Santa Cruz Beach Boardwalk, question the laws of physics at a gravitational anomaly in the redwoods, go surfing or just hang out on the beaches, hike to the hidden coastal redwoods at Wilder Ranch State Park, or stroll, shop, and eat in downtown Santa Cruz.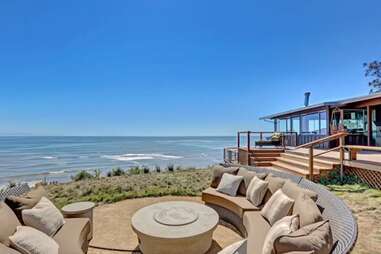 Bolinas, California
8 guests/$1,200 per night
Distance from SF: ~One hour
Sit on the outdoor sofas surrounding the fire pit and overlooking the ocean. Soak in the hot tub overlooking the ocean. Wake up in a bed overlooking the ocean. Play soccer on a grassy field overlooking the ocean. Take a bath (for two) in an outdoor copper tub overlooking the ocean. Enjoy dinner on the deck … that's right: overlooking the ocean. This stunning mid-century modern home was built for people who appreciate the serenity of the sea. Which, we're fairly certain is everyone.
Things to do nearby: If you do ever get bored of staring at the ocean's majesty, the house is only a short walk to the quirky town of Bolinas (population 1,600) where you can rent a surfboard/take surfing lessons and appreciate the ocean from a new perspective. Celebrate your adventure with a drink and some tacos at Smiley's, a historic saloon that's been around since the late 1800s and impressively, managed to not shut down during Prohibition.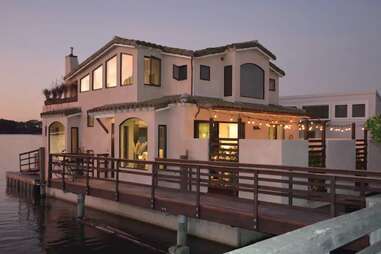 Sausalito, California
4 guests/$600 per night
Distance from SF: ~20 to 25 minutes
This spacious Italian-style home is pretty much the exact opposite of what you imagine when you conjure up visions of houseboats, but it is, indeed, a floating home and even has a floating dock with a hot tub, so you can literally find yourself sitting on the dock of the bay. The home has picture windows overlooking the water with views of Mt. Tam, a gas fireplace for when the fog rolls in, and a spa bathroom.
Things to do nearby: Take a stroll into the historic seaside town of Sausalito where there's lots of shopping and dining (and in the summer, lots of tourists). Walk along the Bridgeway Promenade at the water's edge or, if you're looking for a little more adventure, rent a kayak or stand-up paddleboard. After, reward yourself with thin crust sourdough pizza, sangria, and a game of bocce at Bar Bocce, mussels and fries at Le Garage, or some of the best sushi in the Bay Area at Sushi Ran. If you're craving something sweet after, pop into Lappert's for a scoop of Hawaiian sea salt caramel ice cream in a waffle cone.
South Lake Tahoe, California
16 people/$3,800 per night
Distance from SF: ~Three hours and 20 minutes
Want to get away with 15 of your closest buddies for spring skiing, gambling, and maximum relaxation? This "rustic cabin" in the trees will not disappoint. (And "rustic" is more like Restoration Hardware "rustic" than "toilet in an outhouse" rustic, just to be clear.) The nine-bedroom and seven-bath house has everything you could want: privacy, an indoor pool, a pool table and foosball table in a room with floor-to-ceiling windows that overlook the forest, a fire pit and an outdoor fireplace… Basically, it will be amazing to stay there and very hard to leave.
Things to do nearby: Enjoy some classic California spring skiing at Heavenly, play BlackJack at one of South Lake's casinos, or go hiking along one of dozens and dozens of trails (Eagle Falls is always a good one).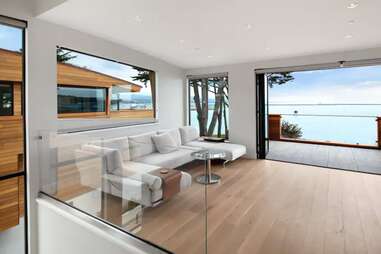 Half Moon Bay, California
8 guests/$880 per night
Distance from SF: ~40 minutes
Crack open a beer and relax on the deck of this spacious modern home while watching sea lions frolic in the ocean. Or do morning yoga there if that's more your vibe. Or both! From the outside, this two-bedroom house looks a bit like a wooden ship stuck on land (in an intriguing way). From the inside, it looks like a sleek light-filled haven, perfect for getting away from it all.
Things to do nearby: Luckily, even though you're "getting away from it all," "it all" is within walking distance. You can get to the beach in under two minutes and to the restaurants and bars in under three. There's also lots of hiking, including the Coastside Trail known for its views (which you probably picked up from the name), a historic lighthouse where you can take a tour, two world-class golf courses, and a farm where you can do goat yoga. Año Nuevo State Park, where over 10,000 elephant seals return every year to breed, give birth, and molt, is also a short drive away. (April 1 to August 31 is "molting season.")
Mariposa, California
6 guests/$450 per night
Distance from SF: ~Three hours
A river runs through it. Literally. This secluded lodge sits on 20 private acres surrounded by mountains and has a river that runs right through it. In the spring, the river has waterfalls, mini-rapids, and swimming holes. There are also outdoor bathtubs, indoor and outdoor living rooms (both with fireplaces), a ping-pong table, and a porch perfect for sipping a cocktail and watching the bunnies and deer that come by to say hello as the sun is setting.
Things to do nearby: Well, there's a little park called Yosemite that you may have heard of where one could easily spend a week and still not experience all of the greatest hits. But there's also the town of Mariposa where you can enjoy a burger and locally-brewed beer on the patio of Eighteen Fifty Brewing Company, or the Hideout Saloon, a dive bar with outdoor seating and a dollar bill-covered 150-year-old dry stack rock wall (a tradition started by the miners who stapled their money to the ceiling so that they'd have enough to get home if they didn't strike gold), and the retro Sugar Pine Cafe where you'll have homemade biscuits and gravy and eggs served with cheese grits in the morning to soak up the damage you did the night before. Want to see Yosemite Valley from in a tiny Cessna 14,000-feet in the air? You can also do that. You'll just have to jump out of it if you want to get back to earth.
Daisy Barringer has been taking road trips from SF ever since she was six years old. One of her favorites definitely involved jumping out of that plane. Even if she did cry the entire way up. Follow her on Instagram
@daisysf
to see where she finds her next adventure.