The 13 Best LGBTQ Bars in San Francisco
Show up and show your Pride.
Over the past few years, gay bars and queer spaces have been disappearing in San Francisco and across the country at a depressing rate. The reasons behind this mass exodus are complex—with more mainstream acceptance of LGBTQ+ lifestyles and cultures, such spaces are deemed less "necessary," and yet they are still necessary for so many reasons, including the fact that these spaces represent a vital piece of our collective history and because progress doesn't erase the need for safe havens of belonging. This is especially true in San Francisco where there is only one gay bar left in the Tenderloin (Aunt Charlie's Lounge), the neighborhood where the 1966 Compton's Cafeteria Riot, the first recorded transgender riot in U.S. history, took place. On Polk Street, a strip where the first San Francisco Gay Pride Parade took place in 1972, and was once home to 65 gay bars, peep shows, bathhouses, and hotels, only one gay bar, The Cinch, remains.
It's a topic that is complicated and nuanced and deserves thought and discourse, and that also leaves us grateful that SF still does have two neighborhoods where gay bars reign supreme (the Castro and SoMa), and you can find a watering hole with whatever you fancy: fabulous drag queens, all-night dance parties, hirsute hotties, latex, leather, karaoke, kink, bondage, live music, TV watch parties, and even sports.
Before we leave you to pick out your next drinking destination, a love-filled shout out to The Stud, SF's oldest and most diverse queer bar/institution, which lost its SoMa home in 2020. The worker-owned cooperative nightclub is still hosting events, and the owners promise The Stud is not dead and will come back eventually. If you want to help that effort, donate to the GoFundMe.
And now, without further ado, here are our favorite LGBTQ bars in SF:
Nob Hill
It's hard to believe that this street, now filled with Marina and Russian Hill peeps and the types of establishments that cater to them, was once SF's OG "gayborhood," especially since The Cinch is the only bar (of dozens) left from that time. And when we say "that time," we really mean it since walking into this dive bar (the second-oldest gay bar in the city) is very much like entering another era—one where Western decor, friendly vibes, multiple pool tables, a drawing of a lion having sex with a man, a smoking porch, and zero pretense—were en vogue. Lucky for us, someone still believes it is, which, we think, makes it so.
Bernal Heights
Okay, so just because a bar is owned by lesbians doesn't make it a gay bar, but this delightful dive in Bernal deserves a spot on the list because if not a lesbian bar, it is a bar that has a history of pride and inclusion, puts out fantastic cocktails, and has one of the best (and quirkiest) back gardens in the city. The quirky part of the garden is a creative reaction to the fact that when the bar moved to its current location in the 1970s, neighbors who weren't too keen on a lesbian-owned bar that left junk like broken toilets and other garbage in front of the space—garbage that was turned into art for the garden in the most delightful way of turning trash into treasure as the ultimate metaphor of resistance and steadfastness we've ever been lucky enough to surround ourselves with while enjoying a drink.
Castro
A few too many bars in the Castro feel airbrushed and bubble-gummy, but the 440 is lurid in the best possible way. Attracting a thicker, furrier crowd that likes to cruise the old-fashioned way (former names of the bar include Daddy's and Bear Hollow), it also opens early enough to goad you into irresponsibility in the middle of the afternoon. The 440 is dark and deep, with two bars and a respectable beer selection, making it a place where you might lock eyes with a go-go boy who isn't necessarily the type you take home to mama, especially on a Tuesday when beers are $3.
SoMa
At the SF Eagle, leather's not a fabric but a lifestyle. This is the granddaddy of all SF leather bars and the city just recognized it as such by giving it landmark status (the third LGBTQ bar site in SF to get that historic distinction), which means that unlike so many of the leather bars near that area of SoMa that have shuttered over the years, the Eagle will spread its wings for many years to come (and in doing so, become a memorial to at least 22 of its employees who died during the AIDS epidemic). The bar's patio is one of the city's biggest—and frequently, fullest (especially now). Monthly parties cater to different kinks and subcultures, but the biggest is the Sunday afternoon Beer Bust, a staple of SF's kink culture, where less than $20 gets you endless beer, with a different beneficiary every week.
Tenderloin
And then there was one. Deco Lounge is long gone, and now so is the Gangway—once San Francisco's oldest gay bar. But Aunt Charlie's, with its stupefyingly cheap and potent drinks, threadbare carpeting, and working-class patrons, is still here. The last queer bar in the TL, a neighborhood once filled with them. There are several reasons to stop in for a drink or three other than the history lesson: the long-running Hot Boxxx Girls drag show on Fridays and Saturdays, DJ Bus Station John's Tubesteak Connection on Thursdays ("bathhouse disco," anyone?), $5 or under covers for the entertainment, and an experience, no matter when you go, that will remind you why SF is one of the best cities in the world (in case you forgot).
Castro
Not so long ago, the idea of a gay sports bar sounded almost like a contradiction in terms. But by inverting stereotypes and cranking out elevated pub fare like nachos, wings, and a pork chop on a stick, Hi-Tops quickly became the place to watch the Warriors or the 49ers on a very large array of flatscreens. Boisterous even when there's nothing going on in a stadium, this is where you go to pick up an athlete who plays for the team.
Castro
This second-floor establishment—from which you may peer down, margarita in hand, on the six-way intersection of Market, Noe, and 16th streets (hence, the name)—hosts lots of karaoke, dance parties, and the like, including "Lips & Lashes" a drag brunch that exists to bring joy to even the most cynical queens. But Lookout is also an engine of philanthropy, with close associations to the AIDS/LifeCycle and the Disco Coalition. Getting tipsy for the community is a win-win. P.S. There are tri-tip tacos and deep-fried bourbon shots.
SoMa
When drag queens Heklina and D'Arcy Drollinger opened Oasis on New Year's Day in 2015, they knew exactly what they wanted, and they got it. An 8,000-square-foot haven (in a converted gay bathhouse) that draws in homegrown talent and world-renowned performers and has become one of the city's shining stars for LQBTQ nightlife. Cabaret shows, drag spectaculars, mashup dance parties, live musical acts, and more. It is, in a word, fabulous.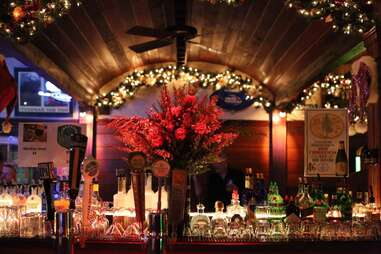 Castro
This cozy, quiet spot with a fireplace and a picture of Queen Victoria isn't nearly as flashy as some of the other bars in the Castro. It's next to a 7-Eleven, for one, and it's pretty mellow a lot of the time. But it's dog-friendly, has one of the absolute greatest jukeboxes in the city, and there's something wonderful about having an afternoon margarita right up front and shouting hello at your friends (or random cuties) as they walk by. Oh, and happy hour runs from noon to 7 pm, every day of the week.
SoMa
This is the raunchiest bar in the city, by far, and we mean that as a compliment. This windowless den of iniquity is where you might find a dude in full latex nonchalantly nursing a beer at the bar 12 inches from a go-go dancer's feet. Until recently, this was the rare gay bar where it was genuinely a bad idea to bring a straight female friend, but even the Powerhouse evolves—and the once deadly-serious vibe has acquired a smutty sense of humor about itself. You can still meet a Daddy or a Sir here, but now there's also Powerblouse, Juanita MORE!'s monthly event where a drag newbie gets a full makeover.
Castro
Is it pretty? Not especially. Does it throw parties or nights? Nope. But The Mix has three unimpeachably strong advantages, making it the most reliable standby in a neighborhood filled with loud bars. First, it opens at noon every day of the week. Second, it has a pool table. And third, there's a terraced patio with a back bar where conversation is easy, every angle is a good one, and the attitude levels are refreshingly low. You'd be hard-pressed to find a more consistently fun place to be once happy hour is over than this quintessential neighborhood bar.
Castro
Yeah, yeah: "The Glass Coffin." We know. So does every patron in there because it is they who coined that mean-sounding nickname for their own long-time hangout. One of the first gay spaces with big windows that allowed passers-by to scan the interior before coming in, Twin Peaks is a friendly and downright elegant place for a cocktail—especially on the mezzanine. The crowd is older, and the bon mots more Wildean, but Twin Peaks is in its own category, with unparalleled people-watching. And if you use the restroom at the right time, you will smell fresh-baked confections emanating from Hot Cookie next door.
Mission
After the Lexington Club closed in 2015, San Francisco went years without a proper lesbian bar. Technically, it still lacks one because Jolene's is a welcoming place—particularly for trans, nonbinary, and questioning people. A queer space with its finger on the pulse of the zeitgeist and the home of legendary party UHaul, Jolene's is simultaneously a club, a bar with craft cocktails, a restaurant whose kitchen stays open late (hello popcorn chicken served until 1 am), and an excellent spot for Sunday brunch and a show.
Mark Oppenheimer is a total gaylord who has been doing his part to keep SF queer bars in business since the days of gay.com.
Daisy Barringer grew up in SF and has been drinking her way through the city's bars since she was a teenager. To be fair, she was also sent to reform school, so maybe she should have waited until she was a little older.