Any time the sun comes out and San Francisco heats up, everyone suddenly seems to remember that we live on the coast, which means, that's right: we have beaches! So many beautiful beaches! And yet, it seems like the only ones anyone ever goes to are Ocean Beach, Baker Beach, Crissy Field, and Stinson. And while those beaches are all great, we have to say, we kinda think these beaches (all within 20 to 60 minutes of SF) are so much better...
Recommended Video
Please Don't Hang Up: The Best Things to See, Eat, and Do in Seattle, WA
Bolinas Beach
Bolinas
Distance from SF: 30 miles; one hour drive
It's a pretty well-known fact that some of the folks in this unincorporated coastal town, located right past Stinson, would prefer if you actually did not visit their public beach. So much so that locals have (allegedly!) repeatedly removed all of the town signs to the point that the city doesn't even bother replacing them. Still, you'll have an easier time finding the town than you will parking on a busy day, so get there early if you can. Plus, you can bring your dog, as he's allowed to roam off leash, but just make sure he doesn't pee on someone's beach bag, not that that's ever happened to us (OK, that totally happened to us). This spot is also popular with beginner surfers because of the mellow waves. If that's something you're into, check out 2 Mile Surf Shop to rent gear and take lessons.
Pacifica State Beach
Pacifica
Distance from SF: 17 miles; 20-minute drive
Better known as "Linda Mar," this crescent-shaped beach is another great spot for beginner surfers (depending on the waves, of course), but is also a good spot for sunbathing and picnicking... as long as the weather cooperates. Definitely check the surf cam before you go because when Linda Mar's socked in with fog, you'll need a beanie, not a bathing suit. Plus, when the fog takes over, the views from the world's most scenic Taco Bell (which is one of the must-visit spots on NorCal Bucket List) just aren't the same.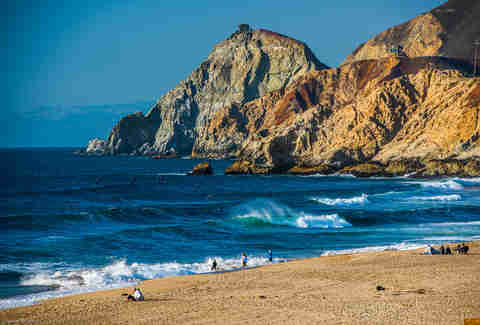 Montara State Beach
Montara
Distance from SF: 21 miles; 30-minute drive
We love Montara Beach because it just feels so quintessentially Northern California. That's mostly because it's nestled between sculpted sandstone cliffs, but also because it's just a mile long (though also quite wide), so you can take the whole beach in all at once. Low bluffs with magenta ice plants line the length of the beach, which serve as a picturesque backdrop and a nice wind blocker. This is definitely a beach for experienced surfers only, but who cares about surfing when there are plenty of tidepools to explore, and your pup can come along -- if he's on a leash.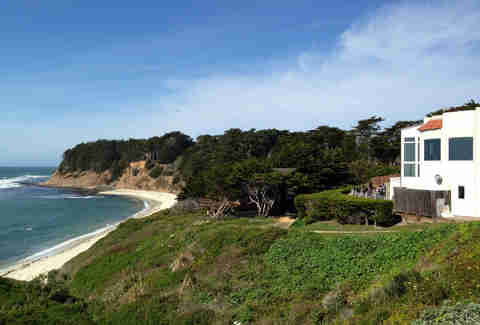 Seal Cove
Moss Beach
Distance from SF: 25 miles; 35-minute drive
Located just a little south of Montara, Seal Cove is a secluded beach that's best at low tide when all of the tide pools are revealed and ready to be explored. This is definitely more of a "wear your sneakers" type of beach, as one of the best parts is exploring the trails along the bluff that are in the middle of a forest of cypress and eucalyptus trees, and offer stunning views. All of that said, the real reason Seal Cove made the list is because it's right below Moss Beach Distillery, a historic landmark on a cliff that used to a successful speakeasy (the whiskey barrels were landed on the beach, and then dragged up the cliff) but is now a restaurant with amazing views, a dog-friendly heated patio, and its very own ghost, "The Blue Lady," who still haunts the premises.
Black Sands Beach
Marin County
Distance from SF: 10 miles; 30-minute drive
Hidden in the Marin Headlands, there's a half-mile stretch of beach the color of cocoa. To get there, you'll have to walk down 250 wooden steps. It's best to go at low tide because at high tide, the beach is a mere sliver of sand, so check the tide charts before you head out. Also, if you're not into nudity, this probably isn't the beach for you since a lot of locals prefer to hang out in their birthday suits (yes, even when it's not their birthday -- shocking!). It's also worth nothing that dogs aren't technically allowed at Black Sands Beach, but you definitely wouldn't know that from the amount of dogs you'll see frolicking in the surf.
China Beach
San Francisco
Distance from SF: In SF!
On a warm weekend day, everyone flocks to Baker Beach for the picnic area and Instagram opportunities. And hey, Baker Beach has its perks, for sure, but if you want to beat the crowds, head to China Beach, a tiny sheltered cove between Lands End and Baker Beach. The views of the Marin Headlands and Golden Gate Bridge are just as amazing (if not more so) than from Baker Beach, and during low tide, you can even walk between the two. Above the beach, there's a picnic area with grills, but unlike Baker Beach, no dogs are allowed.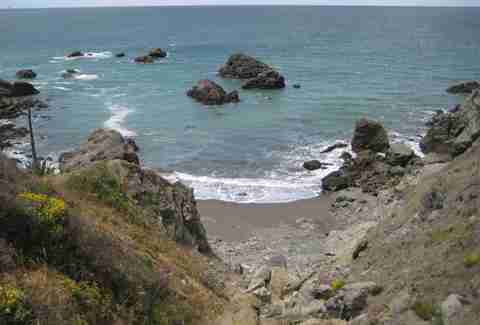 Pirate's Cove
Marin County
Distance from SF: 19 miles; 40-minute drive and 1.5 mile hike
Yup, you read that right. If you want to indulge in the spoils of this secluded pocket beach, you're going to have to hike to get there. But, like, only 1.5 miles, which really is more of a light... no, it's totally a hike. But it's worth it. You'll start at Muir Beach, where you'll take the fire road up for three-fourths of a mile until you reach the crest of the trail, where you'll stop and take a gorgeous pic. From there, you'll be able to see Pirates Cove, so it's just a matter of making your way down to the beach via a steep and rocky trail. Fun fact: the beach was a staging area for bootleggers in the 1920s. (However, you'll need to BYOB.) This is another dog-friendly beach to visit at low tide, when you'll be able to see starfish and barnacles and sea anemones.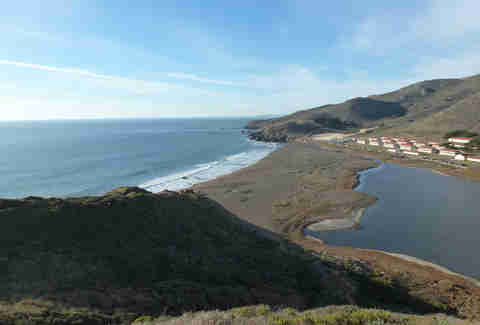 Rodeo Beach
Marin County
Distance from SF: 11 miles; 30-minute drive
Rodeo Beach is one of those beaches you probably know is there, but also totally forget about... and maybe haven't even ever been to, despite the fact that it's a beach that separates a lagoon from the ocean, and allows dogs off-leash. The beach is covered with red and green pebbles and the occasional semi-precious stone, which you should look at and touch, but definitely not take home because, you know "leave no trace," and all that good stuff.
Kirby Cove
Marin County
Distance from SF: 8 miles; 20-minute drive
It's pretty much impossible to beat the view you can access when you're standing below the Marin Headlands on the shores of Kirby Cove; the Golden Gate Bridge is right there, with the San Francisco skyline right behind it. But the best part is that you can see that all at night as well... if you can nab a reservation at one of Kirby Cove's four campsites. To get to the beach, you'll have to hike a mile down, but it's worth it for the privacy, and the fact that this will be hands-down one of the coolest places you ever camp.
Sign up here for our daily San Francisco email and be the first to get all the food/drink/fun SF has to offer.