Where to Stop on the Drive from San Francisco to Big Sur
From the Bixby Creek Bridge to Half Moon Bay, make this scenic drive even better by stretching your legs at these destinations.
Big Sur is often described as enchanting, rugged, naturally beautiful, romantic, fog-lined, peaceful, and transformative. It's the kind of place you have to experience it to believe, which makes it a worthy road trip destination for anyone who loves to be outdoors and appreciates nature (and doesn't mind bundling up or being somewhat cut off from the outside world). The twisting 70-mile stretch of coastline has stunning beaches and mountains, luxurious accommodations, and also some really great restaurants.
Just try not to be in a rush to get there because there are a lot of cool places to stop on the drive from San Francisco. Oh, and in case it wasn't clear: you're taking Highway 1. Sure, it takes a little longer, but the views of the Pacific Ocean, rocky bluffs, sandy beaches, towering redwoods, and vibrant green hills, plus everything on this list, make it worth the extra time spent on the road.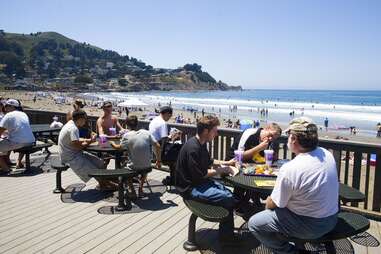 Pacifica
Some people aren't fast food people no matter what—even if the fast food is being served at a Taco Bell with ocean views and frozen margaritas—and to those people, we say: Skip ahead. There are more tasty food options further down. But to those who appreciate the magic that is a Crunchwrap Supreme, this beach bungalow version of a Taco Bell is a must visit. The inside where you'll place your order (boozy adult beverages optional, but if you're not driving, you should get one) is pretty amazing looking for a Taco Bell, but that's not why you're there. You're there to enjoy your Taco Bell feast on the deck that is literally right on the beach with views of the ocean and all of the surfers trying to catch waves.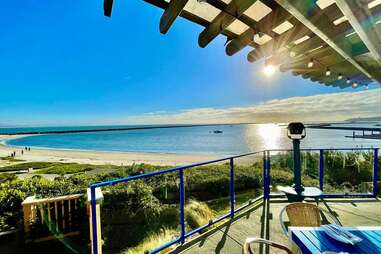 Half Moon Bay
If Taco Bell isn't your thing, fret not. Just drive another 15 minutes or so to Sam's Chowder House, a casual seafood spot that sits on a cliff overlooking the ocean, where you can sit on the outside deck, listen to the waves lap against the sand, and enjoy a hearty bowl of clam chowder.
Half Moon Bay
If you go to any of the beaches in Half Moon Bay, there's a chance you'll see a gray whale, but if you turn onto Highway 92, you'll definitely see some dinosaurs. Spanish Town is a little village where you'll find artisan shops selling jewelry, pottery, and antiques and also: a bunch of gigantic rusted metal statues of prehistoric animals. There's a Wooly Mammoth with "hair," a Tyrannosaurus Rex with sharp, pointy teeth, a docile Brontosaurus, and even a super tall giraffe. It's one of the most unique things you'll see in Half Moon Bay (or anywhere, really), and all of the Instagram likes you'll get definitely make it worth a stop.
Pescadero
If you want to take your time getting to Big Sur, plan to stop for the afternoon night at the only hostel in California that sits at the foot of a lighthouse. Specifically, the 116-foot-tall Pigeon Point Lighthouse, one of the tallest lighthouses in the United States and certainly one of the most picturesque as well. The hostel has accommodations spread out over several buildings, lots of hiking trails, a secluded beach, and is located in a "Dark Sky" preserve which means the stargazing is A++. Plus, you know, that whole historic lighthouse thing.
Davenport
If you're traveling to Big Sur between May and October, then you'll definitely want to make a stop at Swanton Berry Farm, where you can go into the fields and pick your own strawberries. But even if you're not traveling during those months, you should make a stop at the farmstand to pick up all kinds of baked goods, like blackberry cobbler, strawberry shortcake, and blueberry pie, and jams to enjoy (slices, for now, entire pies for later).
Santa Cruz
This oceanfront amusement park is the oldest one in California, and also host to two of the coolest amusement park rides in the state: A historic wooden roller coaster built in 1924, and a carousel built in 1911 — both National Historic Landmarks. Once you've had your fill of rides and your adrenaline peaks, relax by dipping your toes in the ocean just a few feet away.
Santa Cruz
Natural Bridges State Beach is famous for the natural arch in the huge rock located right off the shoreline, hence its name. This stop is a must as it's the only one of the three original arches that remains and is in danger of collapsing due to erosion. So if you don't see it now, you might not see it ever. Okay, the sad part is over now. After you take your photos, keep an eye out for migrating gray whales (the chance of seeing one between December and April is around 90%!), monarch butterflies (mid-October to early February), and sea otters (year-round). There are also tide pools where you might be able to spot hermit crabs, urchins, and sea stars. Look at you, Jacques Cousteau.
Castroville
Fun fact: 99.9% of all commercially grown artichokes are from California. Even more fun fact: You can get them fried and served with homemade dips at the Choke Coach food truck at family-owned Pezzini Farms seven days a week. While you're there, pop into the farmstand to pick up freshly picked heirloom artichokes, as well as any artichoke product you can dream up, including spreads, sauces, and even an artichoke cupcake.
Pebble Beach
You probably know Pebble Beach because of its famous golf course, but it's got some other pretty picturesque stuff as well, all of which you can see on this scenic drive. Stop at Fanshell Overlook to view a white sand beach where harbor seals hang out, Cypress Point Lookout for one of the most dramatic views of the coast in the entire state, and, of course, The Lone Cypress, which has stood alone, clinging to its granite pedestal for over 250 years.
Carmel-by-the-Sea
Like pretty much everything along the California coast, Point Lobos State Natural Reserve is full of natural beauty. Rent a kayak and find the turquoise and green waters of China Cove, which is tucked away in the rocky cliffs. If you're not into sea kayaking, there's also a hike that takes you to the secluded cove. It's a super mellow walk; the hardest part will be climbing back up the steep staircase that takes you down to the beach.
Drive across the Bixby Creek Bridge
Big Sur
In order to get to Big Sur, you have to cross one of the most photographed bridges in California, which was also featured in the opening sequence of HBO's Big Little Lies.. Pull into one of the designated turnouts before you cross the reinforced concrete open-spandrel arch bridge so you can get your pic. (The south end at sunset is an amazing shot, but if you take advantage of the multiple viewpoints, you really can't go wrong.)
Big Sur
Inside Julia Pfeiffer Burns State Park, you'll find a short trail along a 3,000-foot ridge. That trail takes you to an 80-foot waterfall which lands on the beach and feeds directly into the turquoise ocean cove. McWay Falls is one of two tide falls, a waterfall that empties into the ocean, in California, and since no one is allowed to go on the beach, your photos will be people-free and perfect. (Some hot tips: 1. The waterfall, like most waterfalls, is the most magnificent in the winter and early spring, but it flows year-round. 2. Go in the late afternoon when the sunlight hits the waterfall and turns the cliffs to gold. 3. The waterfall plunges either into the ocean or onto the beach depending on the tide, so if you prefer one or the other, be sure to check the tide schedules.)
Big Sur
Head to this secluded beach before sunset to see the last rays of light shine through Keyhole Rock, a natural arch in the water. Be sure to get there a little early so you can see the purple sand on the north end of the beach. It's pretty much the perfect end to the day.