How to Visit Yosemite, From a Guy Who's Done It 100 Times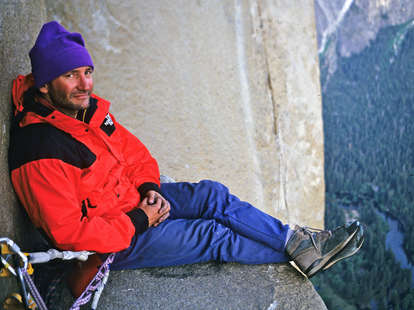 There's a way to arrive at Yosemite Valley, the well-trafficked area of Yosemite National Park that houses its most picturesque cliffs and waterfalls, that takes you through a tunnel. When you emerge, the vista of El Capitan and Bridalveil Fall are perfectly framed against the background of Half Dome, just as Ansel Adams captured it in his famous 1934 photograph. For those who have visited the viewpoint, it's as if you can reach out and touch a postcard.
John Flinn was seven years old the first time he gazed on that view. It was the summer of 1964, and Flinn, former travel editor for the San Francisco Chronicle and current freelance travel writer, and his family had just moved to California from the East Coast.
"[My father] made me keep me eyes closed and we parked the car and he made me stand up and he said, 'uncover your eyes,' and there was the perfect Yosemite Valley spread in front of me," Flinn recalls. "Having come from New Jersey, I'd never seen any landscape like that at all… I just fell in love with it instantly then."
From that point on, visiting Yosemite became a twice-yearly trip for Flinn and laid the foundation for all the travel he's done in his life -- as well as his career as a writer. "By dint of needing to learn about backpacking, I fell under the sway of this writer named Colin Fletcher who used to write very evocatively about the wilderness and hiking," he says. "I liked his writing so much, he made me want to become a writer."
At 16, Flinn took up rock climbing, eventually doing the five-day, straight-up climb of El Capitan. His two decades of climbing and 20-plus years as a travel writer have taken him to 75 countries, including Bulgaria, Tibet, and the Cook Islands. But between those far-flung adventures, in the ensuing 53 years since his first Yosemite trip, Flinn, who lives in Pacifica, California, has returned to the park more than 100 times (a figure he swears he's not exaggerating).
"I remember once, not that long ago, arriving in Yosemite Valley again and feeling that sense of awe even though it's my 100th time or something," Flinn says. "I remember telling my friend if this was in Kyrgyzstan, I would travel halfway around the world to see this."
With more than a hundred trips under his belt, you could say Flinn is a certified Yosemite expert. Here's his can't-miss list to the best of the park: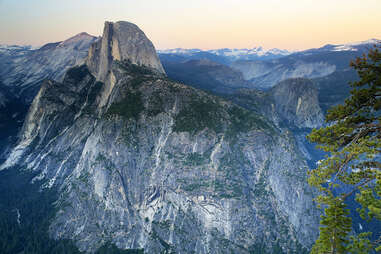 Glacier Point
"Obviously, you have to go to the Valley, but don't go between Memorial Day and Labor Day if you can possibly help it," Flinn says. For the easiest way to take in all the famous sights, he recommends Glacier Point. "It's about a 45-minute drive from the Valley, but where you end up is only about, as the crow flies, 100 yards away from where you started -- you're just a mile higher. There's a viewpoint that's got one of the best views in the world. You're right next to Half Dome; you're looking at it and the High Sierra. That's just beautiful."
Ostrander Ski Hut
Yosemite's high season is April to October, but winter offers the chance to experience the park sans crowds. "There's a backcountry ski cabin in the middle of the high country and every year for 25 years some friends and I would ski there in the winter," says Flinn of Ostrander, located a 10-mile trek from the Yosemite Ski & Snowboard Area. "We bring in a bunch of wine and good food and spend a weekend in there letting the snow come down."
Giant Sequoias
Unsurprisingly, Flinn is often playing Yosemite tour guide to friends from out of town, and "If they've never seen a big tree before, I take them to a grove of giant sequoias in Wawona," he says. Located near the park's south entrance, Mariposa Grove contains about 500 giant sequoias; its most famous tree is nearly 30ft in diameter and an estimated 1,800 years old. "These trees are so fat it takes a couple of minutes to walk all the way around them," Flinn adds.
Majestic Yosemite Hotel dining room
Even a backpacker needs to eat out sometimes. For an upscale experience, Flinn recommends the dining room at the Majestic Yosemite Hotel (formerly called the Ahwahnee Hotel). "They've got this grand, old National Park lodge dining hall; it has these high beams and Indian tapestries. It's really something. Go during the day because the light streaming in there is beautiful," says Flinn, who notes that the ambiance is what you come here for. "The food and the service historically have not been very good; [though] every once in awhile you hear they've fixed it up." Plus, there's only a dress code for dinner.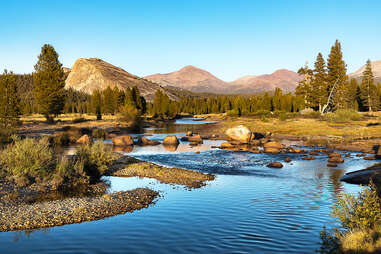 Tuolumne Meadows & Cathedral Lakes
"After I got past a certain age, I realized there's a lot more to [the park] than just Yosemite Valley. To be honest, I hardly go there anymore because it's just so crowded. Typically, I go to the high country now," Flinn says. One of his favorite destinations is Tuolumne Meadows, which leads to some nice day-trip trails, such as Cathedral Lakes, where "there's some beautiful spiky peaks that are fun to hike around."
"Even in the backcountry, on the famous trails, there's a lot of people on them, but you can get off and walk… because it's pretty open country," he adds.
Tioga Gas Mart/Whoa Nellie Deli
The best food in the park (well, technically just outside the grounds), is found in an unlikely place, at the eastern entrance to Yosemite and down the road from Mono Lake, where you can rent kayaks and paddle around the otherworldly tufas. "If you're going over to Mono Lake, believe it or not, one of the best places to eat in the whole region is a Mobil station," Flinn says. "You can get lobster tacquitos and venison. You think at a gas station you're just going to get Slim Jims and corn nuts, but it's surprisingly good."
As for the next 100 trips…
Remarkably, despite Flinn's extensive visiting, there are still parts of Yosemite (which clocks in at a massive 1,169 square miles) that he has not been to. And he doesn't plan to stop exploring the "uplifting, almost spiritual" place. He's still amazed, however, how many San Franciscans have never once toured the park.
"Everyone [in the Bay Area] knows it's there. It's just that a surprisingly large number of people just aren't into the outdoors," he says. "I long ago stopped nagging them to go. It's crowded enough as it is."