Tahoe's New Gondola Connects 2 of the Country's Best Ski Areas to Make a Mega Resort
One gondola, access to 6,000 skiable acres.
Courtesy of Palisades Tahoe
Courtesy of Palisades Tahoe
What's even better than skiing at one of Lake Tahoe's biggest resorts? Skiing at two of them, connected by a cozy gondola. A $65 million project that's been decades in the making has finally opened at Lake Tahoe. The new "base" to Base Gondola launched December 17 connecting the resorts of Palisades (formerly Squaw Valley) and Alpine Meadows. The connection makes the Palisades-Alpine combination one of the largest ski resorts in North America with more than 6,000 skiable acres.
Skiers and snowboarders can hop aboard one of the gondola's 96 eight-person cabins to take a 16-minute ride covering 2.4 miles between the bases of Palisades and Alpine Meadows. Advanced riders (but no sightseers on foot, sorry) can disembark at the gondola station atop the KT-22 ridge at Palisades to tackle some of the most famous terrain in the West. While the gondola doesn't access any new ski terrain, it will give riders another way to get to the Palisades peaks and spread out the lines on busy days.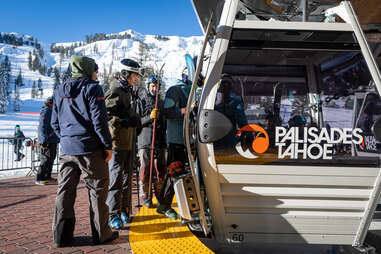 The views from the gondola over Lake Tahoe and the Granite Chief Wilderness are spectacular. And it's even better without being blasted by wind or snow like you would on a ski lift. The smallish gondola car can feel a little claustrophobic for some people when packed with eight heavily clothed passengers and their equipment, but looking out the large windows to enjoy the scenery can calm a quick-beating heart. Alternatively, you could just stare at your phone if heights bother you.
The greatest benefit from the gondola, aside from adding more uphill capacity (about 1400 passengers per hour) is to add choices for skiers and snowboarders. Crowds slowing down your day at Palisades? Just ride the gondola over to Alpine to escape them. And given changing snow conditions on the mountains, you may be able to escape icy or slushy conditions at one mountain to try your luck at the other. For example, the snow on Alpine's south-facing slopes will soften up far before Palisades' northern oriented icy runs. Or split your squad between mountains to start the day and regroup after comparing conditions. Keep in mind though, that on high wind and snow days, the gondola can temporarily close, so don't get stuck on the side away from your car or you might have to wait quite a while for a shuttle between the resorts.
The gondola is also expected to reduce road traffic on the often-clogged Highway 89 between the two resorts and the resort estimates 100 fewer cars per day will make the trek.
Tahoe ski fans will also be glad to see new lift improvements at Heavenly and Northstar. Heavenly's North Bowl Lift has been upgraded from a fixed-grip, three-person chair to a high-speed detachable quad, increasing capacity by more than 40% and reducing the combined ride time of the Boulder and North Bowl lifts. The ride on North Bowl used to take between 12 and 15 minutes and is now only about five minutes, a much appreciated saving particularly on bad weather days. The upgrade is expected to also reduce wait times at the Stagecoach and Olympic lifts and will provide better access to some coveted ski terrain. Northstar's newly upgraded Comstock Express lift replaced a four-person chair to a high-speed six-person chair that will increase uphill capacity on this popular lift by nearly 50%.
So whether you're skiing or snowboarding at North Lake Tahoe at Alpine, Northstar and Palisades, or on the south side at Heavenly, expect this season to get faster access to more terrain with these new improvements.