The Ultimate Summer Road Trips From San Francisco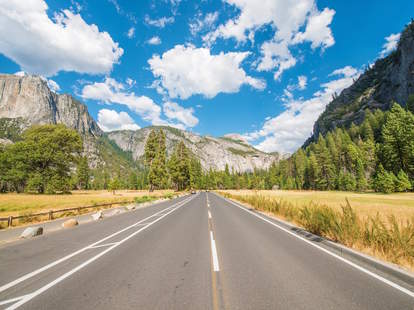 Nothing says summer like blowing off all of your responsibilities in order to hit the open road and satisfy your wanderlust. And while we are fans of pretty much every road trip in California, including these ones you can do on a budget, and these ones that are a little off the beaten path, if we could only do five summer road trips in all of Northern California, these are the places we'd for sure go first.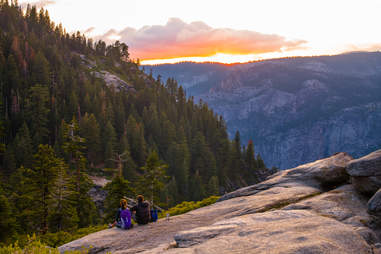 Lynn Y/Shutterstock
Yosemite National Park
Distance from SF: 185 miles; 4-hour drive
It really doesn't get more beautiful than Yosemite. And, yes, there's plenty to do even if you're not an avid hiker or backpacker. The park is quite expansive, so you'll want to make sure you have at least three days to spend exploring... though if you can swing a week, it's completely worth it.
Must-Do: 1. Yosemite Falls, North America's highest waterfall. A short hike will provide you with views of the valley, Half Dome, and the falls. But keep going if you can because there's nothing quite like being at the top of this massive waterfall. 2. Mariposa Grove, home to giant sequoia trees, which are the largest living things on earth. (Note: the grove is closed until 2017; if you're headed to Yosemite before then and still want to see sequoias, check out Tuolumne and Merced Groves near Crane Flat). 3. Take the "Green Dragon" Tour. This open-air tram tour lets you hit all of the highlights, and a park ranger makes sure you learn something along the way.
Stay: In a canvas tent or cabin in Half Dome Village (formerly Curry Village).
Eat: The Sunday Brunch at the Majestic Yosemite Hotel (you probably know it as the "Ahwanhee") is legendary for a reason.
Doug Lemke/Shutterstock
Lake Tahoe
Distance from SF: 200 miles; 3.5-hour drive
A lot of people think of Tahoe as a ski destination, but summertime by the lake is when the fun really starts (OK, also starts).
Must-Do: 1. Raft down the Truckee River. Pack a cooler full of snacks and beer, rent a raft, and spend an afternoon floating in the water (heads up: no alcohol is allowed the week of Fourth of July). The float stops at the River Ranch, where you can get drinks and listen to live music. 2. Take the boat to Chambers Landing Bar & Grill. If you don't have a boat or a friend with a boat, rent one. Then drive around the lake for a while before pulling over at the oldest bar on Lake Tahoe to watch the sunset and imbibe the famous punch. 3. Hike to Eagle Lake. This is a super-easy, mile-long hike where you'll pass waterfalls and granite peaks, only to end up at a mellow lake where you can take a summer swim and chill out.
Stay: Camp at one of the sites along the West Shore.
Eat: An early dinner on the deck of Sunnyside never gets old. Nor does their Hula Pie.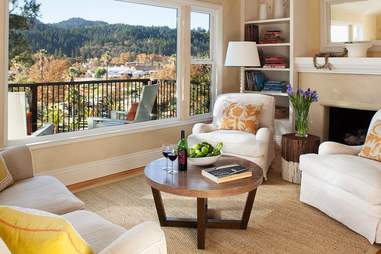 Paul Dyer Photography/Indian Springs Resort
Wine Country
Distance from SF: 60 miles; 1.5-hour drive
Instead of spending a weekend in just Napa or Sonoma, make it a real road trip -- you know you want to see as much of wine country as possible.
Must-Do: 1. Taste wine. Uh... duh. This one's totally up to you, but we recommend going to wineries that are off the beaten path. Trying to hit more than one or two in a day will end up taking all of your time and keep you from being able to drive to the next spot, so plan accordingly. 2. Soak in an Olympic-sized mineral pool. Spend an afternoon at Indian Springs where the pools are fed by on-site geysers, then head to the spa for a massage or mud bath. 3. Explore the Petrified Forest, where redwood trees were turned to stone 3.4 million years ago by a volcano.  
Stay: Camp Carneros is the perfect place to camp after wine tasting in Napa, and since you're going to Indian Springs the next day, you might as well get a room there -- besides, this way you can take advantage of the fact that the pools are open 'til midnight.
Eat: Kayak to a gourmet brunch on the Russian River. River's Edge Kayak & Canoe Trips in Healdsburg will take you on a guided two- to three-hour float that finishes with a "Farm-to-Table" riverside brunch.
Santa Cruz
Distance from SF: 75 miles; 1.5-hour drive
Santa Cruz has an old-school California vibe that never grows old (or grows up), which makes it the perfect place to kick back and recharge for a few days.
Must-Do: 1. The Mystery Spot. Come on; you knew this cheesy, sorry, "gravitational anomaly" tourist attraction would make this list. You've gotta see it for yourself at least once before you die. 2. Santa Cruz Beach Boardwalk. It's not a trip to Santa Cruz if you don't go on a wooden rollercoaster ride. 3. Hike in Henry Cowell Redwoods State Park. Come on: giant redwoods.
Stay:The Dream Inn is a cute beachfront boutique hotel, but there's also plenty of camping nearby if that's more your speed.
Eat: It's imperative that you check out (and hang out in) at least one of Santa Cruz's Downtown cafes. Part of the adventure is finding one on your own, but if you get stuck, Caffe Pergolesi ("The Perg" ) has good food, a very laid-back vibe, and lots (and lots) of hippies.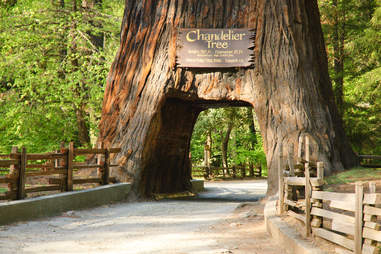 Zack Frank/Shutterstock
SF to Eureka to Mendocino
Distance from SF to Eureka: 270 miles; 5-hour drive
Distance from Eureka to Mendocino: 145 miles; 3-hour drive
This one is a real road trip, but if you have four days to a week, it's a great way to experience the best Northern California has to offer, from big trees to breweries and everything in between.
Must-Do: 1. Drive through the Chandelier Tree in Leggett. 2. Explore the Victorian seaport of Eureka via horse-drawn carriage. 3. Drink your way (responsibly) through all of Mendocino.
Stay: Camp in Humboldt Redwoods State Park, stay in a Victorian Inn in Eureka, and splurge on a night at The Madrones in Mendocino.
Eat: Pull over at The Peg House in Leggett, where you can get tasty burgers and maybe even catch some live music.
Sign up here for our daily San Francisco email and be the first to get all the food/drink/fun SF has to offer.
Daisy Barringer is a freelance writer from SF and road trips are maybe her favorite thing to do in the summer. She just doesn't like to drive. Tell her where she should go next on Twitter @daisy.