All the Non-Tech Related Reasons to Plan Your Next Trip to San Jose
This spirited Silicon Valley city has so much more to offer than tech conferences.
Photo courtesy of Alamitos Vineyards / Visit San Jose
Photo courtesy of Alamitos Vineyards / Visit San Jose
California road trippers can't miss San Jose, a destination overflowing with activities for both leisure and business travelers to enjoy. This thriving city is its own impressive hub of arts, culture, and experiences and serves up its own unique experiences.
Here are several reasons to visit San Jose, a trip that's bound to be delightfully satisfying in its diverse offerings, from food to arts and culture to shopping and a mix of upscale hospitality options.
Enjoy an abundance of dining options
You won't go hungry in San Jose. Grab a bite at the historic San Pedro Square Market, which is right downtown. This market actually houses one of Spanish California's oldest structures, the Peralta Adobe, dating back to 1797. Off the Santa Clara Street entrance, you can walk through a colorful arch and stroll down San Pedro Street on a pedestrian-only roadway lined with numerous standalone local restaurants offering indoor and outdoor seating.
Beyond these streetside restaurants, three separate buildings are included as part of the food hall, each of which also houses a multitude of other diverse cuisines and artisan goods. You'll find ample seating accompanied by a buzzy, modern, traditional food hall setting inside and outside there is more seating on a dog-friendly patio in The Peralta Adobe Plaza.
If you're a food hall lover, you'll rejoice that a second food hall is downtown. SoFa Market, a smaller and more intimate feeling food hall, has various diverse vendors to explore, offering everything from sandwiches to smoothies and more.
iCHiNA at the Westfield Valley Fair Mall is decorated to feel like a lavish palace and serves a selection of classic, traditional tea options and dim sum that back up the upscale ambiance. There's also an exceptionally unique experience at this unsuspecting mall restaurant, a "virtual reality dining room." It's a complete sensory immersion experience with a very expensive tasting menu backed by a Silicon Valley special dining encounter. It uses a set of projectors attached to the ceiling to reflect scenes accompanying the menu items onto the four white walls and a reflective light-colored table.
And at the Signia by Hilton San Jose, the property's upscale but approachable restaurant, AJI Bar & Robata, feels like an elevated and laid-back dining spot. This restaurant uses a Japanese cooking technique called "robata," which is short for "robatayaki" and translates to "fireside cooking," blending this technique with a range of tasty Peruvian flavors.
If you want dinner with a view, make a reservation at Grandview, a historic mountainside restaurant perched up in the East San Jose foothills offering panoramic sights of the Santa Clara Valley region below. This destination services classic, upscale American Cuisine using farm-fresh ingredients and hands-down boasts the best view in town. Pro tip: Make your reservation outside and around sundown to watch one of Mother Nature's most colorful sunset shows.
Check out the awe-inspiring and diverse neighborhoods with unbelievable street art
Downtown, be sure to spend some time in the trendy, hip SoFA district, an arts and entertainment district in the center of downtown, featuring many local galleries, coffee spots, trendy bars, theaters, and artsy shops to step into. This district is also known for its locally handpainted murals.
This neighborhood is where the South First Fridays Art Walk happens. If you are lucky enough to visit on this day, you'll be treated to the experience of embarking on a self-guided, after-dark tour from 5 to 9 pm to explore the local galleries and museums.
Outside the excitement of downtown, there are more than a dozen neighborhoods to explore across this booming city.
Willow Glen is nicknamed "San Jose's Local Treasure," and it's just a 10-minute drive from the downtown skyscrapers, which feel like a different world. You can feel the sense of strong community in this welcoming neighborhood as you walk down the idyllic, tree-lined streets featuring quaint, historic homes. Head down Lincoln Avenue, which is the main drag in this artsy enclave, and stop into some of the boutique shops selling a mix of artisan crafts or admire the murals that decorate the sides of seemingly every other building.
Don't miss San Jose's Japantown, one of the last three Japantowns left in the United States (the other two are in Los Angeles and San Francisco). Visit The Japanese American Museum of San Jose to learn about 100-plus years of Japanese American history under one roof, including both permanent and rotating collections of artifacts. Admire the San Jose Buddhist Church Betsuin, which is a gorgeous work of architecture.
The quaint streets of The Alameda hold two centuries of stories in its saga, showcasing authentic, historic structures and a direct connection to the El Camino Real, which translates to "the Royal Road." The beautiful, walkable streets lead to charming neighborhoods with historic houses, and down the main roadway (the street is called "The Alameda"), there are a collection of shops and restaurants like the century-old, family-owned Greenlee's Bakery, which is a local legend for its unbeatable cinnamon bread.
Take in theatre, arts, and cultural entertainment

History lovers will revel in a trip to The Winchester Mystery House, a historic landmark and a fascinating example of architecture without boundaries. It's one of the most bizarrely designed mansions in the US and is also said to be haunted. This enormous, eternally unfinished property was designed by Sarah Winchester, the heiress of the infamous Winchester Rifle Company fortune, who seemingly put every cent into building this 160-room compound with architectural elements that don't make logical sense. Take a guided tour of the property to experience and learn firsthand about the house's quirky backstory and witness stairs leading up to the ceiling and doors that open into walls in this fascinating estate.
Science-minded people will love a trip to The Tech Interactive in downtown San Jose. This interactive science and technology center features immersive, family-friendly entertainment, including experimental labs and interactive educational activities to interact with STEAM (science, technology, engineering, arts, and mathematics) resources like a BioTinkering Lab and BioDesign Studio for safe experiments.
Also downtown, the San José Museum of Art showcases a collection of modern and contemporary art, with rotating exhibitions that will inspire.
If you're interested in arts and culture, check out one or all four of the San Jose Theaters operations, including the Montgomery Theater, the California Theatre, the San Jose Civic, and the Center for the Performing Arts, which are all within walking distance of each other in downtown San Jose.
The San Jose Civic dates back to the 1920s, featuring a grand design, and has hosted legendary music artists like The Who, The Rolling Stones, and Frank Sinatra.
At the larger, opulently decorated Center for the Performing Arts, which dates back to 1972 and was designed by the Frank Lloyd Wright Foundation, you can catch major performances from Broadway San Jose.
At the more intimate and elegant, recently updated 1930s-era Montgomery Theater, you can see a range of live theater performances.
In the 1920s era California Theater, which features an atmosphere and design inspired by the Golden Age of Hollywood, witness sophisticated performances by Opera San Jose and Symphony Silicon Valley. Each individual theater is beautiful in its own way and stands as a pillar of creativity in the San Jose live arts community.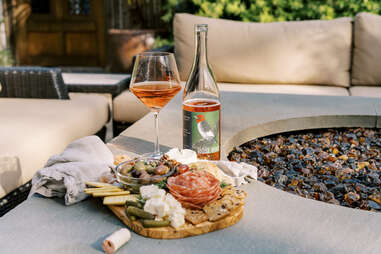 Drink craft brews, including beer and beyond
Coffee lovers are in for a treat. From choices like Chromatic Coffee Co., which is located in an industrial-feeling warehouse location decked out with a plethora of plants and a buzzy atmosphere to boot. Here, you can enjoy coffee with a heart made with the fitting philosophy that "in San Jose, innovation is tradition."
There's also the independently owned and operated longstanding community favorite, Roy's Station, which sits in the heart of Japantown and is located where "Grandpa Roy's Mobil gas station" once was a part of the community for decades. Today, this shop proudly serves coffee, tea, and a selection of freshly baked pastries, which in a way, is a transition from high-octane automobile fuel to high-octane human fuel in the form of caffeine.
Downtown, visit the spirited and vibrant Nirvana Soul, which is San Jose's only Black woman-owned coffee company, founded by two sisters who successfully created a safe, welcoming place for people to connect with each other using the power of coffee and tea.
Also, downtown, explore a retro gamers paradise called Miniboss, which serves beer and craft cocktails in a 5,000 square foot fully outfitted retro arcade venue. Think more than 30 vintage arcade games, 12 fully functioning themed Pinball machines, tasty bar bites, and a lineup of eclectic local art decorating the walls making for the most groovy, nostalgic 90s-inspired spot to spend an evening alongside other arcade-loving adults.
San Jose's contemporary craft brewing history dates back decades, to when the Gordon Biersch Brewing Company opened its first location in San Jose, and today, there are numerous breweries to explore within the city's boundaries. Visit Uproar for a relaxed atmosphere and regionally inspired brews, or Camino, which was sparked by a 1,900-mile cycling trip along the Camino de Santiago and the community that came with that journey.
As for oenophiles, there are plenty of wineries in the region. Visit Testarossa Winery, which in true Silicon Valley fashion, dates back to an early '90s garage venture by a then high-tech, employed engineer-minded, dynamic duo who transformed their weekend wine-making hobby into their dream of owning a winery.
There's also the incredibly beautiful Alamitos Vineyards, which is the only vineyard winery in San Jose, tucked into the scenic and historic hills of the New Almaden district specializing in Syrah, Sauvignon Blanc and Touriga Nacional, which is a unique Portuguese varietal paying homage to the family's legacy and roots.
Shop until your drop at several cool spots
Santana Row, which is referred to as the "Rodeo Drive" of Silicon Valley, is a luxury traveler's dream come true. This collection of walkable, well-manicured streets and Mediterranean-style inspired buildings are lined with a mix of world-class, upscale brands, designer shops, classy restaurants, and lavish spas and salons made for indulging in the finer things.
The prominent Westfield Valley Fair Mall is the largest mall, by area, in Northern California. But it's not just a mall; it's an expansive premiere entertainment center boasting a sophisticated mix of shopping, dining, and activity options. Here, visitors can browse a selection of unique, imported goods at the 45,000-square-foot Eataly food hall or see a movie at the enormous movie theater complex. Shop at one of the stores that range from international luxury brands to familiar retailers, or spend time at one of the open-air seating spaces decorated with luxe landscaping.
Stay at historic but hip and modernized spots

The boutique, upscale, and intimate feeling Hotel Valencia Santana Row sits right on Santana Row, within walking distance of some of the city's best entertainment, shopping, and dining. This property features classic, Spanish-style architecture and boasts an elegant rooftop wine bar with beautiful views of the city and the hills beyond.
The architecture at the newly unveiled Signia by Hilton San Jose is inspired by California history, featuring majestic arches, towering vaulted ceilings, and elegant, stylish pieces of contemporary art. This property is located in a fantastic, walkable location in the heart of downtown across the street from Plaza de César Chávez Park and within walking distance of numerous restaurants, museums, and attractions. There's a rooftop pool and signature "Fireside Suites" adjacent to the pool offering guests direct access to the pool deck, a cozy, gas-powered fire pit space, multiple on-site restaurants, and a state-of-the-art fitness center hosting special group classes.
The newly renovated Westin San Jose property lives in the historic Sainte Claire hotel building, dating back to the 1920s, and feels like an elegant escape from the outside world. Arched ceilings and opulent chandeliers hanging above shining marble floors are complemented by deep wooden tones in the furniture and doorways, making you feel like you could be a Rockefeller in this upscale downtown San Jose hotel.
San Jose's reputation as a global technology capital may overshadow its other diverse offerings. Still, this Northern California city shines brightly (almost like Silicon) for its dining, shopping, and arts and culture activities.