San Francisco's Most Scenic Photo Ops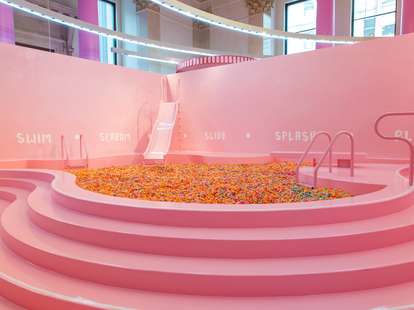 Anna-Alexia Basile
Anna-Alexia Basile
San Francisco is beloved for a lot of reasons: tons of access to outdoor space, laid-back people, an always-evolving art scene. But an underappreciated fact of the city is that it's just really, really, ridiculously good looking. Rolling fog in the mornings, sunny afternoons, and breezy nights create the perfect environment for a photoshoot or just some good old-fashioned sightseeing. So whether you're an aspiring influencer, photographer, or simple connoisseur of the visual world, these are the spots to see:
1 Grant Ave
Big fan of Millennial Pink? You're in luck. The Museum of Ice Cream looks like a bath bomb exploded in every room, showering you in Insta-friendly goodness. While you might not actually learn all that much about the history of ice cream, you definitely will feel like you're in a Wes Anderson film. Be sure to get some photos cannon balling into the sprinkles pool. Keep an eye out this summer for their upcoming installation Summer Camp which promises ice cream s'mores and "sprinkle scout badges."
950 Mason St
Is the Tonga Room cheesy? Yes. Is there still a pool in the middle of the room? Also yes. This themed bar feels like a blast from the past, akin to the tiki bar in Goodfellas. Soft lanterns provide the ambiance, plus the over the top tiki drinks look great on camera (just check out "The Rainmaker"). Every little detail has been tweaked to provide maximum theme, so you basically can't take a bad photo.
Tiburon, CA
If San Francisco's ample green space isn't enough for you, get off the peninsula and check out Angel Island. Ferries leave three times a day from SF and take you far from the city in just 35 minutes. From the peak of Mt. Livermore you're able to see 360-degree views of the skyline, Marin County, and everywhere in between. Just don't miss the last ferry (4:35 most days) or else you'll have to contract a private boat to ferry you home (or you could always switch your plans to include camping.)
Flickr/John Leszcynski
Flickr/John Leszcynski
3400-3416 Folsom St
Bernal Heights often gets overlooked in the convos about SF's greatest parks, but it undeniably has some of the best views of the city. The peak lets you see the Mission and the East Bay, and soft natural grasses provide the perfect spot for a picnic. The view only gets better as the sun goes down and allows you to see the city at night, aided by the lights off Sutro Tower. As an added bonus to the scenery, the park is covered in native plants and therefore supports plenty of bird species, so it's a great place to spot hawks.
The Murals of the Mission
The Mission has a long storied tradition of mural painting, with its origins in political protest against corruption in Central America. But they've expanded over the years, as muralists have taken to the walls to share their views on gentrification, spirituality, and one of SF's favorite topics, psychedelia. Some favorites include the MaestraPeace on the Women's Building, and Balmy alley's numerous trippy visuals. Any of them make the perfect backdrop for a shot though, so walk around and pick your favorite.
360 Jessie St
Marianne's is a hidden bar in the back of The Cavalier with a finely attuned aesthetic. It's far more cozy than most of the places on this list, but it has an endless supply of cool. Designed in homage to British singer and Mick Jagger ex Marianne Faithfull, the place looks like rock and roll was invented during the Victorian era. Formerly accessible via secret keypad only, it's now open to the public. But you can do your part in keeping it low-key by, say, not tagging it in your posts.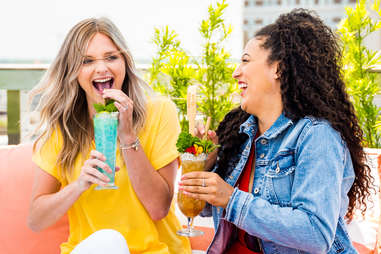 Why are you longingly reading this article instead of taking a vacation yourself? Hotels.com thinks it should be you getting the hate-likes on Instagram, not "David from work," and they want to help. Every time you book with Hotels.com, you get a Stamp, which goes toward a free night's stay at thousands of properties around the world. The more Stamps you get, the more free nights you get, and the more your trip to Belize is jealously whispered about at the office. Book now and let the hate-likes roll in.
Presidio Blvd
Andy Goldsworthy is a master of creating ephemeral works of art from natural materials. But in the middle of The Presidio is one of his pieces, rare for being both permanent and public. Amblers on Lover's Lane (a beautiful spot in its own right) is just a few feet away from the tucked-away Wood Line trail, made from interconnected logs to form a swaying trail in the eucalyptus grove. The trail gives you an immediate impression of space and distance (one that carries over well into photos.) If you're a fan of Goldsworthy's creation, consider yourself in luck: The Presidio is the largest public collection of his work in North America. If you hunt around, you'll soon find the three others: Spire, Tree Fall, and Earth Wall.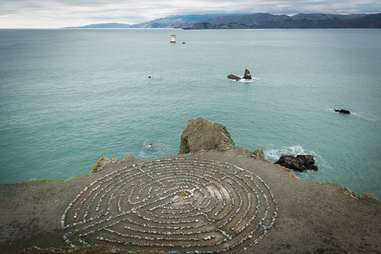 Land's End Trail
680 Point Lobos Ave
Land's End on its own is incredible -- one of the best places in SF to get a great view of the expanse of Pacific blue water. Plenty of hiking trails, cliffs, and grottoes provide a million photo ops. But for those looking for a more cerebral type of beauty, take a moment to appreciate the Labyrinth, a volunteer-maintained walking glyph meant to encourage meditation. Its placement within Land's End lets you appreciate the stillness and beauty around you while pacing yourself in a moment of contemplation.
1801 Market St
It's Tops was started in 1935 and it looks pretty much the same as ever, with neon signage and an old-school diner layout. It has the vibe of a roadside stop stuck in time, with walls covered in memorabilia and even a line of pinup posters. You basically cannot take a bad picture at this location, including just out front. But for the correct look, add a filter that makes it look even more vintage.
2516 Mission St
If you want a happy hour with a view, getting margaritas at El Techo is the way to go. A Mission bar with Latin street food, you can post up with a pitcher and some chicharrones and take in the ambiance. Heat lamps and string lights provide soft lighting once the golden hour has passed and you're left checking out the city lights. Plus, for Instagrammability, the drink options and snacks are not too shabby in their own right.
151 3rd St
SF MoMA reigns supreme as far as city museums go. The sheer range of exhibits gives you something to take in. No matter your preferred style, whether it's pop art, minimalism, or post-'60s German art, they've got it. Until you go, you won't know exactly sparks your fancy, but some favorites include Diane Arbus' photography collection and Paul Kos' The Sound of Ice Melting. Plus, let's be honest: no matter where in SF you go, are you going to take any photos better than Diane Arbus?